Words by Yvonne C Mtengwa
There's simply nothing like it. Declared one of the 8 Natural Wonders of the World in 2007, the Great Migration is a breathtaking spectacle of wildebeest and other species of antelope, barrelling across the Serengeti in herds into their hundreds of thousands as they relocate across Tanzania and Kenya's vast plains in search of new growth in grassy landscapes.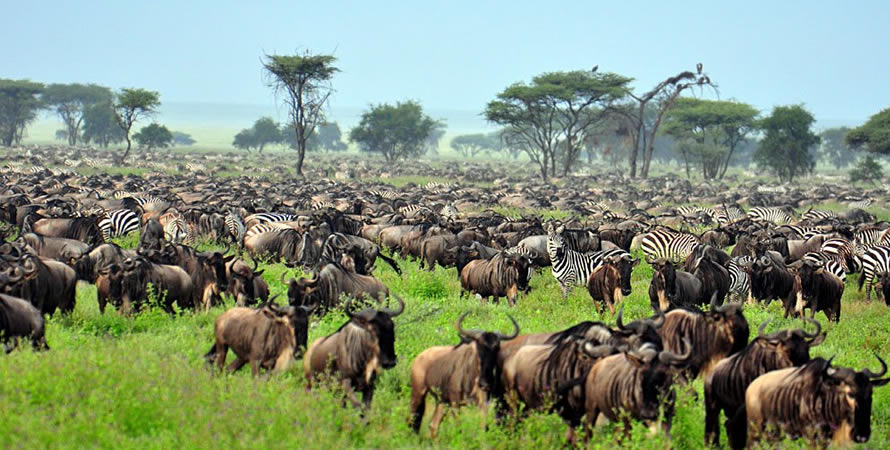 My journey began in Dubai at the tail end of May, with a 4.5hour flight into Nairobi before connecting on to Mount Kilimanjaro Airport right as the sun rose against the distant horizon seen from the Jomo Kenyatta Airport's floor-to-ceiling terminal windows. Only a short flight later onboard Precision Air's almost vintage yet charming ATR-42-600, did we begin our descent onto the outskirts of Arusha, one of Tanzania's bustling cities at the base of the volcanic Mount Meru. Arusha, which I have never had the opportunity to stay long enough in to unearth its varied cultural and small city lifestyle offering, is a mere 100km drive away from the behemoth wonder, Mount Kilimanjaro. On a pathway to continued expansion, that city is home to more than 2 million inhabitants, is widely viewed as a gateway to Tanzania's game-viewing territories, and quickly registered as one I should soon come back to for further exploration.
I'll be the first to admit that I hadn't quite wrapped my mind around the fact that this season was one that would usher me into one of the most compelling wildlife viewings I would ever experience. Mine was a much-anticipated trip into Tanzania's wildlife territory for a luxuriating stay of Singita's newest camp – Mara River Tented Camp, which sits on the edge of Mara River in the country's very remote Lamai Triangle. We were to combine this with 2 nights at the luxurious, Edwardian-themed Sasakwa Lodge, and the contemporarily designed Sabora Tented Camp, which I had enjoyed the privilege of stopping over for a lobster lunch with fine South African Chardonnay during a previous trip.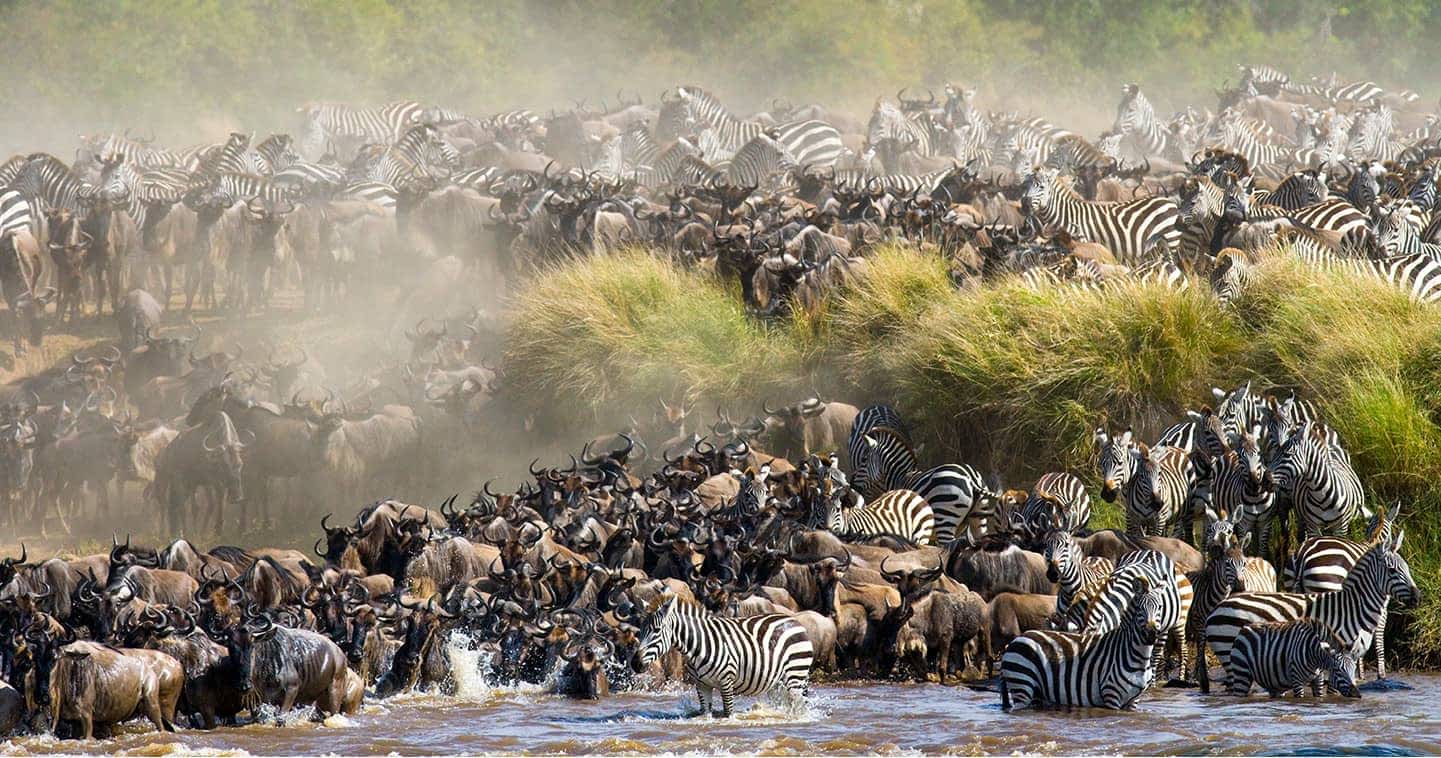 A profound appreciation of swathes of grassland and uninterrupted savannah   
My heart sings at the open grasslands of the Serengeti, the English translation stemming from the word "Serengit" from the Maasai's Maa language, which means "endless plains". Sunrises and sunsets are glorious, and moments unforgettable in the throngs of Africa's wildest landscapes.  After a remarkably rewarding stay with my family last year, and really absorbing what the experience meant especially for the children whom we had tasked to try a hand at enjoying a gadget-free safari adventure, I knew that coming back solo would be the oasis of relaxation my soul craved as I recalibrated for the upcoming third quarter of the year.
The later swift flight onboard Grumeti Air (we spent a night in Arusha to accommodate varied arrival times for our group before an early start and hour-long flight into Grumeti Reserve) whisked us into the natural, wide-open splendor we would call home for 6 nights. Huddled into our comfortable "green machine" that was our Singita game drive cruiser, we were off for our adventure, which would span us across the sheer wonderment that is the Serengeti and Tanzania's very remote Lamai triangle. 
From bush sundowners, an early morning hike to meet with Rangers atop their Observation Stations, to the daily morning and evening game drives, each moment to engage with nature's intricate existence and sometimes dramatic wildlife encounters, was truly special for every member of our group of female journalists and travel writers. But our first and subsequent sightings of the first herds of the Great Migration, symbolic of the magical yet occasionally brutal cycle of life, would be a subject we would harp on for days over of coffee brews, fireside chats, and conversations with friends and family back home. The Great Wildebeest Migration was making its way to our location, and we would be so fortunate to experience it for ourselves!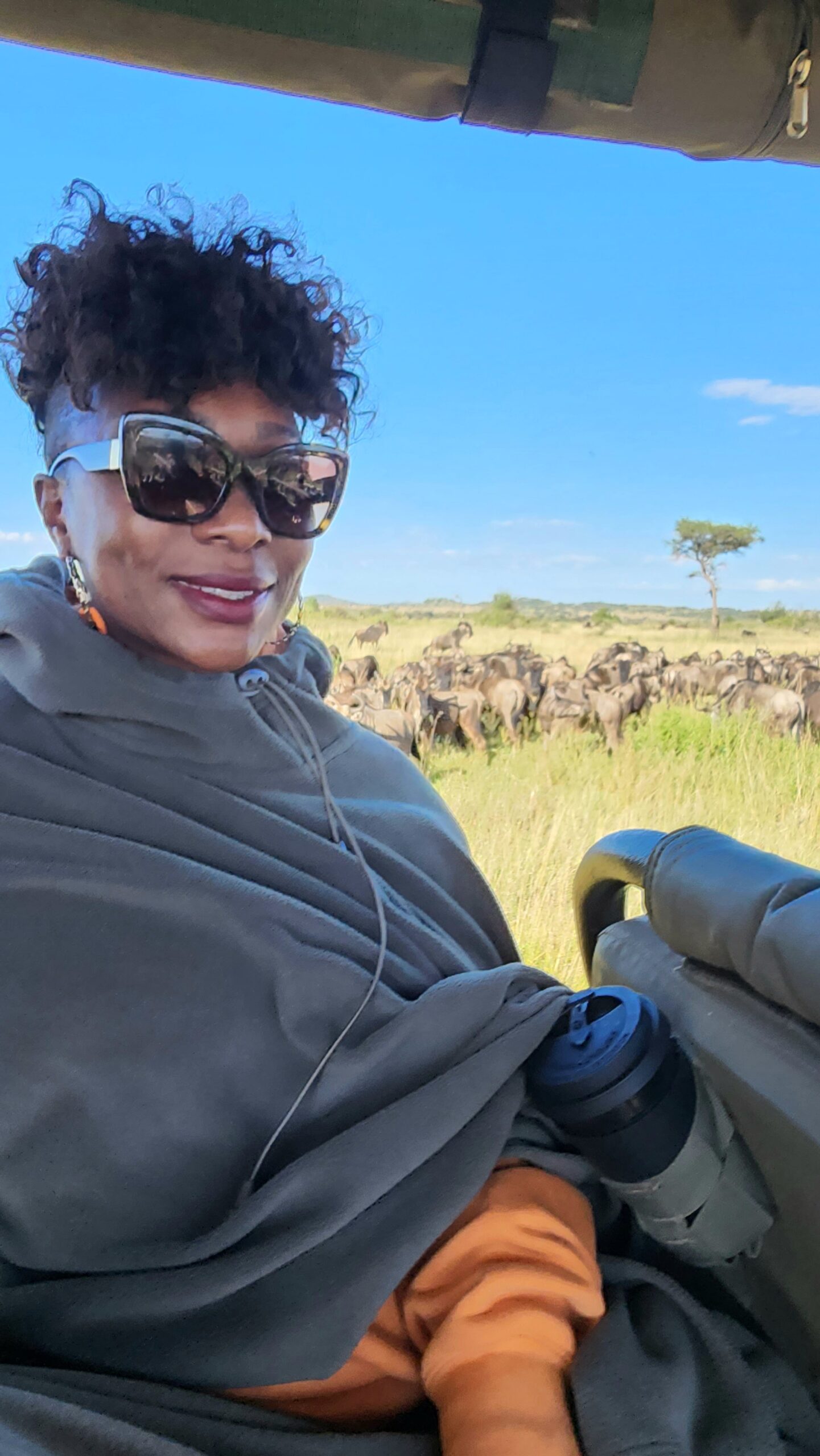 Unpacking the wildebeest migration
The telling sign was the noise. Distant bellows could be heard in the stillness of the early morning, becoming progressively louder as dawn approached. With our coffee cups in hand, nestled in our Cruiser, and clad in layers of warm olive green fleece ponchos, we on our third morning, set off from Sakakwa Lodge before daybreak with our Singita Guide Peterlis Kibwana. An absolute gem of a human, and equipped with acquired knowledge from life and work in the bush as a Guide skilled in tracking, Peterlis expertly navigated the boundless terrains while sharing with us the secrets of the wildlife, and tales from surrounding community efforts in adapting to growth in wildlife numbers.
The migration begins at some point in June annually, often runs until September, and takes place in an enormous loop between Tanzania and neighbouring Kenya. Migrating herds starting their journey from the plains of Serengeti are said to cover upwards of 800km on this journey year-on-year at a rate of 40km per day, consuming an estimated 5000 tonnes of grass as they make their way across Mara and Grumeti rivers and onto the vast expanses of Kenya.
Travellers come from far and wide to experience the largest overland animal migration in the world, an epic display of 1.5 million wildebeest traversing great distances through the Mara's grassy ecosystem in search of food and water. They do so with commendable speed, and not always in a stealthy or graceful manner but albeit in the same direction, perhaps in a bid to escape the scathing and usually fatal attacks of Serengeti's predators. Zebras, eland, impala and other species of antelope (wildebeest belong to the antelope family too) are often found close to these herds, taking advantage of the protection from the big cats that comes with being a part of huge numbers.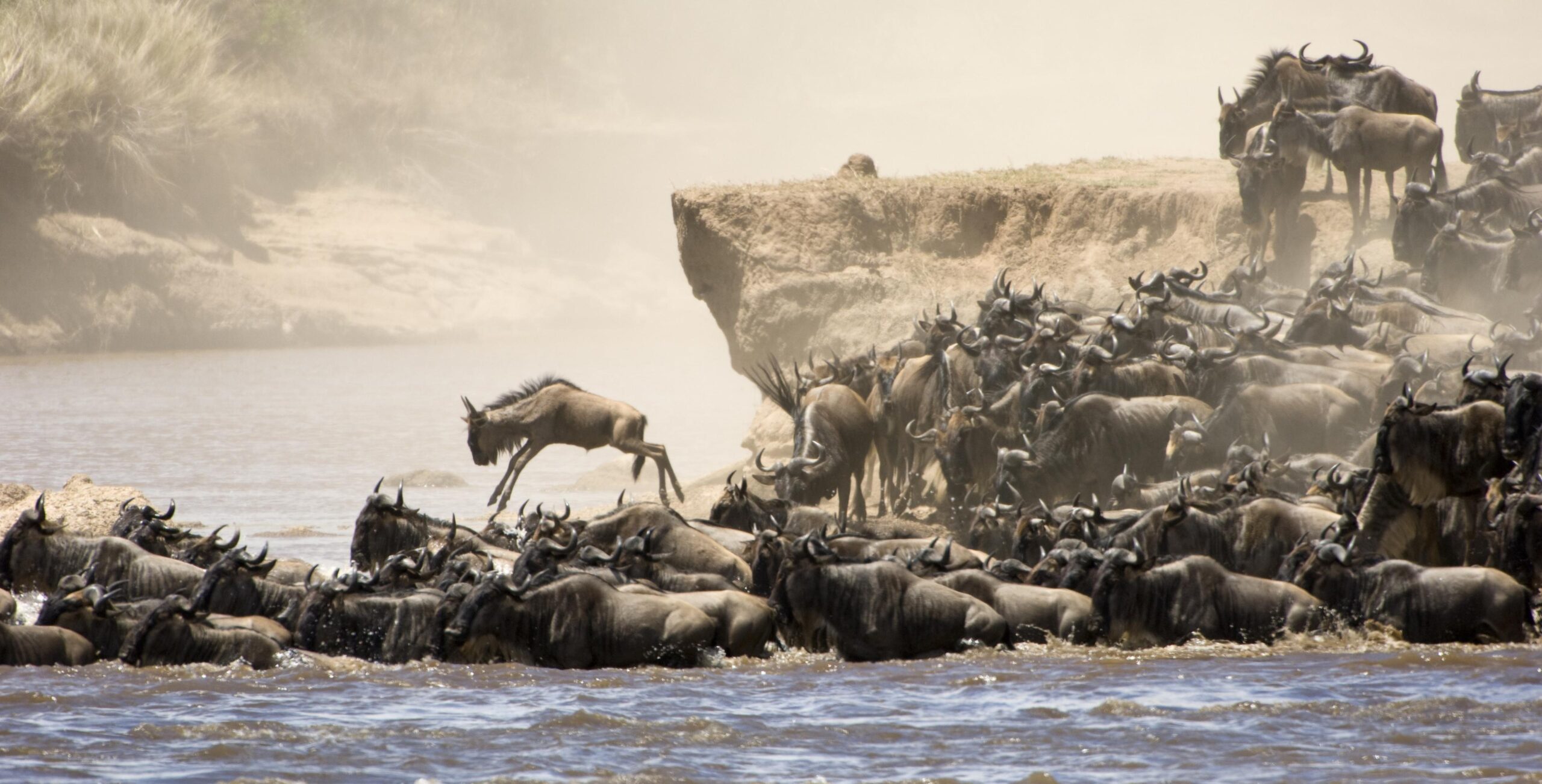 Behold the cycle of life.
I was to learn in greater detail, the rolling tides of life and death in the animal kingdom. The beauty of this great exodus is also marred with tragedy in a game of survival of the fittest. During the migration, it's the savannah's carnivores that receive easy pickings during their hunts and as they follow the large herds of wildebeest, zebras, and antelopes. In the speedy scurry across the plains and at river crossings, some animals including the most vulnerable young, do die from fatigue or injury, falling into the waiting jaws of crocodiles lurking beneath the river's surface or those of big cats and fellow meat-eaters, lying camouflaged within the tall grass. In a wild display of the food chain, while millions migrate in search of food and water, predators lie ready to catch their next meal from the demise of several both on land and in water.
There's simply nothing quite like it
Experiencing the first herds of the migration added a special surprise element to what is always a remarkable experience on safari in Tanzania. Witnessing what is widely viewed by conservationists, wildlife enthusiasts, and safari lovers alike as the lifeline of the Mara and Serengeti ecosystems, brought with it a strong sense of euphoria and appreciation for the restorative capacity of nature.  
Our trip, which had begun in Serengeti's Grumeti Reserve, tapered off where the migration was headed, at Singita's Mara River Tented Camp. This newly renovated and now re-opened chicly designed camp overlooks what will give guests a front-row seat to the hundreds of thousands of wildebeest on their way. Frequent visits to the water by big herds of Zebra heralded the commotion making its way for guests that would stay after we had departed. Away from the loud bellowing and clattering hooves, moments spent in the camp were set aside for reflecting upon what I had just witnessed, my appreciation of the wonderous cycle of nature the intricate linkage between it and us human beings, frequently encroaching on animal territories for a glimpse of one of the world's most remarkable natural displays.
Yvonne C Mtengwa is the Founder/Editor-in-Chief of the award-winning Travel Essence Magazine, a Communications Strategist by profession, with an avid passion for discovering Africa and the Middle East's iconic landscapes through her travels. Connect with and follow her travel, tourism, and lifestyle experiences on: IG @Quintessentially_yvonne.