Ghana's notable milestone among many, was that of being the first sub-Saharan African country to attain independence from British colonialism, and so it is no wonder that today, it is viewed as a beacon of the evolving story of Pan-Africanism. From connecting people of African descent from the Caribbean, the Americas, and Europe to their history, albeit tainted in parts, to a burgeoning entertainment and cultural scene, Accra is one such destination that invokes the spirit of freedom for all who seek it. A trip to Ghana will take you into time through a pan-African lens, and because we like to give you reasons to believe, here is our list of 5 monuments and landmarks you can easily check out in a day to further understand why the city is a heritage destination for lovers of West African history…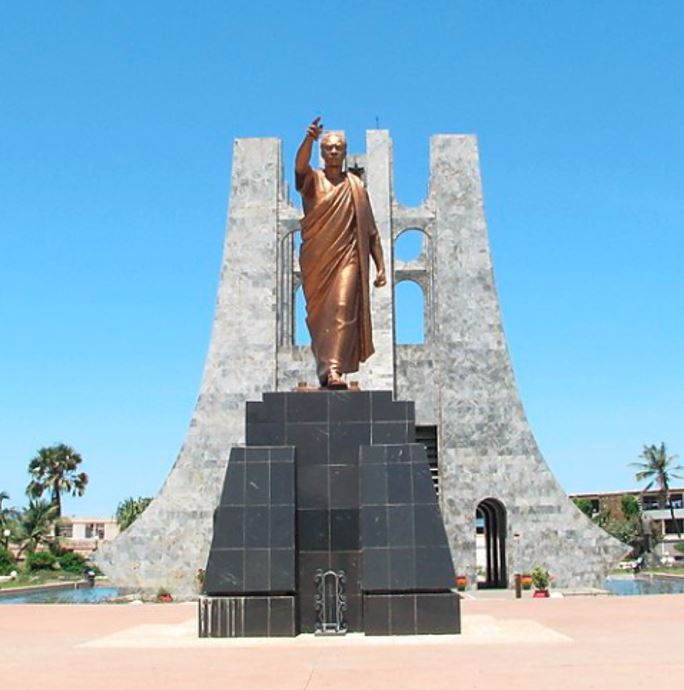 1. Kwame Nkrumah Memorial Park
Named after Ghana's first President who was a symbol of Africanism, and built in honour of his final resting place, the Kwame Nkrumah Memorial Park and Mausoleum is located in downtown Accra, and chronicles Ghana's journey to independence from colonial rule through exhibits of rare artefacts.  Tours journey visitors into time, giving them an in-depth history of the sub-Saharan struggle for independence, and a spirited sense of victory and political consciousness.
The mausoleum was designed by Don Arthur and is an architectural representation of an upside-down sword, which in the Akan culture is a symbol of peace. Layered from top to bottom with Italian marble, with a black star at its apex to symbolize unity. The Mausoleum's interior design aesthetic also boasts marble flooring, a mini mastaba looking marble grave marker that is surrounded by river-washed rocks.  
Taking you further into the history of the Great Kwame Nkrumah is the museum, which houses his personal belongings, including books he wrote, photograph archives, and official photographs. Visitors can immerse themselves in a unique photo collection which features pictures of Nkrumah with several renowned leaders of his time, including Pope Pius XII, Queen Elizabeth II, President John Kennedy of the United States, and many others.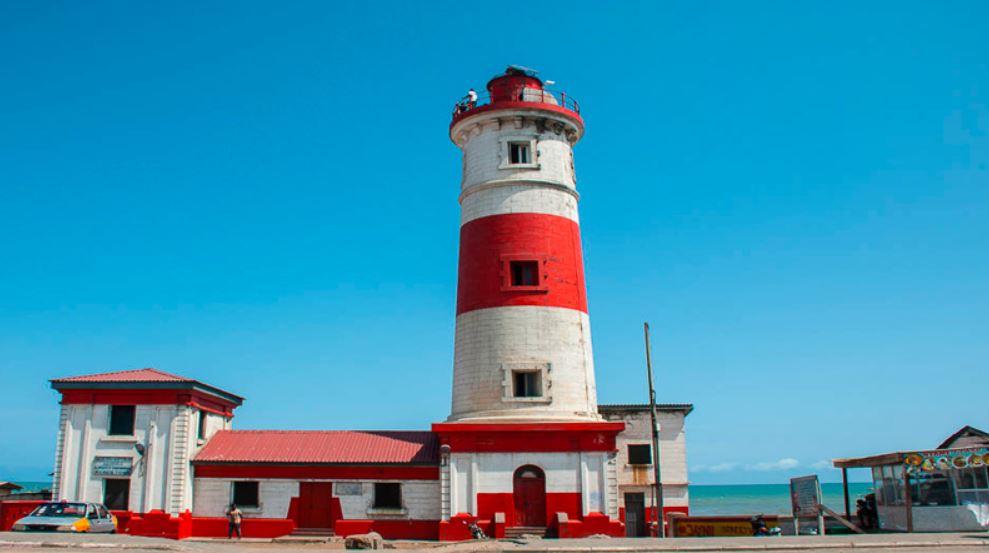 2. Independence Square
Also known as the Black Star Square for the large black star located at the top of Independence Arch, Independence Square commemorates Ghanaian independence from British rule in 1957. This landmark also features an eternal flame first lit by Nkrumah himself in 1961 after he commissioned the construction of the square.
Should you visit Accra at a time when the nation is commemorating any one of its more prolific events that bring citizens together, such as the Independence Day Celebrations on the 6th of March, it's commonplace to witness military and civic parades, as well as a myriad of cultural performances as throngs of people partake of these festivities. Also, the square is home to three monuments that encapsulate the fight for independence and liberation for Ghana, and these include the Independence Arch, the Liberation Day Monument, and the Black Star Monument. Visitors to the Square will also see a statue of a soldier facing the Independence Arch, a commemorative representation of the Ghanaians who lost their lives in their fight for Ghana's independence.
3. Osu Castle
Also known as Christiansborg Castle or Fort Christiansborg, Osu Castle is a 17th-century landmark located on the shores of the vibrant township of Osu, right on the coast of the Atlantic Ocean's Gulf of Guinea. Built first by the Danes and having changed hands through time between Denmark, Norway, Portugal, the Akwamu, Britain, and finally post-Independence Ghana, Osu Castle is today listed by UNESCO as a World Heritage Site.  
In 2017, the castle was converted into a Presidential Museum as part of Ghana's 60th-anniversary legacy project and is widely viewed as an iconic building that stands to present the unique possessions of past presidents and national artefacts that take guests through more of Ghana's past.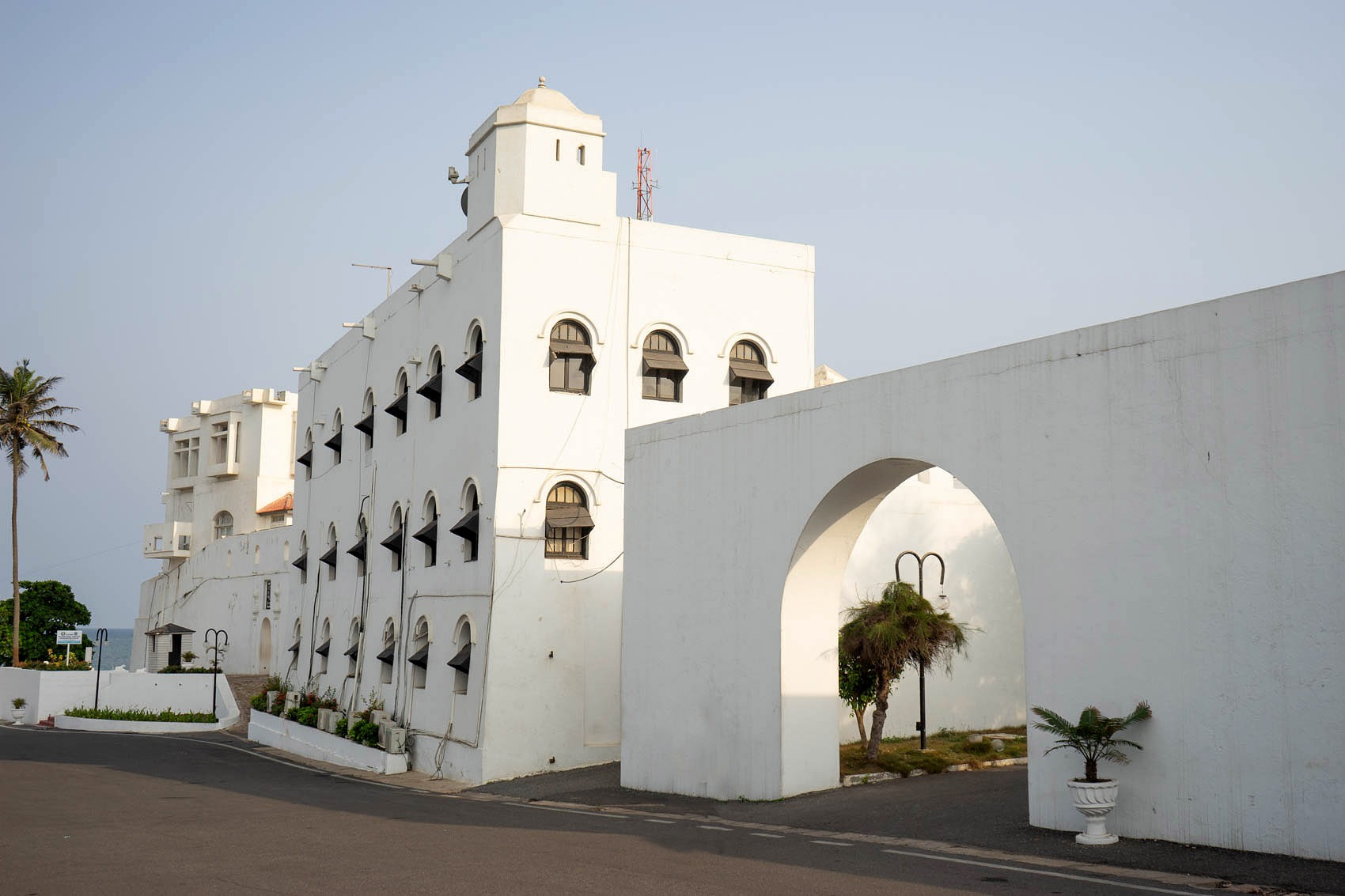 4. Jamestown Lighthouse
Jamestown Lighthouse isn't a tourist attraction in the more traditional sense, but many tourists often find themselves exploring its environs as part of a walking tour of the fishing community in which the lighthouse stands. Located in one of Accra's oldest neighbourhoods, the Jamestown Lighthouse's red and white colours jut out against the city's blue skies, giving one a panoramic view of the surrounding area and Accra's skyline.
Originally built by the British in 1871, and later replaced by the structure we now see today, one can summit the 28-meter-tall lighthouse to catch some cool views of Accra, before continuing on to experience the pulse of the area below.
5. National Museum of Ghana
Owned and operated by the Ghana Museums and Monuments Board (GMMB), though temporarily closed at the point of sharing our picks for top monuments to see when in Accra, this museum opened its doors in 1957 first, showcasing three primary collection areas: archaeology, ethnography, and art. Today, the National Museum of Ghana is widely viewed as a destination that once doors reopen, will continue to grant visitors an opportunity to absorb more of Ghana's cultural history. which are used to weave together a story about Ghana's rich cultural history.
Beyond the entertainment, opportunities for exploration and culinary experiences that come standard with any trip to a new destination, is connecting with the history and heritage of a place. Steeped in history, and symbolic of West Africa's historical and revolutionary spirit is Ghana, with its capital and largest city Accra, viewed as a fast-evolving hub for heritage consciousness, creative and cultural expression.