From Cape Town to Hermanus and Plettenberg Bay, three iconic boutique hotel destintions in South Africa's favourite coastal cities and towns  form The Liz McGrath Collection, proud members of the Small Luxury Hotels of the World. Each is eager to welcome guests to a luxurious experience, marked by personalised, intricately rendered service that delights the most tasteful in senses.
Each of the three 5-star hotels, The Cellars-Hohenort Hotel & Spa, The Marine and The Plettenberg, boast a unique location, mesmerising history, splendid design, and amenities and services to showcase South Africa's very best. In a city that hosts some unparalleled boutique properties in the region, The Liz McGrath Collection holds its own claim to fame across it's portfolio, featuring individually designed, sophisticated interiors, luxurious accommodations that will embellish you with pampering in esthetically pleasing spaces, award-winning gardens and world-class cuisine to exemplify South African hospitality.
In the recent Condé Nast Traveler Readers' Awards, the three sister-hotels once again took top honours and were voted amongst the Top 15 hotels in all of Southern Africa, yet another milestone given the competitive nature of the hospitality landscape in Africa's "Mother City".
Only the best from each boutique property
The Cellars-Hohenort Hotel & Spa
The 5-star Cellars-Hohenort Hotel & Spa is situated in an area known as 'Cape Town's Vineyard' – the historical Constantia Valley, a short 15-minute drive from Cape Town's city centre. Featuring 51 elegant guest rooms and suites, The Cellars-Hohenort is popular for celebrating weddings and special occasions, and for serving delicious picnics, as well as decadent Classic High Teas. Accommodation options include a two-bedroom Villa and the exclusive, 3-bedroom Madiba Villa. All rooms boast breathtaking views of South Africa's iconic Table Mountain range and the hotel's extraordinary gardens.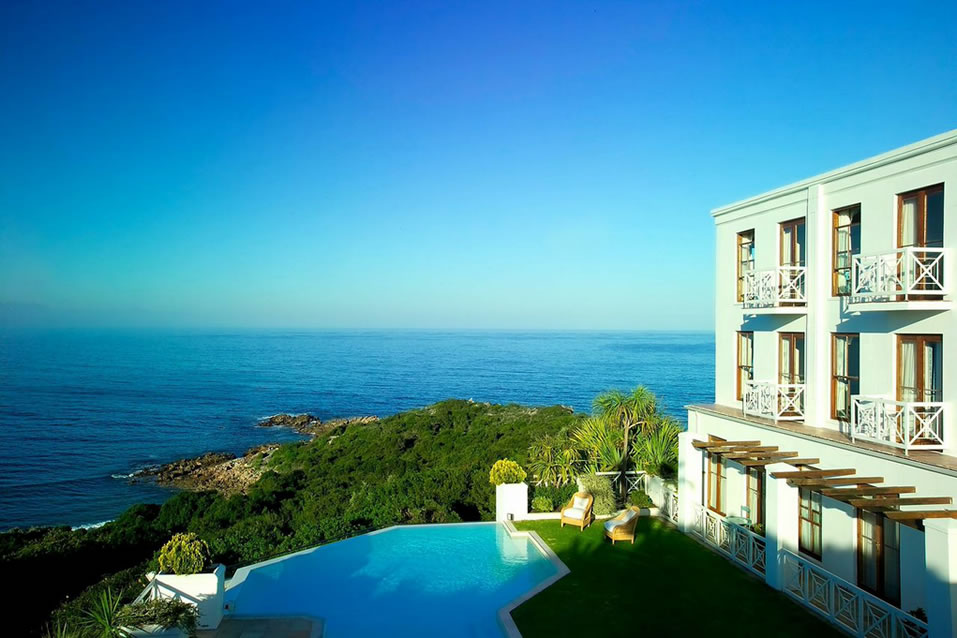 And the dining? The Conservatory Restaurant pulls all the stops in a specular showcase of food and wine pairing, taking diners on an unforgettable culinary journey through stunning presentations of locally sourced ingredients, which come together beautifully in a mouthwatering delivery of internationally inspired cuisines and flavours.
The Cellars Hohenort Hotel & Spa is also in close proximity to the world-famous Kirstenbosch Botanical Gardens, which is included in a new, guided Glamtrails excursion that may be booked as a guest activity. Situated in leafy Constantia close to the world-class wineries in the valley, the hotel is an easy 15 minutes drive to the city centre and a myriad of attractions for people of all ages. Back at the hotel, guests may take delight in nine acres of fairytale gardens with secret corners, water features and rolling lawns, as well as two sparkling swimming pools, a tennis court and Spa.
Discover The Marine
The Marine is one of South Africa's most spectacular seaside hotels. Located on Hermanus' famous cliff path, overlooking the breathtaking Walker Bay, the Small Luxury Hotels of the World property offers visitors the unique opportunity to experience the finest land-based whale watching in the world from June to November each year. Guests are even able to view these majestic creatures from the comfort of their own sea view room. The Overberg region is also a must for adventure sport seekers, offering a host of activities – including hiking, mountain biking and marine sports.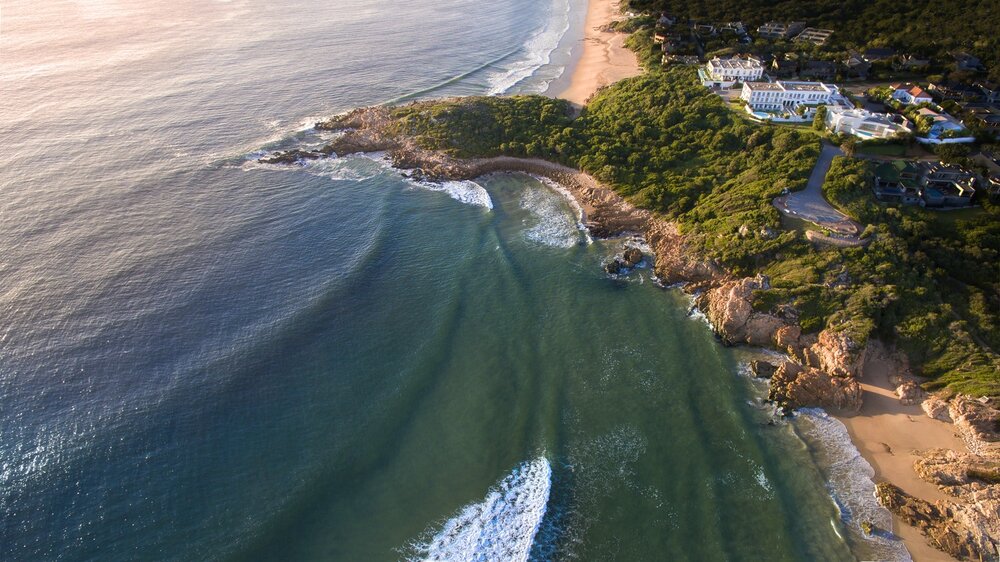 Back at the hotel, guests can indulge in exceptional culinary delights from breakfast, lunch and dinner at the Pavilion Restaurant, to Afternoon Tea and sundowners in the Sun Lounge & Bar. 
The 40 elegantly appointed rooms and suites include 10 Luxury Doubles with Sea View and 10 Premier Suites – both categories are perfectly positioned for watching pods of dolphins and whales as they swim in the bay below. Guests may take a refreshing dip in The Marine's pool, located in the hotel's tranquil courtyard, or in the Tidal Pool, which can be accessed from the cliff path.
Explore the Garden Route from The Plettenberg
Situated on a rocky headland in one of South Africa's most spectacular beach towns, The Plettenberg is tucked neatly into the Garden Route, where guests can enjoy a year-round temperate climate, pristine beaches and dense green forests, making it the ultimate South African seaside escape. The property has direct beach access and showcases some of the most breathtaking vistas in Southern Africa, with views of the ocean, mountains and endless stretches of golden sand.
The Plettenberg features 37 beautifully appointed guest rooms, including 12 Suites and two spectacular Villas. Guests may enjoy world-class cuisine where deliciously fresh dishes are served in a mesmerizing seaside setting. The Sandbar is the perfect spot for pre- or post-dinner drinks, as well as tea, wine and meticulously crafted signature cocktails throughout the day.
Guests are invited to relax at one of two pools with stunning sea views, or in the Summer Lounge or Terrace, before getting pampered at the Fresh Wellness Spa, or enjoy a workout in the gym. Whether visitors are looking for a romantic seaside escape or an action-packed family holiday, The Plettenberg is the ideal place to relax, unwind and recharge.
A haven for Family and Group Travel
Post-pandemic trends have demonstrated an increasing demand from travellers in small groups, and multi-generational families and friends taking holidays together. This is within good reason, as more families and groups now widely view travel as a stellar opportunity to not only explore new spaces and cultures, but equally, create memorable moments for refuelling and reconnecting.
The Liz McGrath Collection is proud to extend a warm welcome to all, including families with children of all ages. For parents, happy children mean happy holidays, and so to meet the increased demand for child-friendly holiday experiences, The Liz McGrath Collection has curated specialised products for children, that range from kids guest amenities that come with age- and size-appropriate gowns and slippers, to special turndowns for mini-guests, complete with bedtime stories.
Both The Cellars Hohenort Hotel & Spa and The Plettenberg feature private villas, some with plunge pools, that are perfectly suited to friends and families travelling together. The Marine Hotel offers dedicated rooms within a hotel wing that are ideal for families and small groups.
The Private Villa Experience 
The private villas at The Cellars Hohenort Hotel & Spa and The Plettenberg are perfect for families or friends traveling together. Designed to meet the needs of every individual party of guests, it offers beautiful surroundings with complete privacy and seclusion. Depending on the guest requirements, service may include high-touch, full butler service that could come with the services of a private chef. The villas are spacious and offer ample indoor and outdoor living areas, including some with heated plunge pools for making the most of the sunny South African weather, perhaps relaxing around a typical South African braai (barbeque).
The Villa experience is recommended to guests to unwind before embarking on their South African adventure. As a home-away-from home, it is also the perfect destination for guests to enjoy their last few days before departing from South Africa, complete with a seamless transfers from the private villa to the airport.
Perfect destinations to combine work and leisure
The combination of business and leisure travel is not new.  'Bleisure' started pre-pandemic but has seen a steady increase in the past three years.  Cape Town is making headlines as an an attractive 'Bleisure' destination due to its accessibility and attractiveness to remote workers, and its focus on global employment compliance.
Cape Town is furthermore rated as a top International Conference City, and so The Cellars Hohenort Hotel & Spa is seeing keen interest from executives combining business with the many leisure activities available in what is fondly know as, the 'Mother City'. Ready for your Capetonian boutique hotel experience? The Liz McGrath Collection is a stellar portfolio to set your eyes on!
TO CONNECT WITH THE LIZ McGRATH COLLECTION SOUTH AFRICA
Tel: +27 (0)21 794 5535
Email: [email protected]
Become a fan of The Liz McGrath collection on Facebook
Connect with The Liz McGrath Collection on Instagram
Visit The Liz McGrath Collection website