Words by Christy Shakuyungwa  
Photo credits: GocheGanas Website, Christy Shakuyungwa  
My good Friend Ester, who doubles up as my self-proclaimed travel partner, one day called to complain about an acute tension that she was feeling, suggesting she was in dire need of massage therapy. A few calls to the renowned spas in Windhoek proved futile, as surprisingly, even during these Covid-19 stricken times, most were fully booked for up to 5 days in advance.
I asked her why we were limiting ourselves to experiencing spa retreatment within the confines of the capital. Surely there would be a place close enough to Windhoek for us to take a quick drive out of town for a little self-care exercise. A few Google searches later led us to the online home of Gocheganas, a luxury lodge located 29 kilometers from Windhoek, which professed to offer a unique experience that combines one's love for wildlife, nature, and wellness to curate the ultimate relaxation experience.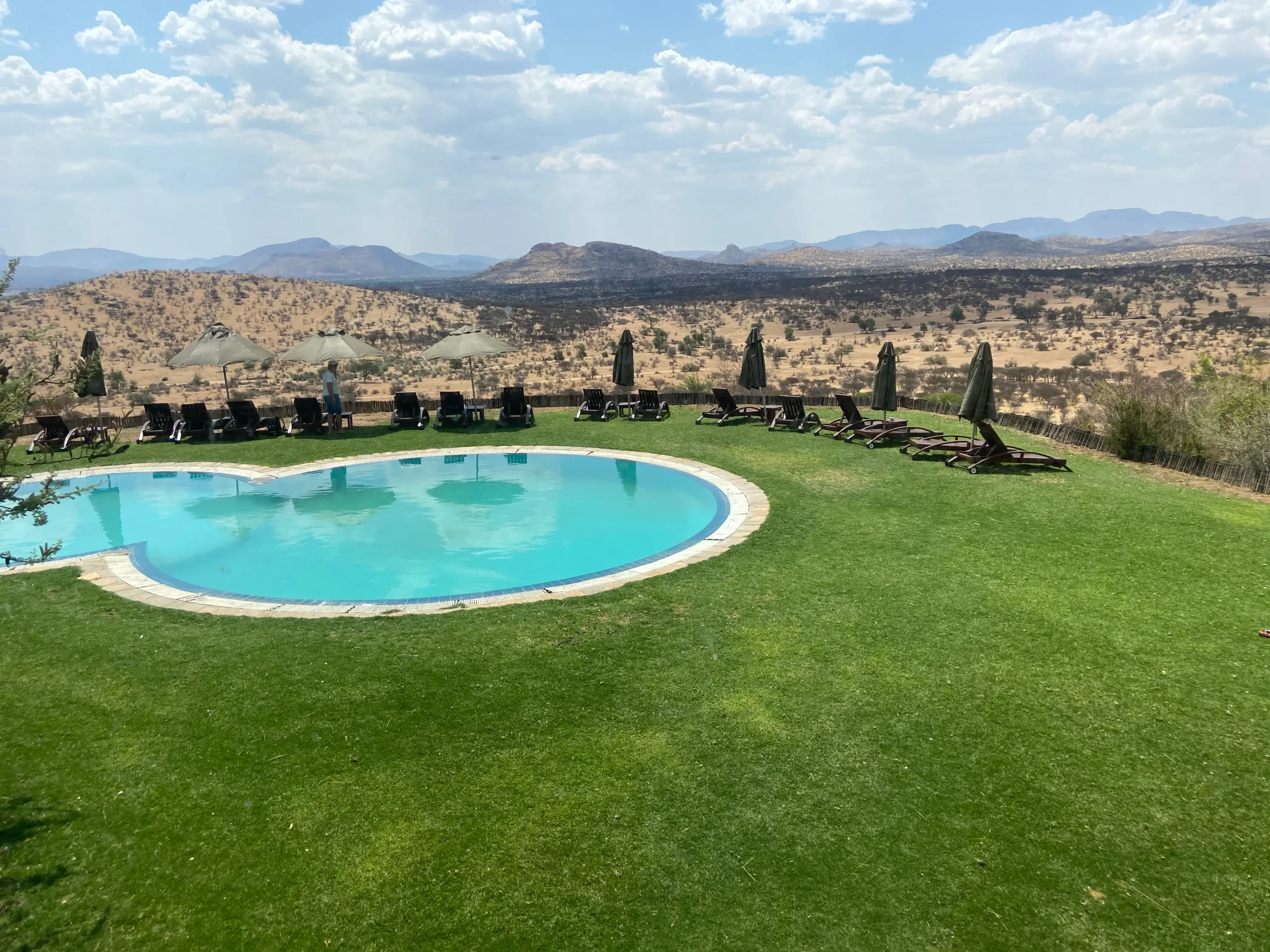 The road trip to ultimate relaxation  
Needless to say, the website gave us enough information to know that this would be our destination so Ester could experience the spa treatment she had been earning at the onset of our conversation. It was time for a mini spa getaway. We made our bookings for the following Friday afternoon, and the trip turned out to be a short 22-kilometer drive south towards Rehoboth along the B1 Highway before we would have to turn off left onto the D1463 gravel road for another 20-odd kilometers.
It was a scorching hot day, and the temperatures were about 32 degrees Celsius. An absolute norm for Namibia. There were clouds forming in the sky, which sort of suggested that perhaps rains were around the corner. The drive to the Lodge was scenic, characterized by mountainous terrain, flagged mostly by camel thorn trees. The conversation en route to the lodge was mostly on the politics of the day. Local and regional Authority elections were coming up in November, and so the campaigning by all political parties had intensified. The political space seemed to be transforming and it was just interesting to witness.
Before we knew it, we had arrived at the Gocheganas Gate. A friendly greeting from the security guard welcomed us and once he confirmed our appointment, we drove a short 0.5 km to the designated parking Area. From the designated parking spot, one could see the lodge a further distance up on the Hilltop. It was majestic.
An invitation to an environment of tranquility and relaxation
A shuttle picked us up from the Parking lot and drove us to reception, from where we were directed to the "Wellness Village". The wellness village reception had high ceilings, with orange and brown-toned décor items. There was an indoor pool, and all we could think about with the scorching heat was whether we could take a dip in the pool at all.
Our treatments were booked in rooms separate from the reception area and were carried out in round huts with thatched roofs.  The setting offered a great combination of traditional architecture embellished with a luxurious design aesthetic. There is something magical about thatched roofs, for they always give a hut the desired cooling effect, and these modern huts did not disappoint.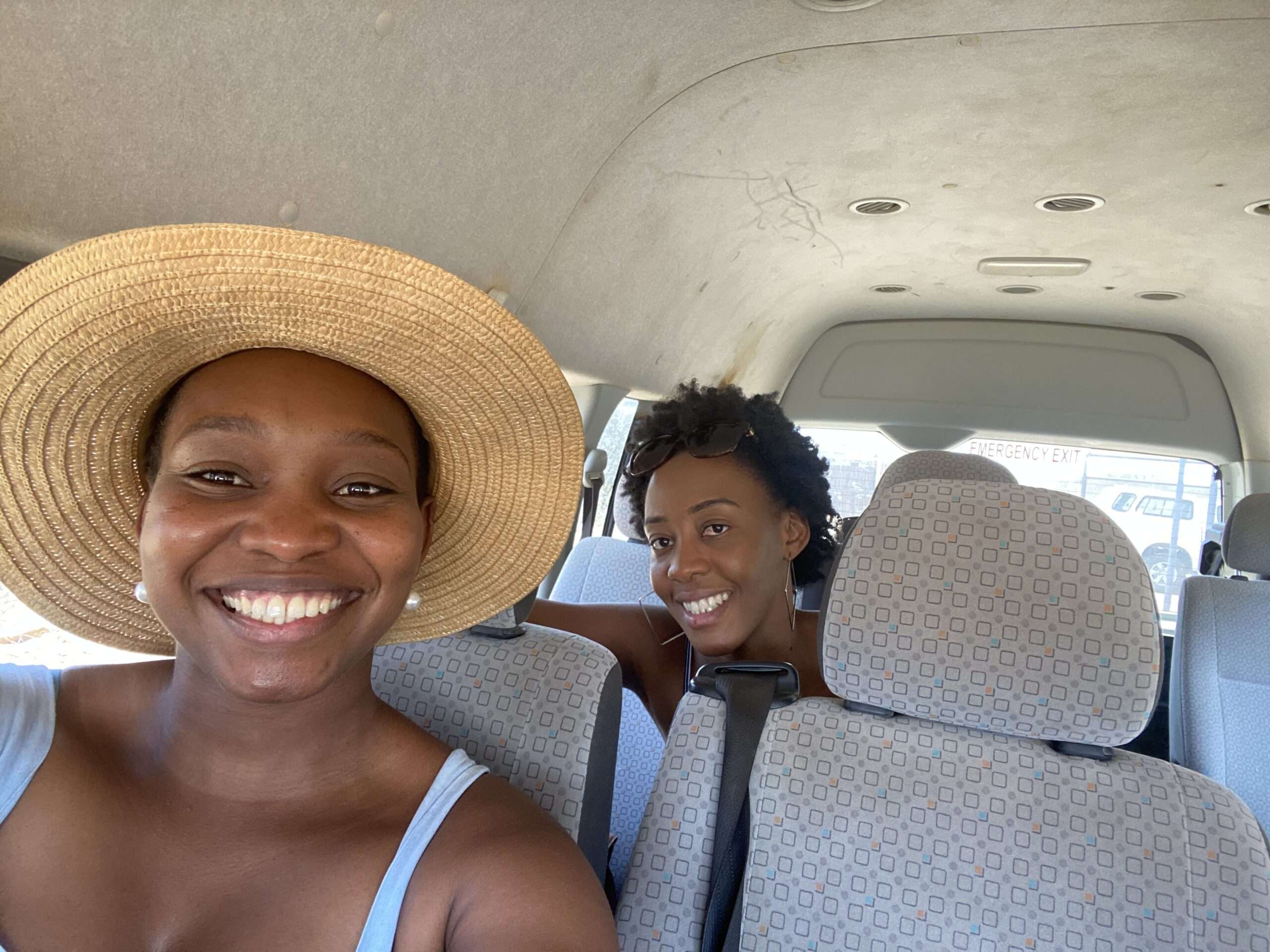 A wide selection of treatments to choose from
We insisted on getting massages in the same room; after all, what is the point of Spa date if we will be apart? Ester opted for a full-body Marula Oil massage. The list of services and treatments available at Gocheganas would rival any high-end spa. From manicure and pedicure options to luxurious bath experiences, body therapies, massages, and facial treatments, Gocheganas gave us so many options to pick from, all of which promised the use of essential oils, masks, and other such ingredients made from natural elements.
For us, it was refreshing to see a Spa incorporate local marula essential oils into their treatments, the marula of which is native to Southern Africa. The marula tree is a deciduous African tree that produces yellow fruit. The flesh is eaten, and kernels are traditionally used to make the pale-yellow marula oil which possesses high concentrations of oleic and linoleic fatty acids as well as more commonly known antioxidant vitamins C and E.
Typically, at a Spa, one expects the new-age background music that is meant to create a calm and relaxing environment that even induces sleep. Not at Gocheganas. There was absolutely no music at all being played. It was all about the stillness of nature, away from the hive of activity in Namibia's capital Windhoek, with occasional interludes from birds in the distance. It was different, new, and yet very hypnotic.
While Ester was whisked away by her Marula treatment, I opted for a full-body hot stone massage. I had just recently started working out and so it was no surprise that my muscles welcomed the hot stones. My masseuse Maria worked skillfully and patiently for a full hour, or at least I think It was an hour, because halfway through I dozed off only to be woken up later, with her gently tapping on my shoulder.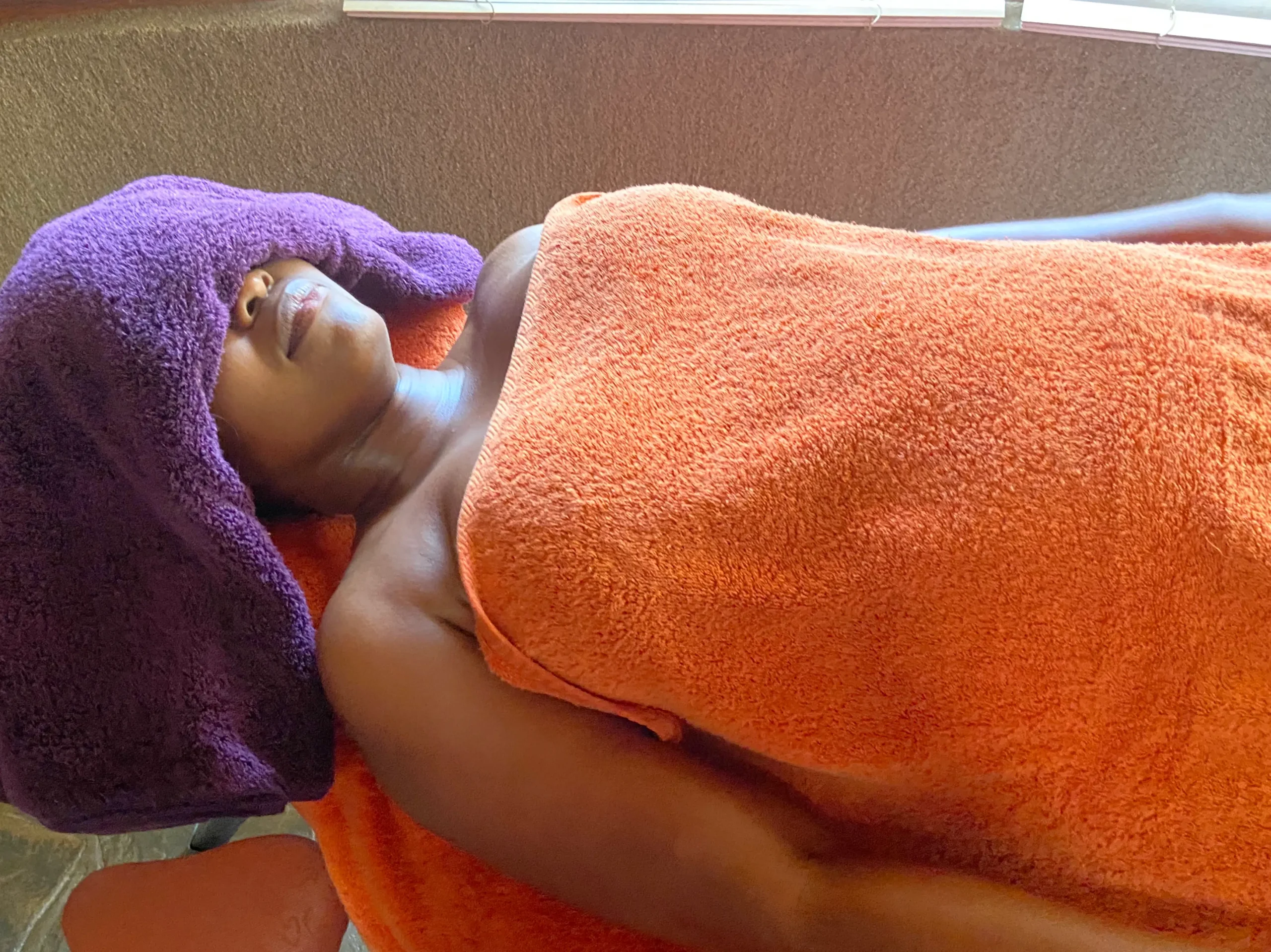 Ester and I must have both dozed off and only woken up after our massages were done. From there we headed out to the outdoor pool, a pristine setup overlooking the mountain. But with the feel of essential oils still, on the body, the idea to go for the swim was aborted. Instead, we opted to sit by the restaurant and order some mimosas and hearty snacks. Conversations ranged from Politics, life reflections, relationships, and of course planning the next possible getaway, while also agreeing that such getaways needed to become the norm in our attempt to have a more structured self-care routine.  
A worthwhile escape from the city 
Time went by very quickly and before we knew it was dinner time. We had early dinner at sunset, and the foodie in me couldn't wait to see what the menu had to offer.  Mains were a grilled steak for Ester and Kingklip for me. What stood out were the sauces, all well-reduced and beautifully complimenting the meats. The mains were followed by a beautiful cheesecake, from which our individual sweet tooth was left satisfied as we toasted to a Friday well spent.
Heading back home from Gocheganas, the drive back seemed a bit longer, but we felt more relaxed. I won't lie, we did toy with the idea of staying over. But maybe, just maybe, a staycation should be the next adventure we take, with the plan to spend more time at this sanctuary on a 6000-hectare nature reserve that boasts 25 different wildlife species, and the opportunity to enjoy game drives and walking activities for a more enriched experience. Gocheganas promises distinctive wellness facilities and treatments of a world-class standard, and as a party that had enjoyed a day of little pampering and relaxation, they sure did deliver their promise of a renewed mind, body, and spirit
To find out more about the Gocheganas Experience, the accommodations, conferencing facilities, and activities available on-site, visit www.gocheganas.com