The Elewana Collection easily boasts the largest footprint in East Africa, wit 16 lodges, camps, and hotels in 11 iconic locations from the semi-arid landscape of the northern properties in Meru, Loisaba and Lewa. The rolling savannahs of the Masai Mara and of course the endless plains of Amboseli with the dramatic backdrop of Mt. Kilimanjaro, each has its own unique charm that will leave you in awe of your surroundings.
In Tanzania the tranquillity of Arusha to the dramatic highlands of Ngorongoro Crater, the vast expanse of the Serengeti plains, and the undulating valleys and swamps of Tarangire with impressive baobab trees that dominate the landscape, all contrast the stunning coastline at either Diani or Zanzibar, offering a different beauty with swaying palm trees, white sandy beaches and crystal blue waters of the Indian Ocean that mesmerize the senses.
Kenya is renowned for delivering the quintessential safari experience, and the iconic locations of Elewana Collection's 10 properties enable guests to enjoy the country's vast and diverse ecosystems by showcasing the very best that this incredible destination has to offer.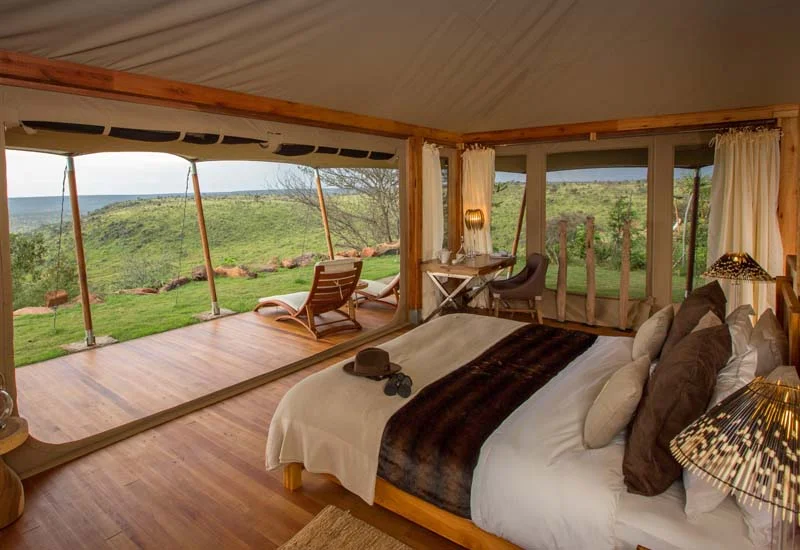 Unpacking Loisaba
The lesser-known Loisaba Conservancy is an exemplar of cutting-edge conservation on the wild Laikipia Plateau, North of Kenya. Already a very special safari destination, the 57,000-acre conservancy is home to only three luxury Elewana Collection camps offering an ultra-private and exclusive experience. Loisaba has ravishing views stretching to Mt Kenya and a rich abundance of animals – Laikipia is one of only a few places in Africa where wildlife numbers are actually on the rise; everything from the Big Five, rare melanistic leopard to a rare wild dog might be spotted.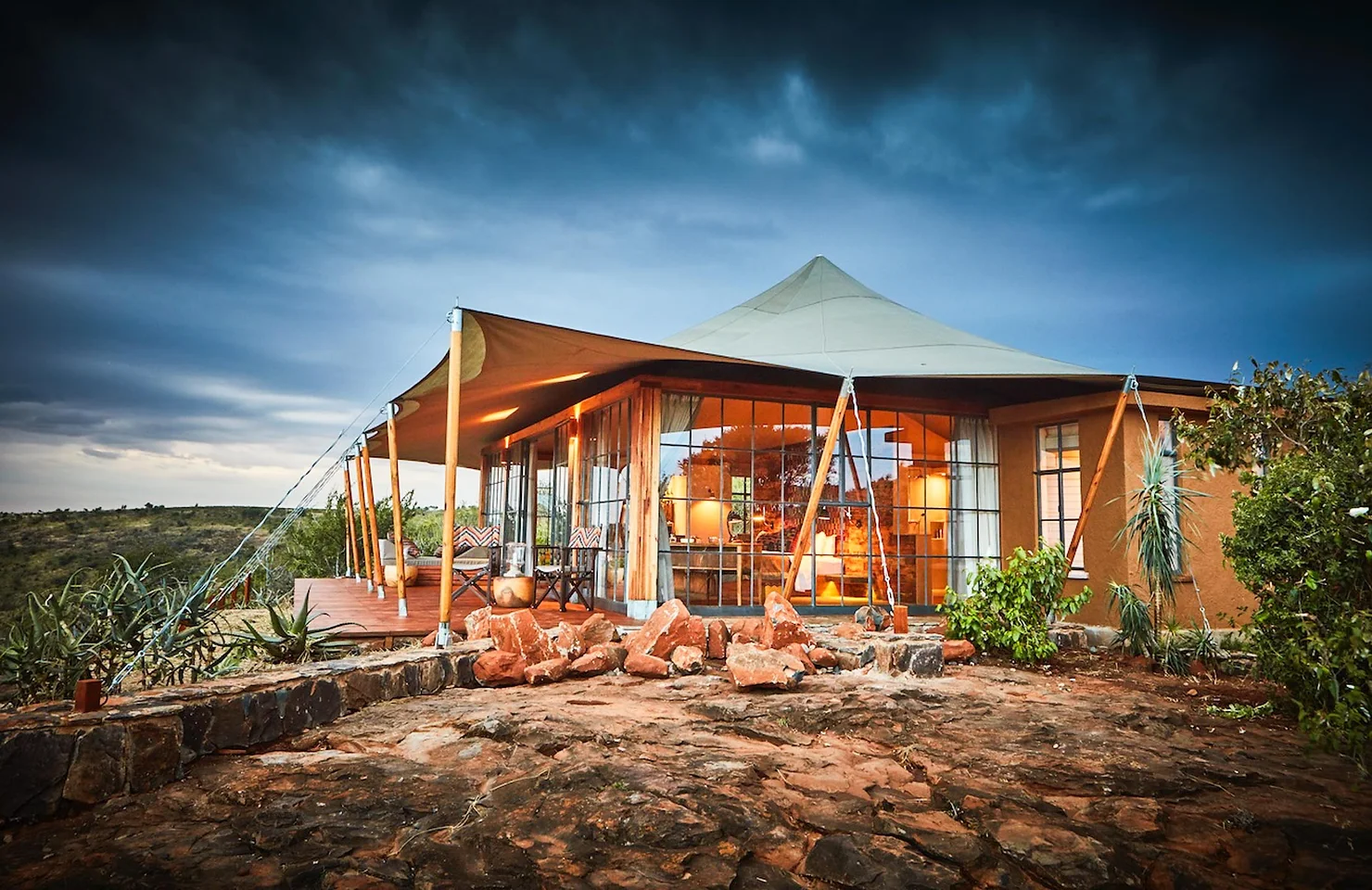 It also offers an exciting array of different ways of experiencing the wilderness, from game drives and bush walks to camel rides, mountain biking, horse trekking, and Samburu guided runs. Loisaba will revive your mind, rejuvenate your body, and revitalize your soul. Each with its unique style and charm but common customary warm African hospitality, the Elewana Collection camps in Loisaba are truly magical and will ensure your experience is not only big on the game but big on glamour too.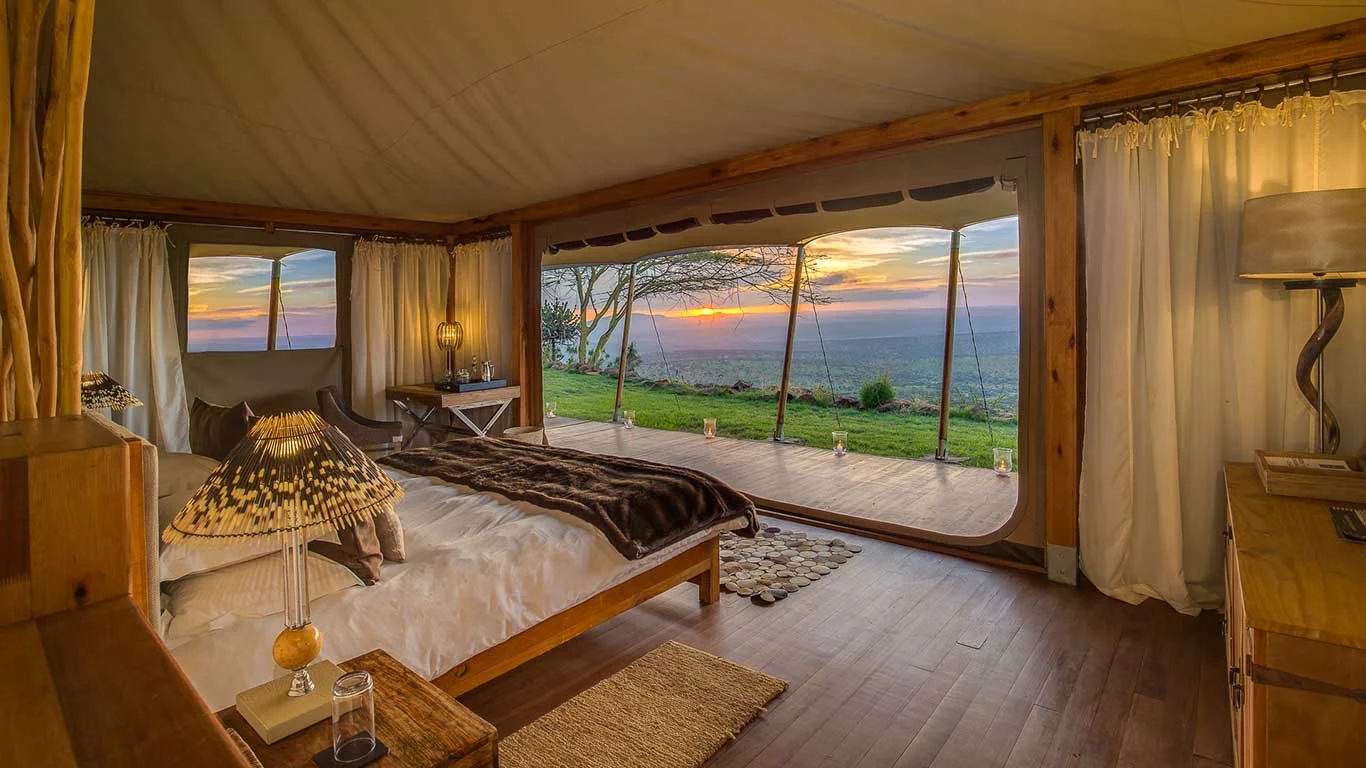 Loisaba Tented Camp
Perched on the edge of an escarpment, Loisaba Tented Camp is designed to capitalize on unhindered views across Laikipia's mottled landscape all the way to Mt Kenya. All accommodations and main areas enjoy a breathtaking vantage point over an expansive panorama. African-themed sophistication and style are the flavors of Loisaba Tented Camp. Spacious and airy tents are custom-built with large floor-to-ceiling doors and windows, high ceilings, and polished wood floors. The tent suites are adorned with chic Africana furniture with a modern European twist.
Loisaba Star Beds
The ultimate night's sleep? It's tough to imagine anywhere more magical to drift off than Loisaba Star Beds. Poised on a rocky kopje, the Loisaba Star Beds command sweeping views over an undulating valley. Handcrafted four-poster wooden beds sit on raised wooden platforms jutting out from a thatched-roof accommodation and are rolled out each night for guests to enjoy the most memorable sleep under the endless African sky. Rustically designed to complement the surrounding environment, each star bed is individually built in harmony with the natural rocky features, incorporating a sitting area, and an open-plan bathroom with a view.
Loisaba Lodo Springs
The newest addition to the portfolio, Loisaba Lodo Springs is set on an escarpment with impressive views that reach across the magical landscape of northern Kenya from almost any point in the lodge. Designed to pay tribute to old safari ways; an eclectic mix of hand-restored antique and vintage pieces enhance the backdrop of modern and contemporary architectural design with décor that features 17th-century French walnut wardrobes, up-cycled cedar fence posts used as paneling and 1950s Americana parlor bar stools.
Offering an ultra-private experience, each of the eight spacious tented rooms boasts its own individual style with the color scheme selected to represent the vintage Ghanaian Kente cloth that hangs above the master bed. Service being paramount, each tent is assigned an Elewana Guest Ambassador to serve and cater to every guest's need, as well as a dedicated safari vehicle and guide who will accompany guests for the duration of their stay.
Commitment to building communities and protecting nature
Revenue generated from conservancy fees and bed nights at Loisaba is dedicated to the conservation of the 230km2 private wilderness area, in addition to supporting community-orientated health, education, and enterprise programs outside its boundaries with the neighboring Samburu and Laikipia Maasai tribes.
Together with its partners, The Nature Conservancy, San Diego Zoo, Space for Giants, and Elewana Collection, the Loisaba Conservancy's mission is to protect and enhance critical wildlife diversity, abundance, and habitat in the Loisaba landscape, which sits on the western edge of one of Kenya's most important elephant movement corridors, while concurrently supporting sustainable livestock production and improving the lives of neighboring communities.
The Land & Life Foundation, Elewana Collection's charity arm, is a commitment to responsible tourism, ensuring future generations can enjoy the wonders of Africa and safari adventure. Land & Life believes that the sustainability of East Africa's wildlife and habitats depends on these key actions:
1. securing land for conservation, protecting species and their environment,
2. providing tangible benefits to the people who live alongside wildlife, and
3. educating the next generation of conservationists.
Land & Life achieves this through four core programs – Wildlife Warrior Program, School Support, Medical Support, and Nature Conservation Program.