Eastern Highlands lands itself on the list of prime tourist destinations in Zimbabwe, renowned as a breathtaking, nature and outdoor adventure alternative to safari territory in the Lowveld. Endowed with so many mysteries awaiting a visitor to discover, the Eastern Highlands region's major tourist attractions include Nyanga, Vumba, Mutare, and Chimanimani. So if you should find yourself in Zimbabwe, and are looking for a quieter escape where hills, valleys, and imposing rocky outcrops surround you in every direction, locals will recommend you to go on a short 3-hour drive from the nation's capital Harare, towards the mountain ranges that border Zimbabwe with neighboring Mozambique. Once there, there are a few stopovers that should be a part of every itinerary as you explore these elevated terrains, however, for now, we'll tackle the popular Nyanga and what makes it so attractive.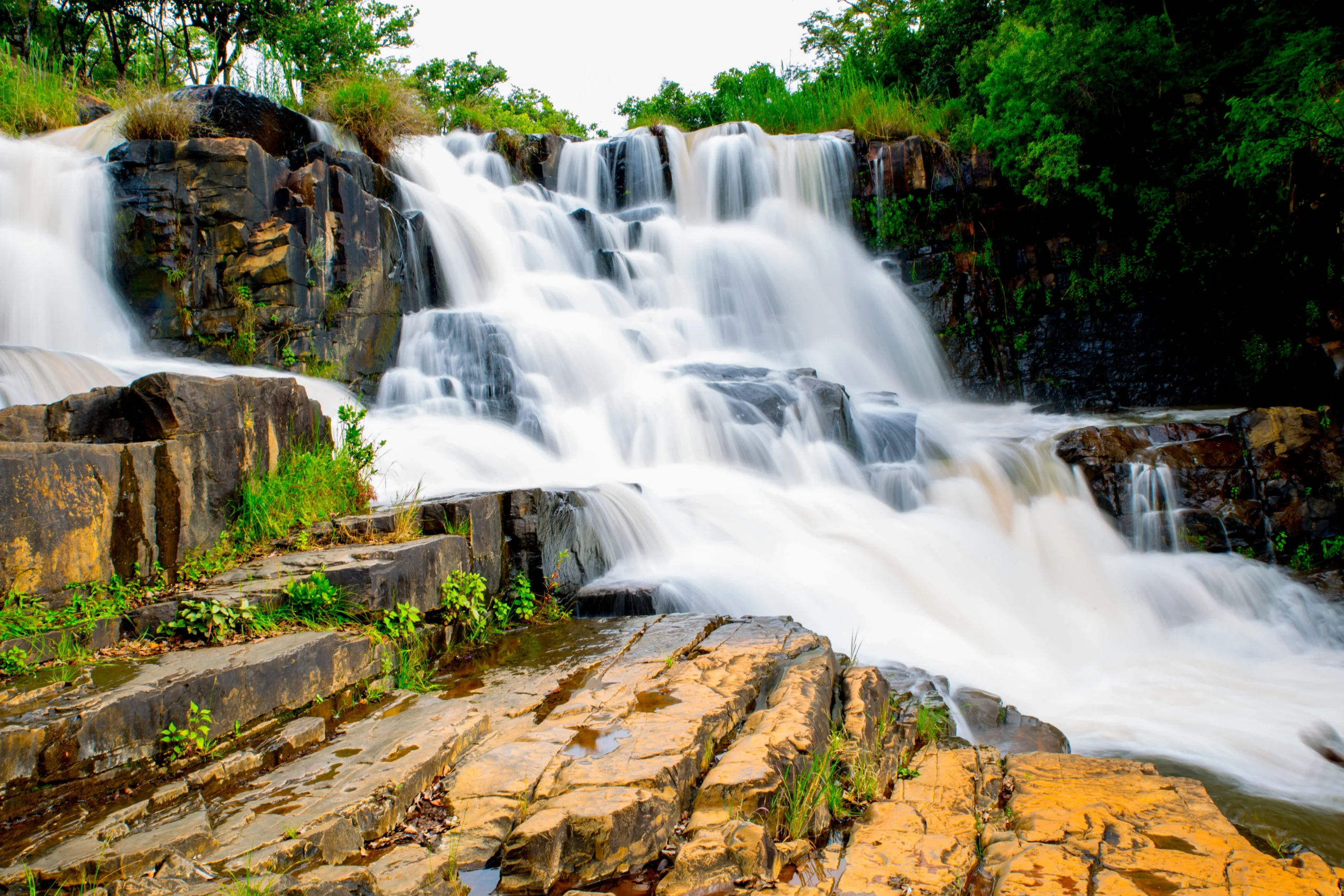 Nyanga
Nyanga is famous for its verdant, mountainous scenery, crystal-clear streams, and Zimbabwe's highest mountain and waterfall. It is regarded as a place of great natural beauty, with most of its attractions within the Nyanga National Park. Its winters are often cold, punctuated with misty, heavy frost common, especially in the valleys. Nyanga's landscape is a marvel to any visitor, attracting the adventurous to experience what this resort town has to offer.
Avid fishermen will enjoy the finest fly fishing in the country in its well-stocked dams and lakes including Mare, Rhodes, and Purdon dams. The region's altitude is between 1800m to 2593m, and the magnificent views, hiking trails, excellent birdwatching, great outdoors, numerous waterfalls, massive plantations, and its mystical history, all make it an ideal holiday destination that avails a unique combination of relaxing and thrilling activities.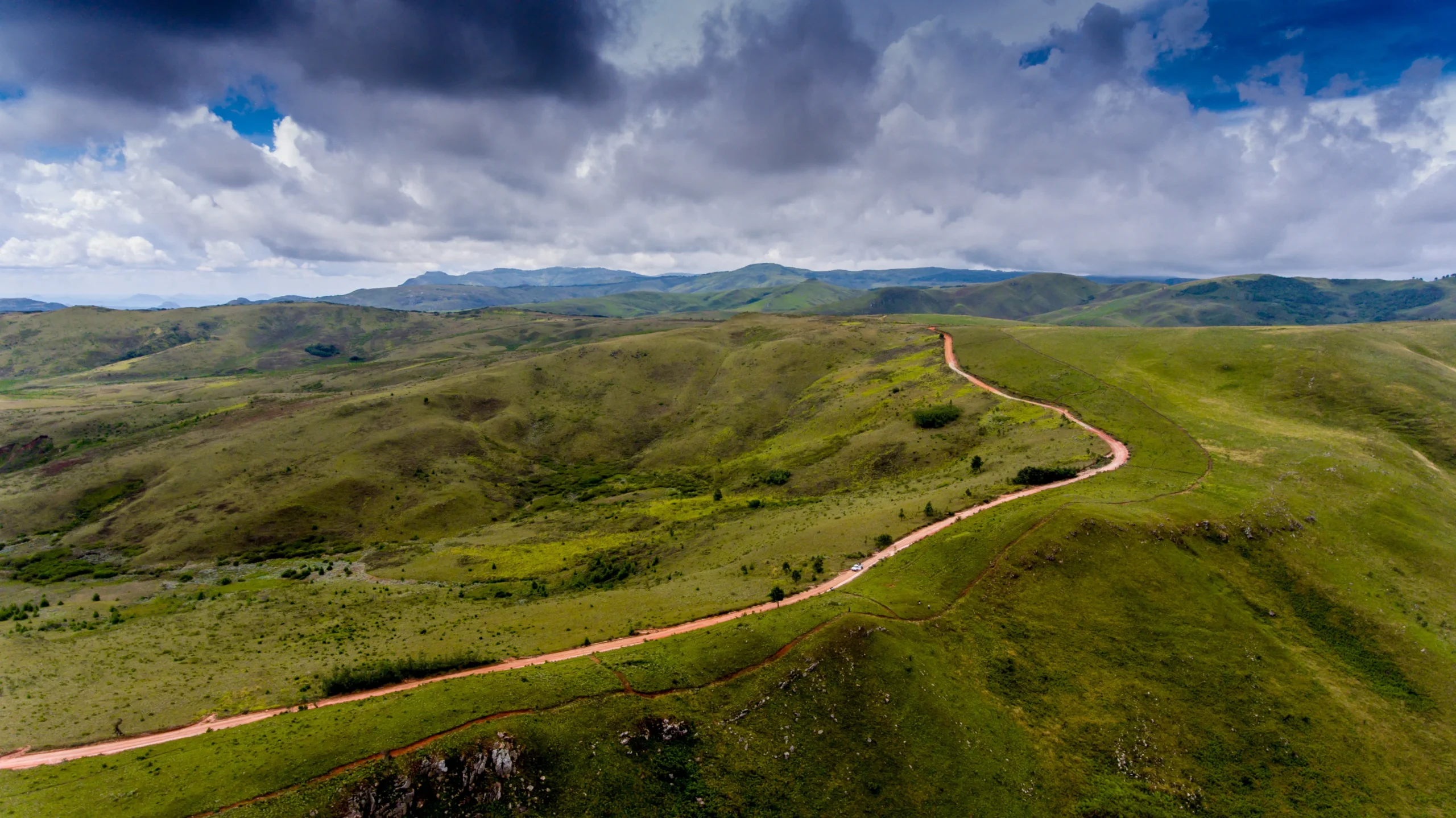 Mount Nyangani
This is the highest mountain in Zimbabwe at 2593m and is situated in Nyanga National Park. The local community believe this mountain to be sacred, citing records of some visitors who are said to have disappeared and never to be seen again. It is believed hikers to the mountain have encountered mysterious, inexplicable happenings however, to guarantee the safety of visitors, Zimbabwe Parks and Wildlife Management Authority, which runs Nyanga National Park have made it a point that every visitor to the mountain is accompanied by a local professional guide.
An average hike takes about 2hours, taking you to the summit at 2953m.  A truly exhilarating and breath-taking experience once complete, visitors are encouraged to get to the Parks office early morning ahead of their hike. The drive from the Park office to the mountain takes almost an hour, marked with umbrella shaped trees. A huge highlight is spotting game, mainly zebras, kudus and wildebeests. Visitors can always pass through the Nyamuzihwa Falls, enjoy the peace and serenity at these cascading waters, before heading for more adventure. Comfortable shoes are obviously recommended, as there are many steep areas with loose stones especially when ascending. And of course, don't forget to take along water and something to snack on.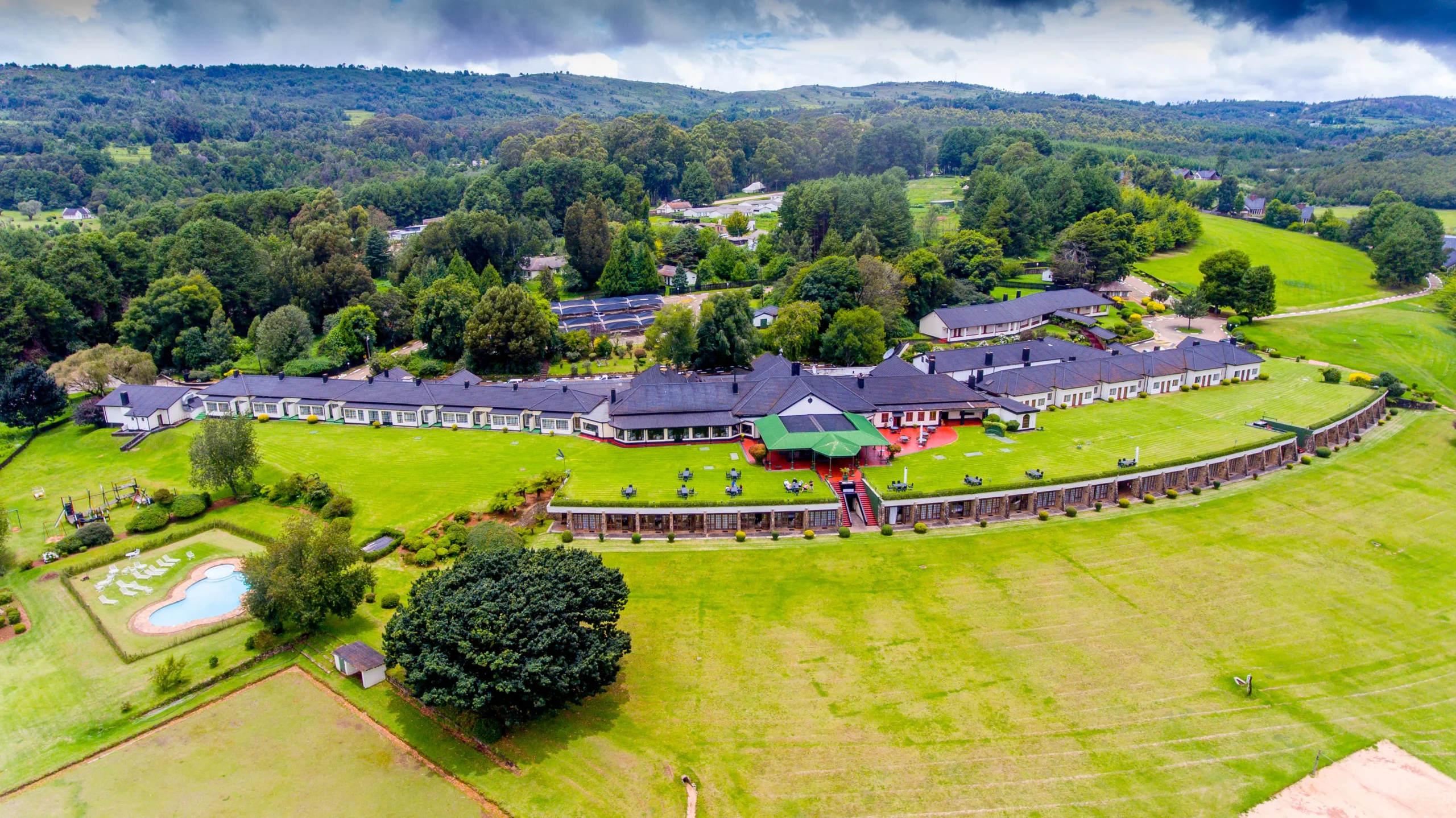 Mtarazi Falls
Mtarazi Falls is the highest waterfall in Zimbabwe at 762m and the second highest in Africa after Tugela falls in the neighbouring South Africa. Also, within Nyanga National Park, the Falls grant visitors a treat, especially adrenaline junkies who can walk across the nation's first and only skywalk, which offers a guaranteed closer view of Mtarazi falls and exceptional views of Honde Valley below. You can also conquer your fears by trying out one of highest ziplines in the world, the Skyline. After the thrill, an obvious follow-on is to take a nature walk to view the Mtarazi falls from another vantage point.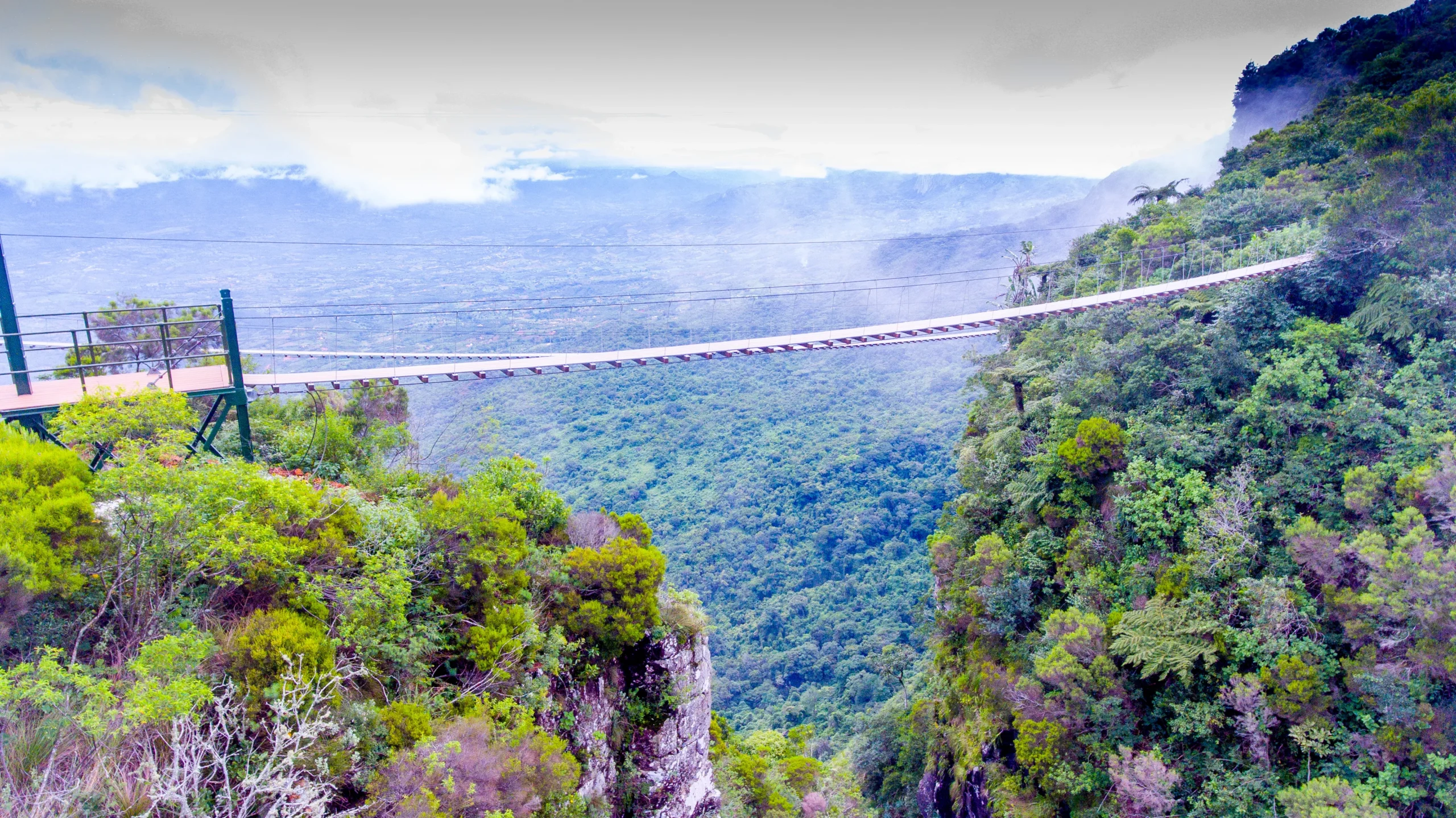 Nyangombe Falls
Oh! What a delight to behold! It is always a great experience to tour the spectacular waterfall after the Mount Nyangani hike and enjoy beautiful sunsets, especially in summer. Visitors hike a few meters down the gorge to see the waterfall, one that will surely mesmerize any visitor. It would be good to have something to snack on whilst you sit back, relax and listen to the thundering cascading waterfalls, before heading back up from the falls where the path is quite rocky and steep.
World's View
For those in search of panoramic views, the scenery from the aptly named "World's View" is without comparison. Featuring a picnic garden and a small curio market to purchase local crafts and carvings that sustain local communities, hikers are also in for a treat should they decide to tackle Nyamtoro mountain. There is a circular toposcope, very commonly used by visitors attempting to see further than what the eye will allow.
Pungwe Falls and Gorge   
It is one of the most beautiful and scenic parts of Nyanga, quite incredible with its unique flora and fauna. The main source of Pungwe Falls is the Pungwe River, a perennial river that flows over vast distances. Visitors can take a look at the Pungwe Gorge's scenic view just about 2km from the Mtarazi Falls. However, for those in search of further exploration, the Turaco trail awaits, which challenges even the most advanced hikers to a daunting trek through Pungwe Gorge.
The Rhodes Museum
A visit to Nyanga is not complete without a tour of the Rhodes Museum situated at the Rhodes Hotel. There you'll find displays of manuscripts, photographs, and other exhibits of interest relating to explorer Cecil John Rhodes and the region's history. The building was used by Rhodes for stabilizing his horses and mules during his several visits to Nyanga. Cecil John Rhodes's holiday cottage was later converted into a hotel called Rhodes Nyanga Hotel, an old local landmark overlooking Rhodes Dam.
Nyanga awaits outdoor enthusiasts!
A visit to the Eastern Highlands of Zimbabwe is an open call for experiencing the untamed outdoors and remarkable scenery that captures the soul. It is an opportunity for adventure as much as it is a warm welcome to the country's resort for relaxation. Cool, clean mountainous air, views of rolling landscapes, and days that end in comforting huddles by a warm fireplace with friends and family, all come together to add to one's memory bank. So, the next time you are looking for an opportunity to connect with yourself and nature, Nyanga is a good place to list for consideration when in Zimbabwe!