Did you know that Wilderness actually started out in Botswana 40 years ago as a mobile camp operator, so one would argue that it almost feels fitting to have launch their first mobile camp in the Serengeti, as the company readies to celebrate 40 years of impactful conservation tourism.
The Serengeti was chosen for a number of reasons. Not only is it of course an iconic East African safari experience unlike any other, and one of Africa's seven natural wonders, but this area is home to the continent's most fascinating wildlife phenomenon, the Great Migration, which sees two million wildebeest, zebra, gazelle and other plains game journey through Serengeti National Park
Wilderness wanted to make the most of this extraordinary spectacle for our guests by focusing on smaller, more exclusive camps, which are highly flexible, able to move easily, and follow the migration more frequently than any other high-end camps, without compromising on comfort or luxury.  The Serengeti is the perfect area for this, such that the operator, in an ambitious move, forged ahead with designing this new offering to adapt and follow the herds throughout the year, wherever they may be.
What makes this guest movement possible? Wilderness have access to areas within the park where it is possible to do walking safaris directly from camp, so this undoubtedly makes for a unique offering for guests of Wilderness Usawa Serengeti, combining perfectly with game drives to witness the migration. An important part of the operation is to also work with the authorities and other local partners to help protect this exceptional wildlife destination, ensuring conservation efforts that stand to benefit local communities, the flora and fauna ecosystem as well as the guests fortunate enough to experience time spent in the Serengeti at some point in their life time.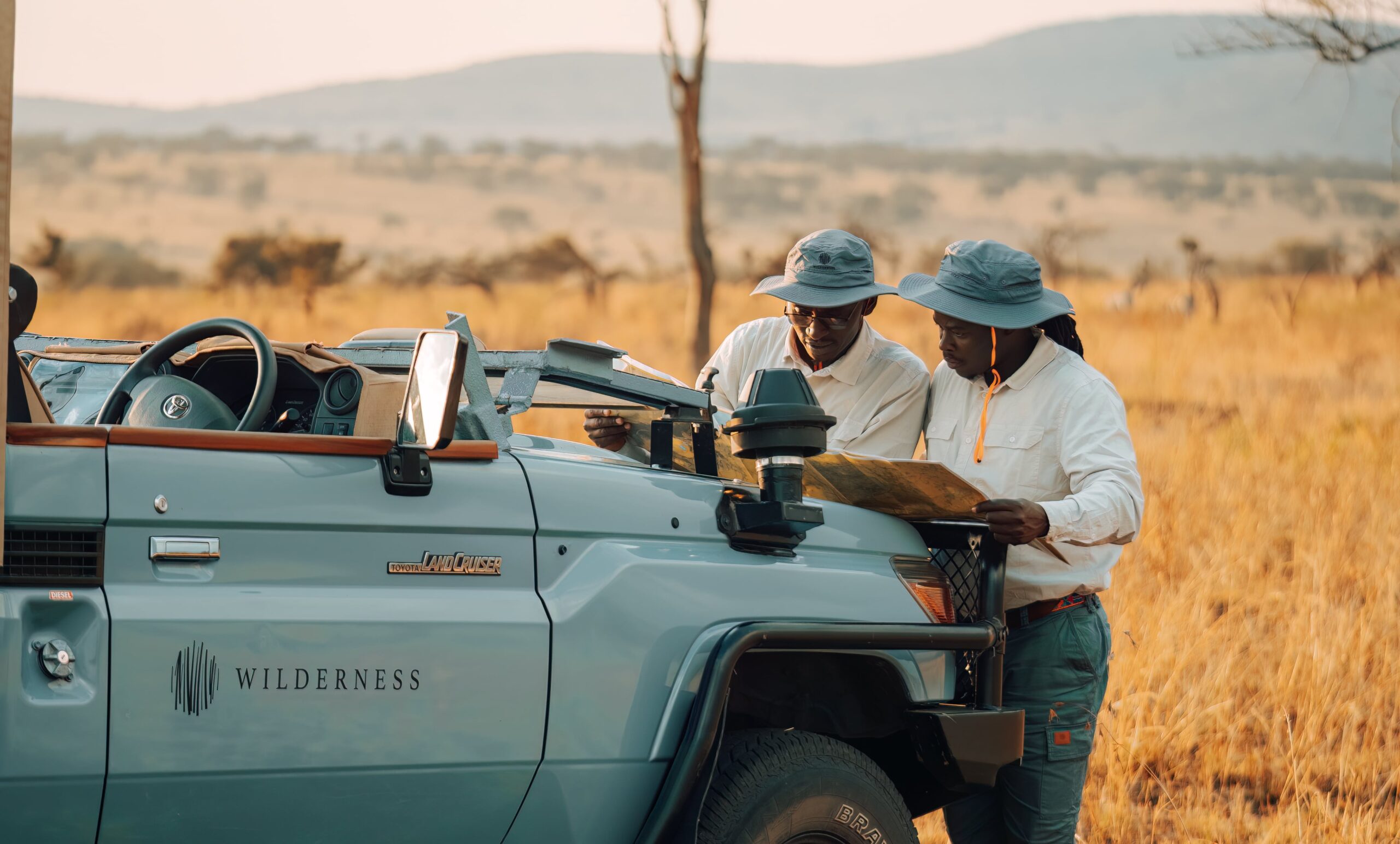 An epic adventure for wildlife enthusiasts
For many wildlife enthusiasts, the Great Migration is a bucket-list experience, and so Wilderness Usawa Serengeti is ideal for guests who are looking to be slightly removed from the higher-density tourism areas but close to the action, as well as for safari-goers who love to walk.  It is well-suited to a variety of travellers, from older couples who have perhaps been on safari before, but who haven't yet experienced a mobile camp, to younger couples on honeymoon or celebrating other milestones.  
Wilderness Usawa Serengeti is also a good choice for families with children from the age of 11 and older, as they will be able to enjoy the guided walking safaris which is a new experience for many.  With only 6 tents, the camp is perfectly packaged for privately guided groups who can book the camp for sole use.  Apart from the abundance of mammals and predators that can be seen, there are also more than 500 avian species found in the park, making it a birder's paradise.  For anyone interested in stargazing, the night skies are particularly impressive.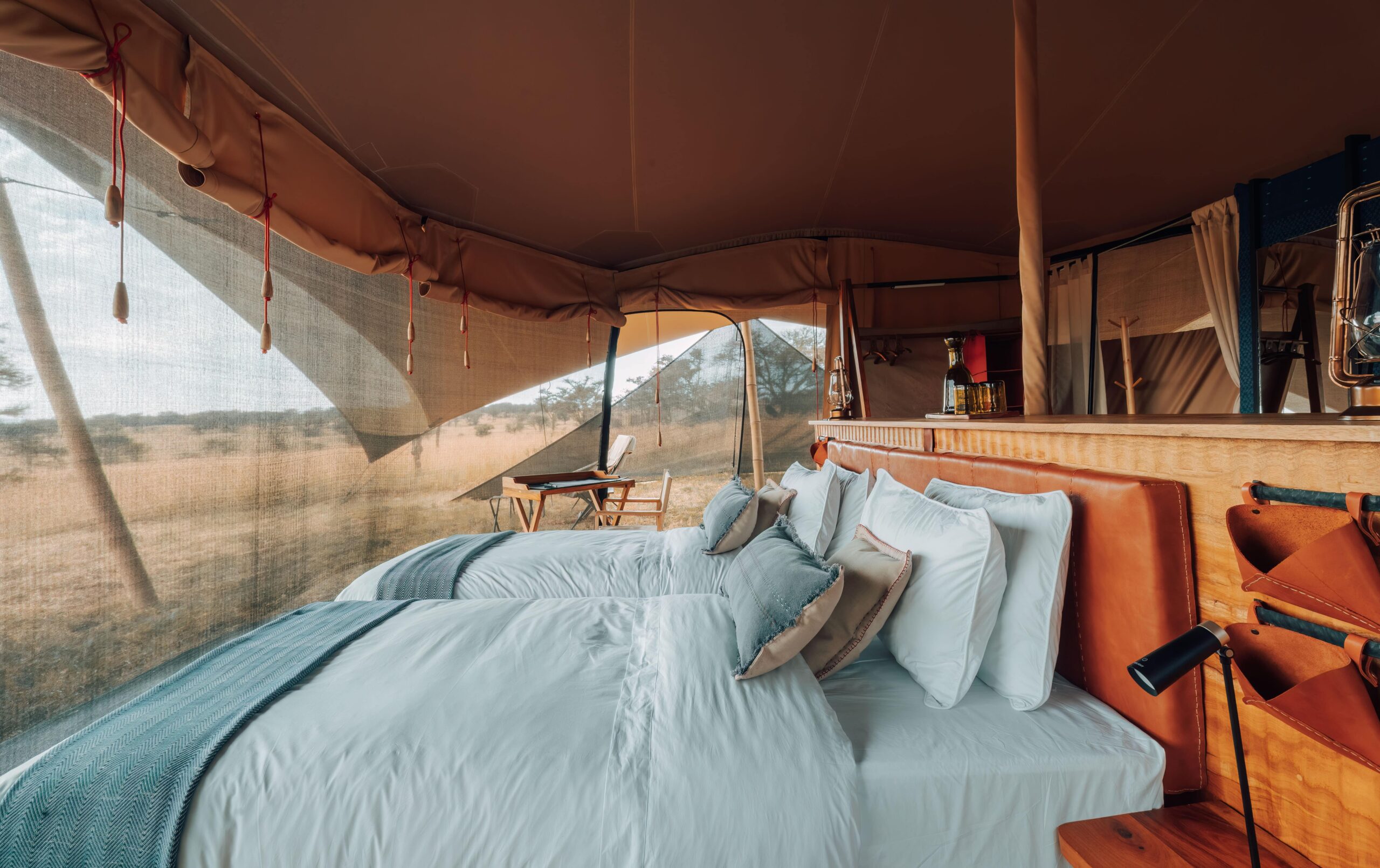 Infusing design elements for aesthetic appeal and sustainability
The vision, and the challenge, was to create a mobile camp that was both easily moveable and completely luxurious, which involved plenty of planning and clever design solutions. An important part of the concept was to incorporate as many locally sourced, designed and manufactured furniture items as possible, directly from carpenters and artisans in Arusha, thereby having a direct positive impact on the local economy and showcasing the craftsmanship of the suppliers.  
At Wilderness Usawa Serengeti, traditional, sustainable materials have been used, with an overall contemporary design concept that is in harmony with the environment and appropriate in the Serengeti setting, reflecting not overly designed but incorporating a lot of local and traditional design inspiration.
Materials used include furniture made from locally sourced Moringa wood which has a warm, caramel colour with a lovely grain.  There are patterned sisal rugs, hand-woven blankets and tapestries, made using hand dyed yarns. The design team worked with SANAA in Arusha for the blankets that are used in the guest tents.  SANAA is a non-profit organisation that works with disabled artists who create unique products, mainly from recycled waste.
Recycled materials were also used for modular sofa chairs in the main area as well as for the bathroom decking in the guest tents, made from a greenwood product and sourced from a sustainable design company called Dunia.  The greenwood lasts forever because it can't be eaten by termites and other creatures found in the bush, which is also what makes it sustainable. It is also a sturdy material suited to moving and packing up camp.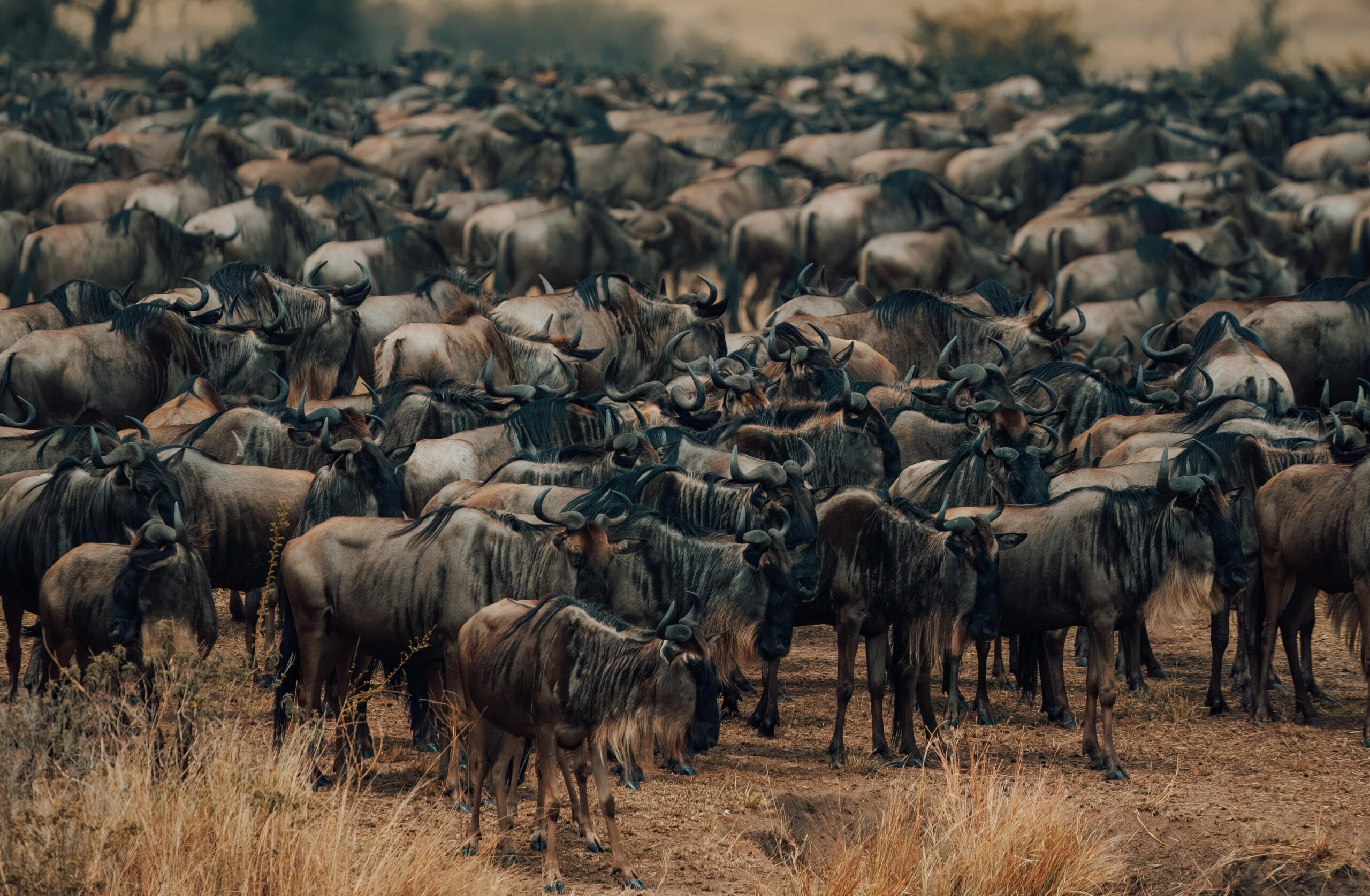 Traditional Maasai colours were subtly used in the colour palette, bringing in reds and blues, particularly rich blue colours in the tapestries.  The colour palette is neutral to echo the environment but with pops of colour and rich textures used throughout.
The mobile nature of the camp influenced the design of the furniture in terms of size and weight, all the tables and chairs have clever ways of folding up, and the headboard is specifically designed both as a storage unit full of compartments for guests to use, but also as a handy packing tool for when the camp needs to change location.  The other side of the headboard has been hand-carved using a design that looks like a collection of Maasai walking sticks.
As the camp setup is completely mobile, no permanent fixtures are left behind when the camp moves, leaving a light footprint on the Earth. The camps are completely solar-powered, with rechargeable lights and charging stations in the rooms, as well as Wi-Fi and hot water.
The tall stretch tents, also manufactured in Arusha, have a 280-degree view, and the roof extensions create wide shaded areas outside the tents, enhancing the feeling of space and privacy and creating the perfect spot for relaxation and reflection.
To learn more about Wilderness Usawa Serengeti, visit https://www.wildernessdestinations.com/