Words by Glynn Burridge
The Seychelles archipelago's 115 islands are situated 1600 km from the east coast of Africa. They are divided into 41 steep, granitic islands and 74 flat coralline reef islands and atolls of which only 16 currently offer accommodation for visitors. They lie spread across their secret corner of the western Indian Ocean like precious gemstones set in a universe of azure water – steppingstones to the east coast of Africa, some thousand miles away, and a natural gateway to the many treasures of the continent beyond. Only 2 centuries old, Seychelles has always been a melting pot of people from every corner of the planet who, together, form today's tranquil yet vibrant 90,000-strong Seychellois Creole society, the vast majority of whom are catholic.
The History of Seychelles
These islands were first discovered by the brave Arab mariners of the 9th century B.C. who first began to chart the unknown waters of an ocean they called the 'Bahr al zanj'' or 'sea of the blacks', leaving traces of their presence in the names they gave to certain of the islands such as Aldabra which is sometimes appropriately translated from Arabic as 'the rock.'
After having served as a hideout for the pirates of the 17th and 18th centuries, one of whom, Olivier Le Vasseur, also known as La Buse, is believed to have buried a massive and as yet undiscovered treasure hoard on the main island, Mahé, the islands were finally settled by the French in 1756. They remained a French colony until they passed to the English after the defeat of Napoleon in 1814 and it was, they who administrated the islands until, their independence as a sovereign republic within the Commonwealth in 1976.
The islands' legendary loveliness has long acted as a magnet to travellers in search of the Holy Grail of pristine tropical beauty. Many famous travellers have beaten a path to its shores, including the likes of Ian Fleming, author of James Bond, who visited the islands to receive inspiration for one of his Bond books.
The Seychelles Islands finally emerged from their slumber of ages in 1972 when they became connected to the rest of the world via a new international airport which saw the birth of the island's tourism industry.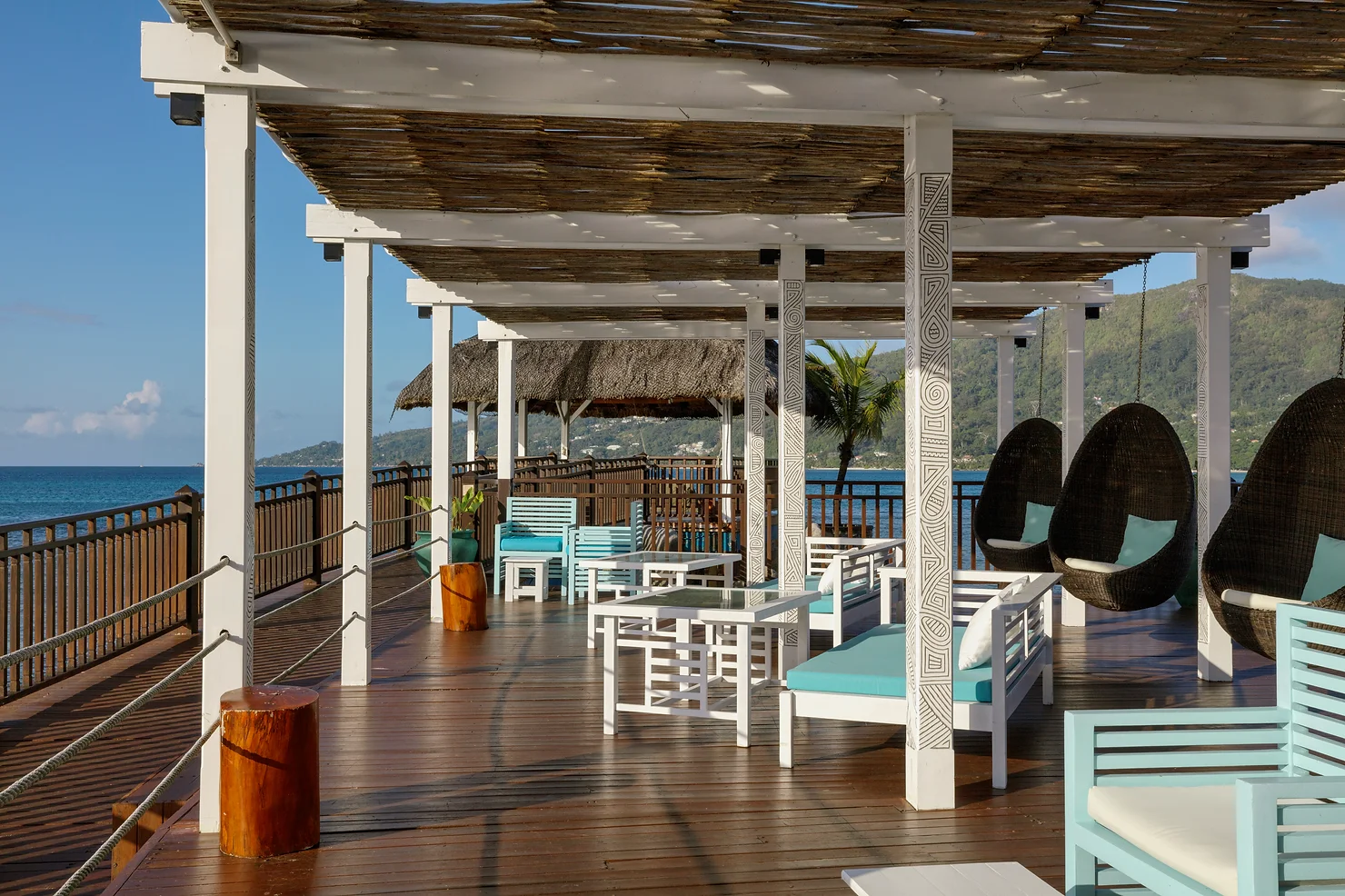 Fisherman's Cove Resort Today, in every way, Fisherman's Cove Resort is an authentic reflection of the rich soul of the islands since their eventual settlement in 1770; and also of Seychelles' multi-dimensional culture – and beyond – to the indomitable island-style spirit that still reigns as a reflection of the unique topography, diverse flora and fauna and the wonderful air of other-worldliness that pervades everything from the mist-topped granite peaks, the emerald forests, right down to the sapphire ocean.
The pedigree of this hotel extends back to 1943, even before the opening of the international airport several decades later, and ranks among the very earliest island accommodation establishments on the island to open its doors to the first wide-eyed travelers to visit these shores.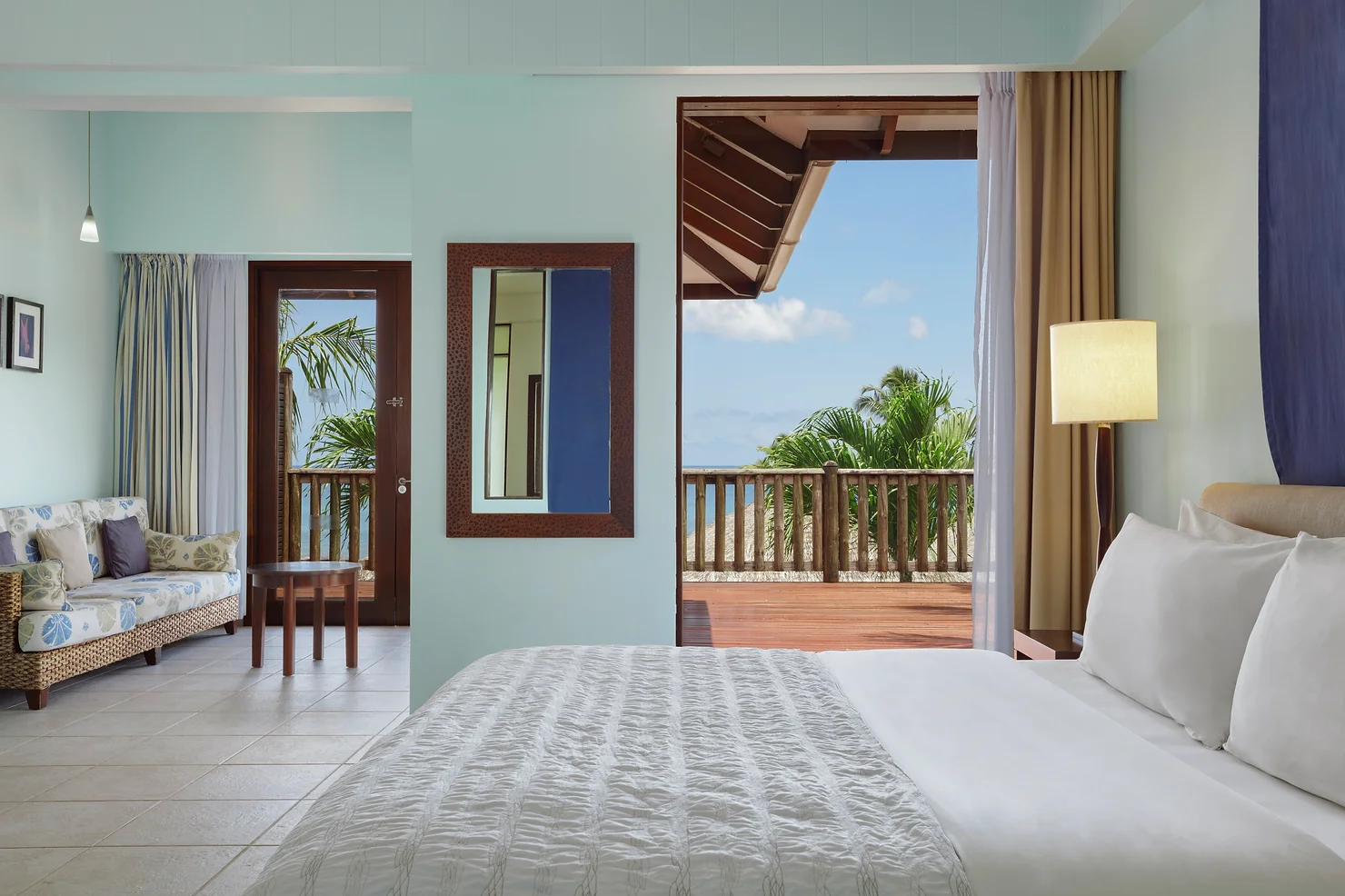 On location at Fisherman's Cove
Situated in the quaint seaside town of Bel Ombre on the principal island of Mahé, the birthplace of Seychellois hospitality, Fisherman's Cove Resort nestles in its very own corner of a lush tropical paradise. Whether strolling one of the most beautiful beaches in Seychelles or savoring the extraordinary nuances of Creole cuisine, a stay at Fisherman's Cove Resort creates memories to last a lifetime.
Overlooking Beau Vallon, the most iconic and popular beach on Mahé, the ideal location of the resort allows clients to make enriching and diverse discoveries at this western tip of Seychelles. Lush and vibrant gardens create an inspiring atmosphere for a romantic idyll or a serene getaway while two restaurants and bars allow you to explore innovative pairings of flavors and spicy aromas. Meanwhile, beyond the simple relaxation afforded by the sand and sea, an exhilarating choice of water sports activities is available for your enjoyment.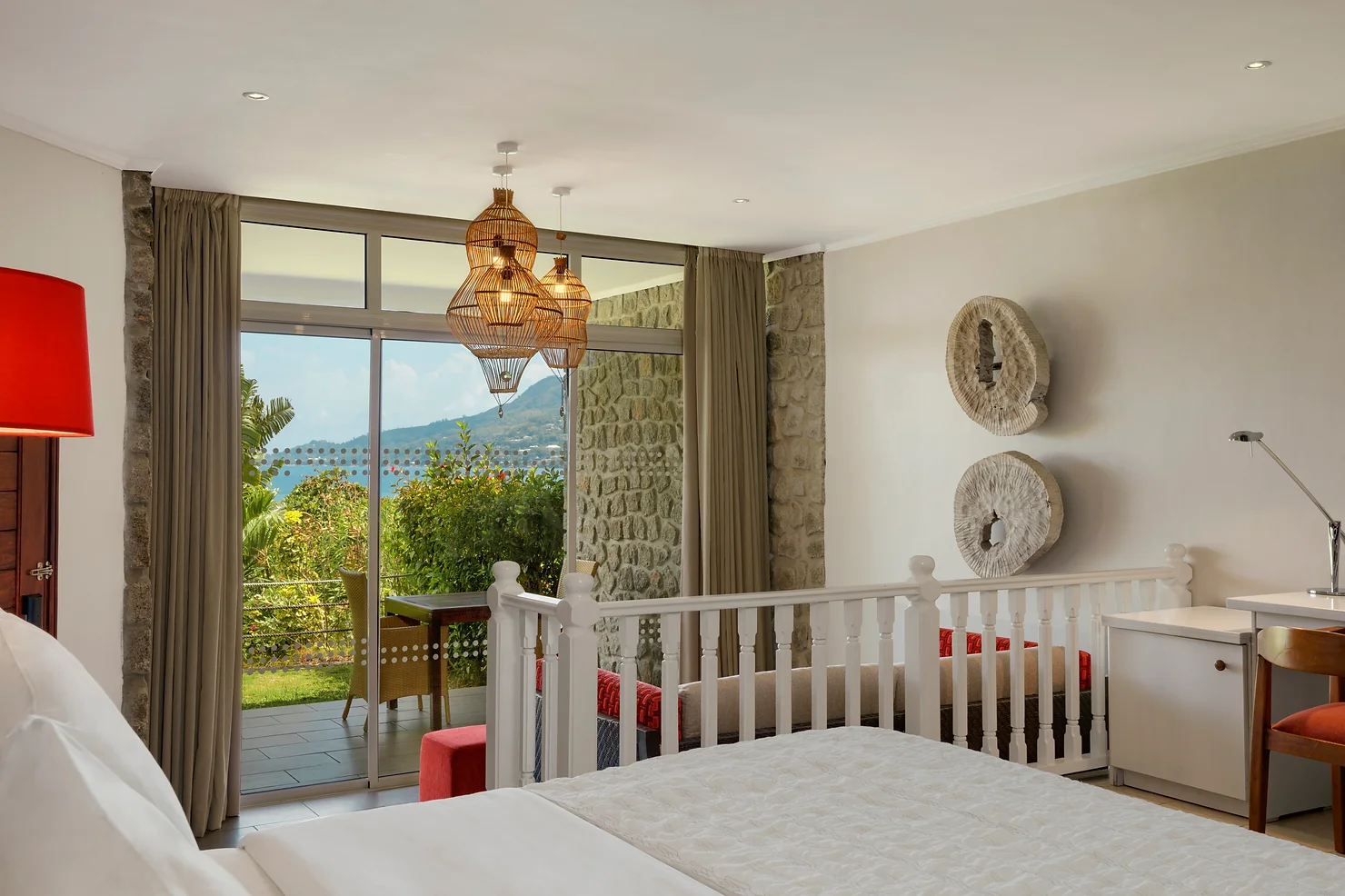 Fisherman's Cove Resort offers an extensive choice of rooms with magnificent beachfront views of the Beau Vallon beach, complete with ivory sands and crystal-clear Indian Ocean waters. Designed to embrace a typical Creole style, all rooms are open plan, light, and airy with wooden accents and rattan furniture. Whether you choose a chalet-style room or one situated within the main hotel block, you will enjoy all the ample comforts of bathrooms with their modern showers. Separate deep soaking tubs, oversized rainforest showers, and ample toiletries create a haven of comfort and sweet indulgence. Air-conditioning in every room may be finely adjusted to keep you cool and comfortable and tea and coffee-making facilities, Chromecast, LED TV, and refreshment center add to that feeling of being pampered.
Designed to create an open natural setting, each room enjoys its own private terrace offering beautiful views of the resort's lush tropical gardens or dazzling blue Indian Ocean, which you can capture perfectly and boast about online by taking advantage of the free WiFi.
Fisherman's Cove Resort features an asymmetrically shaped infinity pool that creates an idyllic setting for you to spend a long, languid day relaxing in the sun on one of the surrounding sun loungers. Those who prefer a more active holiday will enjoy their time in the gym or on the tennis courts at our sister property and water sports enthusiasts can try their hand at canoeing or pedal boating.
As you near the end of an active day, Fisherman's Cove Resort welcomes you to its very own corner of paradise and invites you to enjoy golden sunsets from one of the finest vantage points on the island.
The Fitness Centre is accessible 24hrs a day via the room key while a steam room and plunge pool are available to guests on a complimentary basis.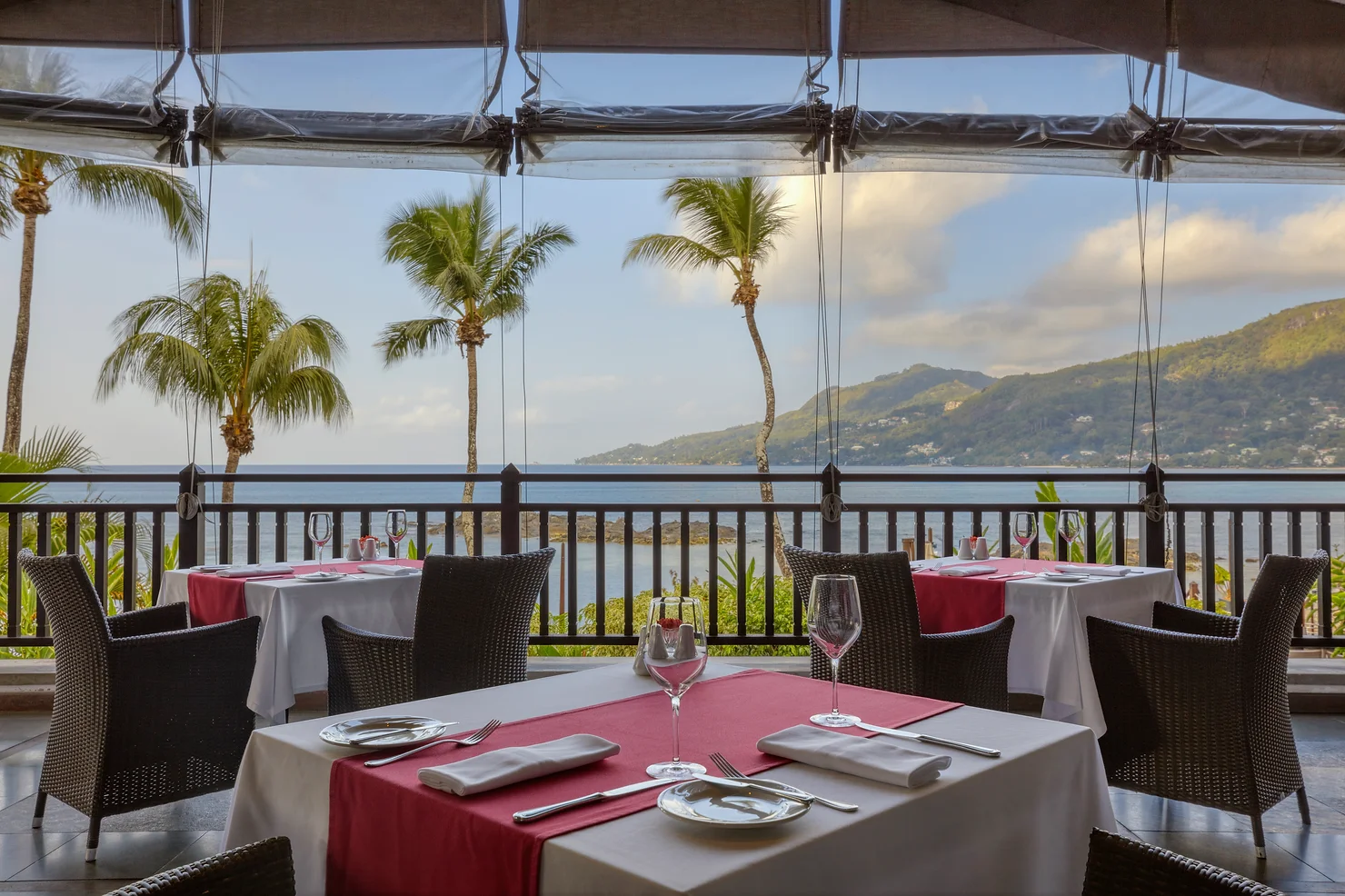 Dining at Fisherman's Cove
The resort boasts two restaurants and two bars, all with ocean-facing views, featuring a sensational selection of international and local dishes in an elegant, yet relaxed, atmosphere. Discover the local touch, aroma, and taste of Seychellois Creole cuisine; experience a-la-carte dining in the Paris-Seychelles Restaurant that offers a true culinary journey of discovery with a lavish buffet of differently themed delicacies every night in its beautiful, open-air dining room and a memorable combination of French and Creole gastronomy. Its especially intimate and romantic ambiance allows clients to generally unwind while sipping exotic cocktails accompanied by breathtaking views of the ocean.
For a relaxed gathering spot at sunset, Le Cocoloba provides a relaxed atmosphere and options for light, fresh lunch, and dinner options while the Sunset Bar serves fine wines, signature cocktails, and light snacks against a particularly chic backdrop. Additionally, the resort offers a delicious selection of In-room dining options at any hour of the day or night.
Out and about at Fisherman's Cove
A mere 15 minutes away from the smallest capital city in the world, Victoria, guests are urged to make the most of the resort's unique location and explore the local seafood and craft markets. Dive into the region's fascinating history and experience firsthand the subtly intertwining French, Indian, and Asian influences that permeate the cooking and culture. Explore the resort's winding pathways, lush landscape, and private enclaves which set an undeniably romantic stage for couples who want to escape from the hustle and bustle of modern life. Home to a mesmerizing underwater world of coral reefs and tropical fish, Fisherman's Cove Resort is the perfect destination for snorkeling and diving enthusiasts. Explore pristine white sands lapped by topaz waters, and coral sunsets and ignite your inspiration with an underwater encounter on a vibrant coral reef literally attached to the seashore that leaves you with incredible memories of your stay on the island.
Visit enchanting underwater sites on the unique and educational snorkeling trail that introduces visitors to the many wonders beneath the waves and learn about the importance of marine conservation with marine experts from our partner, the Marine Conservation Society Seychelles, who have helped us develop the project and continue to support it. Proceeds from the donations collected go towards sustaining the marine conservation projects that are at the heart of the resort's sustainability drive such as the coral rehabilitation project that allows guests to adopt a coral and monitor its future growth.
Exchange marriage vows in an idyllic setting
Get married on the beach or on the pontoon that offers a unique setting for the exchange of wedding vows with the ocean as a spectacular backdrop. The team at Fisherman's Cove Resort can even take care of all the legal documents that are required for the ceremony as well as arrange the logistics of your special day through tailor-made packages.
In a utopian setting overlooking the coral reefs of the Indian Ocean, Fisherman's Cove Resort offers an authentic venue for your wedding experience that you will find resonates with a unique cultural vibe.
Even though the Fisherman's Cove Resort prides itself on being able to retain the interest of the most discerning traveler across its broad spectrum of facilities and amenities, this exceptional resort is also an ideal stepping stone to the wider arena of Seychelles adventures.
A little more on why Seychelles? It should not be overlooked that Seychelles is home to 2 UNESCO World Heritage sites, the legendary Vallée de Mai which grows the mysteriously shaped Coco-de-Mer, and Aldabra, the planet's largest raised coral atoll. With nearly 50% of its limited landmass set aside as national parks and reserves, Seychelles remains a sanctuary for some of the rarest flora & fauna on Earth.
With an economic zone of over 1,400 million km², and a climate providing almost perpetual summer, Seychelles offers a captivating choice of accommodation options throughout the islands and unparalleled diving, sailing, cruising, fishing, golf, spa & wellness, golf, and eco-activities.
To discover more about Fisherman's Cove, visit https://fishermanscove-resort.com/