A distinctive African wilderness experience
With demand for isolated, nature-focused escapes on the rise and an upsurge in group bookings now that families and friends can reunite, Lepogo Lodges' Noka Camp launches a timely opportunity to connect adventurers and outdoor lovers alike, with the breathtaking beauty of untainted Africa.
Lepogo Lodges, one of Africa's few entirely not-for-profit high-end safari lodges, opened its very first lodge in South Africa's Limpopo Province, Noka Camp at the closing end of 2019. Just a short air transfer or a three-hour drive from Johannesburg, Lepogo Lodges is set within the 50,000-hectare, malaria-free Lapalala Wilderness Reserve, and home of the spectacular 'big five'.
Family-owned and operated, Lepogo Lodges was developed as part of a life-long dream to create a sustainable conservation legacy in Africa, with 100% of any financial gains made re-invested back into the reserve for the benefit of wildlife, conservation, and the local community.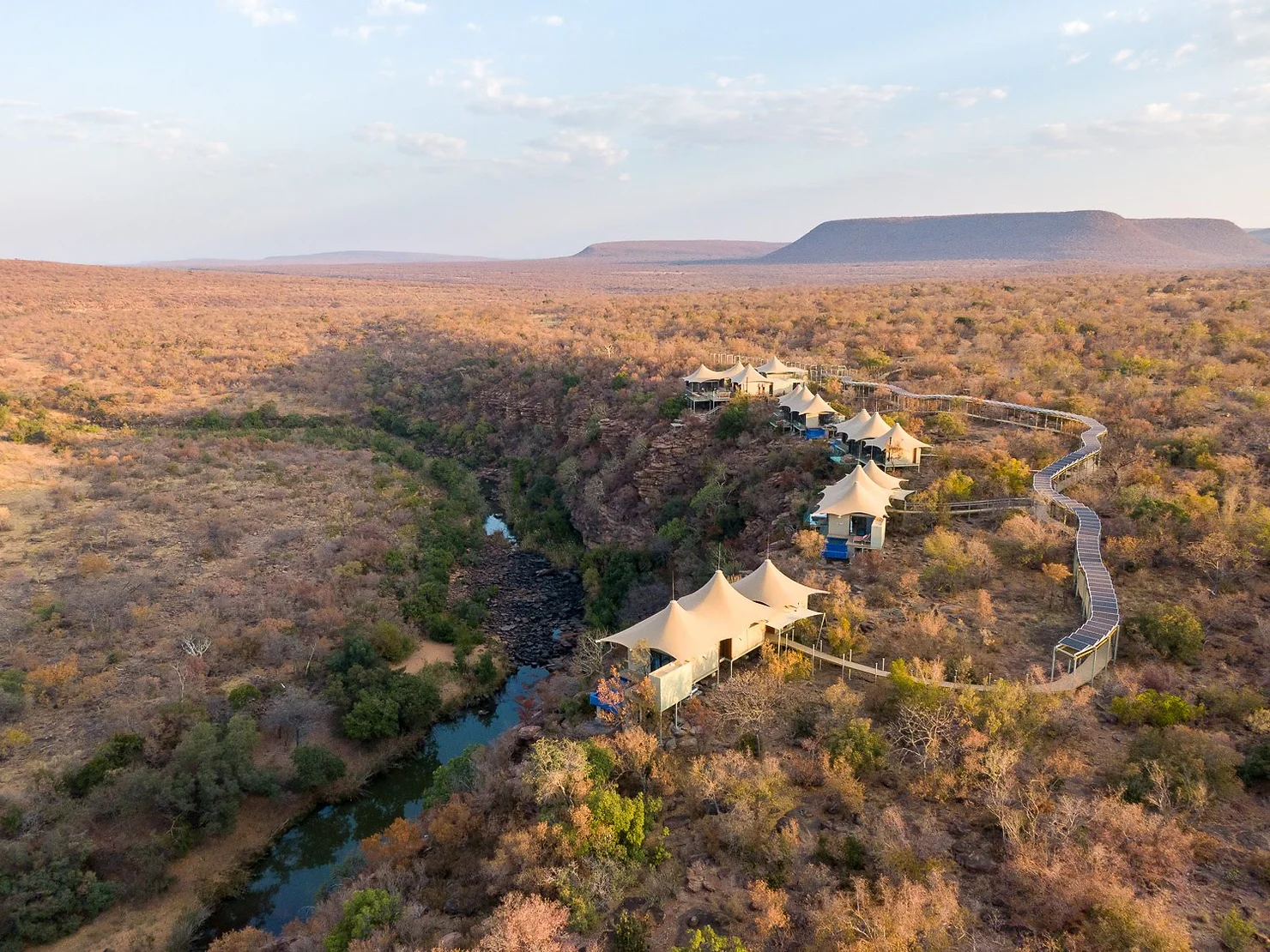 A distinctive South African wilderness experience
Lepogo Lodges offers a truly extraordinary South African wilderness experience for families, couples, and groups of friends alike. Lapalala Wilderness has ensured that there will never be more than three commercial lodges in the 50,000-hectare reserve, delivering the rare combination of accessibility yet extraordinary privacy.
Guests are able to try activities ranging from game drives and water safaris to yoga and spa experiences and tours of iron-age settlements and bushman paintings in the cliffs below the lodge. Lepogo also offers 'luxury bush sleepouts' which allow one to follow in the footsteps of the forefathers of Lapalala.
An unparalleled dining experience awaits guests, who are provided ample opportunity to relax and recharge, with a team of world-class chefs headed by the Heston Blumenthal-trained Thapelo Letsogo. Chef Thapelo's creative African-Asian fusion cuisine takes inspiration from the Asian cooking styles found along the Spice route of the African coast and is made with locally sourced and grown ingredients, alongside homemade honey, beer, and gin, made onsite at Lepogo.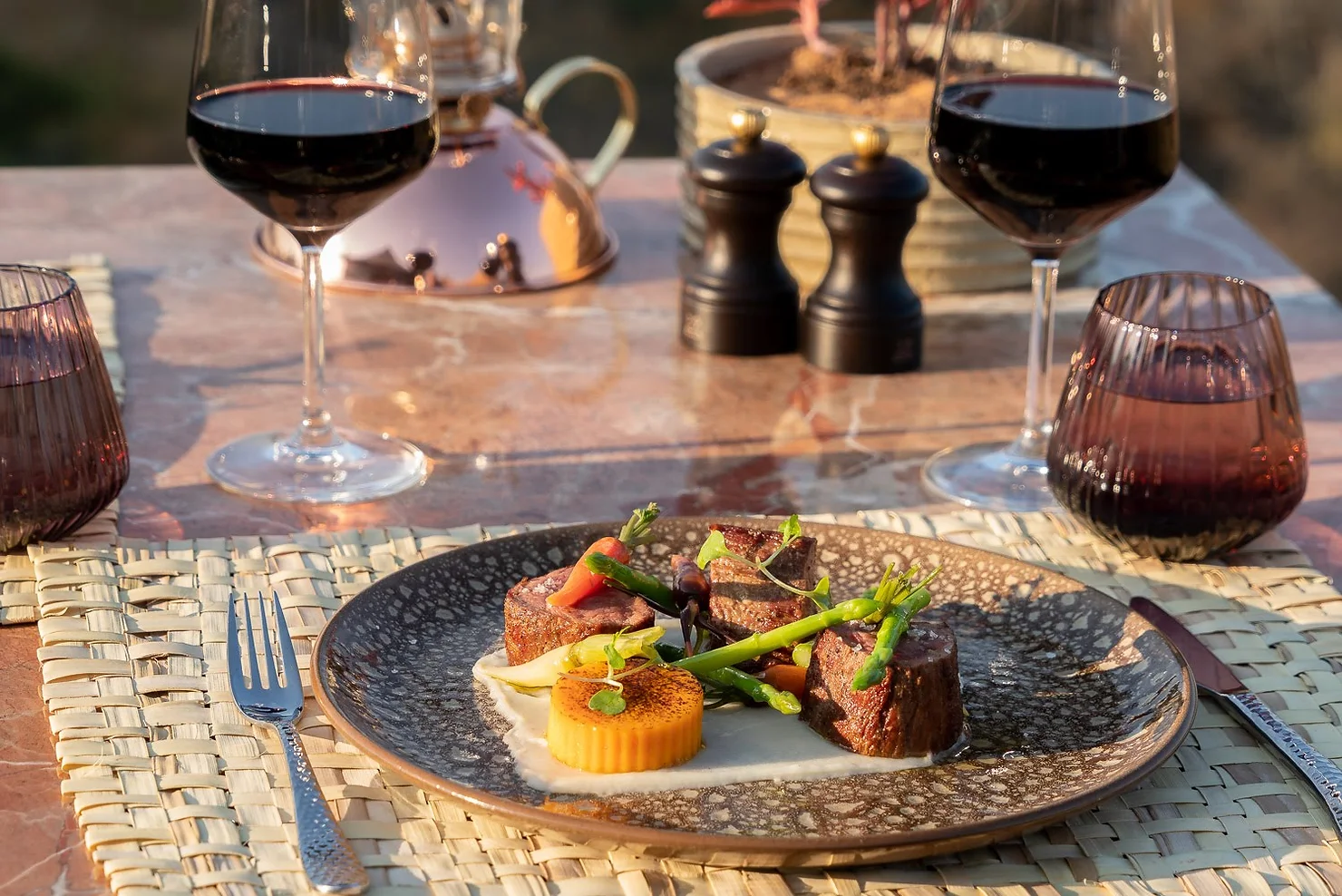 The Lepogo Lodge's design aesthetic
Noka Camp consists of five stilted villas, including one villa specially designed for families. The villas are joined by a main lodge comprised of the dining room, bar, lounge area, and sprawling outdoor terrace, all perched atop a 100ft cliff overlooking the winding Palala River below and the endless bush ahead. The camp is entirely off-grid, with all energy self-generated by a bespoke, 250m solar walkway.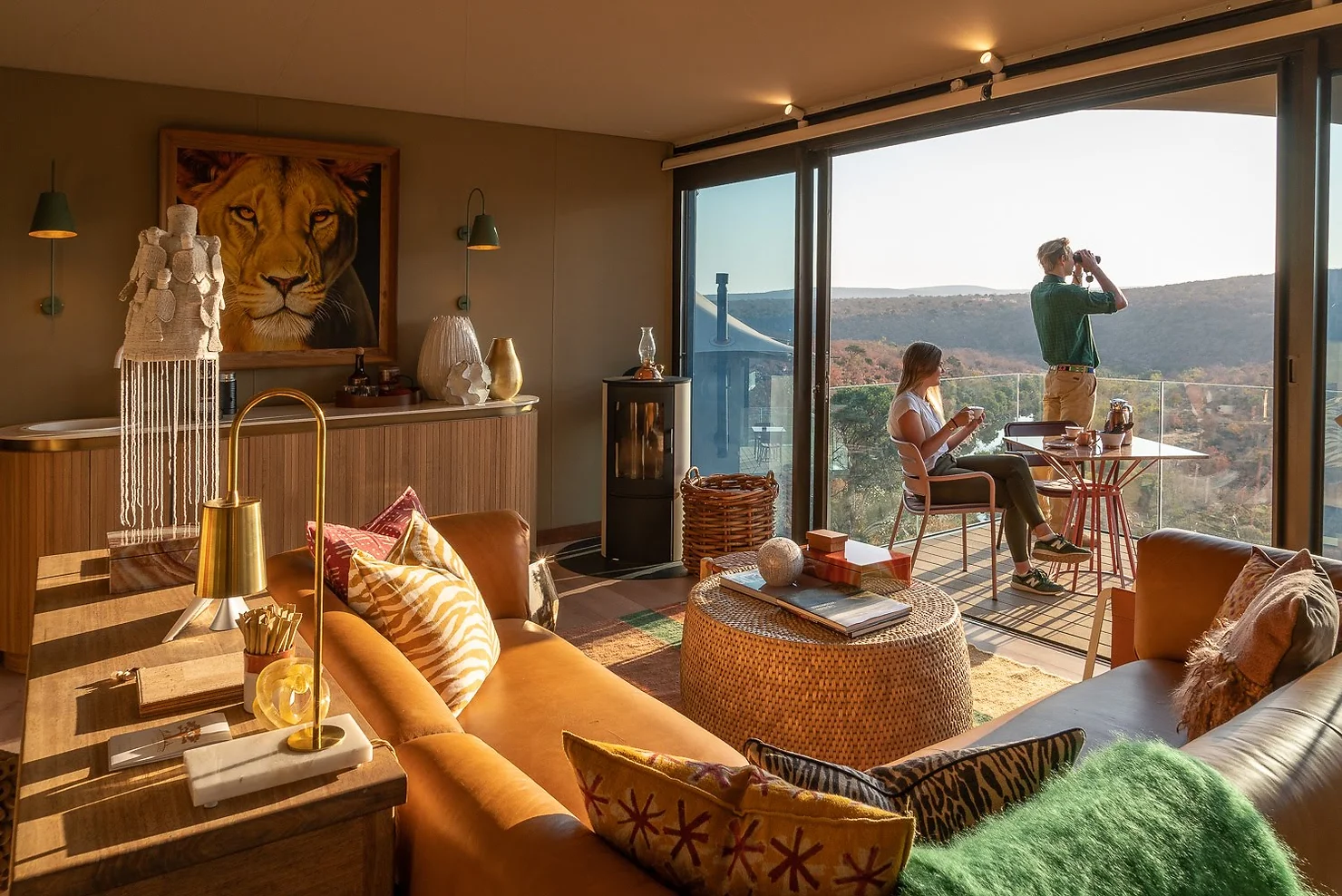 Lepogo Lodges worked with award-winning Japanese Architect Yuji Yamazaki on Noka Camp and its five stilted villas, designed to offer the highest level of luxury while bearing the lightest footprint on the surrounding environment. A glass-fronted design for the main lodge and villas maximizes the incredible panoramic views seen at every turn, while the entire property has been built on small concrete pads, which ensure that no scars are left on the land. Each villa is complete with a heated plunge pool, a unique 'sky bed' with a glass floor over the ravine, a sunken bathtub, and underfloor heating – an absolute treat for guests looking to enjoy unsurpassed opulence, comfort, and relaxation in the most private of settings.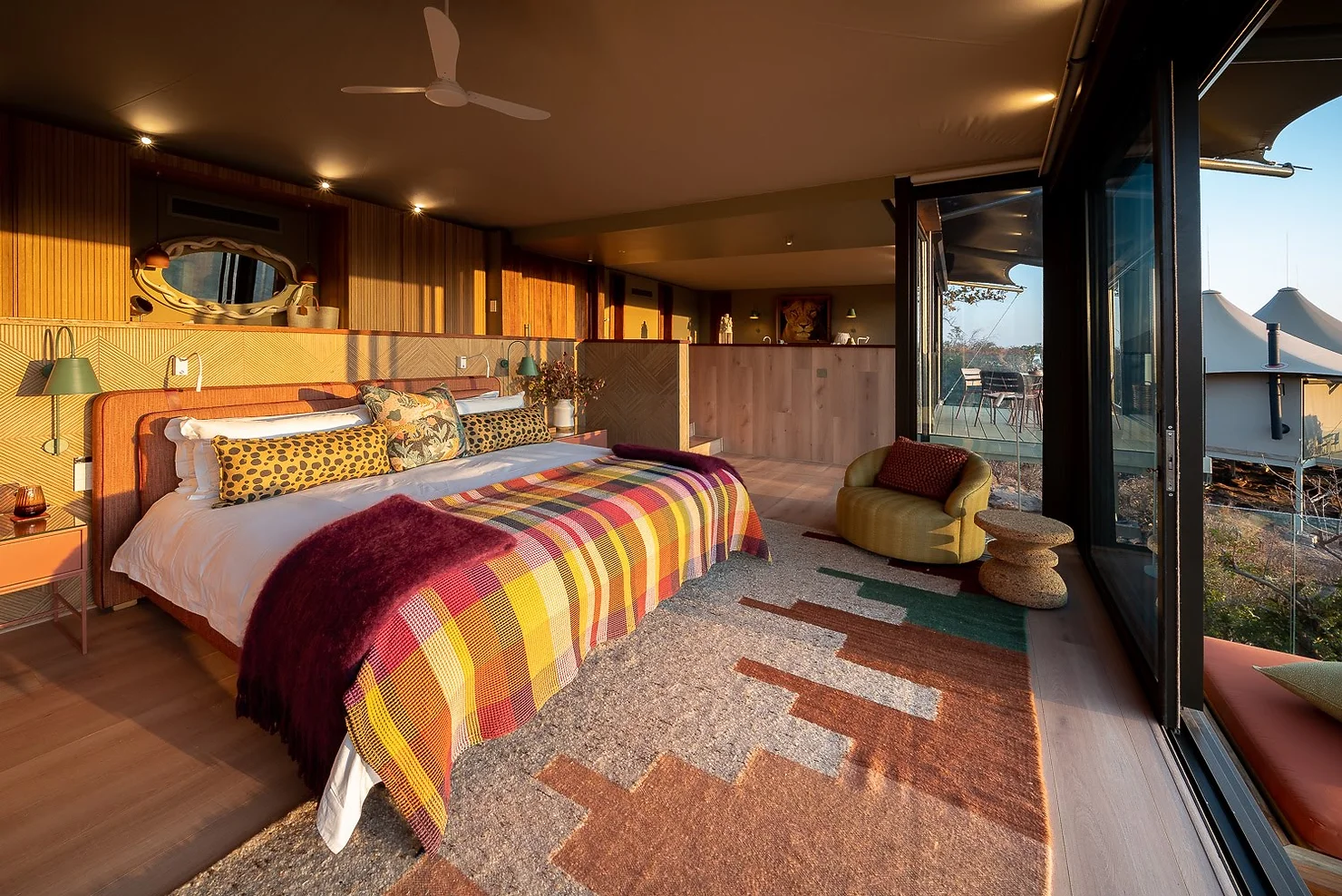 Lepogo Lodges collaborated with Sarah Ord Interiors on the interior design of Noka Camp. Reputed for her use of color and eclectic designs, Sarah's vision was to enhance and reflect the natural colors of the reserve. Noka's light-filled interiors were inspired by the vast horizon of turning leaves on the terracotta-colored cliffs, where the sky meets Africa. Walls disappear through the use of expansive glass panes, with each vista becoming a framed work of art on a grand scale. Sarah has made use of sustainable and South-African products, crafts, and textiles wherever possible.
Lepogo Lodges when complete in its entirety, will consist of two lodges, with a second property, Melote House, set to open in 2021. Ideal for multi-generational travel, Melote House will be an exclusive-use property sleeping up to 16 guests.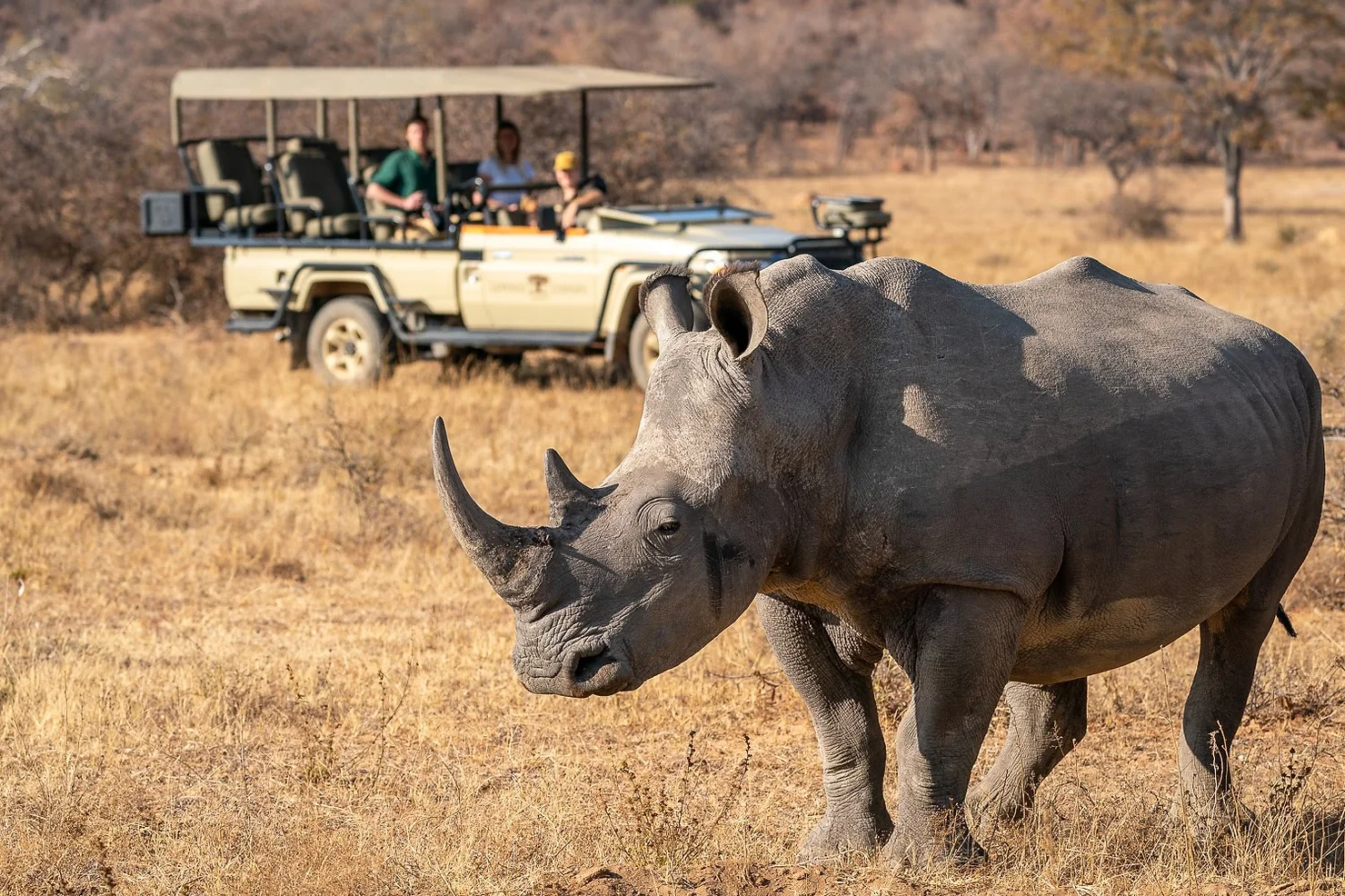 Making an Impact
Entirely energy self-sufficient thanks to the property's very own solar walkway, Lepogo Lodges is the first luxury lodge in Africa to offset the carbon emissions from all guests' travel, from the time they leave their home to the moment they return. Guests can also participate in conservation efforts, community outreach, school visits, and more.
The owning family of Lepogo Lodges is committed to supporting community projects. For example, the Montebello Design Centre in Cape Town was founded by a close relative as a center to support the disadvantaged, where students can learn valuable crafting skills and generate income to support their livelihoods. It flourishes today and has produced some remarkable talent, some of which Lepogo is proud to be able to showcase. Lepogo Lodges are also working closely with local communities, who have created bespoke soft accessories for the lodges, toys, and clothing for the on-site curio shop and custom amenities including hydrating hair oil made from the fabled Baobab and Moringa trees.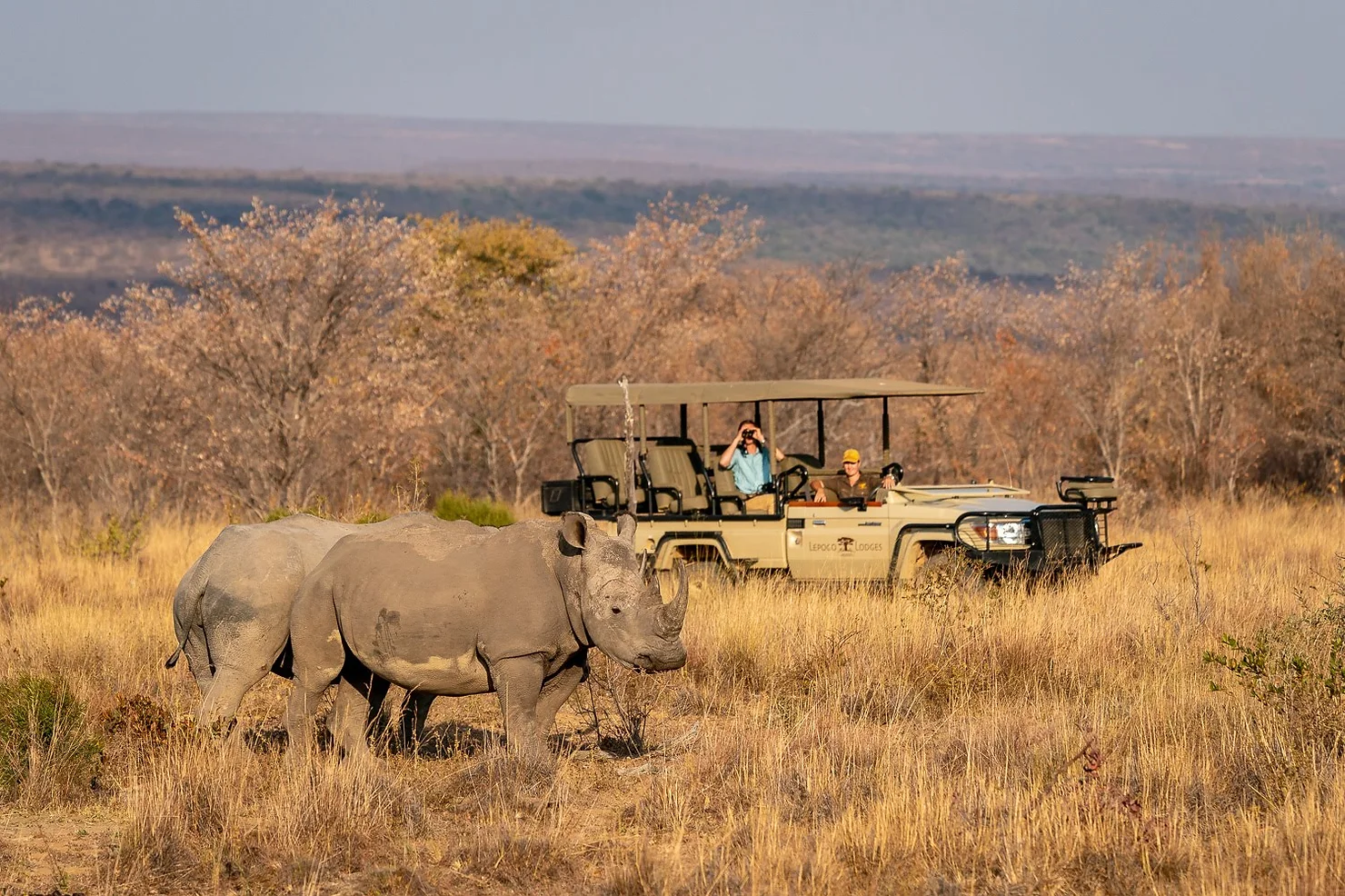 The family is particularly passionate about the conservation of cheetahs, pangolins, and rhinos, having been attracted to Lapalala as one of the leading private rhino sanctuaries in Africa. Lepogo Lodges have funded research and are working with Lapalala to establish the reserve as a center of excellence for the release of wild-captured cheetahs in conjunction with The Endangered Wildlife Trust. A pangolin re-introduction program will also begin in the coming months and the family looks forward to supporting and working with the world-renowned Lapalala Wilderness School.
To learn more about Lepogo Lodges, visit www.lepogolodges.com or email [email protected].