Destination wedding enthusiasts can take their dream to the next level with Sheraton Maldives Full Moon Resort & Spa's latest island takeover offer. The resort's exclusive buy-out option will allow couples to claim the island for their extended marital celebrations, guaranteeing an unforgettable experience for all involved.
A tropical offshore island surrounded by ocean, Furanafushi is the perfect location for a special wedding celebration. The one-of-a-kind island buyout presents couples with the keys to an 850 x 300-meter retreat, with exclusive access to sand beaches, water sports opportunities, and luxurious accommodations.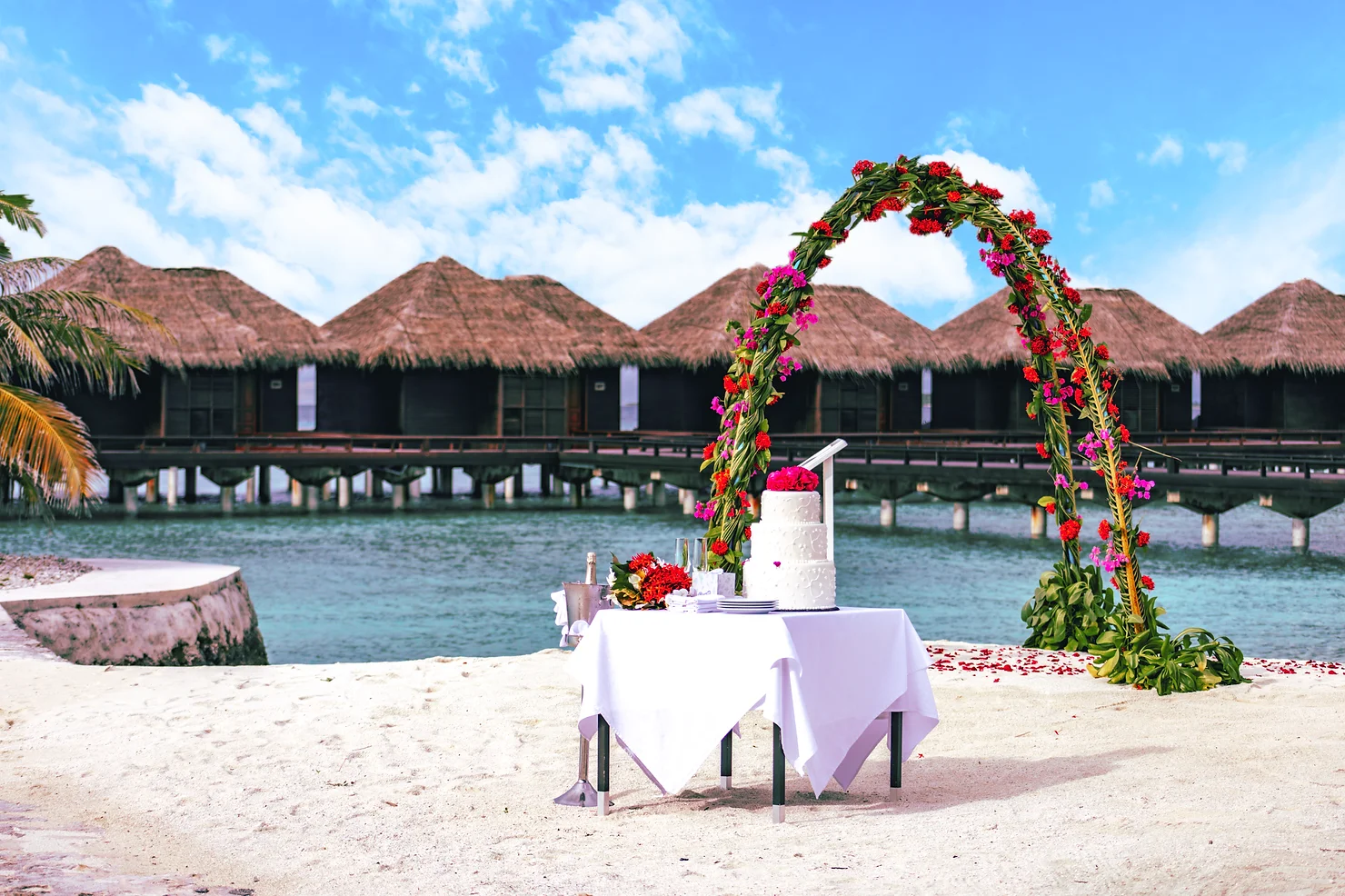 Wedding guests can take over the 176 spacious villas, including the lavishly styled Two-Bedroom Water Suite, an architectural celebration of the island's natural beauty. The large overwater villa on the island, suitable for the bride and groom, can host up to four people and is spread across two pavilions for maximum privacy. Set amidst a private garden, the idyllic Ocean Pool Villa is also an option and features a lap pool, a hammock, and a breezy outdoor deck.
Perhaps the epitome of the exclusive buyout is the unlimited use of Jalsaa – a multi-faceted private venue with a garden and outdoor pool, suitable for hosting cocktail receptions or celebratory dinners.
Upon arrival at Velana International Airport in Male, guests can expect to be greeted by the resort's representatives and will be escorted by a speedboat to the island. The takeover offer accommodates up to 352 visitors and includes roundtrip transfers from the airport, daily breakfasts, daily USD 150 dining credit per person, and 20% off on spa services at the Shine Spa.
Sheraton Maldives Full Moon Resort & Spa boasts seven gourmet restaurants and bars, including Feast, ChopstiX, and Masala Hut, to name a few. Aside from the wide array of dining options, amenities include the 24-hour Sheraton Fitness Club and Shine Spa. For those traveling with kids, the five-star resort has a series of 'Side by Side' family programs, including a sustainable initiative to help protect the ocean's coral reefs.
"We're so excited to be bringing back the island buy-out opportunity," said Jennifer Woods, Director of Sales and Marketing. It's a privilege to be a part of our guests' love stories, and we trust that the beauty of the Maldives will speak for itself as people gather to celebrate their lifelong commitments."
Sheraton Maldives Full Moon Resort & Spa Island takeover experience starts from USD 130,000 with a minimum of a 3-night stay. Visits can be booked directly on the Sheraton Maldives Full Moon Resort & Spa website.