Words by Yvonne C Mtengwa
Tucked away in the azure embrace of the Maldivian waters, Hilton Maldives Amingiri Resort & Spa stands as a symbol of luxury and serenity. It's no wonder why the resort is renowned for romantic getaways, but what a pleasant surprise to realise it has since opening, also emerged as an exceptional destination for families seeking adventure, relaxation, and memorable dining experiences.
We spent a few nights here as part of our weeklong experience of the Hilton Hotels and Resorts portfolio in the Maldives, leaving the island with a full-scale appreciation of why winding pathways across the island, family-friendly activities, eclectic dining options and well-appointed beachfront and overwater villas make Hilton Maldives Amingiri Resort & Spa a perfect paradise for all generations.
Incredible rooms set on land or over the water.
Treated to a seamless check in upon arrival by speedboat transfer and whisked off to our overwater bungalow, we were soon to learn that Hilton Maldives Amingiri Resort and Spa offers a variety of accommodations designed to cater to families of all sizes. Each space in our overwater bungalow provided uninterrupted views of the crystal-clear waters that stretched into the horizon, with perfectly designed open spaces that could be closed off from the next by stunning floor to ceiling doors.
Watching the sun rise by dawn from the spacious deck and taking a dip into our private pool by day and night, often without seeing or hearing any of our neighbouring guests, fast became an indication to me that perhaps, one of the key reasons families from the Middle East choose Hilton Maldives Amingiri Resort and Spa is the peace and privacy it offers. The private island style seclusion provides a tranquil escape away from the hustle and bustle of everyday life in the big city. It's a place where families can create cherished memories together in a serene and beautiful environment, and the beauty of the accommodations make it a heartfelt challenge to actually leave your bungalow or villa to explore more of the island.
We also enjoyed the pleasure of also staying on a beachfront villa, set a few steps away from the island's main dining and entertainment hub. Our two-bedroom villa was significantly bigger, boasting two huge bedrooms and bathrooms each equipped with an outdoor shower, an extra guest room for guests travelling in bigger groups, a living room with a stellar entertainment station, as well as an outdoor dining space in full view of a sparkling private pool and only a few steps through the surrounding green shrubbery to the soft sandy beach. Each room is meticulously designed for comfort, luxury and privacy as needed, as all can be demarcated seamlessly without impacting the design aesthetic and feel of the space.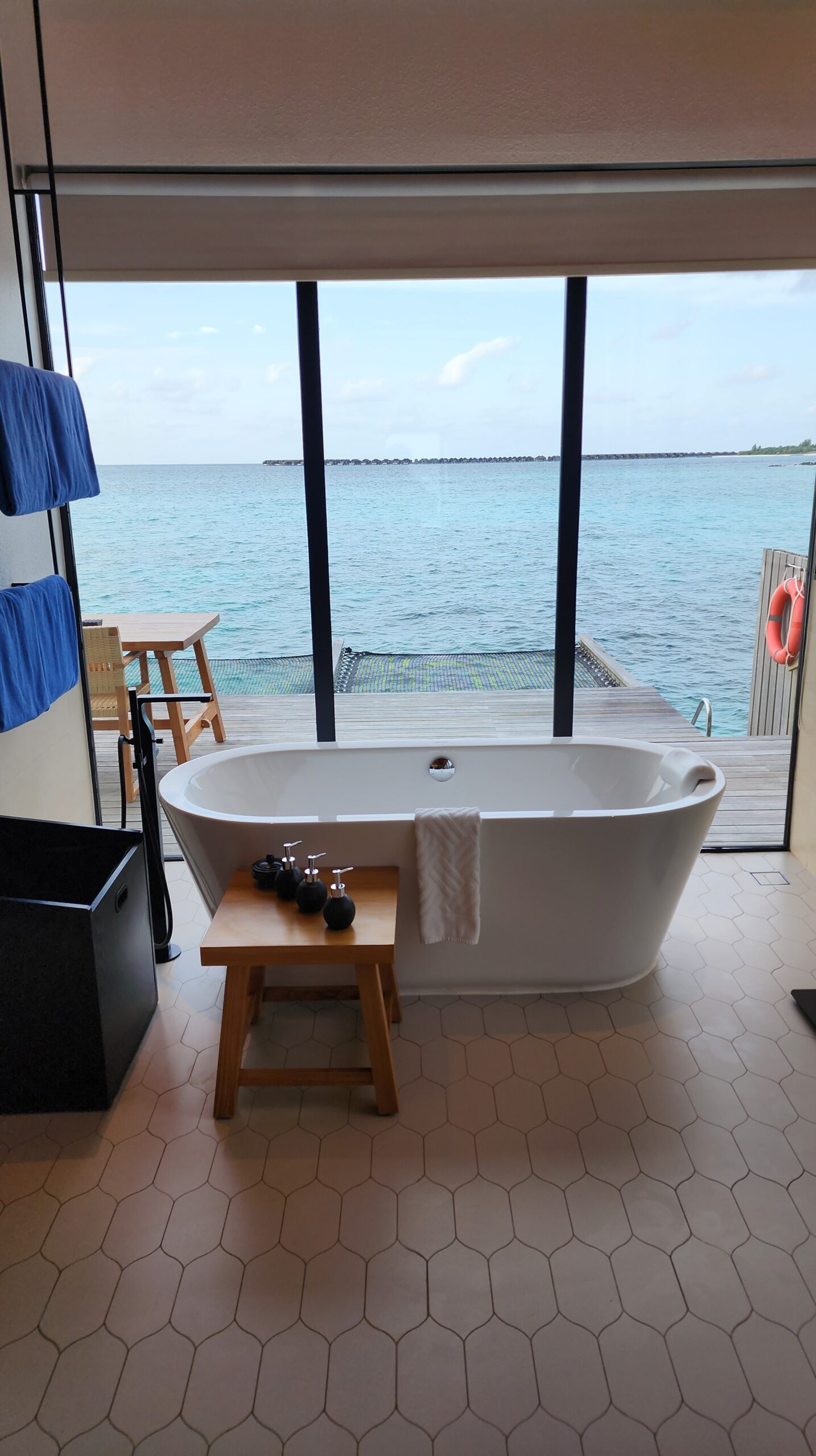 Culinary delights for all tastes and preferences
With multiple restaurants and dining options, the resort caters to even the most discerning palates, as guests have the opportunity to savour just about everything from international cuisine, the catch of the day, local Maldivian flavours, or indulge in Arabian-inspired dishes. For families, the variety ensures that even the pickiest eaters will find something to relish, and it comes all inspired by the various cuisines beyond the island itself.
We enjoyed our first night's dining experience from the Beach Shack, which offered a stellar beachfront buffet setting in a hyper relaxed, feet-in-the-sand type of setting, where chefs served up tasty dishes from live cooking stations. From flame-grilled meat dishes to an array of fresh salads, seafood platters and even sushi under the stars by night, dining here was an absolute treat to set the tone for our food experiences to follow during our stay. 
Breakfast was served from the gorgeous, contemporarily designed Habitat, where we enjoyed our daily fills of hot and cold buffet breakfast, which also included opportunities to taste Maldivian dishes packed rich with flavours, and sundowners did not disappoint from a myriad of bars and chic restaurant also dotted across the resort.
Plenty to do about the island.  
Traveling with kids, especially the younger ones? The resort understands the importance of keeping the little ones happy and engaged, and has done exceedingly well to provide a range of kid-friendly amenities, from children's menus at the restaurants to a state-of-the-art Kids Club that offers fun, fully immersive activities where children can splash about in a backyard miniature water park, take on some artistically expressive tasks that involve wall art and drawing, crafts, sand and water play, reading, watching movies and so much more.
And the answer is YES to be babysitting services, as these are available even for the tiny tots. This allows the parents to indulge in relaxation across the island, including a couples massage at the serene Amingiri Spa, a leisurely day lounging by the main pool or your private one, or strolling along the private beaches, knowing that their children are well taken care of in a colourful, child-friendly spacious environment with plenty to get up to.
Teenagers can also enjoy a dedicated space to connect with others of their age at Re:Fuel – Hilton Maldives Amingiri Resort & Spa rooftop lounge for teens or try a hand at painting at the island's Art Studio. It was also common to see families enjoying a bike ride about the island, as each villa comes equipped with a set of bicycles that can be used to explore more the surroundings at leisure.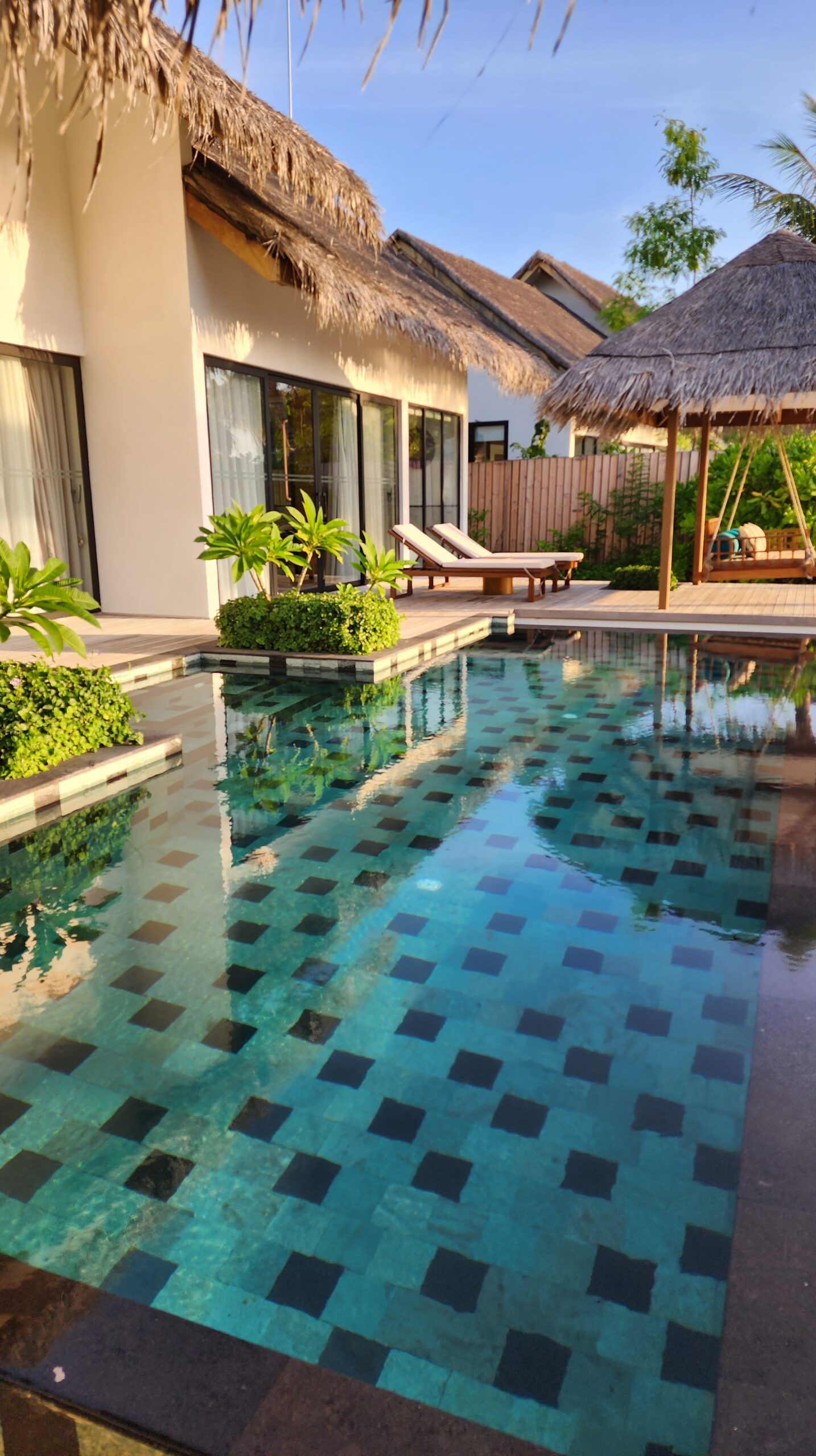 Aqua fun for all
What's an island vacation without a little fun on water? The Maldives is renowned for its vibrant underwater world, and Hilton Maldives Amingiri Resort and Spa is no exception. Families can explore the colourful coral reefs and encounter tropical marine life through snorkelling or guided diving adventures. The resort also organizes excursions for dolphin watching and fishing, providing memorable experiences for everyone in the family. Taking every opportunity to swim in the ocean from the direct access ladder at the deck of our overwater bungalow was quite the highlight for my adventurous bunch, and while our preference was to simply relax and enjoy our spaces, we discovered that there were a host of water-based adventures families could get up to which included:
Snorkelling and Marine Discovery: The Maldives is synonymous with mesmerizing marine life, and Hilton Maldives Amingiri makes it accessible for the entire family. Equip yourself with your set of snorkels and dive into the crystal-clear waters right from the resort's beach or your overwater deck at your bungalow if the waves below do not prove daunting.  Snorkeling excursions led by expert guides offer a chance to encounter colourful coral reefs and playful fish, an experience cherished by both young and old.
Dolphin Cruises: A thrilling adventure for the whole family awaits as you embark on dolphin-watching cruises, giving you an opportunity to watch these intelligent and playful creatures that often grace the waters around the resort. Watching them leap and frolic in their natural habitat is an unforgettable experience, especially for the kids.
Island Picnics for a nature-based style of dining: Feel like grabbing a bite away from other guests? Create lasting family memories with a private island picnic by simply asking the Hilton Maldives Amingiri team to set up an opportunity to dine on a secluded island while surrounded by pristine nature. It's an intimate way to savour delicious food while connecting with loved ones you journeyed to spend time with.
Whether it's exploring nearby inhabited islands, fishing, or embarking on a sunset cruise, one thing is certain; that the resort's array of family-friendly excursions allows you to discover the Maldives together and at your own pace within an idyllic setting.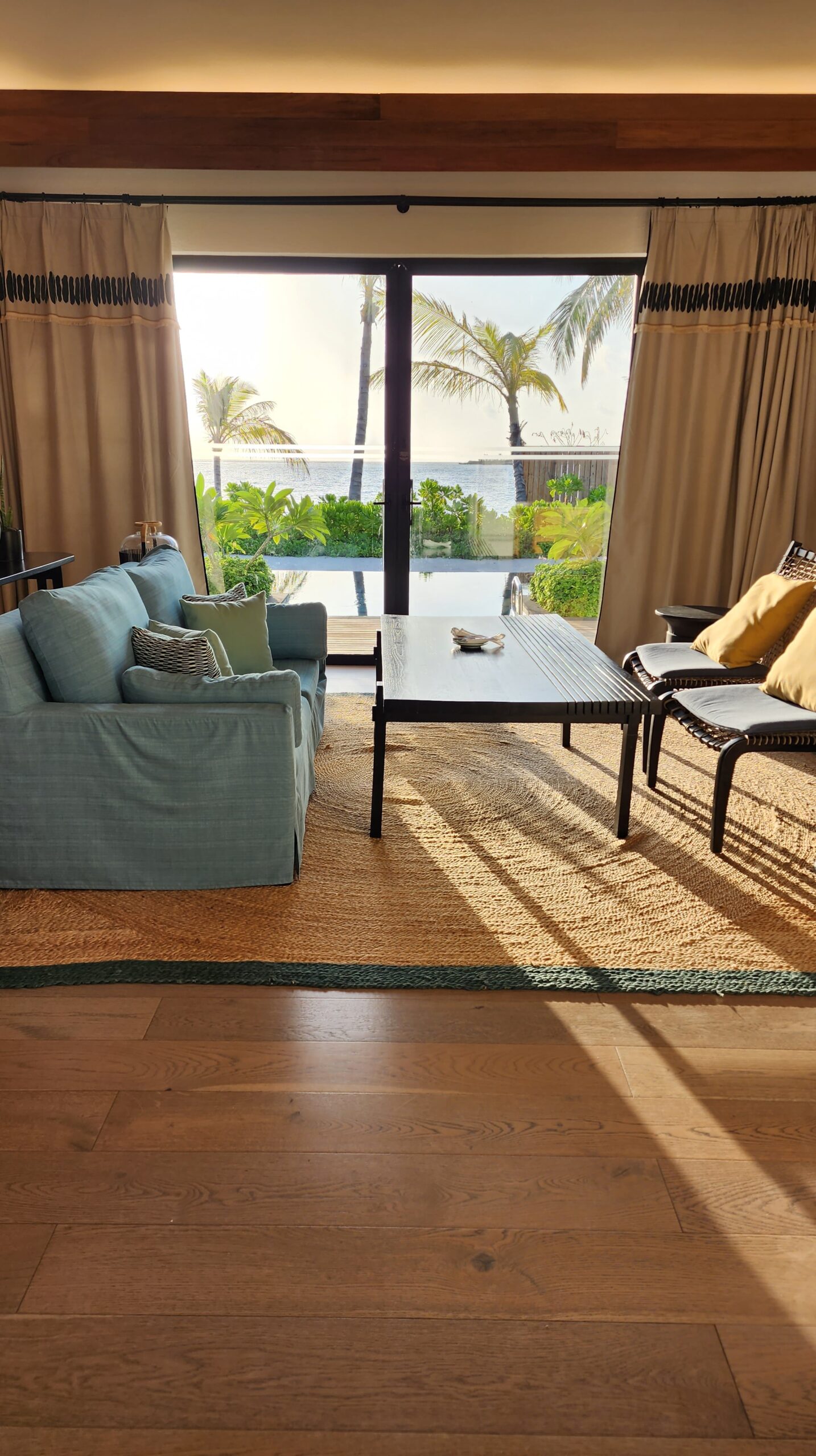 What's on Offer: The Ultimate Family Escape 
Create cherished new memories during the family trip of a lifetime. Book your two-bedroom villas offer an abundance of space to play and relax, with additional savings and the added benefits of a half-board upgrade and shared return premium speedboat transfers.
Book by September 30, 2023, for stays until December 26, 2023
Valid for a minimum stay of four (4) nights in the Two-Bedroom Overwater Pool Villa and Two-Bedroom Beach Pool Villa.
Subject to availability at the time of booking confirmation.
Complimentary transfers and half-board upgrade are applicable for four (4) adults and (2) children below 6 years in each villa.
Not applicable for any extra persons. Not combinable with any other offers.
Blackout dates apply.
To learn more and tailor your idyllic Maldivian Getaway with Hilton Amingiri Resort & Spa, visit https://www.hilton.com/en/hotels/mleaihi-hilton-maldives-amingiri-resort-and-spa/offers/