Word by Yvonne C Mtengwa
There's something about journeying into territories unknown, with little knowledge of where you are going or what experiences await you. Our minds were readied for an itinerary that was carefully curated by dear friends who have become family of mine – Luke and Suzanne Brown, Co-Founders of Vayeni Safari, a bespoke luxury tour operator that curates lifechanging itineraries for travellers keen on discovering the compelling magic of Africa.
Pick-up came on Day 4 of my Victoria Falls and Hwange circuit. When told it would be a few hour's drive to camp in the heart of Hwange National Park, I was quick to suggest that perhaps we venture into this part of Hwange at another time. Suzanne was having none of it. "Yvonne, this is bar none one of the best safari experiences you will have in this area, as Linkwasha Camp is located on the Southwestern edge of Hwange National Park and offers unique game viewing opportunities that you may very well not find anywhere else in the park," she emphasized.
And so, my sister girl and travel tribemate on this trip, Mucha Nyandoro, settled on driving into camp for our 2-night stay and flying back out into Victoria Falls via charter, conveniently operated by Wilderness Air. Our adventure was about two city slickers in heels on the daily, leaving the opulence and towering skyscrapers of Dubai, to have a soul encounter with Zimbabwe's great savannah. Our mission was to explore a different kind of luxury; one cradled in the majesty of untamed nature and putting us on the cusp of experiences so far removed from our day-to-day lives, but in every way designed to reconnect us with our innate love for the continent and nation we call home.
Our transfer began in Victoria Falls at 10 am, taking us on an hour-and-a-half quiet drive to Hwange National Park's base camp. We slept most of the way, perhaps because we were still very much fatigued from the adrenaline rush of the day before, having scaled down hundreds of stairs to the base of the Victoria Falls gorges for a little speedboating on the Zambezi. It was not too long before our turnoff into Hwange National Park. The scenery had changed, with visibly more foliage from the indigenous tree species and grasslands. We were met by our guide, Kingsley, who had the grand task of driving these two divas on the back of an open Wilderness Safaris branded safari truck, into the adventure that awaited them somewhere in Hwange National Park.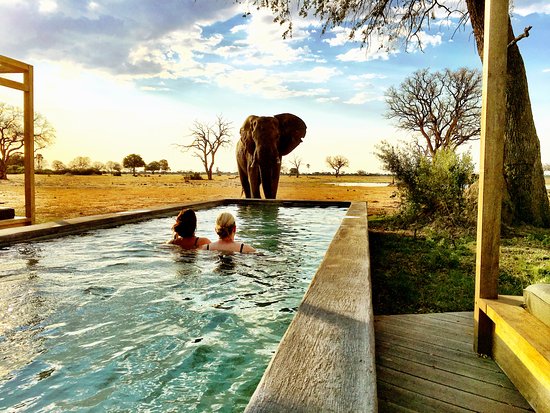 The drive in
The picnic was unexpected but oh-so welcome! Fresh fruit, vegetable quiche, and hearty chicken tenders were on the menu before we set out, complemented by a selection of beverages – from soft drinks to wines, whichever was to our taste. Mucha and I agreed that it wasn't going to be Fanta or Sprite to kickstart our adventure. We would be driving a couple of hours from base camp across the wild plains of Hwange National Park, to Linkwasha Camp, the most luxurious of the 4 camps operated by Wilderness Safaris in Hwange National Park. Well fed, ready to roll, we buckled up, put our sunglasses on, piqued our ears to Kingsley's educational drive as he shared tales of the area, facts on wildlife, and conversation with these two women that well poised to appreciate every minute of the experience that lay ahead. Did we mention the frequent pitstops to refill our wine glasses?
A park teaming with wildlife
A game drive through Hwange National Park simply cannot disappoint. It wasn't long before Kingsley would stop the truck to show us some incredible bird species perched on high or foraging the ground below, naturally with an interesting story to tell about their behaviours, habitats and feeding patterns. Next came dazzles of zebra, some giraffes, one of which was drinking from one of the watering holes on route, visibly conscious that a crocodile was watching from not to far off. We also saw a variety of impala, kudu, and smaller buck, much harder to spot when camouflaged by the tall grasses of brown and orange hues. Then there were one of my absolute favourites – the majestic gentle giants – the elephants. Elephants are in abundance in Hwange National Park – a whole 40,000 in number are estimated – so much that we were going to enjoy a front row viewing as they came each night to drink from the swimming pool at Linkwasha Camp.
Though we opted for game drives to escape the hot African sun, we were made to understand thatguided walks were also available for those that dared feel their feet touch the ground as they scope the land for wildlife species. Opportunities to find uncountable dust-kicking buffalos; Africa's super cats – the lions and the cheetah, or African painted dogs in their wake; the more elusive pangolins, caracals, lesser bushbabies, and honey badgers; more than 400 bird species, including raptors, which fill the skies once the rains start – are plentiful. There is even an opportunity to sleep in a Star Bed high in a tree, though for me, the cosy King Size bed in my luxury canvas tent was all the comfort I needed in these wild plains.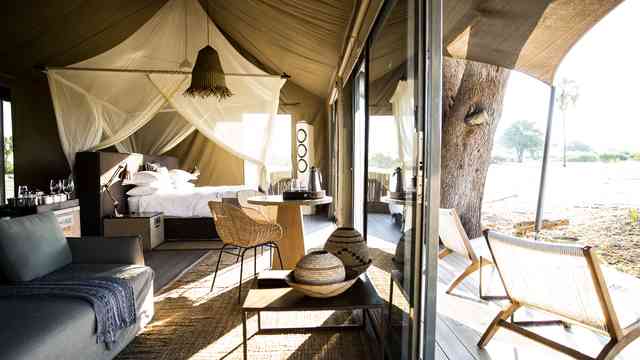 2 nights at Linkwasha
Linkwasha sits on the edge of the renowned Ngamo Plains of Hwange, Zimbabwe's largest national park. A staggering 5 657 square miles of diverse habitat, Kalahari sands seeping into teak woodlands and golden savannah grasslands, Hwange serves up some of the best game viewing on Earth, year-round but especially rewarding during the dry season as wildlife roam in search of water. Linkwasha has access to the exclusive-use Makalolo and Linkwasha concessions, incorporating the Plains. With solar-pumped waterholes sustaining the wildlife population, dry-season game viewing around the concessions' 15 water sources is mind-blowing.
A contemporary safari camp in an iconic African landscape, Linkwasha and its panoramic views of the plains immerse you in the bush, as a steady stream of wildlife makes its way past the ground-level rooms to the busy waterhole in front of the main area. Nine elegant tents, nestling under a tree canopy, are shaded in the environment's neutral tones reflecting local culture.
I was assigned the 7th tent which was a few steps away from the main camp, though we were told to ensure we never walk alone at night but await a pickup by one of our rangers to ensure our safety. On many evenings, we were joined for dinner and drinks by elephants siphoning their fill from the pool. Candlelit hot dishes made from only the freshest ingredients, barbeque meat skewers over breakfast, fresh local and tropical fruits, prosecco, wine, or cocktails of choice on tap – you find yourself soaking in all the trimmings that luxurious escapism can avail.
A stay at Linkwasha is beyond magical as one is immersed in the sheer thrill of becoming a part of the interwovenness of nature in its wildest form. Beyond how informative the trip was in as far as learning more about the diverse wildlife species occupying the park, the stay was in every sense a soul-encounter; a delightful opportunity to connect with self in the quietness of each day, while enjoying servings of sumptuous dishes and refreshing drinks over great conversation. Linkwasha Camp was every bit what we needed to close off the year in reflection, as we mentally braced ourselves for what was to come next upon arrival back in the Middle Eastern mecca that is Dubai.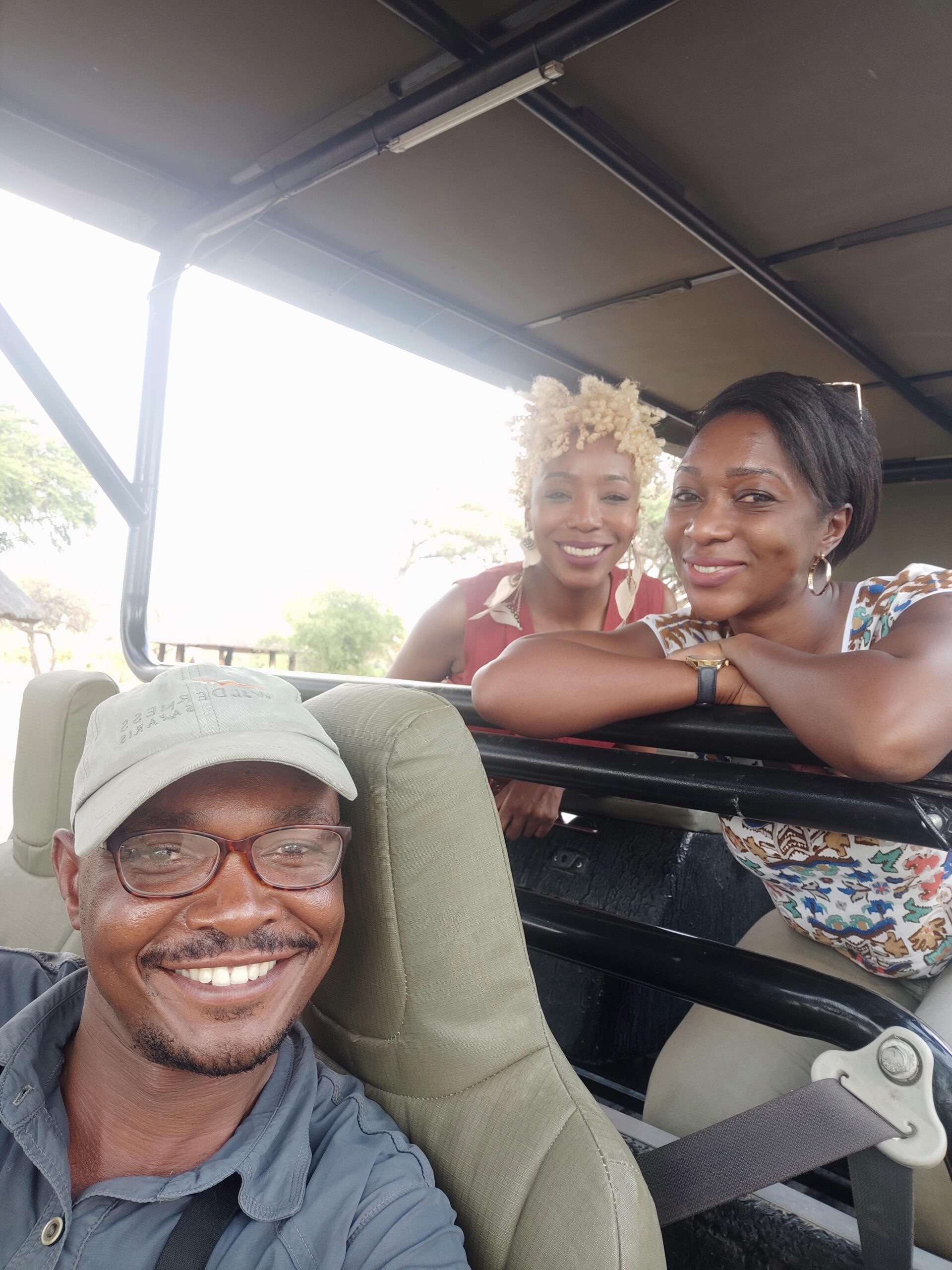 To book your experienced at Linkwasha Camp, visit https://wilderness-safaris.com/our-camps/camps/linkwasha-camp