Travel Essence Magazine first met Chris during a trip to Victoria Falls and its surrounding areas, an exceptional trip curated by our friends over at Vayeni Safaris. Environs. He was part of the management team that hosted us at the award-winning Matetsi Victoria Falls, and a year later, we bumped into him again and this time, from the other side of the Zambezi. We took the opportunity to chat with him about what his journey in the luxury lodge landscape has meant to him. He had this to say…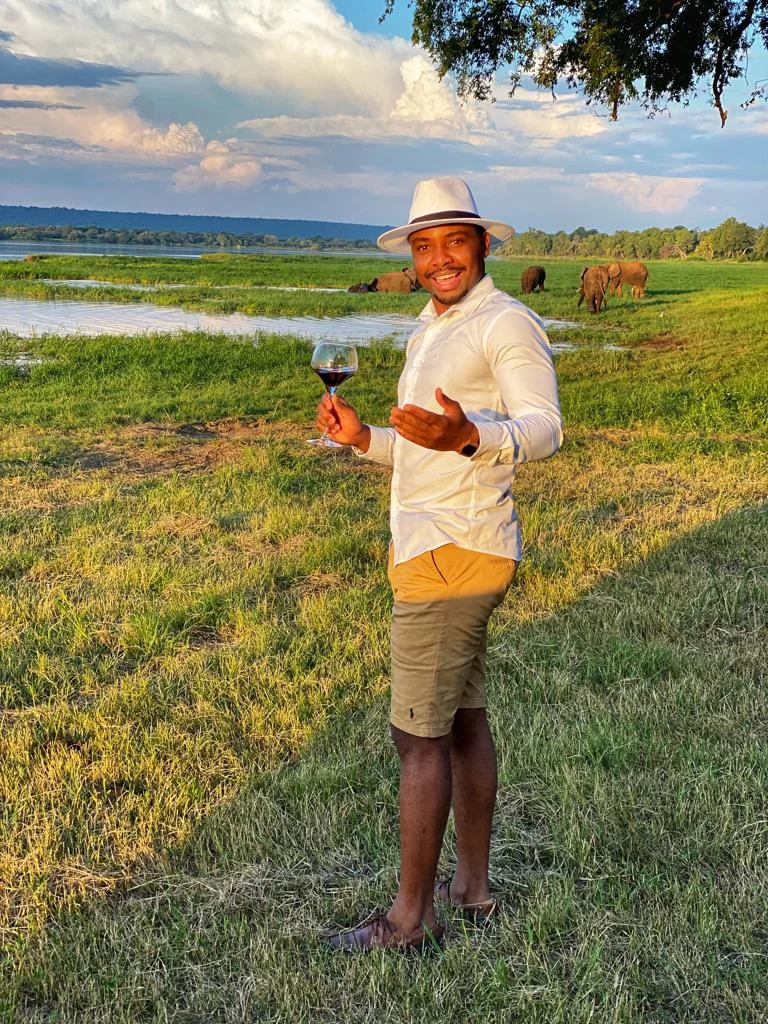 1. Christian Muzhira – an absolute pleasure having met you during our stay at Tongabezi by Green Safaris where you are the Lodge Manager. Tell us about who you are, where you grew up and your training days leading to your penchant for luxury lodges.
I grew up in Zimbabwe in the rural areas of Mashonaland Central, where I attended my primary and secondary school. I completed the first stage of my Primary School education in Harare from Grades 1-4, but unfortunately, my dad passed away, forcing my mother, younger brother, and older sister (who sadly also too passed away in 2011) to move to the village since my mom couldn't afford the expensive nature of life in the capital city, Harare.
Life wasn't easy at all for all of us; it definitely dealt us some tough blows, especially for my mom who fought hard to ensure there was food on the table and also having to deal with the pain of later losing her only daughter.  
In search of greener pastures, she then moved on to Botswana, leaving me with my younger brother. I was very young at the time and had to cope with the new norm, an experience that quickly matured me when compared with many of my age mates. 2012 brought about our move to Botswana, where I would then go ahead and complete my secondary school education.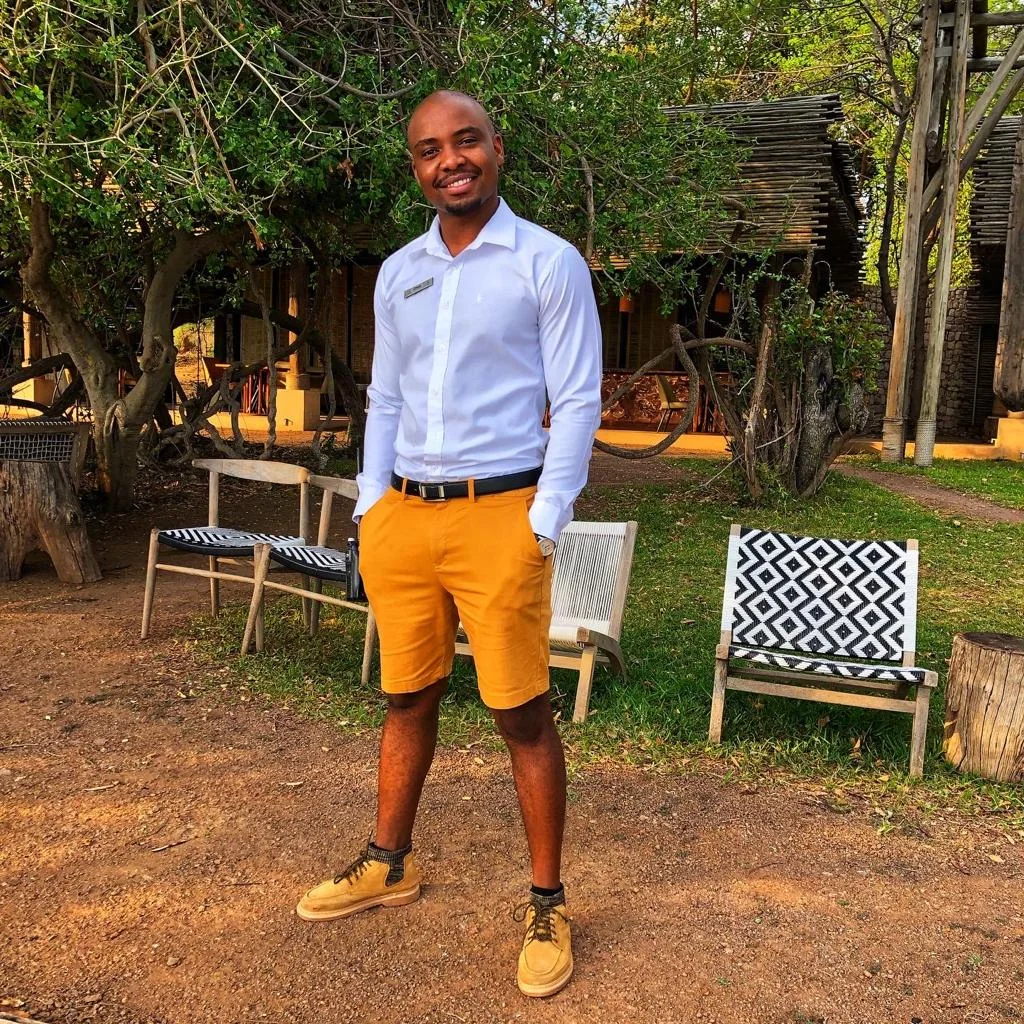 Being the man of the house as it were, I had to look for a few extra jobs so I could help my mother out whilst also paying for my school fees. I then went on to study IT, which quickly became a field of study I was deeply fascinated with. I credit the season of advancing my knowledge in IT to the many good friends I met who in some ways became family.
On a quest for further growth and maximizing opportunities, I started working on Mobile Safari experiences, doing Filming and Photography, meeting legends in the field, and interacting with guests from across the world who were visiting Botswana.  With all the experience and knowledge that acquired when I was working on the different camps in the heart of Botswana, I then moved to Victoria Falls Zimbabwe where I stayed for at least 7 years before joining Tongabezi, owned and operated by Green Safaris.
As Lao Tzu said, "A journey of a thousand miles begins with a single step." My quest for personal growth had me add to my skillset by venturing into all manner of maintenance work. Also, during my free time, I would offer to help out in Front of the House. Lo and behold I then became a Butler, moving on to become a host, an Assistant Lodge Manager, and now a Lodges Manager.  Let me add too that I continued to pursue my studies and am looking forward to and let I that I kept pressing on with my studies and am looking forward to becoming a Sommelier soon!  
2. Many would say you experienced quite a rapid growth in the industry, given you have had the pleasure of being part of the management teams of award-winning properties such as Matetsi Victoria Falls and now Tongabezi in Livingstone, Zambia? Take us through snippets of your journey thus far? 
Indeed I have experienced rapid growth in this industry and have also learned along the way that success is no accident. It takes hard work, perseverance, learning, studying, sacrifice, and most of all, love of what you are doing or learning to do. I would have not gotten this far had I not carried my passion with me, and the zeal to be someone in pursuit of constant growth.
3. What are some of the trends in guest experience tailoring that you think are integral in managing luxury lodges in Africa? 
The guests experience is crucial in the hospitality industry. It can either make or break the business and it should be one of the top priorities. Guests come to a hotel for various reasons, but they all want to feel welcomed and relaxed. A well-designed guest experience will make them feel valued and appreciated, which will create a loyal customer base that will come back again and again.
It's important to also note that guest experience is not just about physical design, but also about the services offered by staff members. Receptionists should be friendly and helpful for instance, while housekeeping staff should be available at any time for assistance with luggage or other requests. Guests will appreciate these small gestures of hospitality which can go a long way in creating an excellent customer experience
The most fundamental element of hospitality is how compelling the guest experience is, and as such, should be the most integral part of Lodge Operations because once everyone on the team gets it right, it translates to guests speaking confidently on your property and the experience; it all means that guests will definitely talk confidently about your property, be it in online review platforms such as TripAdvisor, via social media, word of mouth and some become repeat guests.  A happy guest is one of the best types of marketing, so everyone should ensure that you are setting and even exceeding guest expectations. However, understanding and delivering what the guest needs can be a little bit tricky as preferences can change over time, so there is a need to be adaptive in service delivery.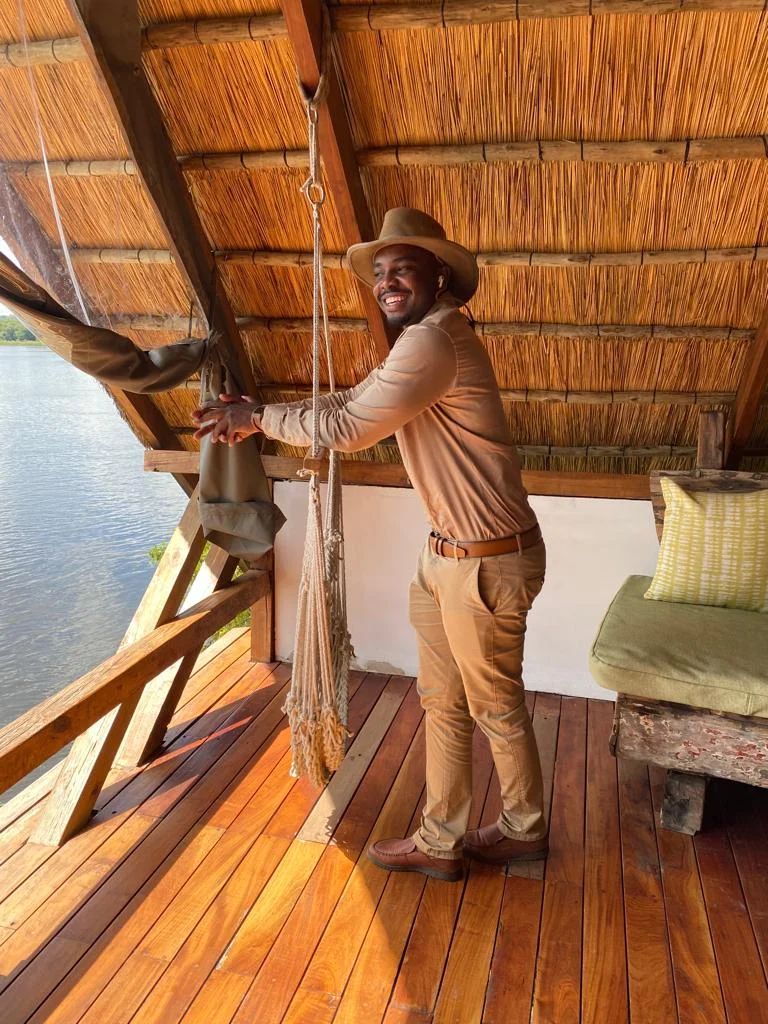 4. You spend a good part of the year in remote locations at work, before going back to the city to reconnect with loved ones. Talk to us about what that's like for a young professional on the quest for growth? How do you balance the tug of war between your personal and professional life and managing both in very different settings?
It can be quite complicated to balance both to be quite honest, but over the years, I have learned to be strong physically and emotionally as there are a lot of situations and people along the way that may try to create barriers for you, especially when working in camps away from home. I will add though that in as much as I am often disconnected from my friends and family being far away from the hustle and bustle of city life, this has taught me to budget better and to keep excelling academically
5. Talk to us about some of the key lessons you've taken from working with teams at luxury lodges?
Working at luxury lodges teaches you the power of prioritization, swift problem-solving, humility, and communication. You begin to better understand human behaviour, for example, guest responsiveness to having their needs met or otherwise.
Luxury lodge management is about people—each and every type of person. In short, working in hospitality teaches you real-life soft skills that you will carry throughout your entire life. You will have great experiences and you will have some you would rather forget. You may have a total meltdown mid-shift (I know I have) and still live to enjoy some of your best moments a few hours later. There are many lessons I have taken away from my time sweating through a challenging weekend shift and these continue to guide me as I work to improve myself daily.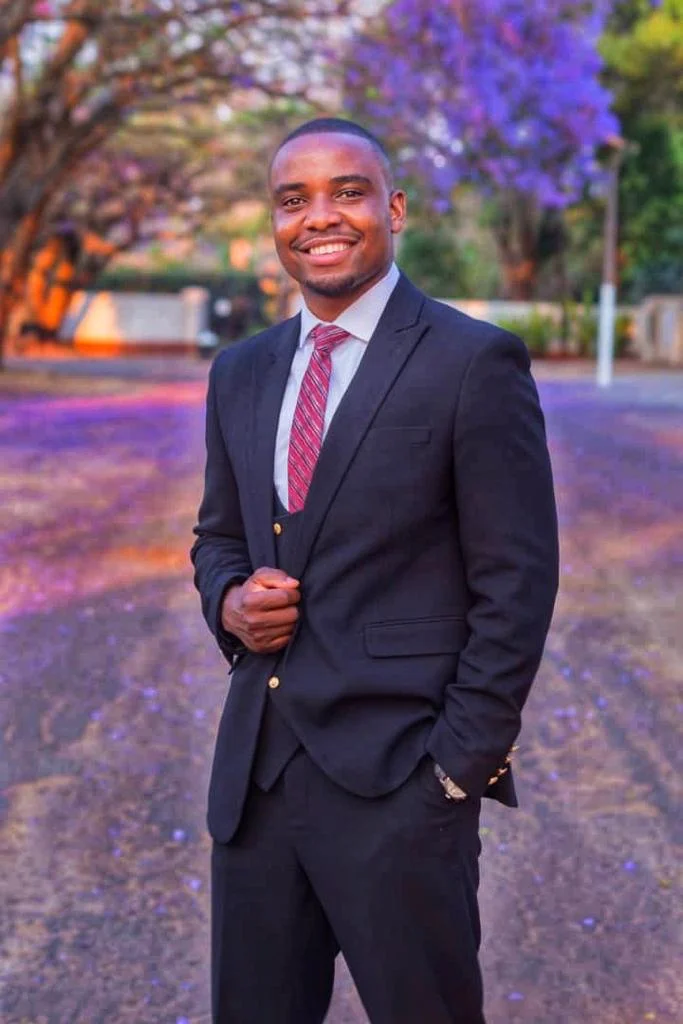 6. What about curating the ultimate guest experience? What are some of the things that international guests staying at camps and lodges look for and what do you deem to be a winning formula to keep them coming back? 
Pre-arrival. Very important. This is where it all begins when a guest chooses a lodge and considers why they would like to visit that particular destination. The choice of the guest can be influenced by many factors though, including previous experiences with previous lodges, online reviews, word-of-mouth referral by friends and colleagues, or the location of the lodge.
Also, the guest's decision of making the reservation can also be affected by the ease of making the reservation and the way reservation agents interacted with and described the facility of the lodge. Elements like room type, room rate, and activities offered amenities all play a role in guiding the guest experience. It's for this reason that reservations agents should be sales orientated and present a positive, strong image of the hotel, be open-minded with respect to different cultures, very patient and passionate about what they are doing at any given time.
Arrival starts from any point that guests are picked up, be it from the airport, from another lodge, from the border of a neighbouring country, and so on. This is the first face-to-face interaction with the staff that you will be dealing with, so the process should go swiftly.
Before the guests arrive, rooms should have been checked to ensure that everything is all clean with no snags needing to be fixed. Little touches such as personalized welcome notes and special treats in the room such as macaroons or millionaire shortbreads are always winning elements. A warm welcome from the Manager and the team, with a well-refreshed towel sprinkled with lemon grass, singing, and dancing mostly does bring a vibe and it makes guests feel at home more, especially given most would have travelled long distances to arrive at your lodge. A lot goes into it, but it is absolutely worth it to see the smiles on the guests' faces as they check in and familiarise themselves with their new surroundings and the overall experiences that lie ahead – be it the meals, sundowners, massages should a spa be on site, planned activities and so on. 
7. Let's move the needle to some of your other interests. What does Chris do for fun?
I am an avid photographer. I also love reading novels, watching movies and documentaries, and naturally, I love travelling and experiencing nature.
8. 5 favourite destinations in Africa and why?
My first pick is my home country of Zimbabwe. Behind the grim data lies one of southern Africa's most beautiful and diverse countries. Despite our endless troubles, Zimbabweans have never lost their humour and resolve, they are culturally strong, welcoming, and vibrant. The thundering Victoria Falls is the most obvious attraction, bungee jumping and white water rafting blend beautifully with the laid-back vibe of the town. The wilderness of Mana Pools National Park is home to one of Africa's strongest wild dog populations, the Ruins of Great Zimbabwe are awe-inspiring and the majestic Matopos are steeped in tradition. Hwange National Park is a wildlife haven as well as along the banks of the Zambezi River. Further upstream is the great Lake Kariba on which dreamy days can be spent aboard a houseboat. Despite its global image, Zimbabwe is still a true African gem.
My second pick; is Botswana. This is an excellent destination to photograph large predators, with healthy populations of lion, leopard, cheetah, hyena, and the African wild dog. The differing landscapes of the Okavango, Savute Marsh, Chobe River, and the semi-arid zones of Nxai Pan, Makgadikgadi Pans, and the Kalahari Desert make Botswana one of the very best safari destinations in the world.
The country also boasts the biggest intact migration of zebra and one of the largest salt pan systems on Earth – the great Makgadikgadi Salt Pans. Botswana is also home to the largest continuous elephant population in Africa and the highest concentration of Elephants on earth today
My third pick would be Zambia. Zambia can be described as the interface between southern and east Africa and has long been one of the most underrated safari destinations on the continent. Bird life is prolific and the Luangwa Valleys offer brilliant wildlife viewing in safari vehicles and on foot.
The Kasanka National Park hosts the largest migration of mammals on earth as over 8 million fruit bats descend on a particular forest in time for the Summer rains. Zambia is home to the lesser known sub-species of Cookson's Wildebeest, Crawshay's Zebra, and Thornicroft Giraffe – endemics to the Luangwa Valleys. The country boasts an intact wildebeest migration in the west and a cultural diversity that is rich and largely unexplored. The Lozi tribe of the Barotse floodplains are one of the most prominent culture elements of this exciting country.
Then we move onto Namibia. Wedged between the Kalahari and the South Atlantic, Namibia enjoys vast potential as one of the youngest countries in Africa. In addition to having a striking diversity of cultures and national origins, Namibia is a photographer's dream – it boasts wild seascapes, rugged mountains, lonely deserts, stunning wildlife, colonial cities and nearly unlimited elbow room.
Namibia is one of those dreamlike places that continually makes you second guess what your eyes are seeing. Time and space are less defined here, landscapes collide, dreams are formed and realised. Watch a lion stalking an eland on a never-ending plain in Etosha, or watch a lion snatch a seal from the surf on the west coast. Fly down a giant dune on a sand-board, spend a night alone in the desert under a sky so thick with stars they are blinding. There is nothing else like Namibia.
Kenya & Tanzania, which bear so many similarities yet still so different, it can be quite difficult to separate the two. The original heart of the safari – East Africa is home to the most iconic African landscapes and some its most iconic people.
The snow-capped Mount Kilimanjaro presides over the great plains of the Serengeti and Maasai Mara as they roll into the rainforests of central Africa. The Great Migration occurs here when millions of wildebeest and zebra follow the seasonal rains, famously crossing the crocodile infested Mara River as part of their journey. This is the largest movement of terrestrial mammals on earth.
There are deep history and cultural elements to explore while visiting the Maasai and Samburu people. Along the beautiful coastlines, the warm Indian Ocean provides an entirely different tapestry of underwater plants and animals. The diving opportunities are some of the best in the world. Just off the coast is the island of Zanzibar, full of colourful history and tradition a visit here is a delightful assault on the senses and is not to be missed. It is here in East Africa that "safari" first began.
9. What advice do you have for young people looking to enter your space in luxury camps and lodges? 
Your background doesn't determine your future and success. You may have inherited wealth from your parents or you might be from a very poor background but the crux of the matter is, for one to succeed they have to be focused, be passionate about what they do and never stop learning and listening to those who went before them. As the adage states; never stop dreaming, everything is possible and the sky is the limit.
10. Given the opportunity to turn back the hands of time – what would you change or what words would you share with your younger self?
I would tell myself to love myself enough to set boundaries. Our time and energy are precious and we get to choose how we use it. We teach people how to treat us by deciding what we will and won't accept."