Words by Daphine Mabhiza
Nestled away in the Rif Mountains of North West Morocco is an enchanting town called Chefchaouen, a popular and incredibly Instagrammable travel destination that draws tourists in with its charm and sheer intrigue. Characterized by its blue-colored buildings, everything about this little town, from its houses and restaurants, is pretty much stained in varied shades of blue…and will leave you with plenty to muse over…
Founded in 1471 by Moulay Ali ibn Rashid al-Alami as a kasbah, which means fortress, Chefchaouen was built in an effort to ward off Portuguese invaders. With time, many Moroccan tribes settled here along with Jewish people, establishing a community that would later become a beacon of historical and aesthetic distinction within the borders of Morocco. Although the town, and Morocco as a whole, suffered numerous atrocities on account of recurring invasions throughout history, Chefchaouen exhibited resilience and is now often found on the bucket lists of many travelers looking to take on Morocco as a destination for exploration.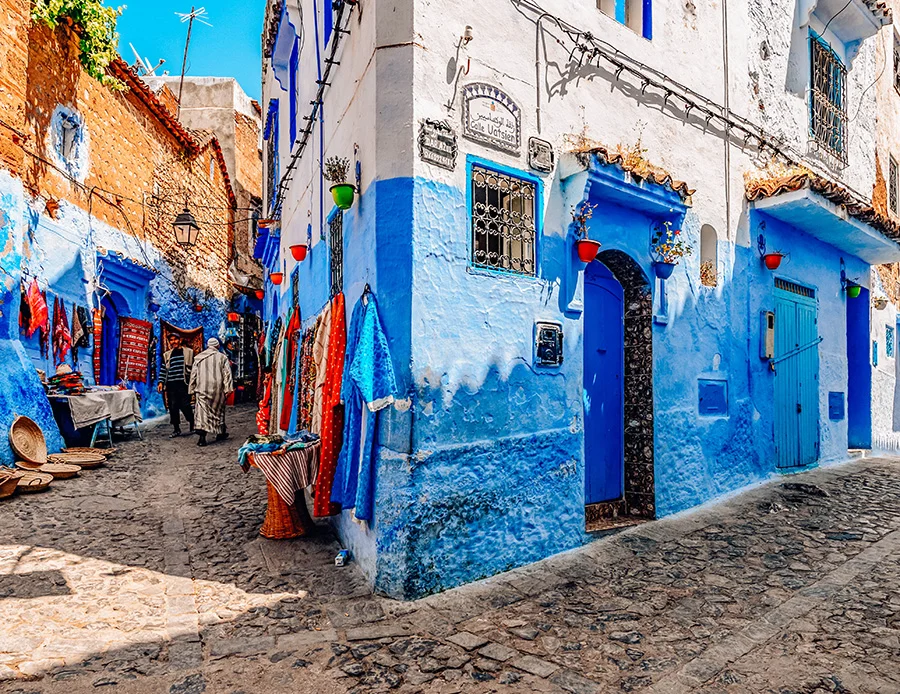 A tourist's bliss
It's not surprising that one can easily get lost in the magical nature of Chefchaouen. If it's not the serenity and breathtaking views of the surrounding Rif Mountains, the blue buildings, the warmth of its people, and unique food and cultural experiences will do well to intrigue you.
Almost every corner of the town is picture-perfect, making it a haven for photographers, explorers, and content creators alike, awarding one infinite photo opportunities as you soak in the town's beauty, rich history, and celebration of heritage.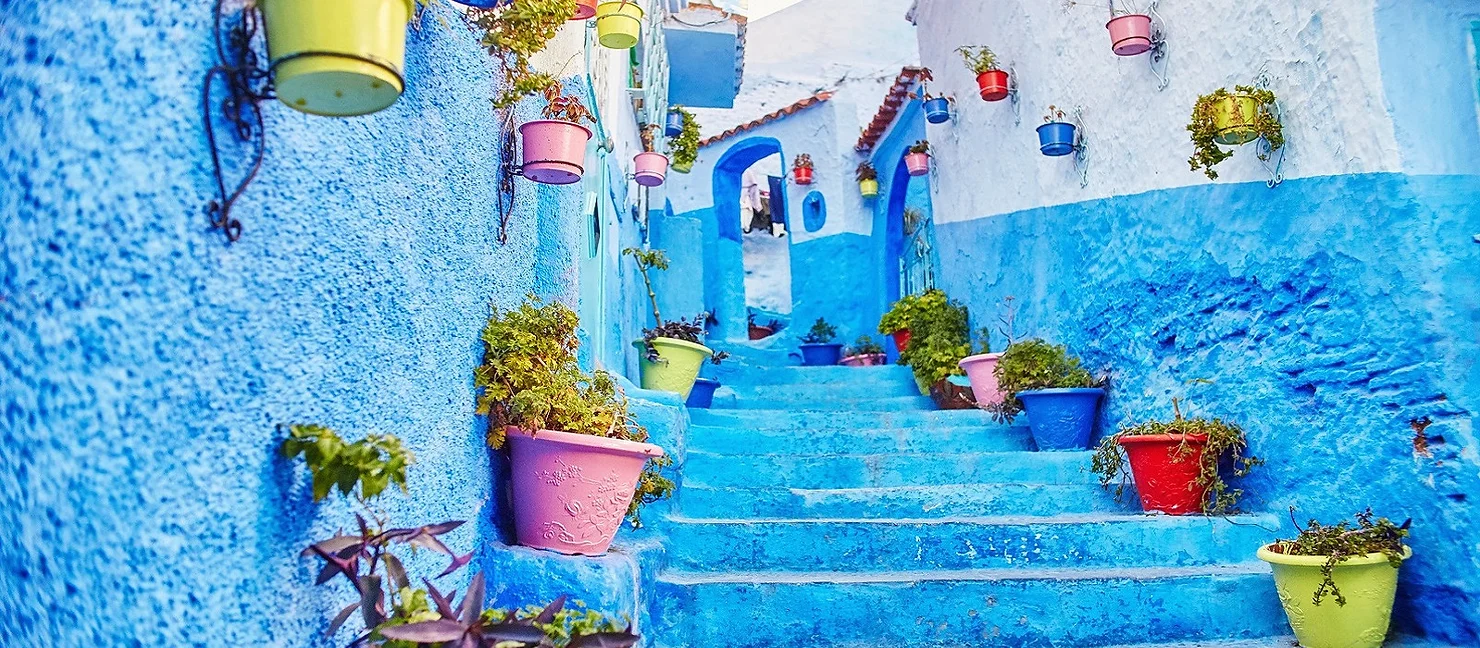 Over the years, Chefchaouen has welcomed an increasing number of tourists, as they seek to experience for themselves a taste of Morocco. Beyond the strolls through the cobbled streets of the blue pearl of Morocco and the culinary experiences that await, there are countless attractions to explore, including the Chefchaouen Medina, the town's market where you can find some of the most beautiful, distinctively Moroccan artifacts, handmade crafts, and trinkets to take home as souvenirs. Of tremendous appeal to tourists is the ability to negotiate great deals at the stalls, allowing you to indulge in a little experiential shopping while learning more about how goods are made.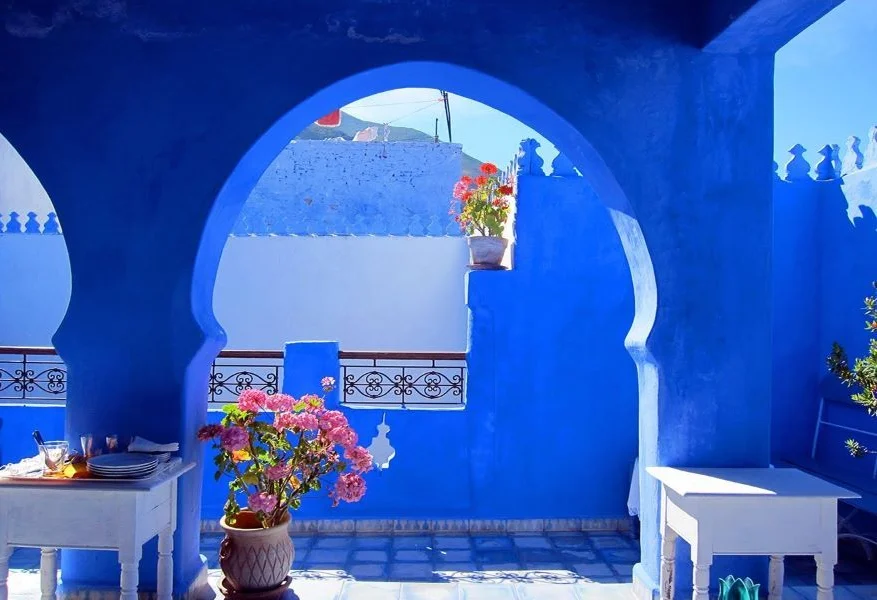 Place Outa el Hammam is the main square of the Medina and is a must-visit when in Chefchaouen. From there, you get a view of the main Kasbah, a historical and highly significant building in the town, which is now a museum that showcases the important history of the town's transition from the terrible invasions of centuries past to the peaceful, pristine town that Chefchaouen is today. At the Kasbah, you can see a variety of historical artifacts, which range from traditional weapons and musical instruments to models of embroidered folk dresses, pottery, and wooden and copper utensils. There is also an extensive showcase of traditional clothes belonging to the four major tribes of the region: Lakhmas, Ghzawa, Bani Msara, and Rhouna. Beautiful antique silver jewelry can be seen here too. If you are fortunate during your time in the Medina, you may find music shows taking place which inevitably elevate your immersive cultural experience, as you enjoy the sights and sounds of this little blue town, interact with the locals, and taste some great dishes.
A trip to Morocco promises a great mix of cultural exploration, outdoor adventures, and culinary escapades that will surpass your expectations. Chefchaouen, much like the rest of the country, boasts a charming local population that is well-versed in welcoming tourists from across the globe. The people are famed for their friendliness and will make you feel at home. So, the next time you are looking to explore a destination that carries remarkable charm, consider exploring the cobblestone streets of the enchanting town that is Chefchouen. An incredible gem of North Morocco, this blue pearl of Morocco is a feast for the eyes indeed.