1.Terry and Sheona Anders – we are thrilled to connect with you and your story. Tell us a little bit about yourselves, where you grew up and what inspires your love for Zimbabwe and Africa at large?
We were born and raised in Zimbabwe and grew up as typical bush kids. We played simple games and lived with boundless energy, barefoot, carefree, outdoors and free to chase our dreams. Our parents say we were mischievous but we rather thing that the freedom to wander, explore, create, imagine, dream without restraint is precisely why as adults we are so at one with nature and comfortable in Africa.
Ours is an enviable, healthy, adventure-rich lifestyle and the lust for the great outdoors has never left us. It is rare these days to grow up and remain in your country of birth and so we treasure the fact that our parents, grandparents, and great grandparents all lived in Africa. Terry's parents still stay in the small town in the middle of Zimbabwe where they were married and where they raised their kids. My mum lives nearby and frequents the camp with us. She is known as 'The Storyteller' and she still mesmerises guests with tales of her childhood in Africa during evenings around our fire. I'm so thrilled that my dad, recently laid to rest right next to our tented home at Iganyana Tented Camp, also got to see and feel this place.  Their legacy is now ours and lives on in this place.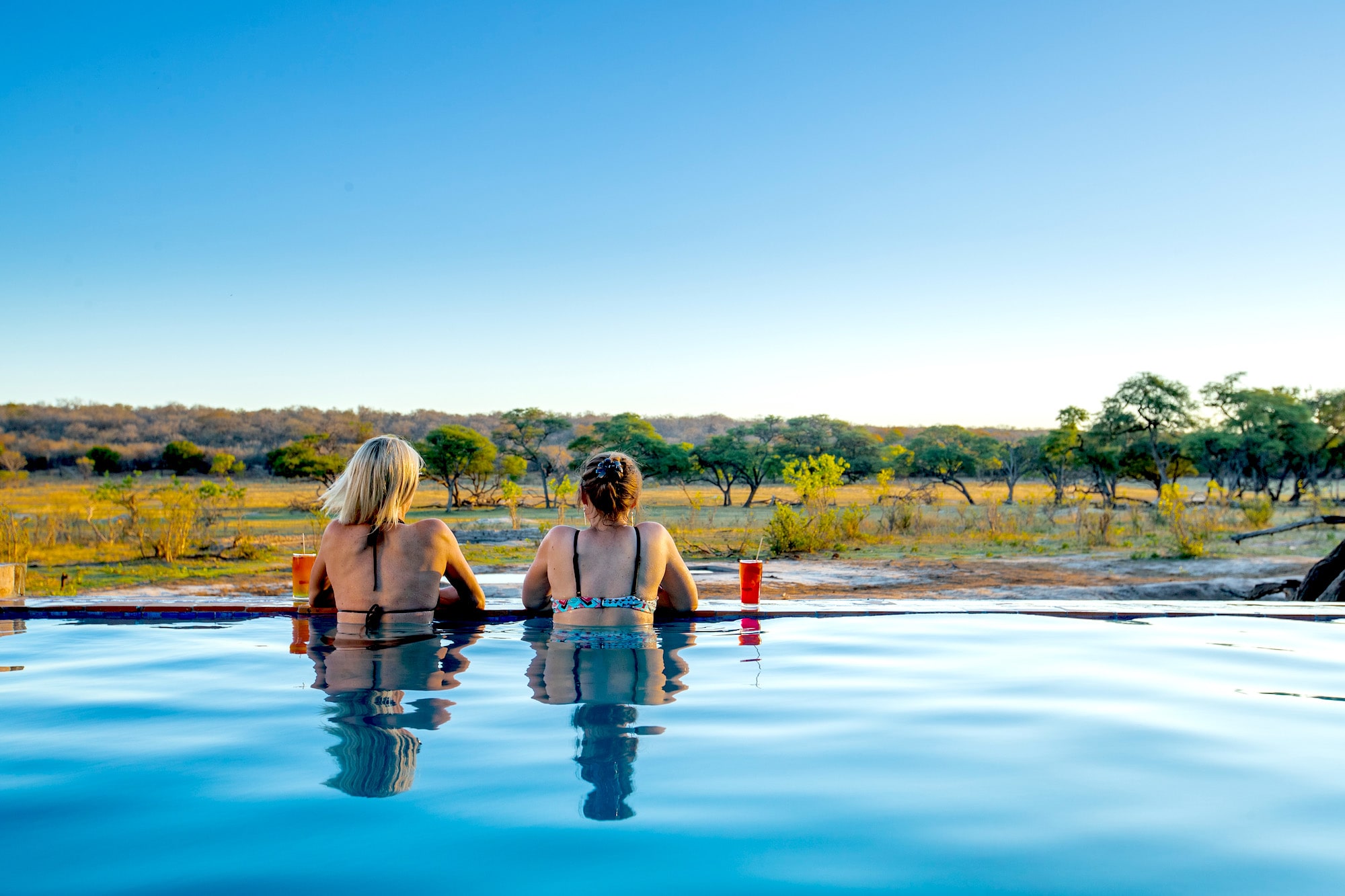 2. Has becoming a luxury tented camp owner always been at the front of your mind coming up and if so, what kept you working towards attaining that goal especially in a challenging economy?
Our love affair with the wild lived in us since we were children and we've yearned life-long to share this heritage with the world. But luxury tented camp, you ask?  Not so much. We began with simple tents and mobile safari camps, and we still operate these private tented bush camps throughout Zimbabwe. It is an incredible way to engage the wild and reminisce explorer days of old in the traditional style.  Those were glory days of courage and entrepreneurship, but bravery and hardship too. Because of this some folks imagine the private bush camps are rough and uncomfortable. This couldn't be further from the truth, but we recognised the need to create a place full of the character and charm of yesteryear, dually purposed and distinguished as a luxury, comfort camp so that ALL our guests, particularly first-time guests who may feel anxious about a mobile tented bush camp, can feel confident, comfortable, safe and welcome in more familiar surrounds. And so Iganyana Tented Camp was born. 
It has taken pioneer spirit, grit and conviction to conquer the nay-sayers, to stay in tourism, to build our dream amidst heavy competition and heavier economic constraints. But we have proved that when it is a calling, when it comes from the soul, then heart and hard work will win out. We will never stop giving and sharing this multi-faceted Africa in a mosaic of safari experiences, with guests from all over the world.
3. Iganyana Tented Camp has been open for about 2 years. Why Iganyana? What was the impetus for setting up this luxury tented camp in the heart of Hwange National Park and how has this milestone transformed your lives? 
Iganyana Tented Camp was conceived in us long ago. Years of dreaming and planning went into creating something unique without detracting from the sincere embodiment of the colour, culture, texture, history and heritage that is Zimbabwe.  'Iganyana' means 'Wild Dog'. They are a remarkable species and are our namesake because as a pack, Wild Dogs are an extraordinary display of effective teamwork, community and camaraderie. A small animal with massive collective impact. We have always believed in 'together'. Standing alone is not the African way. We share and we work together. Alone we are a filler of a space and vulnerable. Together we are strong, a family, a mosaic, a living artwork, a grand performance. 
4. What were some of the key lessons you took away during the process of building Iganyana ahead of opening, and finally welcoming guests to your camp?
Conservation is at the heart of all we do. As a safari operator, we have learned how critical it is to be present. During COVID-19 when many shut their doors, we determined to stay open, to keep our team fed, to keep our patch of paradise cared for and managed so that poaching didn't escalate and so that the animals and their environment and the communities that depend on this place for a livelihood could survive a tough time. We've also learned that people make a place come alive. Iganyana Tented Camp sure is an unbelievable escape here in Hwange National Park, but a place is but another space when it has no soul. Like a house that should be a home. Hospitality is people-driven. The right people, with the right heart for conservation and for sharing it with the world – THAT lights up a space and ordinary place becomes extraordinary experience to treasure for all time.
5. Talk to us a little about the Iganyana experience – rooms, location, wildlife encounters, how to get there etc.? What do you believe draws guests to this incredible camp in the wilderness, and how do you believe a stay at Iganyana can be viewed as 'soulfood' for one looking to reconnect with nature?
Guests are the best testament to who we are. We've asked our guests what they love about this place and resoundingly they say that Iganyana carries a unique vibe, an instant warmth that resonates in everything in the welcome, the stay, our facilities, and decor. This is heart-warming for us because we want our guests to feel right at home here, to belong.
Iganyana is a window on the wild in comfort and safety, a pocket of privacy, and is understated, simple luxury. You can look forward to curling up with a great story on the couch in the living room, or request a private meal on the star deck, or spend the day about camp in the soft, pillowy dressing gowns that are provided. The point is to be completely at ease as you immerse in the healing, perspective giving power of nature and revel rich in Africa-reward.
Iganyana comprises of 20 fully furnished, simply appointed, en-suite safari tents, all facing a game-rich, long-dry riverbed that is known as the famed Dete Vlei. The tents are attractively arched around a main area with dining deck, leisure deck, fire boma, start deck and swimming pool. Nothing about this camp detracts from the sanctuary of the wildlife surrounds and care has been taken to design Iganyana so as not to disturb any of the natural elephant pathways that have transversed the area for hundreds of years.
Guests can game drive, night drive, enjoy a walking safari, or even a horseback safari (for experienced riders) but it is not necessary to leave the deck for excellent wildlife and photographic opportunity. Elephants frequently drink from the swimming pool and buffalo walk in impressive herds down the vlei. The bird life is spectacular with over 400 species and people come from all over the world to see their bucket list rarities. Families are welcome here too which is unusual for safari camps. We believe conservation begins in young hearts, so we've prepared a plethora of Africa-rich, fun activities to engage kids whilst their guardians get some rest and relaxation. And we're easy to reach too!  Just a 25 min flight from World Wonder Victoria Falls to Hwange Main Airport, or a 2-hour drive on good road – and just like that you are on our deck with a good cup of tea or a G&T in hand and immediately immersed in the wilds of Hwange. Truly amazing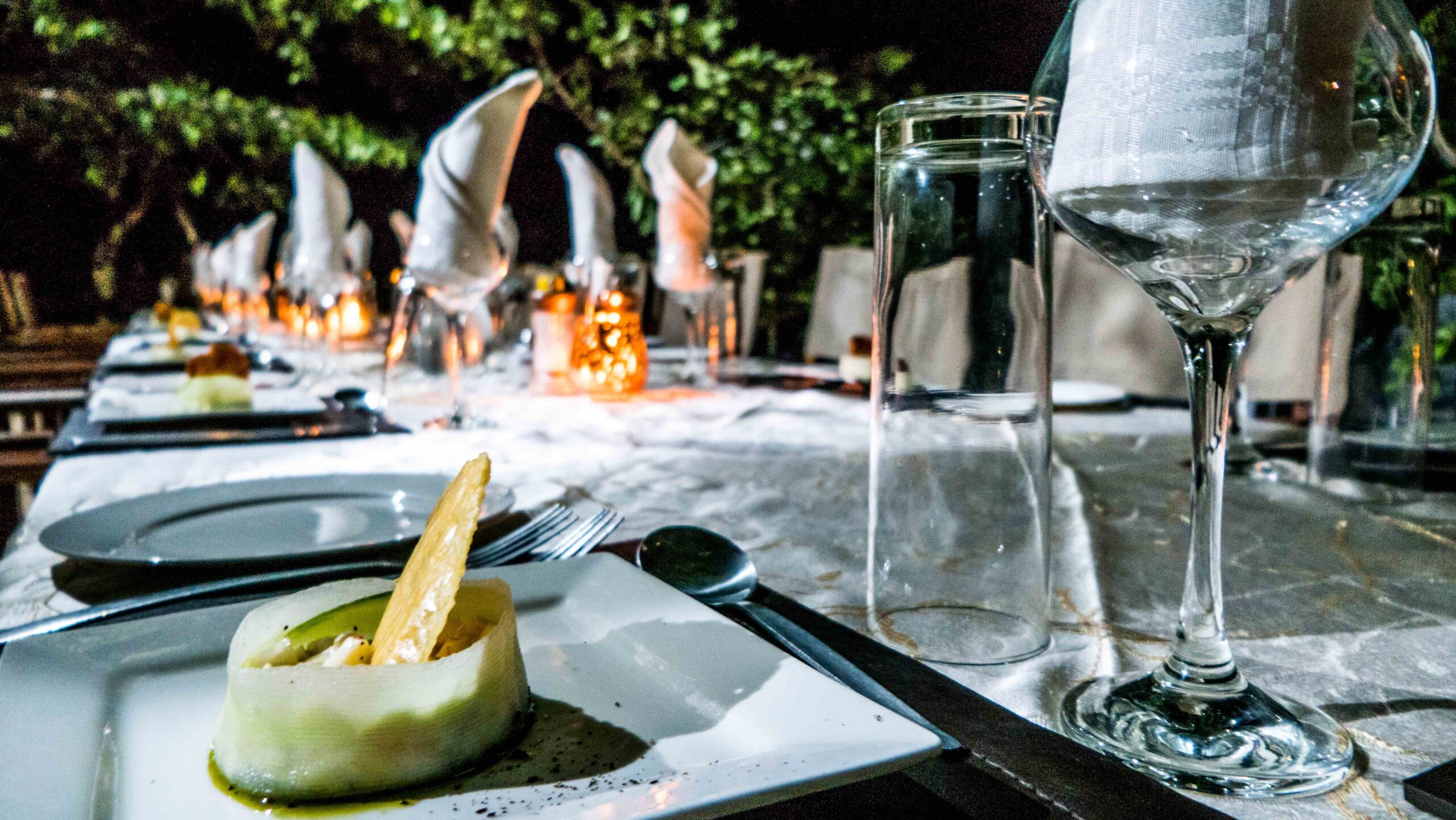 6. A big deal for most travellers into Africa, is the opportunity to enjoy a Safari experience. Iganyana is located front and center of Southern Africa's Big 5 territory. What animals surround your camp and when is the best time during the year to visit? 
Year-round guests get great game viewing but each season stages dramatic change and wildlife diversity as nature transforms. Wildlife and birdlife around our planet migrate or merge depending on their species and Hwange is no exception. The wet season or emerald season is fragrant and green from November through to March. Exciting migratory birds arrive such as the Yellow-billed Kite from Russia in August for breeding in the warmer temperatures. Just as first rains begin around November the Broad-Billed Rollers, European Bee Eaters, Carmine Bee Eaters, Woolly Necked-Storks and many Eagle species arrive for the termite feeding frenzy. Quite spectacular! Guests can also look forward to new life all around as plains game species give birth to little ones. It is a precious, life-giving time as the rains replenish the earth. The bush is thick, and it is less about the big herds, and more about stunning scenery, light-play on the landscape and smaller, well-fed, healthy pockets of game. Temperatures are temperate and it is a time of plenty.
In stark contrast however in the dry season from about June though to October the bush dries up and thins out. June and July are our Winter months, and it is colder than one might expect with temperatures dropping sub-zero in places in the dead of night. Mornings and evenings are cold, but the days are warm. Game viewing is more dramatic with bigger herds competing for food and water sources. There are dust-driven, fire-red sunsets at this time of year. Temperatures get increasingly hotter and up to around 36 degrees Celsius in October in the middle of the day. Nights are balmy and pleasant. It is exciting time to visit for those interested in the predators because we often get to witness lions and hyena and wild dog making the most of herds in big numbers. This is a high-adrenaline and dangerous hunting time for them.
There isn't a time when the wild does not produce fantastic sensory reward and we encourage guests to return to witness all the seasons and 'Shades of Iganyana' at Hwange National Park.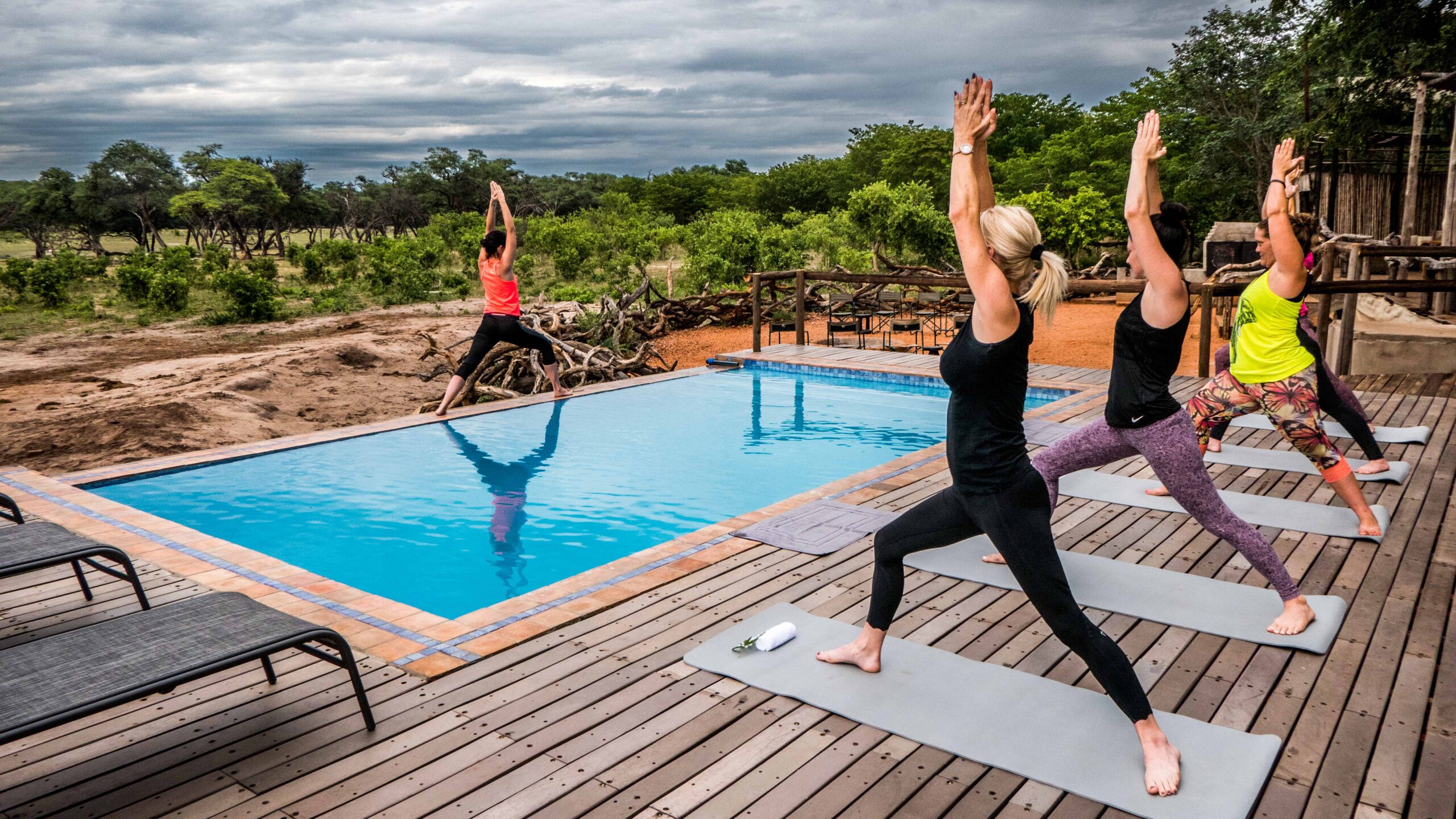 7. What sort of experience from a guest satisfaction perspective do you aim for your guests to take away after a stay at Iganyana?  
If guests stay with us and say it was 'nice' we've failed. We are only interested in 'extraordinary', and our guest can expect that. This is not just another place to stay and view Zimbabwe, nor to tick a box and see the great Hwange National Park on another safari. No. This is your chance to EXPERIENCE Africa, to FEEL, to see life-changing things, to discover, to unwind, to sense, to be free, to abandon your comfort zone, to dare to 'be' in this place. Leave sedentary behind and engage with us. You're safe with us, surrounded and yet perfectly private. You'll find this way of living inspiring, awakening, joyful, wistful, restful, adventurous, recreational, rejuvenating, healing. Rewarding in every way. THAT is what memories are made of. Our guests are forever a part of this place, and a part of our story and we are a part of theirs. And the story lives on as they take with them rich memories of their personal encounter with Africa, a memory bank to draw on and treasure forever.
8. Terry, you have worked in the area with many communities closely and view Hwange National Park and Dete as your playground. Talk to us a little bit about some of the community building initiatives Iganyana fosters and what the future of sustainable tourism is in your view?
It is our founding ethos to make the lives of Zimbabweans better through everything we endeavour in hospitality. Conservation requires community. Although Iganyana Tented Camp is the new kid on the block we have worked in the Hwange area since 2002 and enjoyed valuable relationships with our surrounding communities and the Chiefs. They are very much a part of the existence of Iganyana Tented Camp. Raw materials for camp-build came from our local villages and our safari team has been recruited largely from these surrounding communities too.  In addition to hand-in-hand work with Hwange residents it has always been our passion to reach out to the disabled community. We have a great working relationship with several outreaches that provide skills development programs for disability employees, some of whom were involved in building aspects of our camp. We are guardians of a physically disabled young man and so this is close to our hearts. We're also providing skills development for our staff to host and train physically and emotionally abused young adults so that they are able to progress into work in hospitality should they choose to do so. Nature is a therapy, and we cannot think of a better place to welcome people in promotion of health and well-being.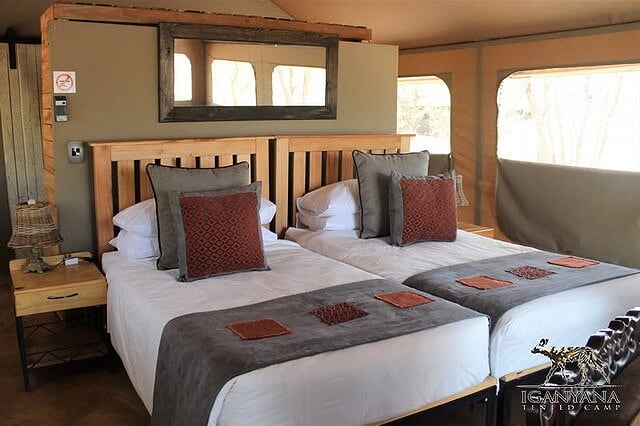 We are also involved in arranging funding for the development and management of projects that provide solutions for Human Wildlife Conflict which is common amongst our communities where wildlife often destroys vital crops and imposes on rural life. We as Forever African are determined to drive the concept of Community Commercial wildlife ranches where the communities become direct beneficiaries of the program.
Last but not least we host many kids' programs at Iganyana Tented Camp where kids get hands-on hospitality and mini-guiding experience. We want to instill passion and value in our children for the wild and for what hospitality can do to preserve it. It is simple: kids today – conservation tomorrow. Children are the future, and we use a mosaic of safari and lifestyle events and programs to entertain and intrigue the young minds that will mold our wildlife programs and conservation tomorrow.
9. 2020 brought with it the perils of a global pandemic after you had just recently opened. What has sustained your business and what do you feel tourism players in Zimbabwe should be doing to pivot for growth as they welcome more local, regional, and international tourists with the opening of borders going forward?
2020 proved catastrophic all over our planet. The isolation has been a stark reminder of the blessing that we took for granted when we could be together and give to each other. I think this is what we missed the most – not being able to give to our guests and to share this place. During lockdown we were able to host our countrymen in Zimbabwe and ashamedly, many had not been to see Hwange National Park. It has been a privilege to get to know our local market and we fully intend to be here for Zimbabweans forever and make this place a haven and cost-effective for local travel.
It has also been an awakening for us, to know how to be flexible and to reach out to people who have different values and perceptions of pleasure and leisure.  Iganyana has become a great retreat for families with children over this time and for specialist safaris like horseback safaris or walking/birding/photographic safaris. Despite the lockdown, our quieter time has been profitable in making us stronger as a team and we've used the time to grow. We have a beautiful new pool and pool deck at Iganyana Tented Camp and have extended that camp to include a private section with 4 new tents. This private section is called Iganyana Wild, and it features an independent dining and lounge deck area, a private kitchen, and a pool. This means guests traveling in smaller groups can enjoy all the luxury of Iganyana in total privacy.
10. What would you like travellers from overseas markets looking to reconnect with nature to know about visiting Zimbabwe? 
Zimbabwe is rich in scenic splendour, cultural and historical heritage, and pristine wildlife areas making it an outstanding safari destination. Guests can look forward to extraordinary explorer and luxury places to stay across the country. Our Zimbabwean hospitality is par excellence, transport routes around the country are well established and the people of Zimbabwe are ready to welcome the world. It is staged for great post-Covid come-back and a bucket-list must for safari travel.
This is the place to be for guests looking for a non-commercial, original African experience and Iganyana Tented Camp will deliver that.  For guests concerned about their health & safety during travel here, we are proud to announce that the roll-out of vaccinations around Zimbabwe sets us apart from other African countries and all our team members in camp have been vaccinated. Our team is trained to uphold safety measures that comply with WHO COVID travel regulations and we have the safety of our guests at heart on all fronts.