Only 3 square kilometers in size with no development anywhere near its shores, Lake Retba still manages to attract large numbers of tourists who want to catch a glimpse of Africa's only pink lake. 
Situated on the Cap-Vert peninsula and 35km north of Senegal's capital Dakar, sits Lake Retba, commonly referred to as Le lac Rose, French translation to mean "the pink lake." This natural phenomenon attracts throngs of tourists to West Africa each year, who come to take in this body of water which is quite literally pink in color, due to its very high mineral concentration and the presence of the Dunaliella Salina bacteria which are attracted to this salt content. The bacteria produce a red pigment with which it absorbs the sunlight, giving the lake a mesmerizing, obviously unexpected pink hue!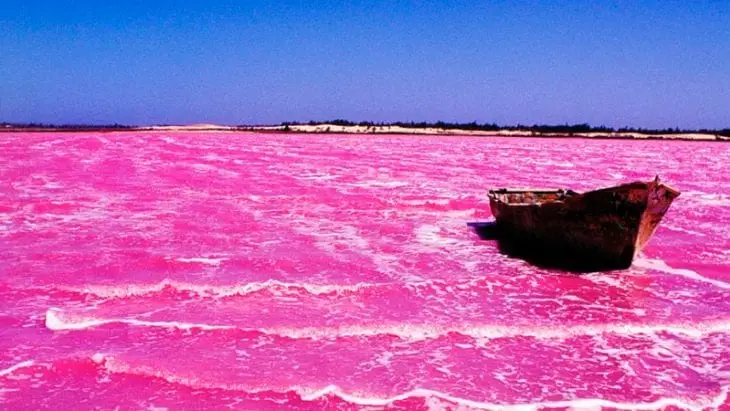 Aside from similar pink lakes in Saudi Arabia, Azerbaijan, and Canada, Senegal is the only African country to boast of such an exquisite body of water! Swimming is a must-do when visiting Lac Rose, as one floats easily as they would in the Dead Sea, and it is in fact safe to do so as the bacteria are harmless to humans.
One may, however, be concerned about the harmful effects on the skin, due to the high salt content in the water. But an external dose of shea butter, rubbing copious amounts of this oil all over one's body before and after taking a dip is great protection.  Pleasing to note too that this is what the salt extractors use on their hands, arms, and legs daily after collecting salt from the bottom of the lake! Senegalese men come in their numbers to scrape the lake's bed while standing in the water waist-deep. This salt is then dried and used to preserve fish or prepped for the market, contributing to the more than 20 thousand tonnes of salt exported each year from Senegal.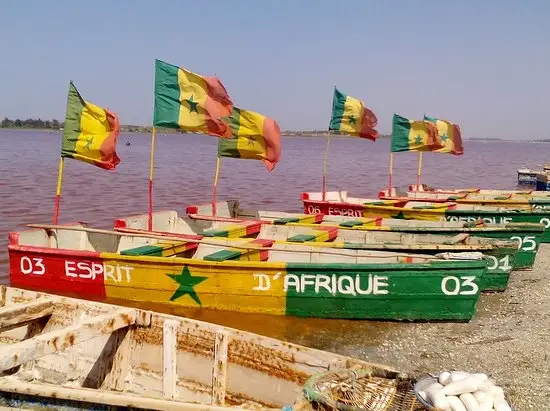 Tourists have been known to venture out in a traditional canoe, a great way to capture that coveted photo of rose-colored waters as a backdrop. Whether it's a swim or a photo you are looking for, we can all agree that Lake Retba is a must-see, should you find yourself taking a trip to Senegal!