Opened on Monday, 17th January, in the heart of Dubai Marina, Risen is an all-day dining destination that will satiate every palate with a variety of aromas, from freshly baked bread and pastries to fragrant brews.
Dubai is a city that thoroughly appreciates a homegrown concept and rest assured, the new café and artisanal bakery, Risen, has been lovingly created as a welcoming sanctuary that beckons you inside, just like the embrace of a good friend or a stellar cup of coffee.
Located in the heart of Dubai Marina, Risen is an all-day dining destination that will satiate every palate with a variety of aromas, from freshly baked bread and pastries to fragrant brews.
Impeccable quality, handcrafted expertise, and storytelling through food are integral pillars of Risen's DNA which promises to deliver a unique sensory and culinary experience from the get-go. Deeply committed to a sustainable narrative, everything is made from the finest quality ingredients, with natural and biodegradable materials used throughout.
Additionally, produce is sourced locally where possible, including a partnership with Orbis Coffee – one of the first boutique coffee roasters in the Middle East who have become a leader in driving sustainability in the region. Using Orbis Coffee's superior arabica coffee beans, the newly launched café invites coffee connoisseurs to explore an incredible assortment of signature brews including Cocomon, made with homemade cinnamon syrup, coconut syrup, coffee and milk, Russian RAF, a perfect blend of vanilla syrup, golden leaves, coffee and milk, and Charcoal Latte, which are all a must try.
With the alluring aromas of freshly baked bread and pastries, guests can embark on a food journey, exploring high-quality ingredients uniquely crafted into dishes never seen before in the UAE. Featured on the menu is the café's genius takes on 'Croffles', a stunning hybrid consisting of artisanal croissants beautifully transformed into waffles. The New English is a coffee with poached eggs, hickory smoked bacon, caramelized onion jam, avocado, mixed leaves, and truffle mayo whilst The French Connection is the perfect option for those with a sweet tooth, comprising of coffee, whipped vanilla cream, berries, and crème anglaise.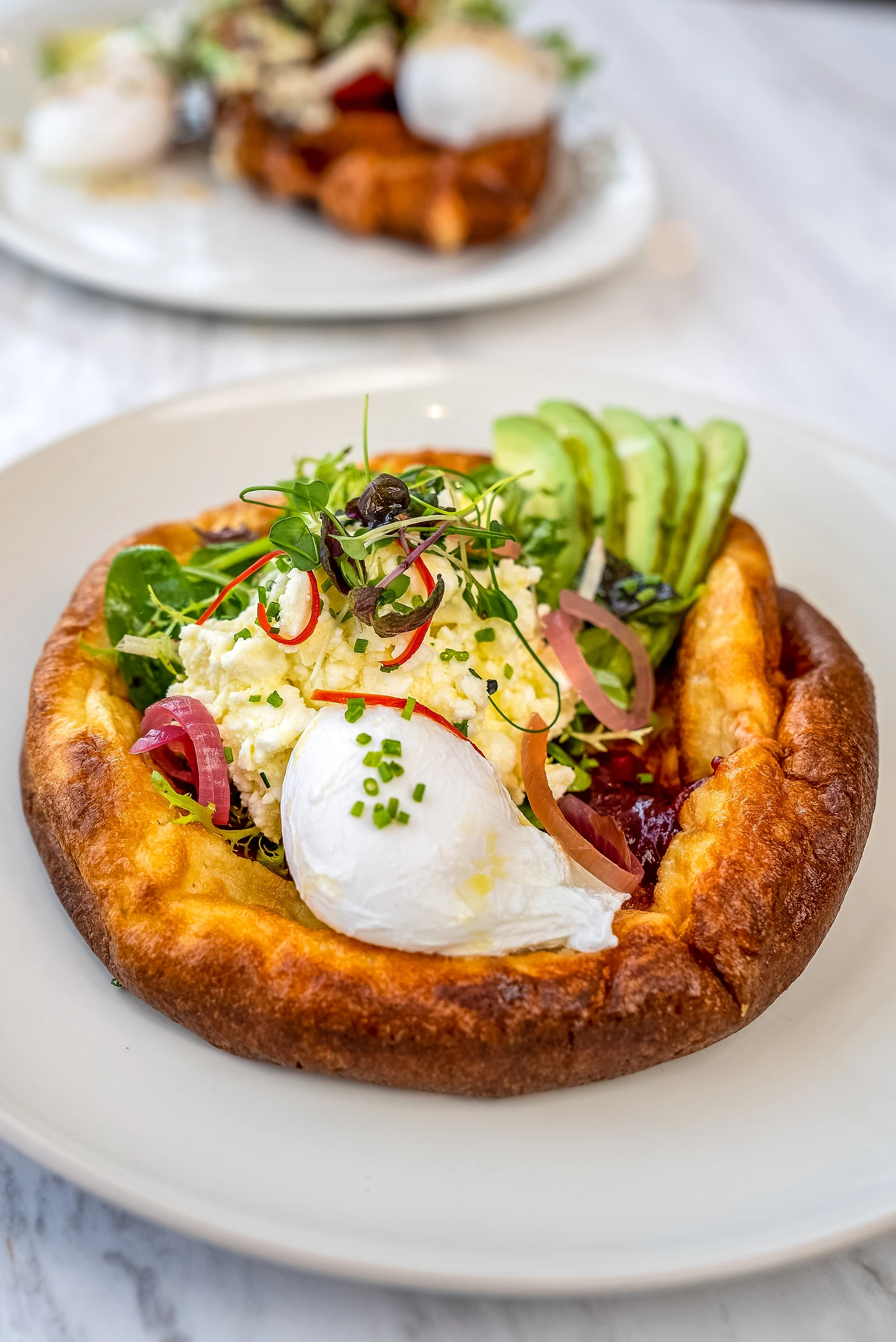 From the reinterpreted pastries to their focus on artisanal baking techniques, the Risen food journey is one of distinctiveness. With bread handcrafted and baked fresh daily, you can expect a phenomenal selection of sandwiches including the Triple Layered Beef Pastrami, The Brie-L-T and Pulled Roasted Miso Chicken. The only thing better than a sandwich is a toasted sandwich and Risen's Artistic Toasties are a must try, with the Tripple Cheese, a masterful combination of sourdough, emmental, comte, and raclette cheese and sweet chilli jam proving an epic choice for toastie lovers.
Salads at Risen are also a sensational affair! Expect the likes of Butternut & Maple, Bocconcini & Tomato, Pickled Yuzu Beetroot, and Candied Nuts & Kale, to name a few. Main dishes also pack a flavoursome punch such as the Creamy Garlic Prawns, Slow Cooked Chicken Pie, and the Cold House-Smoked Risen Salmon, offering a brief insight into the culinary delights that lie in store at Risen.
In addition to spectacular dishes and exceptional brews, Risen will also provide a range of artisanal retail offerings including the likes of chutneys, relishes, and jams as the brand expands.
The interiors of Risen are minimalistic, yet warm and welcoming with eco -friendly design and lighting adopted across the venue. Neutral tones and earthy textures, meld with bursts of distinctive patterns, botanical inspired art, and lush greenery making the venue bright and inviting, with 'Instagrammable' moments aplenty. Defined by its understated style and distinctive aesthetic, Risen is a sanctuary created to invoke the senses and bolster your resolve.
Open daily from 7 am to 10 pm, with breakfast available all day long, great taste, exciting creations, gorgeous presentation, incredible ambiance, and the friendliest service are all on the menu at Risen!
The launch of Risen at Millennium Place Dubai Marina is just the beginning of this brand's exciting journey, so keep an eye out for more locations that will pop up around the city in the coming year, with a grab-and-go set to open at The First Collection in Jumeirah Village Circle.
Speaking on the launch, Mark Patten, Vice President of Food & Beverage at The First Group says, "We are thrilled to welcome this exciting concept to The First Group family, Risen truly is a breath of fresh air. This beautiful new venue which offers a dynamic and wholeheartedly delicious experience is also deeply rooted and committed to the brand pillars of storytelling, quality, distinctiveness, and handcrafted expertise. A visit here invokes the senses, with quality food and drinks, enjoyed in a wonderful setting complete with a fantastic retail outlet, designed to bolster the immersive Risen experience".