Words by Yvonne C Mtengwa
Nestled a short 30-minute drive from Downtown Dubai, lies the tranquil Andalusian-inspired, 5 star luxury boutique urban resort, with grounds that almost for a time have you forget that you are in the heart of the Arabian desert. Expansive greenery to your left as you drive through the gates and onto the resort's Porte corchere, quickly whisk you into a themed setting, with imposing bronze prancing horse statues within a prolific water feature, welcoming you to an experience as unique as the hotel's design.
The invitation was to a wellness themed weekend staycation; enticing given the fast pace at which the beating heart of Dubai throbs. Check-in was earlier than the standard post 3.00pm timeframe, as the day would begin with yoga on the front lawns adjacent to the large terracotta terrace which typically hosts lavish brunches by day and live entertainment by night. Ready to take partake of a carefully curated itinerary with "rest and relaxation" as the underlining theme, I was whisked to my Executive suite, which I would discover came complete with a well-apportioned balcony and views of the sprawling polo grounds below.
A taste of Andalusia in your accommodations
Al Habtoor Polo Resort boasts an array of beautifully appointed rooms, suites and 4 bedroom private pool villas for those requiring space that accommodates larger families in the most opulent of settings.  State-of-the art meeting spaces with natural light, as well as wedding and event venues across the resort, make the property an ideal escape from the bustle of Dubai's metropolis.
For those staying in the rooms, Romeo & Juliet balconies overlook the Andalusian inspired courtyard, and come fully equipped with rainfall showers, bathtubs and a double bathroom vanity. There is no doubt that your stay will be luxurious, as much as it is a reminder that your resort is themed for the equestrian, polo enthusiast or those with a penchant for the finer experiences that life avails. Stunning views across manicured polo lawns are on offer from the comfort of your private balcony, a lead-out from your Deluxe Polo View Room or in my case – the gorgeous and remarkably spacious Executive Suite.
My stay was an absolute treat, as I enjoyed a spectacular 67sqm suite which extended onto double width private balcony overlooking the Polo lawns. Upon entry through the polo hallway, the luxurious space lead into a luxurious lounge and dining area, with the added convenience of a guest powder room. The space also featured an en-suite master bedroom, with walk-through closets to double vanity counters, a rainfall showers, and deep bathtub with luxury bathroom amenities.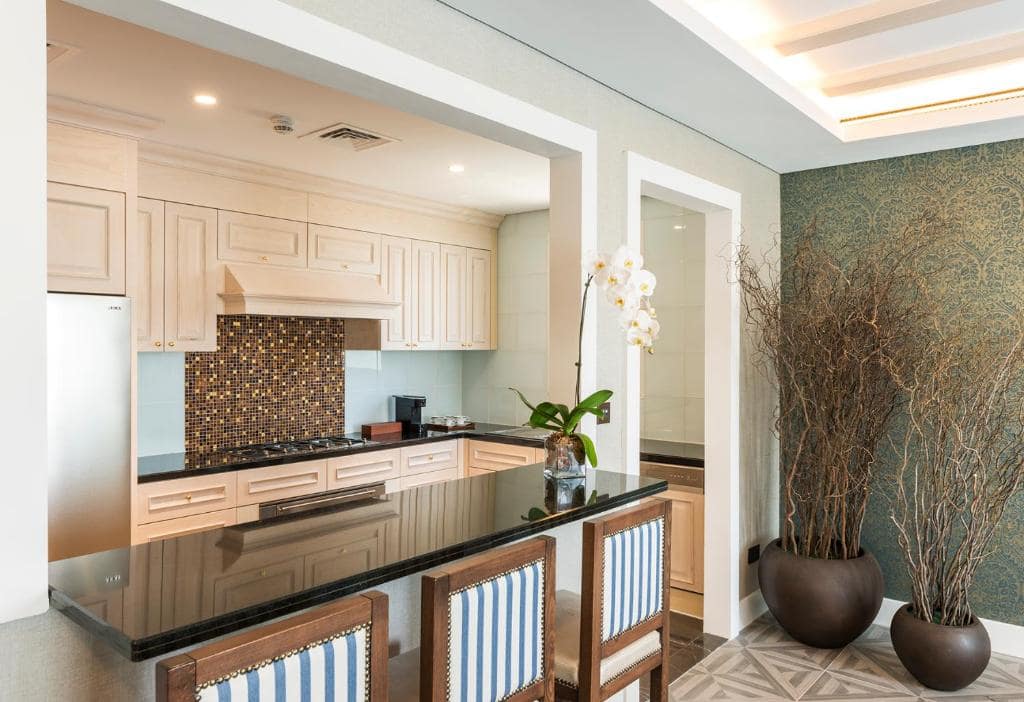 A taste of Europe in food and aesthetic
The Andalucía, the resort's main all day dining restaurant was the perfect spot to start the day with a sumptuous, freshly made breakfast served from an array of cold and hot stations. The imposing high ceilings, with majestic staircases leading to upstairs corridors that lead to rooms and suites, give it a sense of grandeur, yet patrons are very much welcome in smart casual dress to enjoy an array of Mediterranean and international cuisines. One easily imagines the Andalusia to form a perfect venue for celebrations such as weddings and birthday parties.
A famed favourite for residents within the nearby communities and guests at the hotel is the Horse & Hound British Pub, fashioned around a courtyard-inspired scene with prime seating on the lower & mezzanine floors. The outdoor terrace, especially during evenings and weekends, features screenings of sporting events, creating a more relaxed atmosphere with a satisfying menu of standard British pub favourites like fish and chips.
Dinner can take on a little bit more of an elegant flair at The Grill Pit, an Argentinian Asado-style grill that will indulge your deepest senses with its cuisine created from old-aged recipes, inspired on the slow grilling Argentinean flair and made to perfection. With an enviable wine selection to choose from, The Grill Pit is a perfect venue to wind up the day with a romantic dinner under the stars on the terracotta terrace facing more polo grounds, or an evening with friends over delectable steaks and seafood.
Guests can also enjoy a cup of coffee or lighter bites from the Equestrian Lounge, a refined lobby Lounge that exudes timeless elegance and pays tribute to traditions and heritage at Al Habtoor Polo Resort. Boasting unique décor and drapes, and floor to ceiling windows that capture the essence of daytime, one can easily walk out onto the outdoor courtyard seating, which provide unique blends and an opportunity to enjoy Nightly Champagne sabering.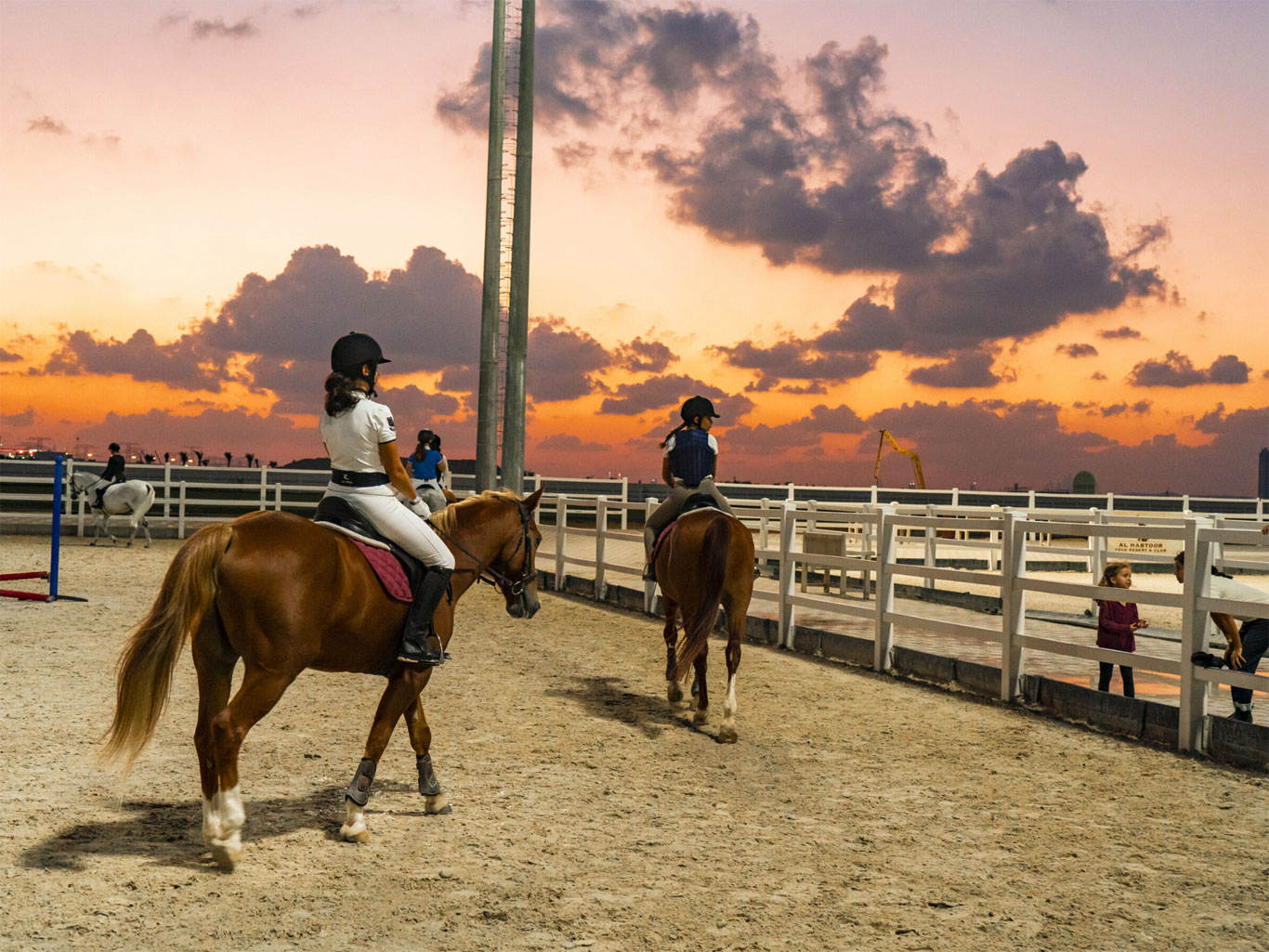 A haven for the sporting enthusiast, polo-lover and equestrian alike
The Al Habtoor Polo Resort & Club offers exclusive polo facilities and four world-class polo fields to meet the expectations of local and international players. The resort also houses a Polo Academy, designed to cater for all levels of players from those embarking on their first tournament, to those embracing the ultimate, high goal polo. The annual polo calendar ranges from league matches to high goal and challenge tournaments, with the Polo season running from October to May with matches a prevalent fixture on the resort's event calendar.
But there are more activities on offer at Al Habtoor Polo Resort beyond what the name denotes. Our stay was about exploring the available recreational offering that invokes a sense of relaxation. Guests can enjoy moments at the Touch Wellness Centre for a holistic spa experience, burn a few calories in the fitness gym which offers a range of cardiovascular equipment or take a few laps at the sparkling swimming pool.
With fun activities for each member of the family, guests can in addition to more restorative experiences, enjoy a game of tennis, take on archery, padel tennis, yoga, kick boxing, and football tailored for children. The horse riding school and polo academy puts guests with a love for horses within reach of learning how to ride or participate in the intriguing culture of Andalusian inspired polo.
To learn more about Al Habtoor Polo Resort, visit https://www.habtoorpoloresort.com/
To book your next adventure with Ker & Downey® Africa, visit https://ker-downeyafrica.com/