Words by Yvonne C Mtengwa
After a forlorn attempt to escape the hustle and bustle of Dubai by intentionally staying at home, gears quickly shifted towards the idea of rather checking into a luxurious retreat away, laptop-free and with no plan to venture beyond my hotel of choice's immediate surroundings. The decision was made. My destination would be a solo drive up to the UAE capital for a much-needed weekend getaway, that was to be characterised by every opportunity to enjoy views of the cityscape from my window, mornings frolicking by the pool, and much needed pampering at the renowned Sense Spa.
A compelling welcome to Abu Dhabi's Al Maryah Island
Located on the Al Maryah Island, Abu Dhabi's premier business and lifestyle destination which has fast garnered acclaim as a global hub that brings together giants in the financial services industry, Rosewood Abu Dhabi is the glistening piece of architectural splendour that welcomes guests to a world of distinctive hospitality. Check in was swift, which also came with the special touch of being taken on a quick tour of the themed dining spaces that occupy the ground floor.
Views from just about every window at the property boast stunning vistas of the capital's bustling city center, the perimeter of which is a mere few minutes across bridges leading from Tourist Club Area onto Al Maryah and Reem Islands. Also, a selling point is the adjoining Galleria Mall, a shopping and dining haven comprising of designer and luxury boutiques and eclectic restaurants and coffee shops for one's indulgence. While good to know that I could embark on a little retail therapy by taking a few steps down corridors connecting the Rosewood Abu Dhabi with Galleria Mall, my earnest goal was to enjoy the spaces availed to guests at the hotel, and more so my King Suite overlooking the azure waters that line Abu Dhabi city shores.
An ode to the desert's beauty and sense of place
Rosewood Abu Dhabi offers guests with a penchant for the finest experiences and stand out design, picks from 189 luxurious guest rooms and suites, eight restaurants and lounges, refined meeting and function space and Sense, A Rosewood Spa, which houses a decent sized, fully equipped fitness centre. The heated and cooled outdoor pool avails a perfectly vibrant atmosphere to enjoy a swim or relaxation at the spacious pool deck with a colourful drink and light bites in hand. No matter the room, lounge or entertainment area guests settle on spending for their moments while in house, one is assured of experiencing a profound sense of place within the iconic tower on the edge of Al Maryah Island.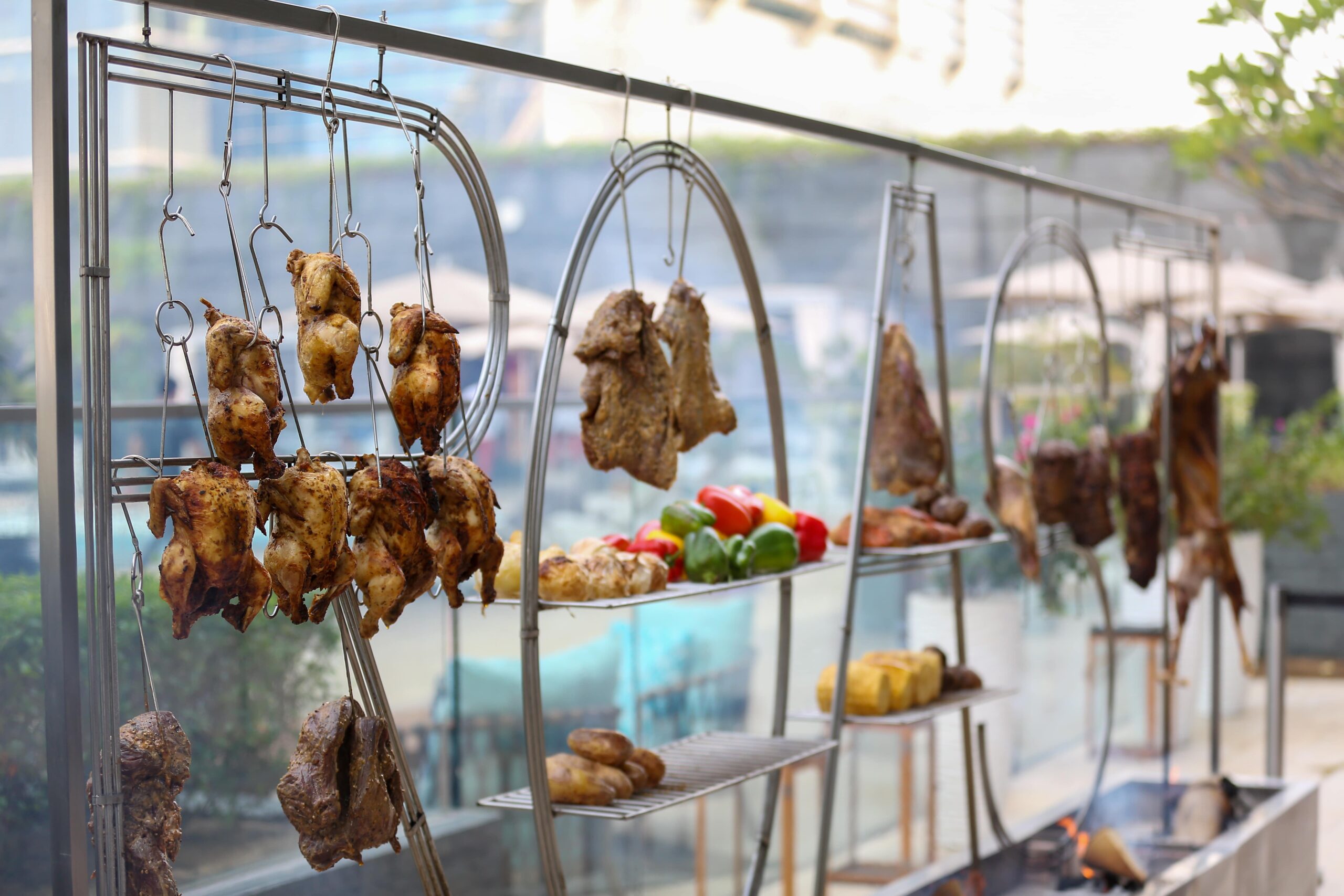 Rooms and suites equipped with iPad in-room touch service, highspeed internet access, walk-in rain showers, deep soaking bathtubs, and ample closet space, are designed with natural light at the cornerstone of their aesthetic, while simultaneously availing remarkable views of the city's skyline and nearby neighbourhoods on Al Reem Island, Saadiyat Island, and the Mina Port fishing hub. Colour palettes throughout the property invoke a reminder of the natural landscapes that characterise the Arabian desert, as carpets and floor tiling carry hues of gold, brown and orange shades, and light fixtures are a spectacular showcase of the artisanal display of blown glass, as if to also mimic the rolling desert sand dunes.
Water features dotted across varied spaces including the lobby area, Sense Spa, and the pool deck, up against the tan and golden indoor wall hues and the hotel's glistening external towering façade, are seemingly an ode to oases found within the distant surrounding arid landscapes. Even as one embraces their space, the distinctive modern lines are an epic showcase of contemporary design and perfectly selected finishings.
Relaxed moments at the Rosewood Abu Dhabi
Booking a stay at the Rosewood Abu Dhabi is a call to also explore the beautiful UAE capital, from the indulgent retail and dining inspired experiences at the property and adjoining Galleria Mall, to soaking in the breathtaking beaches of Saadiyat Island. Be sure to ask what additional benefits await you during your stay, as summer season often brings with it an opportunity to enjoy reduced room rates and discounts on the exquisite culinary offerings within the hotel, at Sense, a Rosewood Spa® as well as complimentary access to Saadiyat Beach Club a short drive away.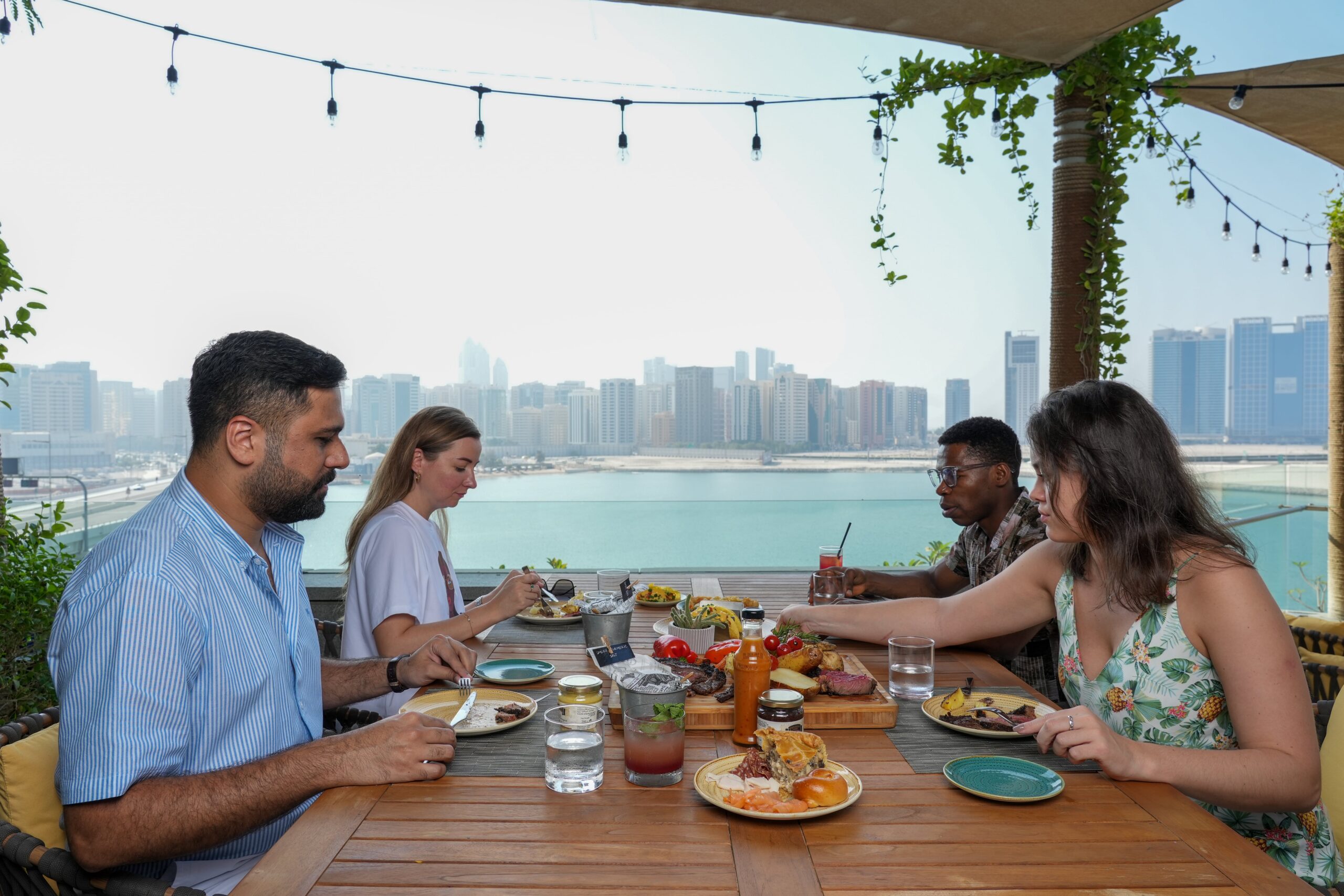 During my weekend stay, days started with a sunrise work out session in the fully equipped gym, before enjoying the splendid, calming indoor jacuzzi, sauna and steam shower at Sense, a Rosewood Spa®. Who was to deny myself the opportunity to really luxuriate, especially as spa amenities are accessible at any time without the need for pre-booking for in-house guests. A sumptuous breakfast at Aqua came next, delivering flavoursome, filling selections of an array of cuisines from around the world and at live cooking stations. Because sheer relaxation was the order of this weekend getaway in the capital, my mornings were spent frolicking in temperature-controlled pool, towelling off to and enjoy fruit platters and mocktails from my cabana, before retreating to my suite on the 14th floor of the falcon-shaped building, which ever so effectively reflects the tranquillity of the stunning property amid a buzzing city.
Intimate dining space designed for culinary discovery.
A dining picks from the Rosewood Abu Dhabi's seven restaurants and bars was the renowned Wine and Cheese experience a La Cava, which unveiled an intimate and exclusive wine cellar private dining experience within wall-to-wall space, housing 1,000 premium labels and a walk-in cigar room with a prized whiskey selection. The standout crafted charcuterie boards paired with fine wines from across the world, award my guest and a gorgeous evening of scintillating conversation over delectable tapas, olives, and wines, transporting us through a world of wine exploration and indulgence.
Also, one for the books was an ode to honest Cantonese cuisine, as we huddled over Chinese specialties such as homemade noodles, crispy duck salad, dim sum and barbecued meats and fish dishes, all enjoyed within a stunningly Chinese-inspired and welcoming atmosphere. With an incredible selection of themed brunches to choose from such as the Hot Pot Brunch, Yum Cha Brunch, The Garden Brunch, and The Roast Brunch, ours turned out be a fantastic evening of navigating Cantonese-inspired flavours from the rich menu.
Something for everyone at the Rosewood Abu Dhabi
Guests checking in with children can be rest assured that their little ones are equally well entertained, as the 5-star property delivers the uniquely interactive Rosewood Explorers Children's Program, curated to keep the youngest of guests occupied and entertained, should the grown-ups seek to indulge in a dose of exercise, pampering at the spa or decadent dining at any of the in-house eateries. While my stay on this occasion was solo, after a relaxing weekend that made that much more special by the incredibly attentive teams across my numerous touch points, the Rosewood Abu Dhabi is one such hospitality gem that guarantees memories are collected, sense of place found, and recalibration enjoyed in the destination of distinction that is Al Maryah Island in Abu Dhabi.
Yvonne C Mtengwa is the Founder/Editor-in-Chief of the award-winning Travel Essence Magazine, a Communications Strategist by profession, with an avid passion for discovering Africa and the Middle East's iconic landscapes through her travels. Connect with and follow her travel, tourism, and lifestyle experiences on: IG @Quintessentially_yvonne.