A calm, intimate Mediterranean experience, Bungalo34 is a place where effortless style meets glamour, nostalgia, and sophistication. Bungalo34 encapsulates the core philosophy of Tashas Group – Beautiful Food, Stunning Environments, and Engaging Personal Service. A blissful escape from the bright city lights of Dubai, Bungalo34 is a secluded beachside haven located on Pearl Jumeira Island.
Combining the unobstructed seaside views of the Arabian Gulf, the design of Bungalo34 revisits the golden age of a bygone era. Founder Natasha Sideris states, "Bungalo34 is a project very dear and close to my heart, inspired by my hidden haven in the Greek Riviera, I wanted to bring the same essence to this venue and create an escape for my guests. A place where they can spend long afternoons with their family and friends, sharing beautiful food and creating memorable moments in a calm secluded location with stunning views".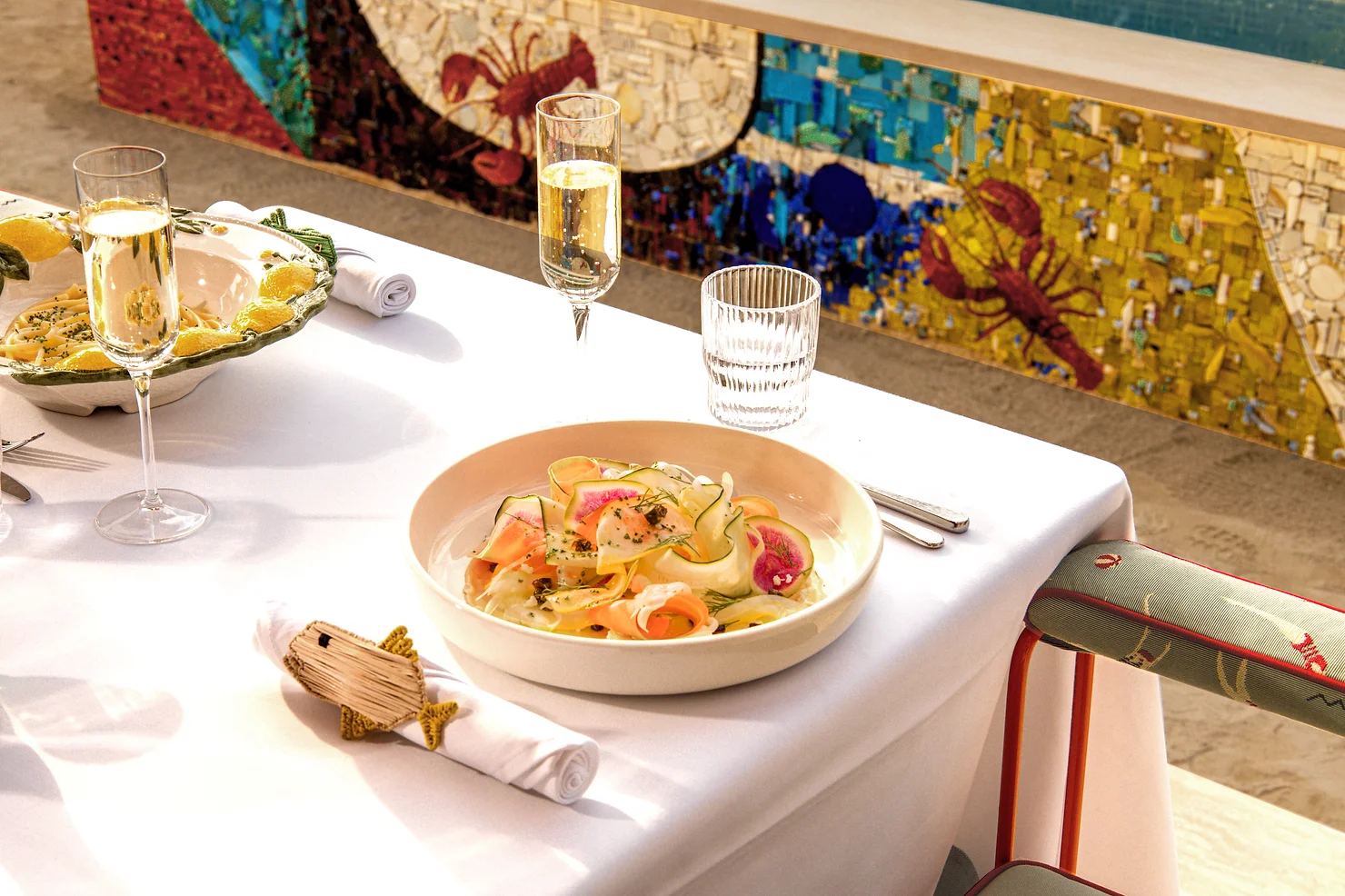 Paying homage to European coastal regions, the menu at Bungalo34 encompasses true Mediterranean cuisine. Designed and curated by Natasha and culinary director Jill Okkers, the classic menu brings a touch of Greece, France, and Italy, onto each plate. The breakfast, lunch, and dinner options honor the custom of enjoying leisurely meals with friends and family. Guests can select from an array of nostalgic dishes such as the Strapatsada, a Greek favorite of scrambled eggs, roasted peppers, feta, and crushed tomatoes.
Other classics include a decadent Lobster Benedict, the Three Cheese Souffle Omelette, and a housemade glyko koutaliou of sweet pumpkin served on vanilla Greek yogurt. Presenting a beautiful range of dishes, the à la carte menu consists of appetizers such as a handmade Treccia Cheese, and the Bungalo Seafood Porridge – a favorite of Natasha's. Refreshing salads and delicious pasta, like the Genovese that is cooked for 4 hours and tossed with parmesan and calamarata pasta, is sure to be a favorite.
The gorgeous terrace also features wood-fired pizzettes, baked on the spot, and topped with truffle, artichokes, or stracciatella. Made with only the best ingredients, the Bungalo34 menu offers an uncomplicated and authentic quality that brings modern expressions of classic Mediterranean to Dubai. The Seafood display, with a variety of fresh fish and caviar, prepared to guests' liking, either grilled on charcoal, baked in the oven, or raw with assorted vinaigrettes, extends the menu with bespoke dishes such as Grilled Calamari, Lobster Thermidor, Mussels and Clams, complemented with homemade sauces.
Inspired by the most popular classic cocktails, the Bungalo34 beverage menu provides guests with the perfect refreshments to sip on by the seaside. Lavishing cocktails with a twist, Beverage Director Krystian Hordejuk carefully curated refreshments that complete the picture of a Mediterranean summer feeling.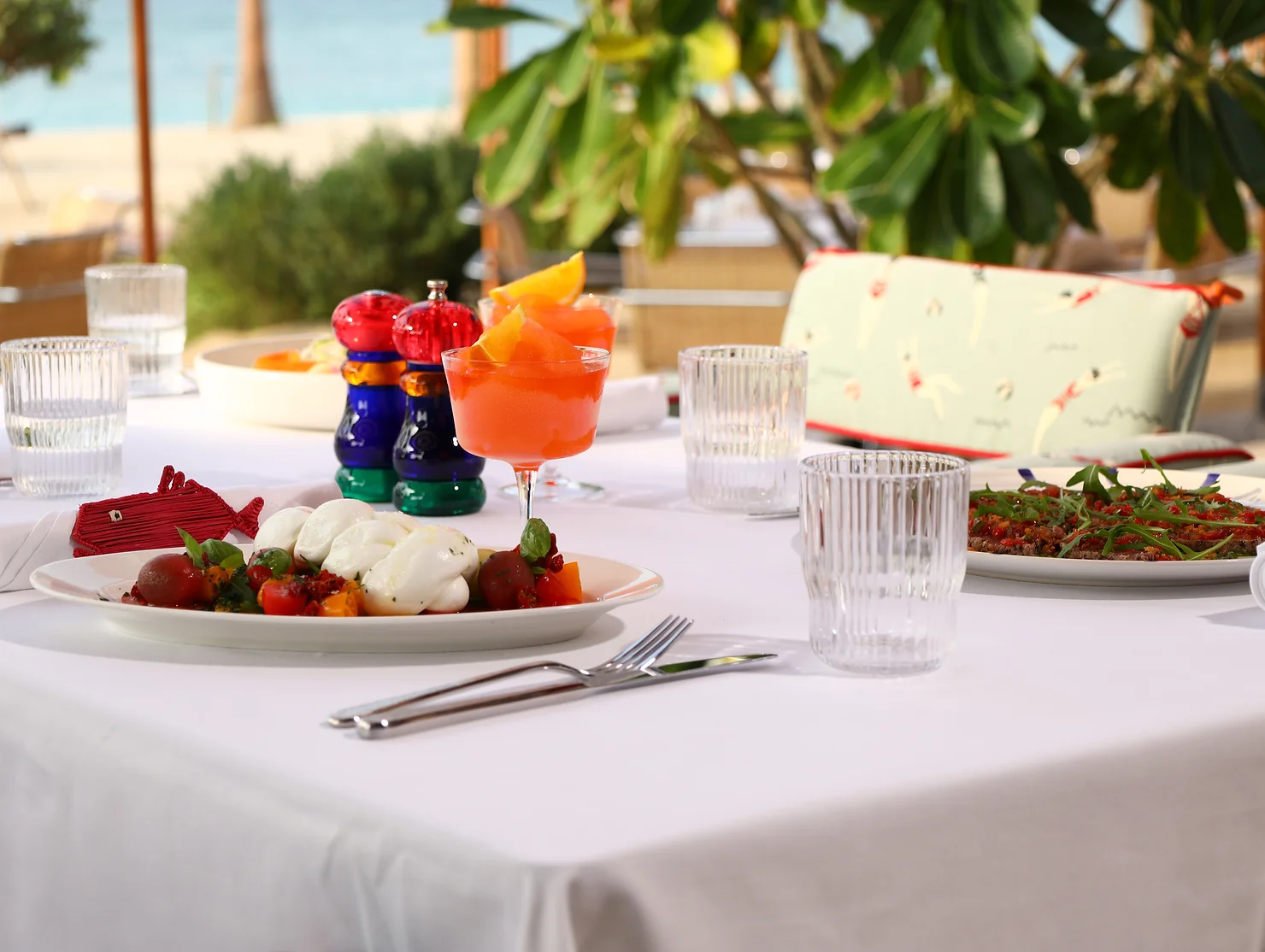 One of the highlights is the Bungalo Spritz, a refreshing cocktail made with one of the most iconic Italian vermouth brands in the 70s. Guests that seek to cool off can try the one-and-only frozen Negroni, a timeless classic served ice cold. Revisit a nostalgic glimpse into the past with the Jungle Bird cocktail, which first debuted at the Aviary Bar in Kuala Lumpur, Malaysia, in the 70s. The exotic drink was inspired by a collection of colourful tropical birds kept in a fenced-in aviary beside the hotel pool, yet the perfect view for the guests seated at the bar. With a range of simple yet elegant aperitivos, sparkling, iced, tropical and exotic cocktails, guests can enjoy a drink under the blissful sun.
To encapsulate the true essence of each Riviera, Natasha collected and dressed the venue with hand-picked pieces she found during her travels to Greece, France, and Italy. From the one-of-a-kind lifestyle collectables to coral-inspired textured tiles, her incredible eye for detail is a reflection of Bungalo34. Working closely with Neydine Bak of Verhaal Studio, Natasha's clear vision was brought to life, transforming a space into an elegant beachside dining experience with an air of easiness and soul.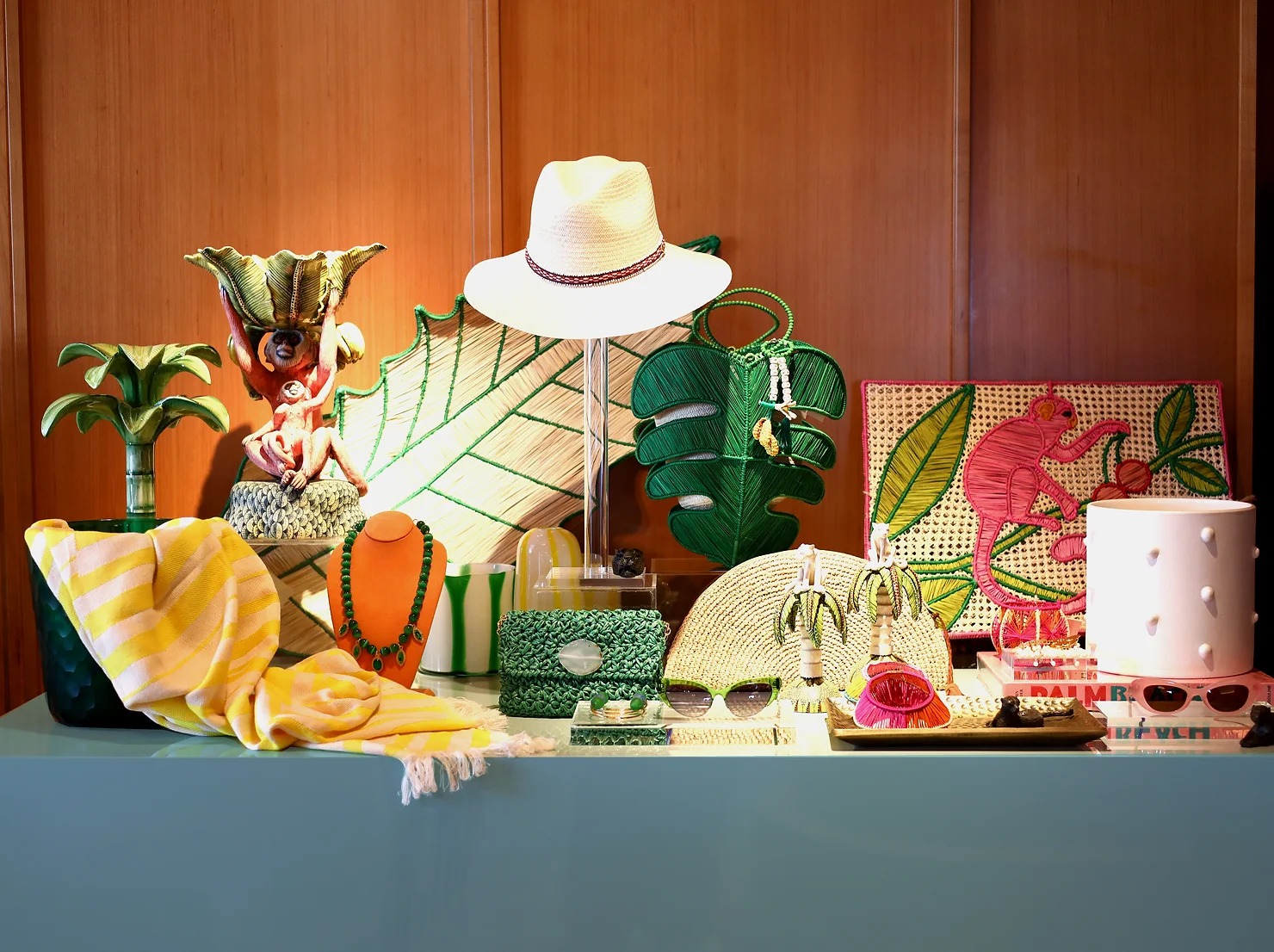 The iconic design, playful artworks, and reflective surfaces capture movement and personality within each detail. The use of bold colours, deep orange and dirty blue with rich veneers. The flooring in the main dining area is a play on a 70s wall-to-wall bedroom carpet, a cheeky nod to the plush lifestyle of a rockstar. Fully exposed to the ocean view, unfilled travertine columns, backlit glass, and low ceilings create intimate spaces with warm hues. Verhaal Studio designed Bungalo34 as a soulful home filled with memories and moments for a complete escape.
Serving up style with Collective Africa at the Beach, Bunglo34 will also provide a unique retail experience for guests, offering a wide range of beachwear and lifestyle pieces hand-picked by Nicky Greig, the founder. This extraordinary retail space celebrates a glamorous, unique, stylish continent. Their curated range of luxury products at this location will be inspired by the beach and the sea offering one-of-a-kind designer clothing, handmade accessories, beach bags, and swimwear as well as curated objects from Ardmore and Donald Greig – inspired by Africa, collected from around the world.
Picture beachside elegance with sunrise shades, ocean blues, and simple geometry, the venue draws on the chic simplicity of Riviera dining. Through sophisticated decor and interior, the concept celebrates dining in style with long lazy lunches that are shared with family and friends, enjoying stunning sunset views, while sipping on drinks, and watching the waves lap onto the shore.