Exemplary service, flavor sensations, and jaw-dropping entertainment are all in store at this culinary wonderland at the Address Dubai Marina Hotel, with a jam-packed lineup of weekly treats for guests to enjoy from ladies' nights to late brunches, Nova is the most alluring spot in town.
Enjoy a dining experience like no other as Nova combines the bright, savory flavors of Mediterranean fusion cuisine with show-stopping live entertainment. Located on the ground floor of the Address Dubai Marina Hotel it is perfectly situated against the backdrop of the mesmerizing and glittering skyline of Dubai. This chic restaurant with a twist is not for the faint-hearted as it is here to ramp up your nighttime routines.
Open weekly from Tuesday to Sunday, Nova is constantly pushing the boundaries and defying expectations. When you step into this gastronomic paradise you are transported to a world of unparalleled views, sensational entertainment, and a multisensory overload. Elevating every occasion to new heights, Nova is built for those looking to escape the mundane.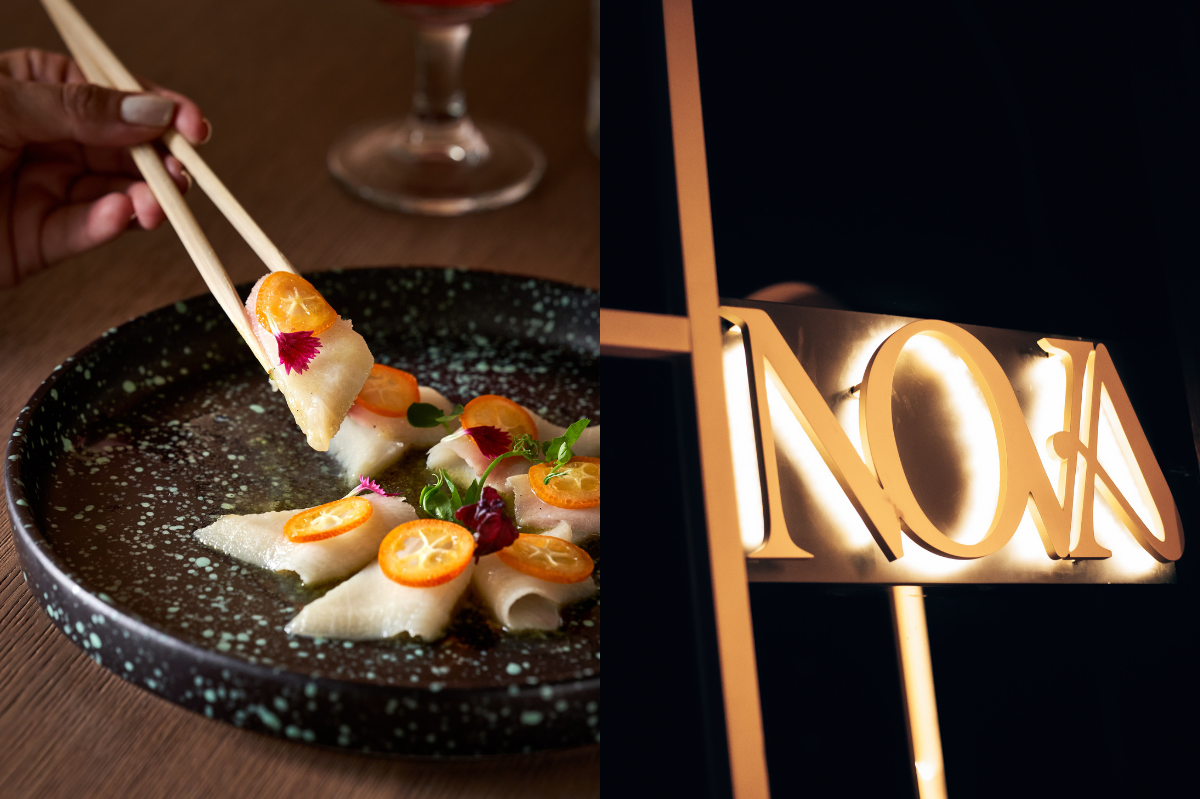 Nova features a menu bursting with signature dishes such as delicious St. Vasst Oysters, mouth-watering Salmon Gold Maki, tantalizing Black Truffle Risotto, the finest cuts of Gold Lamb, succulent Braised Short Ribs, and the enormous 1.5 kg Tomahawk Steak, which is presented to diners along with a daring fire show. This menu is not only bold but has been perfectly curated by some of Nova's top chefs to perfectly match the ambiance of this magnificent venue.
The thrills don't stop there as Nova boasts an unrivaled line-up of weekly entertainment that is sure to keep guests coming back for more. Ladies are catered for every Thursday as DJ Ali Da Funk and an array of various acts keep them entertained while they tuck into delicate sushi, and oysters and wash it all down with signature drinks. On Fridays, Dinner is the Show, as DJ Jacky Romero pumps out a mix of Arabic and English tunes from 9 pm onwards joined by a different selection of performers and musicians every week.
The party only gets even more intense every weekend as Saturdays host the "Nova Mashup by Gaby Ghazal." Every Saturday DJ Gaby Ghazal will be spinning the decks, playing a combination of top tracks in both English and Arabic. To end the week in style, the "La Musica" late brunch will take place every Sunday from 8 to late as DJ Emir plays a mix of jams. Ladies' packages on Sundays cost AED150, while for gents it comes in at AED250.
Thursdays – Ladies Night DJ Ali Da Funk + Various Entertainment Time: 9 pm onwards Ladies package AED120 including sushi, oysters & signature drinks (gents a la carte)
Friday – Dinner is the Show DJ Jacky Romero + Various Live Entertainment Time: 9 pm onwards A la carte menu options
Saturday – Nova Mashup DJ Gaby Ghazal plays the top tracks in English and Arabic Time: 9 pm onwards A la carte menu options
Sunday – La Musica Late Brunch DJ Emir plays open-format music Time: 8 pm to late Ladies packages AED150; Gents packages AED250