– Luxury on Ice at Whichaway Oasis –
Join the White Desert on an incredible adventure to one of nature's rarest sights – an immense colony of 28,000 Emperor Penguins.
The trip starts in Cape Town, South Africa, where the White Desert will host a safety briefing the day before your scheduled flight, explaining all kit requirements, assisting with any last-minute preparations, and updating you on the latest weather forecasts for Antarctica. After a five-hour flight from Cape Town, you will arrive at the heart of Antarctica, a place that is both surreal and majestic. From iridescent ice tunnels to vertical spires of rock, from endless uninhabited horizons to oceans scattered with icebergs, this is a place unlike anywhere else on Planet Earth.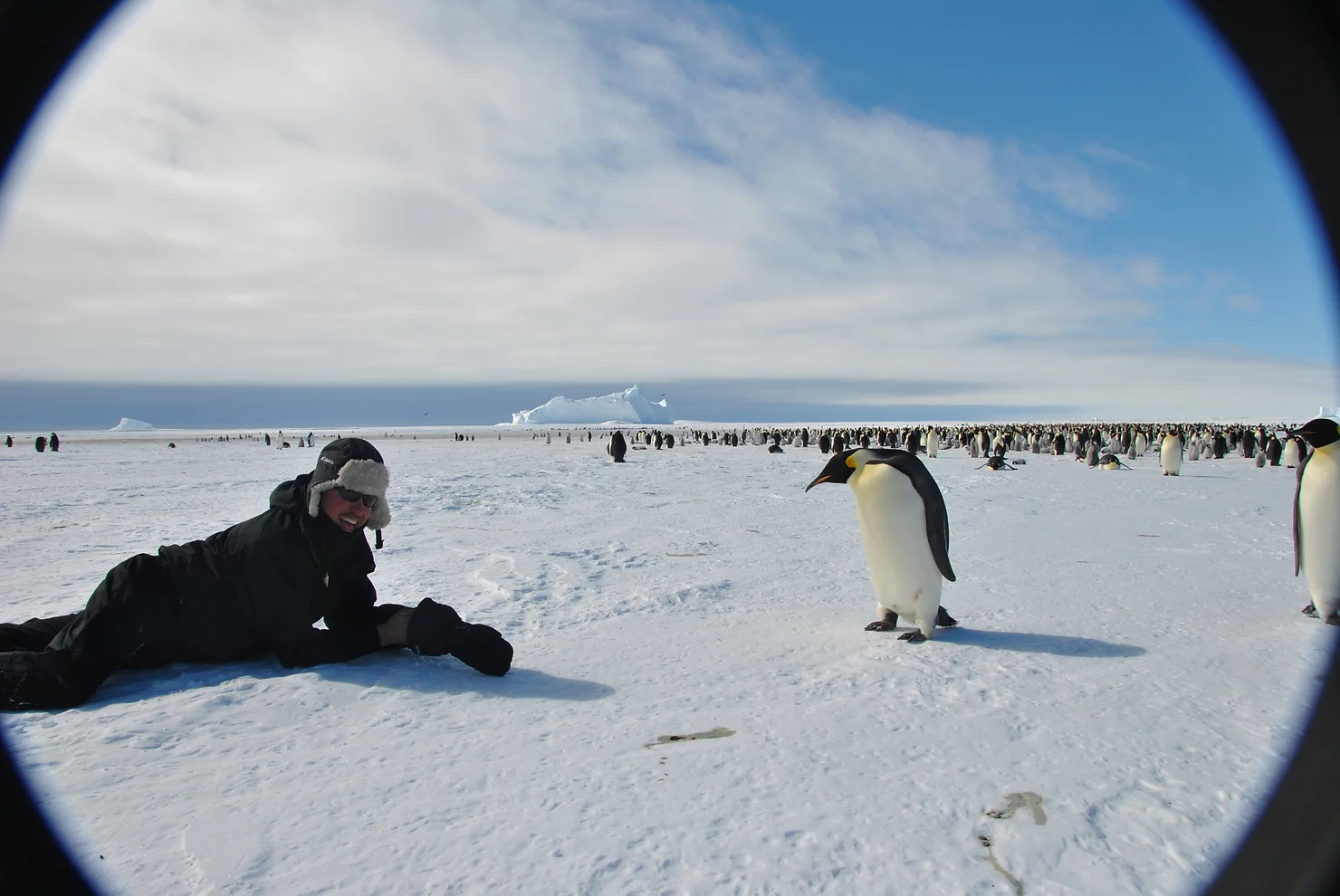 Getting to the heart of Antarctica
You travel in uncompromising comfort across the mighty Southern Ocean in a Gulfstream 550. During the five-hour flight, the African night turns to the Antarctic day as you soar over thousands of icebergs and pass into 24 hours of continuous sunshine. You will land on Wolf's Fang runway, by one of the most magnificent and iconic mountains on the entire continent, named 'Wolf's Fang' by the early Norwegian explorers. After landing on the ancient blue ice, you will be surrounded by massive monoliths of rock that rise vertically from the glacier. Once in Antarctica, you will be transferred by a Basler BT-67 to White Desert's luxury camp at Whichaway Oasis. Flight time: 30 minutes.
On the edge of the Great White Continent lies the Schirmacher Oasis, an ice-free area that contains over 100 freshwater lakes. This is the site of our unique camp – Whichaway Oasis.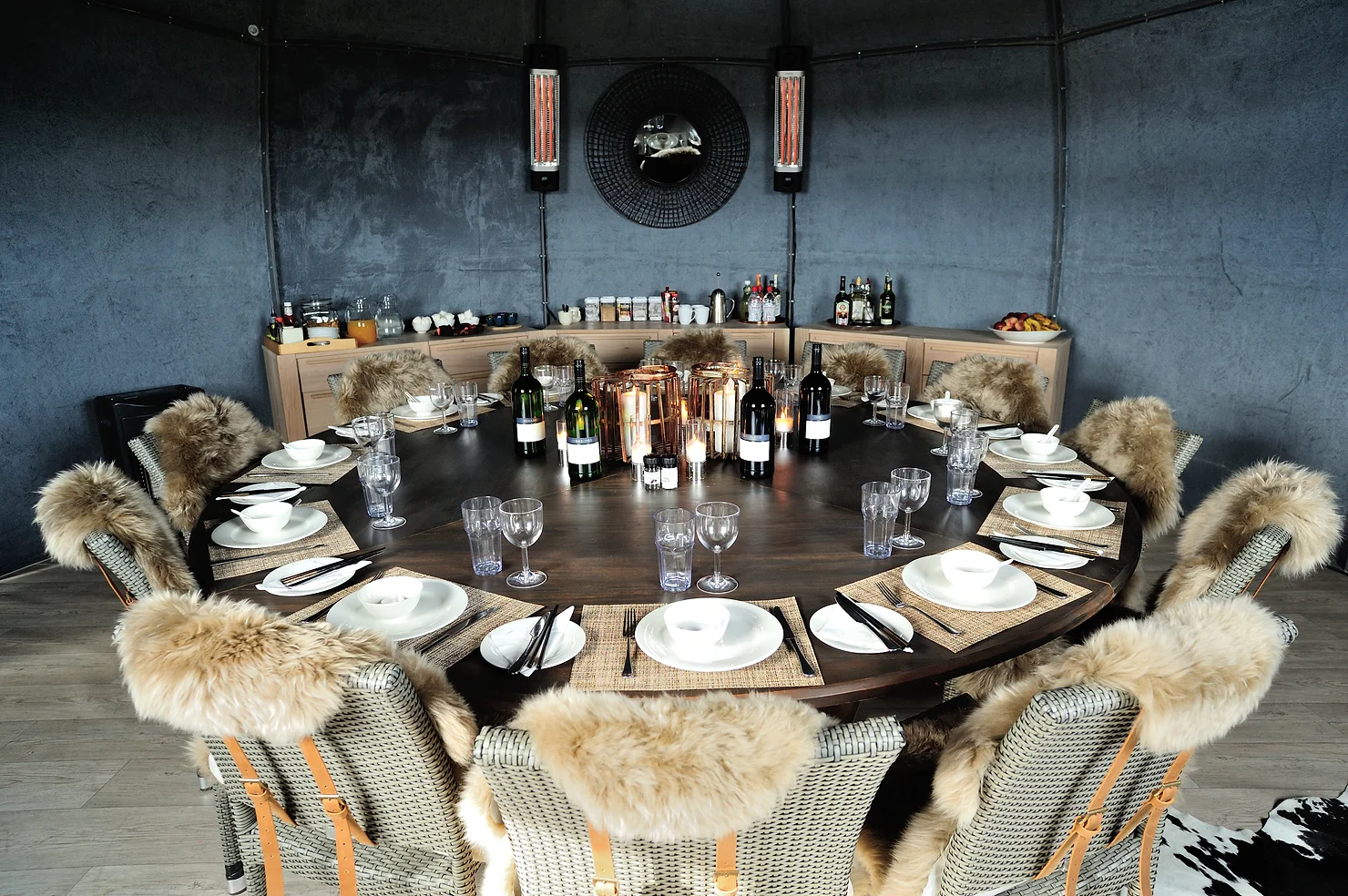 What to Expect at Whichaway Oasis
Whichaway consists of a collection of hi-tech polar domes set on the shores of a frozen lake and encircled by a magnificent 60-meter (200-foot) icefall. It is warm and comfortable, and the perfect home base for daily activities or when you simply want to relax.
The camp consists of seven heated and state-of-the-art bedroom pods that are designed for two guests in each. At just over 6m (20ft) in diameter, you'll find they are also spacious, with a writing desk, wash area, and toilet. For guests traveling separately, the pod can be partitioned for privacy.
The rest of the camp comprises a shower pod, kitchen and three centralised pods that make up the reception, lounge, and dining room. This is where an experienced team of chefs, hosts and guides will take care of every detail for you, allowing you to focus on enjoying your adventure.
While the exterior of our pods is made from cutting-edge materials, the interiors have a relaxed, old-world feel that harks back to the golden age of Antarctic exploration. After a busy day of activities, you'll be sure to work up an appetite. From hearty breakfasts, elegant lunches, and three-course dinners, you'll be without a doubt well fed whilst staying at the end of the world.
The Whichaway chefs use the best South African produce to create meals that are full of flavor and sophisticated without being fussy. The wines come from a selection of the finest Cape vineyards, whilst the bread is freshly baked, and the coffee freshly ground.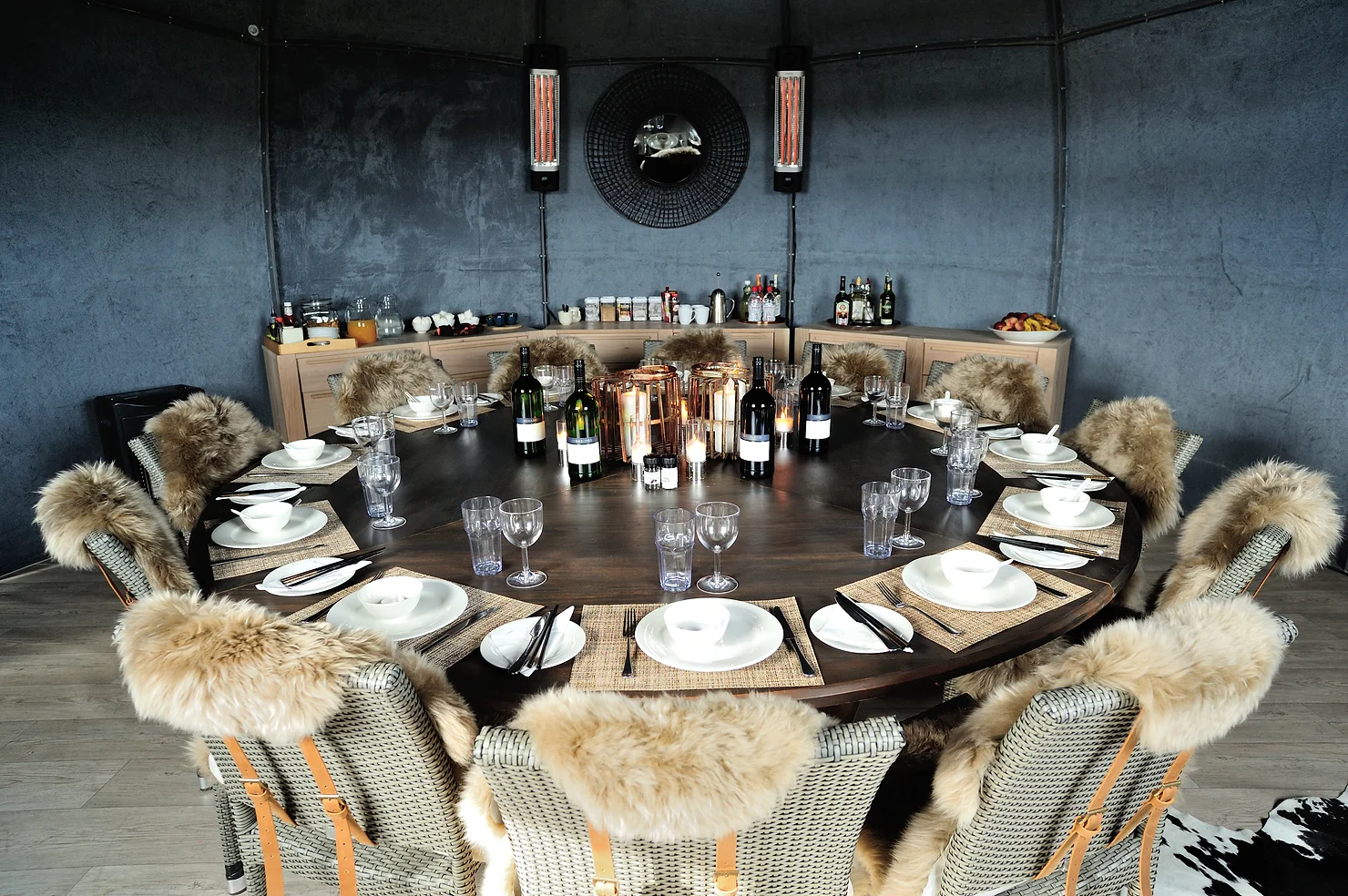 A key highlight: Emperor Penguin Trip
Your visit to the penguins begins with a 2.5-hour flight to Atka Bay, the site of the first episode of Sir David Attenborough's ground-breaking documentary Seven Worlds, One Planet. Here you'll see over 14,000 breeding pairs and their newly hatched chicks, a spectacle full of noise and energy that is a favorite with wildlife watchers and photographers.
There are so few visitors to this colony that the chicks are unafraid of humans and often waddle close by. Mindful of the responsibility to the Antarctic environment and of IAATO guidelines, guests to the utmost ends of the earth keep at least 25m (80ft) from the penguins while taking in all the sights and sounds of this rare wildlife spectacle, which remains one of the greatest thrills on Earth! During the long dark winter, the mothers hunt for food while the fathers look after the egg. When spring returns, the egg hatches, and the chick sits on its parents' feet to stay warm. With only 12 guests on each adventure, White Desert's professional guides will ensure that you are always safe and well looked after and that you get the most out of your time.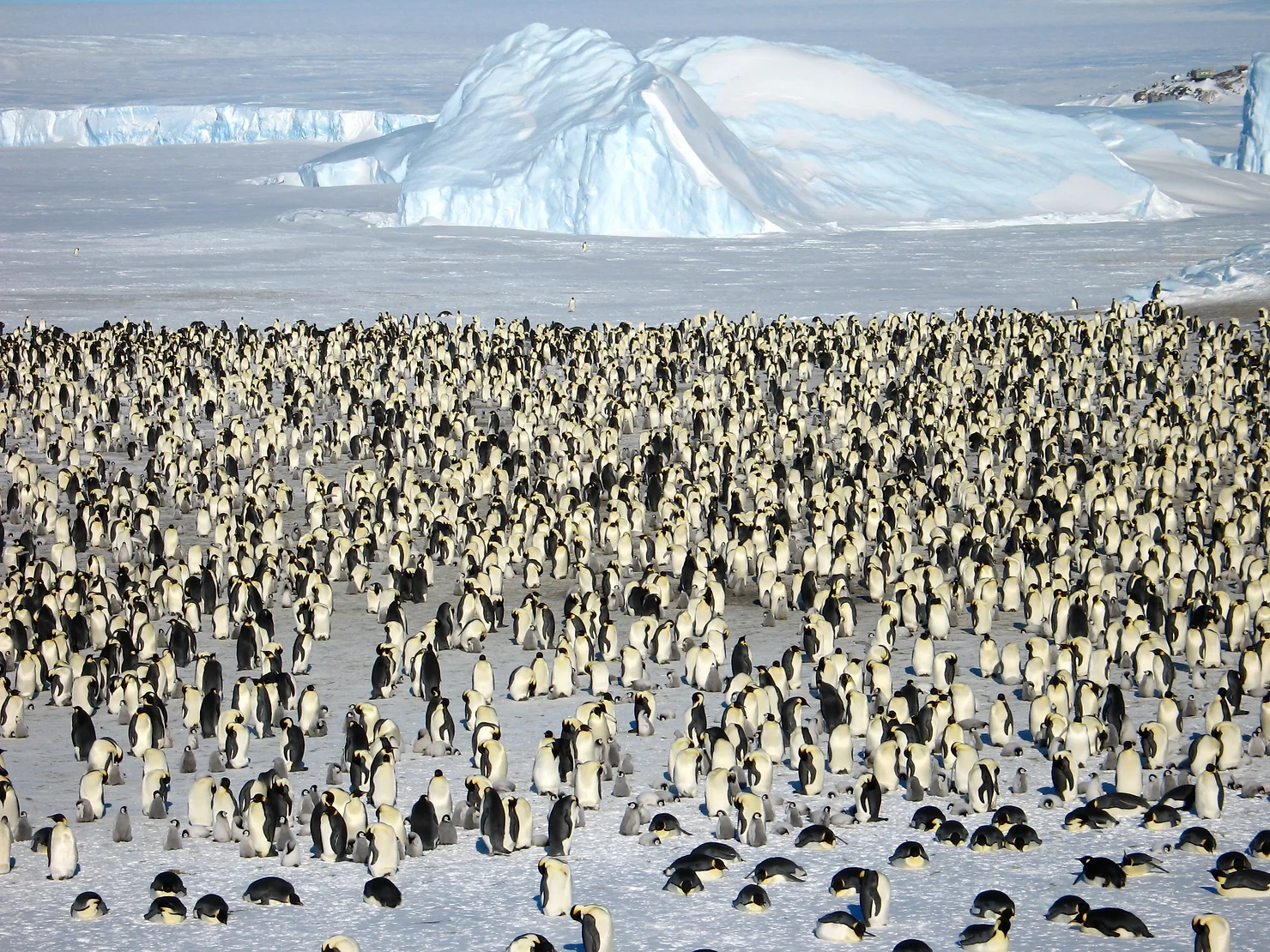 Other activities to get up to
Your activities can be as adrenaline-fuelled or relaxed as you like. Not keen on climbing, fat biking or abseiling? Then perhaps a picnic followed by a sauna and a massage would suit. The choice is yours. A trip to Antarctica is the perfect opportunity to rest, recharge and recover from the hustle and bustle of everyday life. Not only is the White Desert team ready to lead you through the landscapes of Antarctica, but they are also on hand to guide you in relaxation and meditation techniques.
Newly added for the 2021/22 season, is the sauna and wellness pod, perched beside a serene freshwater lake, whose views will inspire you during daily meditation and yoga sessions.
Ensuring explorer health and safety
All mountain guides have completed the strenuous 5-year UIAGM qualification, while each camp has its own fully qualified trauma doctor and accompanying medical kits. The chief pilot has 10 years of experience flying in Antarctica with over 18,000 hours of logged flight time.
Tracking, satellite communications, and mutual Search & Rescue agreements are all part of White Desert's comprehensive safety policies. Furthermore, by operating an owned aircraft, we also have the speed and flexibility to arrange an evacuation back to Cape Town in the unlikely event that one should become necessary.
An all-important commitment to sustainability
White Desert believes that responsible tourism is a genuine force for good and supports Sir David Attenborough's stance on the transformative power of wilderness travel: "No one will protect what they don't care about, and no one will care about what they have never experienced". As a temporary eco-camp, the whole operation was created in such a way that it can be dismantled and removed without a trace.
Carbon Neutral: White Desert was the first aviation operator in Antarctica to be entirely Carbon Neutral, a status the company has held since 2007.
In terms of waste management, the White Desert team keeps waste to a minimum by repackaging all consumables before bringing them to Antarctica and then, at the end of the season, shipping all solid waste back to South Africa for recycling or responsible disposal
To learn more about how you can join a White Desert Experience to Antarctica, visit www.white-desert.com