It is magical as much as it is reminiscent of mystical Santorini, Greece's most prolific destination in the Aegean Sea; except this one lies on the South East coast of Africa on the coast of Mozambique, offering you a compelling escape from everyday reality for a time of oneness with nature.
Nestled among the red cliffs of Kingfisher Bay, sits an idyllic resort that celebrates the captivating nature of the Cycladic islands of Greece, while looking out over the Bazaruto Archipelago. Santorini, Mozambique is like a tiny Greek village in the heart of the raw African landscape, unveiling a remarkable sanctuary for rest and relaxation as one takes in the pristine white sands of Bazaruto and the untainted clear waters of the Indian Ocean. Positioned where it is, awards guests the opportunity to explore the coastal town of Vilanculos as well as the exploring the islands of the archipelago.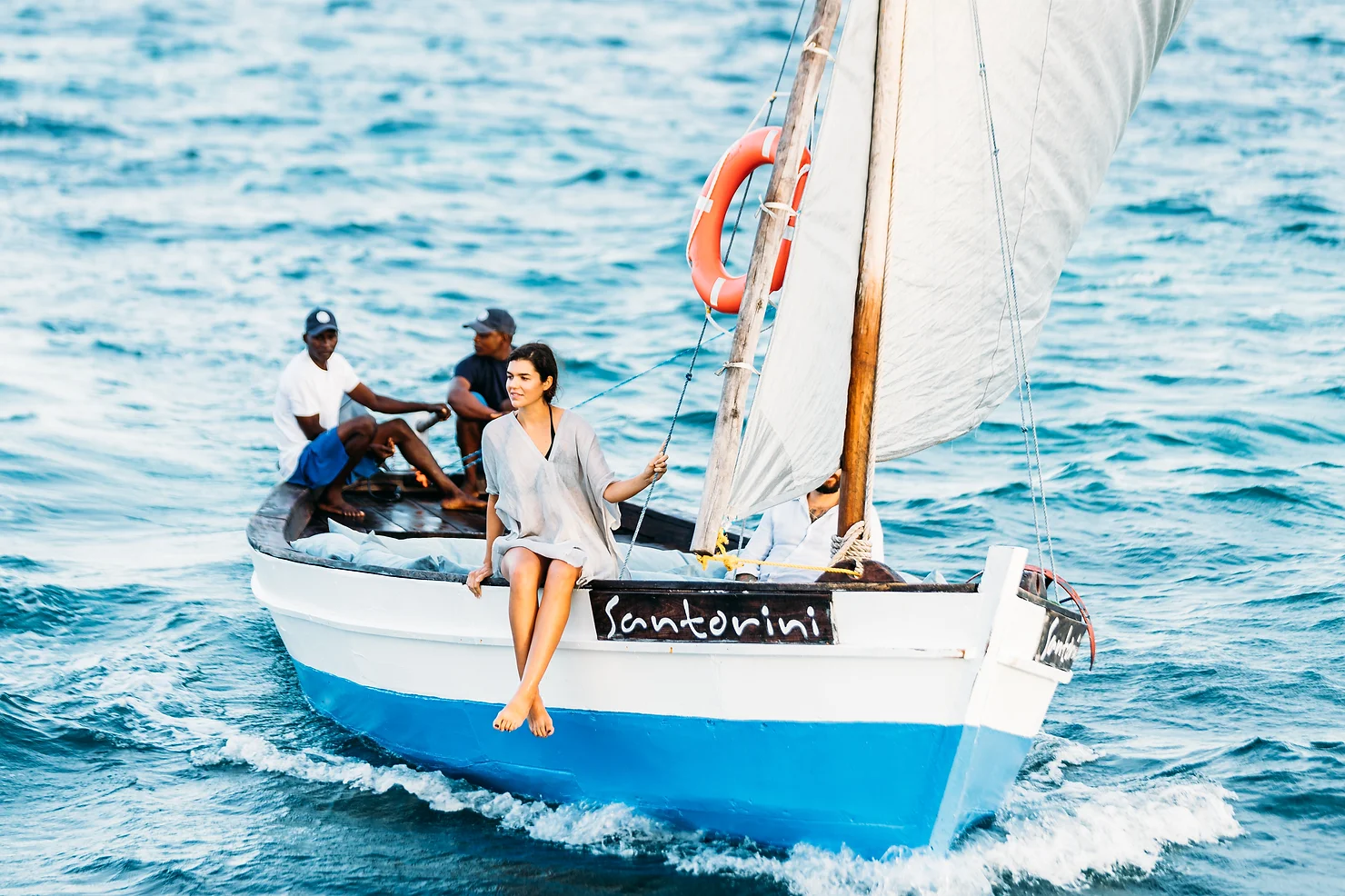 Guests are spoilt for choice, taking advantage of the ability to charter a vessel to snorkel the islands of the Bazaruto for a sighting of reef fish and corals beneath the ocean's surface, or head out on a boat to spot marine life, if lucky maybe rare dugongs. Whether you are staying at the resort as a couple or group of family or friends, activities that allow you to take in the majesty of the Bazaruto Archipelago are plentiful, from picnics on the beach to island hopping onboard the Aphrodite, Santorini's luxurious Super Cat 38 Sport. Nearby Paradise, Magaruque, Benquerra, and Bazaruto Islands await the keen adventurer, creating a pristine playground for those looking to take their minds off the day-to-day hustle and bustle of life that would have called for their retreat in the first place.
Where you will stay
Built with the intention to provide an enriching yet private experience for its guests, Santorini consists of 3 villas, with the main villa consisting of 5 separate suites, each with a balcony and ensuite bathrooms, as well as a shared pool as a central feature. The Chapel is a short walk from the main villa, however superbly pristine and far enough to feel complete space and privacy, making it the perfect getaway for honeymoon couples, or small families. The Chapel boasts two large suites, and a private pool, and is serviced by a private butler. Villa de Praia is the largest of the three properties and is perfect for families or groups, with three large suites, a private pool, and a personal butler and chef service.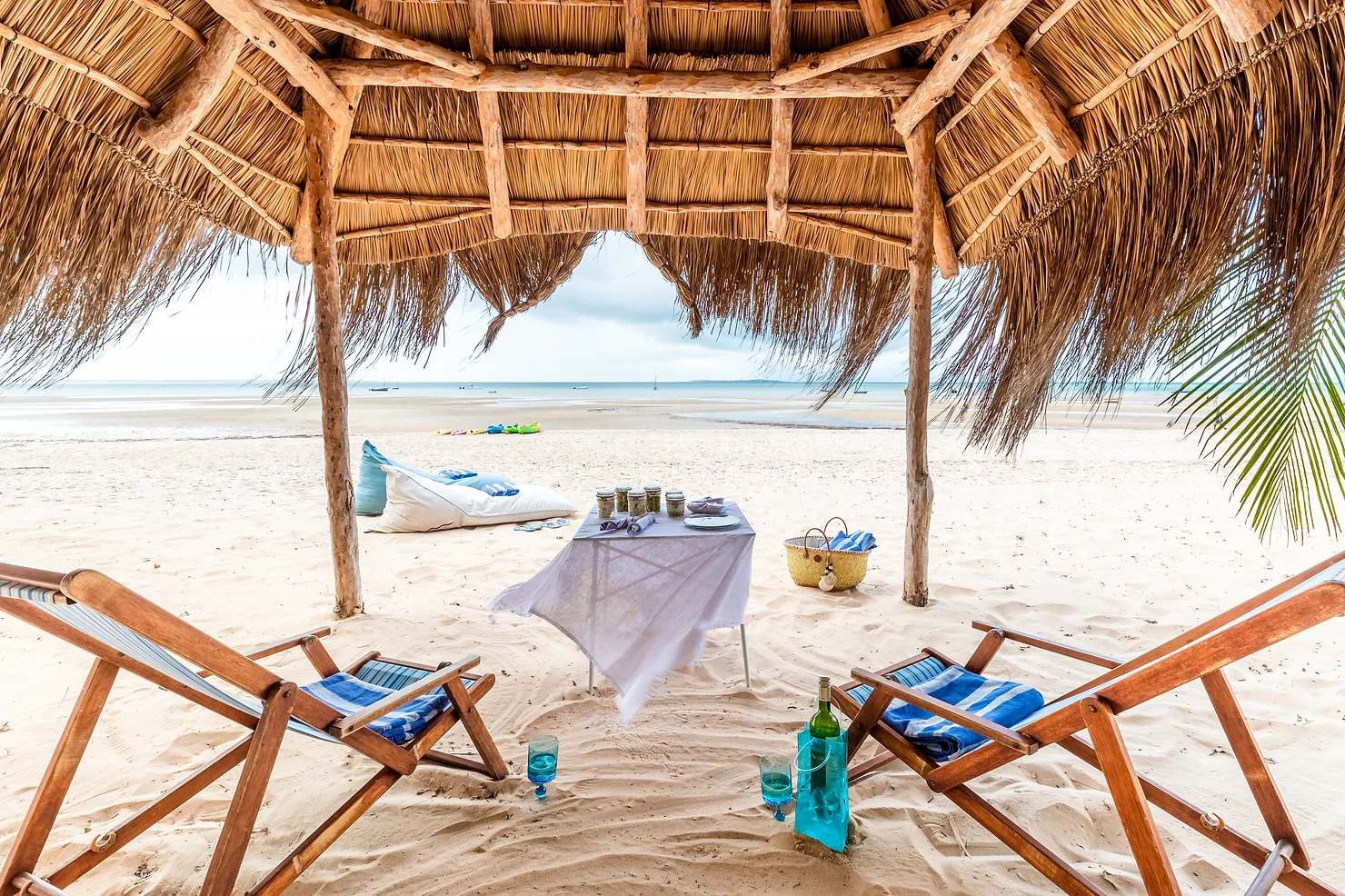 The property was built with the outside in mind, the clean, crisp, and neutral tones of the breezy, luxurious rooms are as such to accentuate the dramatic blues and reds of the views beyond. For a complete recharge guests can visit Spa Na Colina tucked away on a hill amongst palm trees and lush vegetation. Here therapists will work their magic using products created by the local marine world, awarding you unsurpassed relaxation as you surrender your mind to the magical, natural environment that surrounds you.
The pride of Santorini, Mozambique is its exceptional staff and service. The phrase "home away from home" comes to mind when considering the warm welcomes and personal touches throughout a stay. Here luxury goes hand in hand with genuine humility and modesty that produce true richness and sophistication adding a welcoming warmth to its ambiance. It is truly a destination that speaks to the heart and soul of each guest, invoking a sense of tranquility and a newfound awakening to the restorative power of nature.
Immersive culinary experiences to arouse your tastebuds.
The magic created in the Santorini Mozambique kitchen is enchanting, with resident local chefs ensuring that food preparation and presentation is sensual as much as it is an exploration of a variety of fresh textures, vibrant colors, superb flavors, and aromas to entice your tastebuds.
With a wide selection of breakfast, a 3-course lunch, and 4 courses at dinner, all created from vegetables and herbs from the Villa's own garden and an option of the day's fresh catch, dining at Santorini is truly a sensory adventure. From homemade sticky granola at breakfast; crunchy gourmet pizza over lunch, the piping hot and oozing chocolate fondant at dinner, homemade ice creams at any time of day and not forgetting the incredible Irish coffee after dinner, there is something for every lover of decadent food platters and delicate treats that create a dance with every mouthful.
Those who appreciate wine will enjoy discovering Santorini's' wine cellar, located off the guest kitchen. While a commendable selection of excellent wines, spirits, and malts is included in the daily rate, a selection of premium wines, champagnes, and spirits are available for those who wish to spoil themselves further.
Exploring Bazaruto and nearby islands
A stay at Santorini Mozambique awards guests unparalleled exploration around the famed Bazaruto Archipelago World Heritage Site and National Parks, which are ecological wonders and renowned conservation areas off the coast of Mozambique. Measuring a significant 1400km², Bazaruto is one of the largest marine conservation areas in the Indian Ocean, ranking alongside Australia's Great Barrier Reef in the diversity and beauty of its marine and coral life.
Few things rival viewing Bazaruto from a state-of-the-art Eurocopter or Bell Helicopter, as you take in the pristine beaches and crystal waters below, or enjoy spotting flamingos and other sea life, historic lighthouses, stunning sunsets, and remnants of times past. Taking to the skies above Bazaruto Island comes highly recommended and will leave you with many a story to tell.
You can also choose to go bill fishing, kite surfing, or enjoy the ever so scenic horseback safari as you saddle up and trot across the superb variety of white sand beaches, all the while mesmerized by the alluring golden African sunsets. Views are always best from the top and so cantering across the towering cliffs overlooking Bazaruto are nothing short of a dream, leaving you with memories to last a lifetime.
To find out more about Santorini Mozambique visit www.santorinimozambique.com