Words by Yvonne C Mtengwa
An unexpected invitation from the team at Sharjah Collection by Mysk took us on an impromptu, mid-week drive from Dubai to Sharjah. Our schedules were in fact packed that week, juggling between work-related deliverables and a host of virtual and physical meetings. And so who was I to decline an offer to come and immerse myself in award-winning beachfront relaxation at Mysk Kingfishers Retreat, which has recently been recognized as a "Leading Natures Retreat 2022" by the World Travel Awards?
After all, one must venture beyond the comfort of their home for some of life's most rewarding experiences. Craving a little breather from my home office, with bags packed for an overnight stay, an orientation pack, and directions shared by who would be our host during our stay, we headed down E77, the highway that takes motorists out of Dubai towards the town of Hatta on the Dubai-Omani border, which intersects with the Dubai-Al Ain Highway along the way
The UAE's terrains have over the years surprised me hugely, as one can go from navigating high-octane, sometimes standstill traffic in the city, to enjoying a scenic drive on winding roads cut through mountainous landscapes, before finally making it to the coast, where views of the sparkling seas and sunsets over the Persian Gulf usher you into your local respite for a time. The drive to Kingfisher Retreat piqued our curiosity, as we found ourselves wondering whether GPS was taking us on a lengthy scenic excursion, or completely off track. It was however beautiful, with the road networks providing an intricate balance between stretches of straight, carpet-like tarmac to steep ascents and descents, through what are visibly new roads, connecting our starting point to Sharjah's corniche (and interestingly, a few minutes away from Fujairah emirate). 
Location and arrival at Kingfisher Retreat, Sharjah
Set on an island off the east coast of Sharjah's corniche at Kalba, Mysk Kingfisher Retreat is a haven of conservation, built across a manmade creek. We arrived at the registration center, where we were to leave our car before being whisked onto a small, private boat that would take us to this beachfront eco-retreat. You are promised before arrival, an "abundance of earth, serenity & you," – enough to convince you that yours will truly be a little piece of restorative heaven, and a compelling mix between the arid island landscape on which the Retreat sits, water, air and wildlife.
Enveloped by the Gulf of Oman, Kingfisher Retreat is designed to invoke the spirit of relaxation by immersing your senses in the beauty of the pristine beach against the Arabian Sea waters, matched perfectly by refined interiors within tents, made of soft beiges, blues, and desert browns. As we were transported from the canal shore to the Retreat's Main building, our guide highlighted that we would have the opportunity, should we like, to savor the tranquillity of the area by kayaking through mangroves, swimming in our very own private pool, using the bikes assigned to our tent for a cycle to through the camp, or even catch a glimpse of many rare bird species and the wildlife that all define Khor Kalba as a globally important wetland.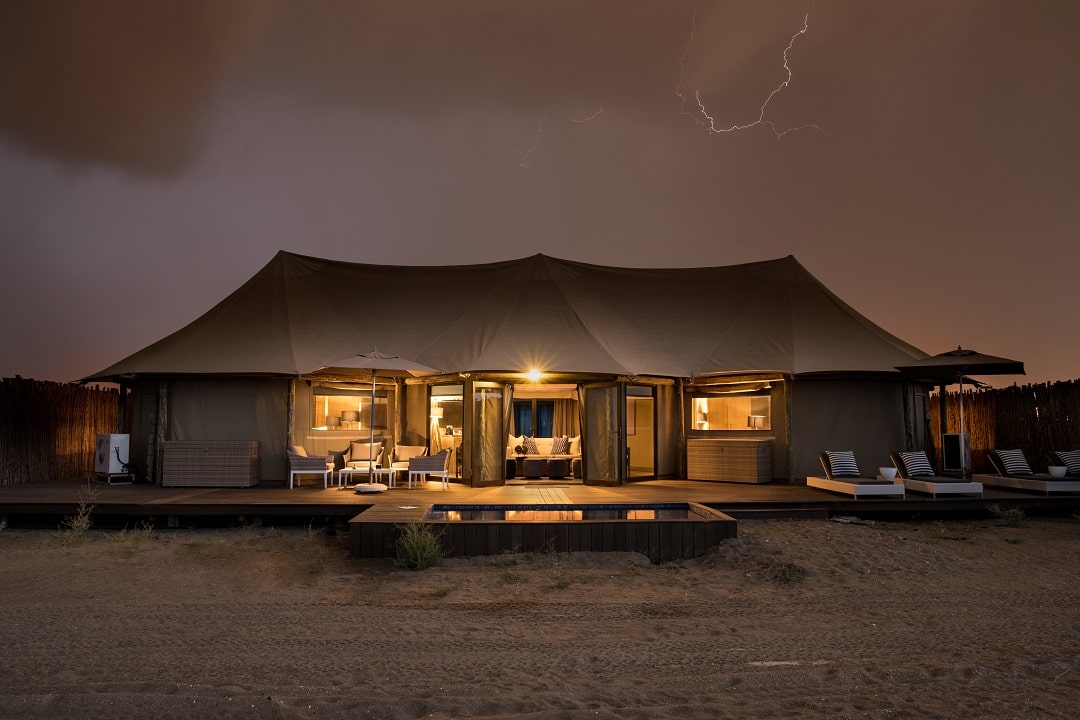 Unpacking an abundance of earth and serenity
Mysk Kingfisher Retreat consists of 20 luxurious tents, with each individual tents' design set to provide comfort, privacy and amazing views of the Indian Ocean. Our sanctuary for the night was a stunning 1 bedroom tent, with its own private plunge pool, deck, barbecue and day-beds. The interior was embellished with a superb poster bed, draped in crisp linen of the highest thread count, a plush lounge area with comfortable couches, coffee and tea making amenities and snacks, and a choice of an indoor and outdoor shower or luxurious bath. Having a TV in our tent, even though we didn't actually watch it, was a nice touch, particularly because in all the luxury tents I've stayed in locally and in across Africa, there has been no entertainment system.
Personalised service from the team would avail a welcome fruit basket and dessert tray delivered to our room after our very hearty lunch post arrival. It didn't take too long to appreciate how our short stay would in fact be just what we needed to disconnect ourselves from the stresses of an already hectic week, granting us a great juxtaposition between reconnecting with ourselves and each other, as well as maintaining some degree of productivity to move our many, often competing needles along. A place where you reconnect your soul with nature in a modern, simple and exotic atmosphere is how one can best describe Kingfisher Retreat by Mysk. We were certainly set to revitalize our sensations and ride the waves of enchantment as we engulfed the cooling effect of the Eastern winds, blowing across the ocean's surface or from the mountain range behind us and into camp.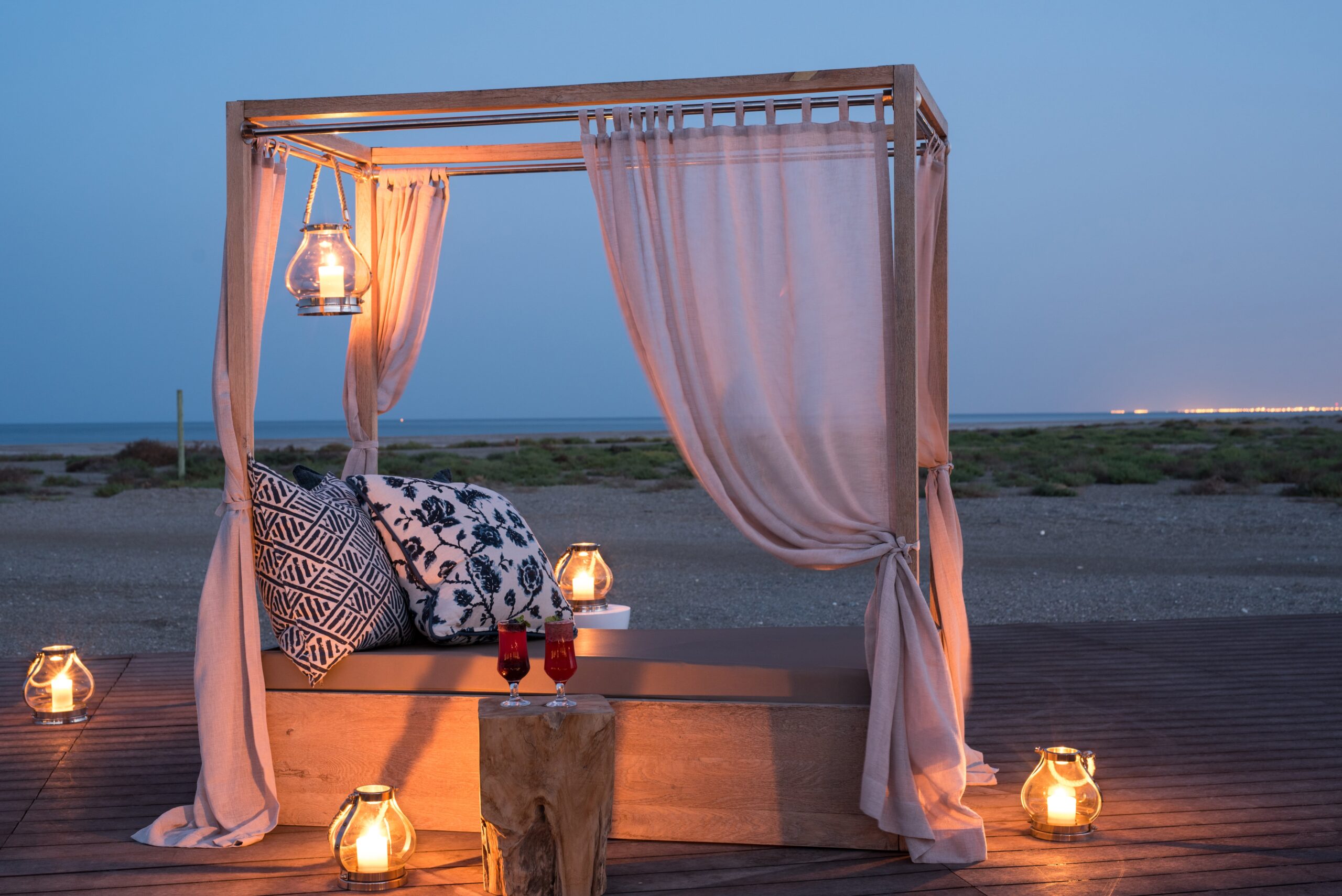 Indulge in a bespoke dining experience
Indulge in a panoramic ocean view of the Arabian Sea while enjoying a healthy organic culinary experience from Al Qurm restaurant, the hub of Kingfisher Retreat's meal service. Ours was particularly standout, with lunch, dinner, and breakfast layered with courses and bursting with flavours from a menu packed full of variety. From traditional Arabic cuisine, to international options for salads and soups, and assortment of breads, meat and seafood delicacies, chocolate and fruity desserts, our dining experience was truly bespoke, decadent, and easily the highlight of our stay.
Play and learn in the outdoors
Activities For those of you who like to stay active during their getaways will find plenty to get up to on-site to build on your already exquisite experience. From morning to sunset nature strolls on the beach to cycling on the sports bikes built for outdoor terrains that are assigned to each suite, guests can enjoy a list of several activities that will keep your heart pumping and face smiling.
We had the opportunity to learn and practice an ancient craft at the archery range, a treat for me as I had never held a bow and arrow in my hands before. With some hits and misses, hearty laughter over some competitive archery, with a backdrop of the sky's hues changing as the sun set, was a great way to take a break from our laptops for an hour in the cool of dusk.
Early morning are ideal to savour the tranquillity of this eco-retreat, as you can kayak your way to watch sea turtles hatch, nest, and swim, or crabs nestled amidst the mangroves, catching a glimpse of many rare bird species and the wildlife that have Khor Kalba recognized as an important wetland and haven for biodiversity. You can also take time out in during your stay to visit the island's Mangroves Center or Kalba Bird of Prey Center, where you will have the opportunity to learn more about the local natural landscape and pristine ecosystem.
Invigorating serenity for all to enjoy
Mysk Kingfisher Retreat is a delight for a family holiday, fused with an educational experience that grants insights to a unique world of conservation and culture. A stay for couples is also one characterised by romance, with many activities tailored to ensuring one enjoys one-on-one time from the busyness of life with a luxurious, nature-focused setting. With personalized at your beckoning, the somewhat short drive away from the hustle and bustle of big city life, was perfect for us, paving way to break the week's intensity with remote working at this award-winning luxurious eco-resort.
To learn more about Kingfisher Retreat by Mysk, visit https://myskhotels.com/en/our-hotels/kingfisher-retreat/