Words by Yvonne C Mtengwa
The invitation to spend four nights in the throngs of nature at Singita Boulders came in, and it was an opportunity I simply couldn't resist. Why would one ever? After an awe-inspiring week-long stay at Singita Faru Faru in the Serengeti with my family last Spring, I couldn't have been more ready to partake of the life-changing experience that comes with a stay at any one of Singita's luxury lodges, but this time – in South Africa!
Off to a compelling start
A red-eye flight from Dubai International Airport had me land in Johannesburg just before noon. Travel is back on as evidenced by the jam-packed arrivals terminal at OR Tambo, where a concierge member from Federal Airlines awaited my arrival, ahead of my being ferried off to another section of the airport for my private charter into Sabi Sands Game Reserve. We soared over the striking white clouds in no time, descending at an airstrip that was also home to a thatched pavilion, reminiscent of the same sort of welcoming station we had arrived at in the Serengeti a year ago. One thing about a stay with Singita is that you feel the brand's strong hospitality ethos, first at the point of your first interaction with the team regarding your bookings, then on with your interactions with each colleague tasked to ensure that your planning and subsequent travel to your destination is as seamless as it is filled with anticipation.
Exceptional, personalized service is their forte, driven by the quest to create perfect harmony and balance between all aspects of the guest experience. We are talking harmony with your surroundings – through a reverence for the environment and the relationships that have been nurtured with the communities Singita properties call home – and your overall well-being, a driving force to the experience rendered for your unspoiled enjoyment. Touch down at the Singita airstrip was followed by disembarkation from the flight that was headed on to Kruger National Park with other guests. Golden, who would be my Field Guide during my stay, was on hand to welcome me and whisk me off to Singita Boulders, my sanctuary for the few days ahead.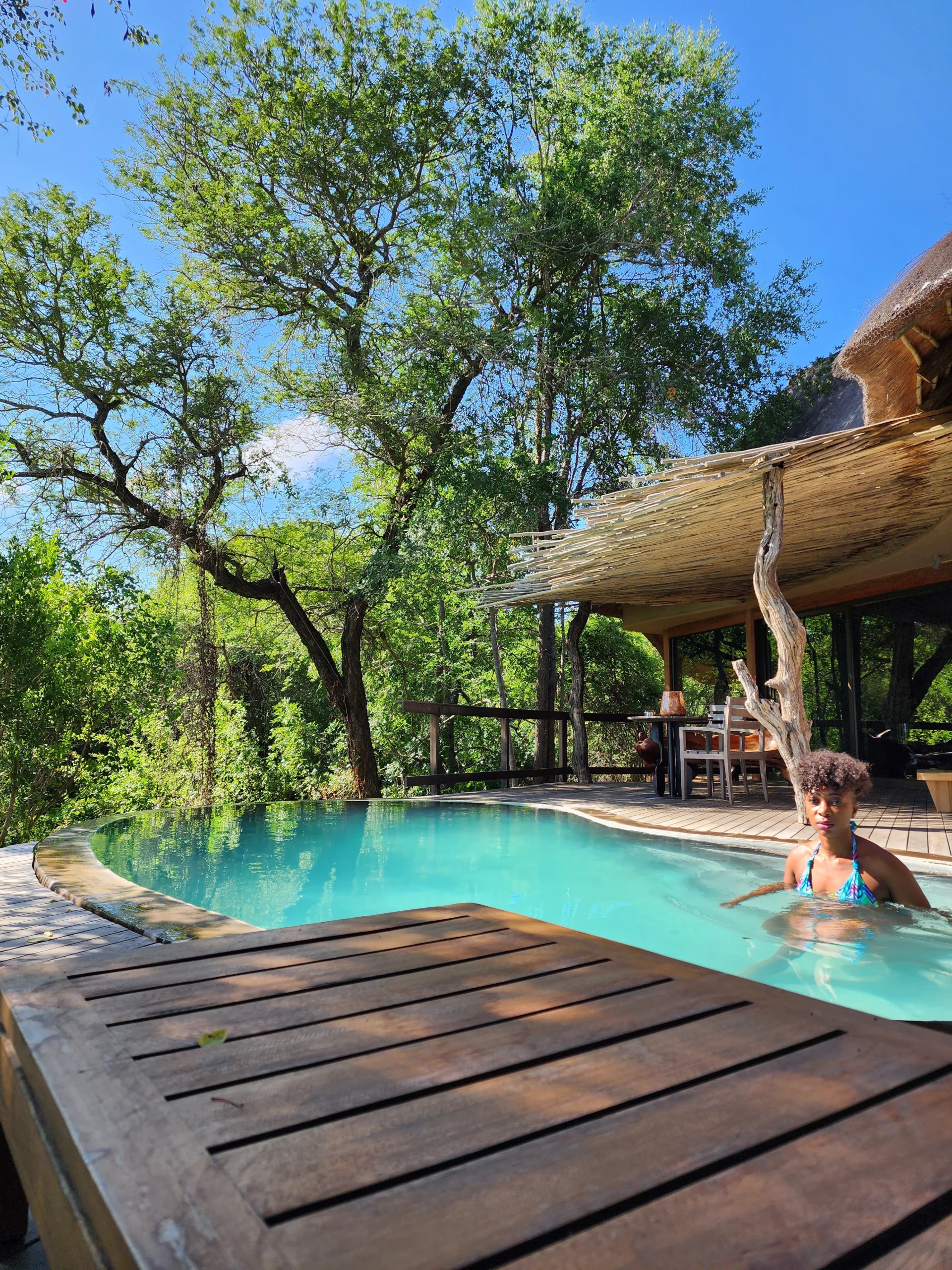 Behold, Singita Boulders
Set along the boulder-strewn banks of the Sand River and nestled within thick river-frontage foliage, Boulders Lodge quickly whisks you into your charming, yet elegantly rustic settings, designed to seamlessly blend the varied hues of daytime light with the earth-inspired tones and textures of your luxuriously furnished surroundings. It's a call to mentally and physically immerse yourself in the tranquillity of nature, tapping into the sounds of the wind rustling through the surrounding tree cover above, and the waters flowing from the water feature at the entrance, which seemingly give the illusion of a floating lobby area.
I was welcomed by the ever so delightful Jordi and her team, who were on hand to take me through the signature handwashing ritual, inclusive of soap and scrub made from naturally sourced ingredients like the sand from the river banks on which Singita Boulders sits. This was quickly followed by the blessing of being handed a refreshing mocktail to sip on as my senses captured the moment. Hello Singita Boulders. I was here and ready to truly disconnect to reconnect with my surroundings and self for the few nights ahead
After the lodge orientation, which literally allows guests to detail their wake-up call time preferences, menu and ingredient choices, activities on the cards to try, and a tour of the available amenities, I was off to my suite – the pristine Suite No. 8, set at the end of a winding wooden yet elevated walkway. But reaching my suite was not without the pleasant surprise of witnessing a family of Nyala, casually grazing through the grass along the walkways and unperturbed by the nearby human chatter.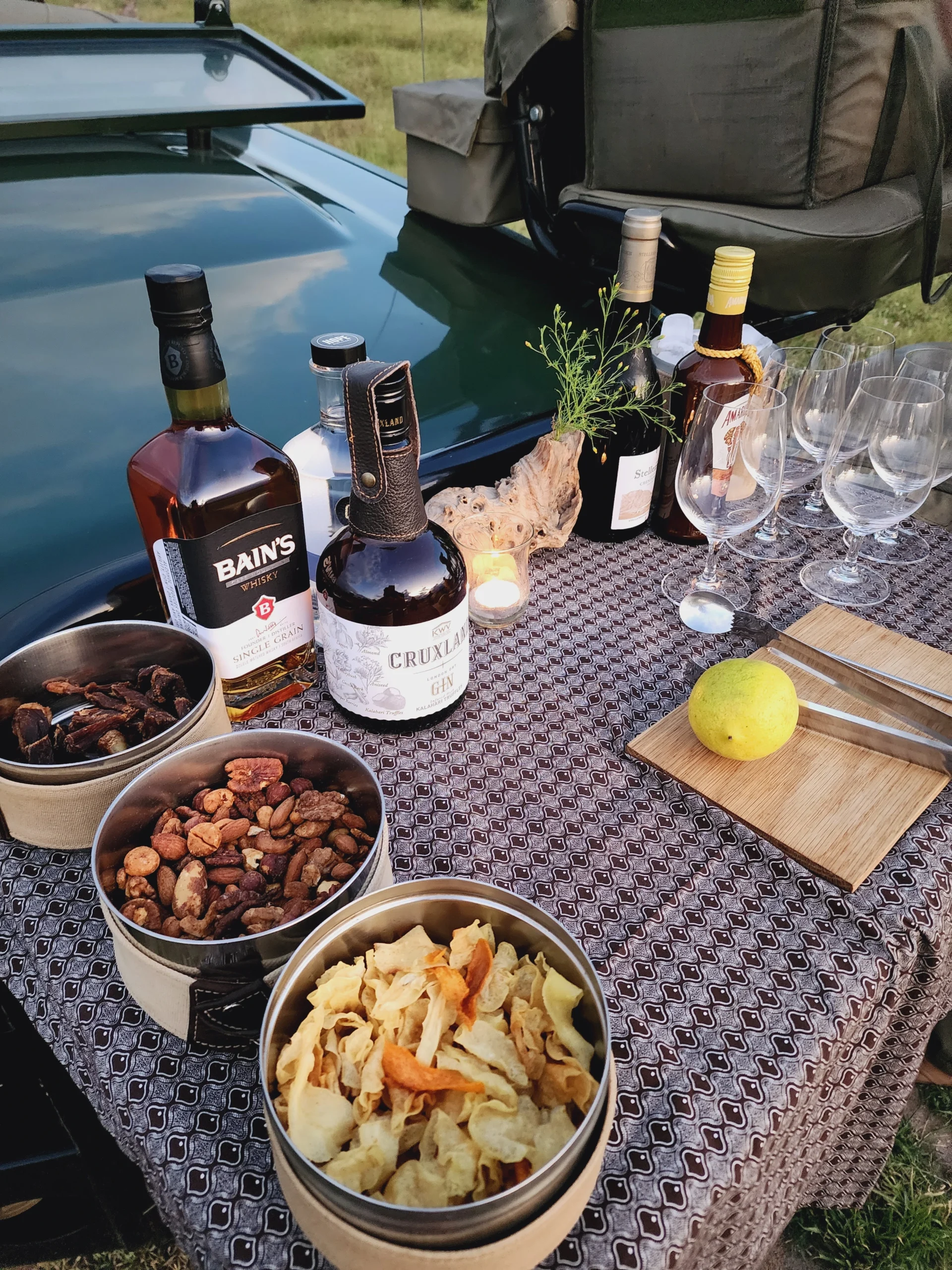 Echoing Africa's raw natural beauty within elegant spaces
Boulders Lodge truly awards you the opportunity to find yourself or rediscover your loved ones in the untapped essence of nature. Each of this contemporary retreat's 12 ceiling-to-floor glass-fronted suites offers the utmost privacy, ultra-spacious interiors, and heated pools, with handmade furnishings and soft, natural fabrics mirroring the breathtaking scenery outside.
Upon walking in, my attention was immediately drawn to the stone flooring, perfected in design by patterns made from intricate stonework. A fully stocked station in my lobby area came complete with an array of wines, cordials, soft drinks, gin, and vodka for those with a penchant for stronger beverages. Snacks in cute jam jars were on hand for me to enjoy with my morning coffee or afternoon teas if in fact, I opted to stay in my private space and not venture out to the main lodge for the same
A few steps into my suite would unveil a beyond aesthetically pleasing space, where the living room flows into the palatial bedroom and bathroom; all rooms in full view of the infinity pool on the wooden deck outside. A stone fireplace separating the lounge area from the bedroom invoked romanticism, a stellar accompaniment to my outstanding natural – and manmade surroundings. A promise I made to myself, which I often encourage travelers experiencing luxury lodges, is to truly carve out time to enjoy your space, for it is here where you find the value in having set out on your much-needed retreat. In the words of Singita Group Creative Direction Manager Georgina Pennington, "Inspired by the ancient wisdom of the continent and celebrating the profound sense of place of each of our unique lodges and camps, Singita's Wholeness journey is about grounding guests in their preferred level of mental, emotional and physical calm," and for me, enjoying every opportunity to enjoy moments of nothingness in the comfort of pristine surrounding, forms a big part of a grounding experience while in Africa's savannah-scapes.
Immersive experiences at Singita Boulders
Of chasing sunrises and sunsets at Singita
You will enjoy the luxury of unfiltered time and space, with the South African wilderness set as the ultimate backdrop for complete unwinding when you head out for a morning or evening game drive. Joined by a husband-wife and father-daughter couple for our sunset expedition during our first afternoon in, our time out on the back of our safari truck came replete with sightings of elephants, buffalo, wild dogs, zebra, and much to my delight – the ever so elusive leopard!
Guest will be delighted to note that each exploration with your personal Field Guide, celebrates the freedom to spend unfiltered time in wide-open spaces and no two experiences are ever the same. With every game drive I have enjoyed, I've been left spellbound by the sheer majesty of Africa's most iconic wildlife – from stripped dazzles of zebra to towering giraffe and buffalo herds, which in the case of Singita, flourish and thrive through the tireless efforts of their non-profit conservation Funds & Trusts.
Our Field Guide and Tracker Duo Golden and Mark took us across the vast plains, sharing informative nuggets on the wildlife we spotted along the way, before setting up a much-appreciated "watering hole" for us to indulge in cocktails made from gin and vodka, glasses of wine the dad and daughter pair, biltong and other nibbles. Watching the African skies transition from bright blue onto orange to varied hues of purple is as magical as it is embracing hearty conversations between strangers, or the silence of the late afternoon turning to night. African sunsets are a feeling, an opportunity to connect with the heart and soul of creation and to still time with each breath; and that feeling is one I yearn for ahead of each looming safari experience.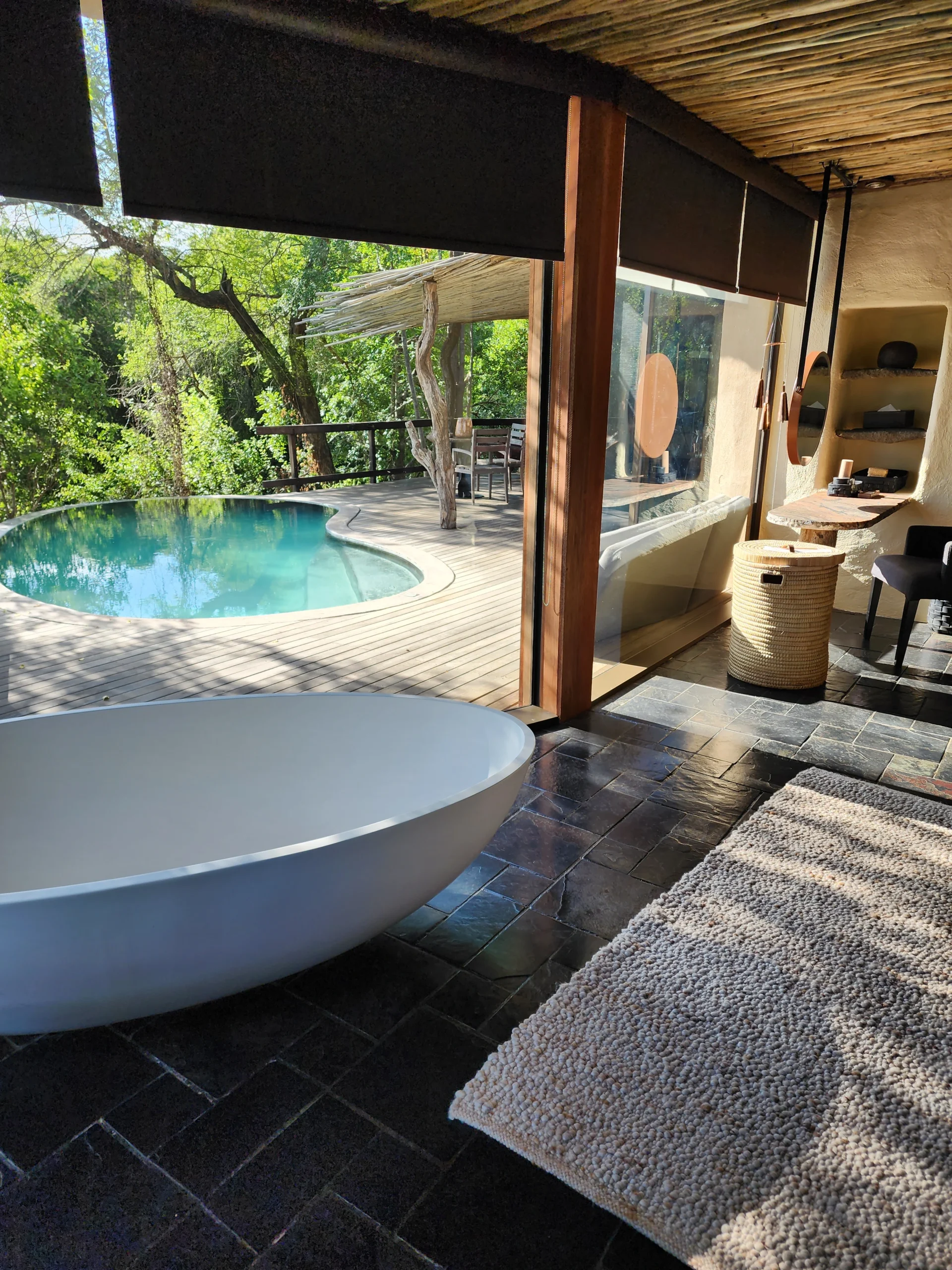 Spa moments for the ultimate mind and body relaxation
The philosophy at Singita has always been holistically inspired, in that they believe that true wellness is on every level – physical, spiritual, and mental. A stay at Singita will engage the senses and create opportunities for nurturing, calm, and comfort. This is central to the notion of Wholeness at Singita. It's an all-encompassing experience of nature to allow you to fully benefit from the privilege of being surrounded by pristine wilderness, and the power of nature to help you reconnect with your own body and mind, and to center yourself.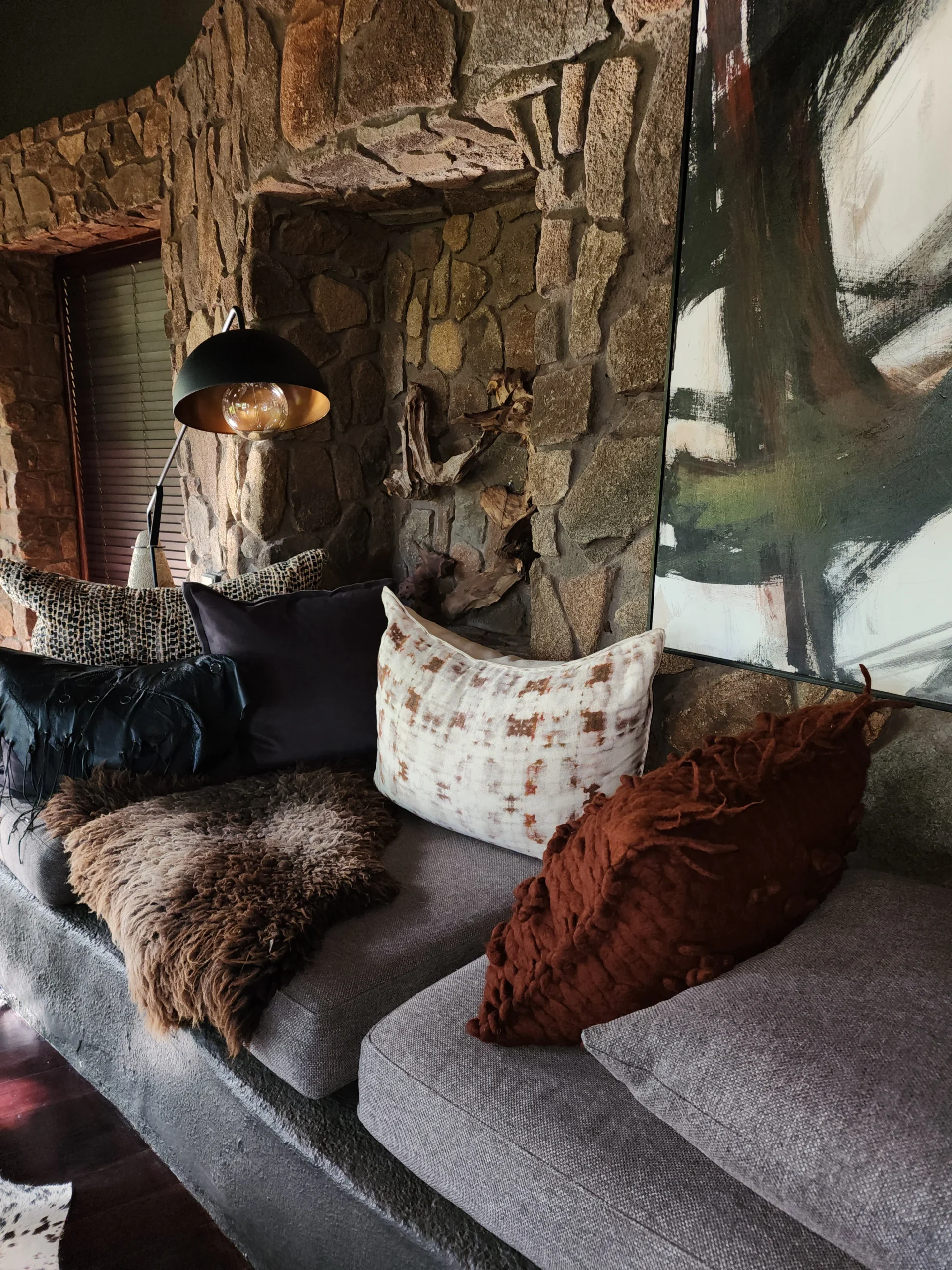 Because the quest was to truly immerse myself in an atmosphere of sheer relaxation, I was keen on a Spa experience, one designed to elevate my connection with nature's healing energies and encapsulate rituals that nourish and nurture. I enjoyed the reinvigorating privilege of a 90-minute spa treatment, with my massage experience uniquely tailored for me, and designed to tap into the profound benefits of indigenous wisdom and essential oils that relax, replenish and revive. From picking the scents for my oils to selecting the sound and lighting for my experience, my exfoliation treatment, followed by full body massage and facial was indeed a treatment set aside for the Queens and Kings of our age.  You are guaranteed to be immersed in the beauty of your surroundings, to be wrapped up in the earthy textures of the space, and to absorb the serenity, yet vibrant energy that comes with your spa experience.
Journeying through wine and nurturing a new generation of sommeliers
Singita is recognized as one of Africa's most influential collectors of wine, with an extensive cellar showcasing a premium selection of wines, including some of the continent's most sought-after private reserves, exclusive release, limited single vineyard, and rare auction wines. It's safe to say that wine is a key ingredient of the unique Singita experience, and the offering from resident sommeliers is as special as the fine cuisine that accompanies each glass.
I was to learn at dinner that personalized wine tastings within the unique ambiance of Singita Boulders' temperature-controlled cellar are a true guest favorite, for connoisseurs and casual tasters alike. Singita's experienced sommeliers were on hand to guide guests through a variety of wine styles, years, and cultivars to find the wines most suited to their individual tastes and meal choices, be it vegetarian or meat dishes.
Also interesting to note is that, with all that Singita does, community upliftment is central to the Singita wine program as well. François Rautenbach, Director of Singita Premier Wine with a mandate to manage the selection, purchase, storage, and service of all the wines at Singita's lodges, has in fact created a special training program for enthusiastic young wine lovers, developing the next generation of sommeliers for Africa. The training provides educational assistance, personal mentoring, formal wine training, and access to Africa's finest wine program.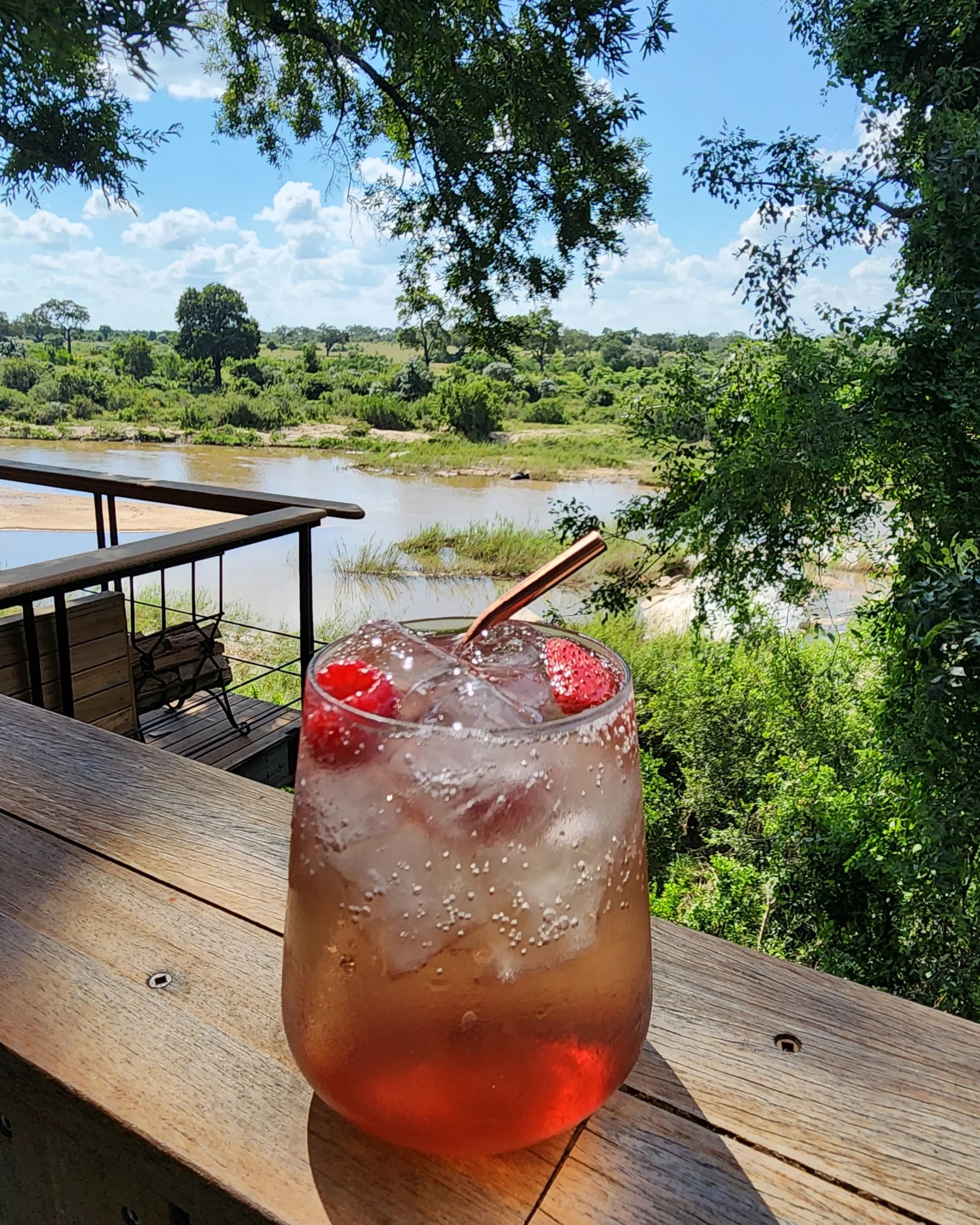 A luxury safari brand committed to making a difference
Cleverly designed, warm spaces that create a fitting backdrop for a relaxed existence, and ample downtime provide intimate opportunities for guests to connect with each other and share stories of their sightings over dinner or at the open bar; these are but two of countless reasons why Singita speaks to the heart and soul of safari enthusiasts. Excursions to the wilder parts of Africa are supposed to draw one to the spirit of a uniquely diverse continent, one whose story transcends generations and cultivates an unending curiosity of seasons past and forthcoming.
A brand committed to conservation and curating experiences that inspire life through the lenses of exhilaration and freedom, my first long-haul solo trip to South Africa in a while, specifically for a wellness retreat in the heart of Sabi Sands Game Reserve, exceeded my expectations, and elevated my continued love for their evolution since opening their first property in 1993 – Singita Ebony Lodge. Oh, and did I mention that on one cool morning, I was gifted the opportunity to head over to their first lodge for breakfast? I will share more on that in another chronicle, but for now, let me end with encouraging families, solo travelers, and couples alike to gift themselves an opportunity to indulge in uncontested relaxation, oneness with nature, and absorption of epic, decoratively refined spaces that you will long speak about at any of Singita's 15 lodges across Africa. You can thank me later!
Yvonne C Mtengwa is the Founder/Editor-in-Chief of the award-winning Travel Essence Magazine, a communications strategist by profession, with an avid passion for discovering Africa's iconic landscapes through her travels. Connect with and follow her travel, tourism, and lifestyle experiences on IG @Quintessentially_yvonne.