Full name & position
Kirsten Tinkler, Field Guide
What life lessons have you learnt in the bush
I've learnt to have gratitude – for every moment. The power of taking a breath, pausing, and tuning into the rhythm of the bush rather than trying to manipulate a scene or an animal at a sighting. Taking the time to value what I have in front of me.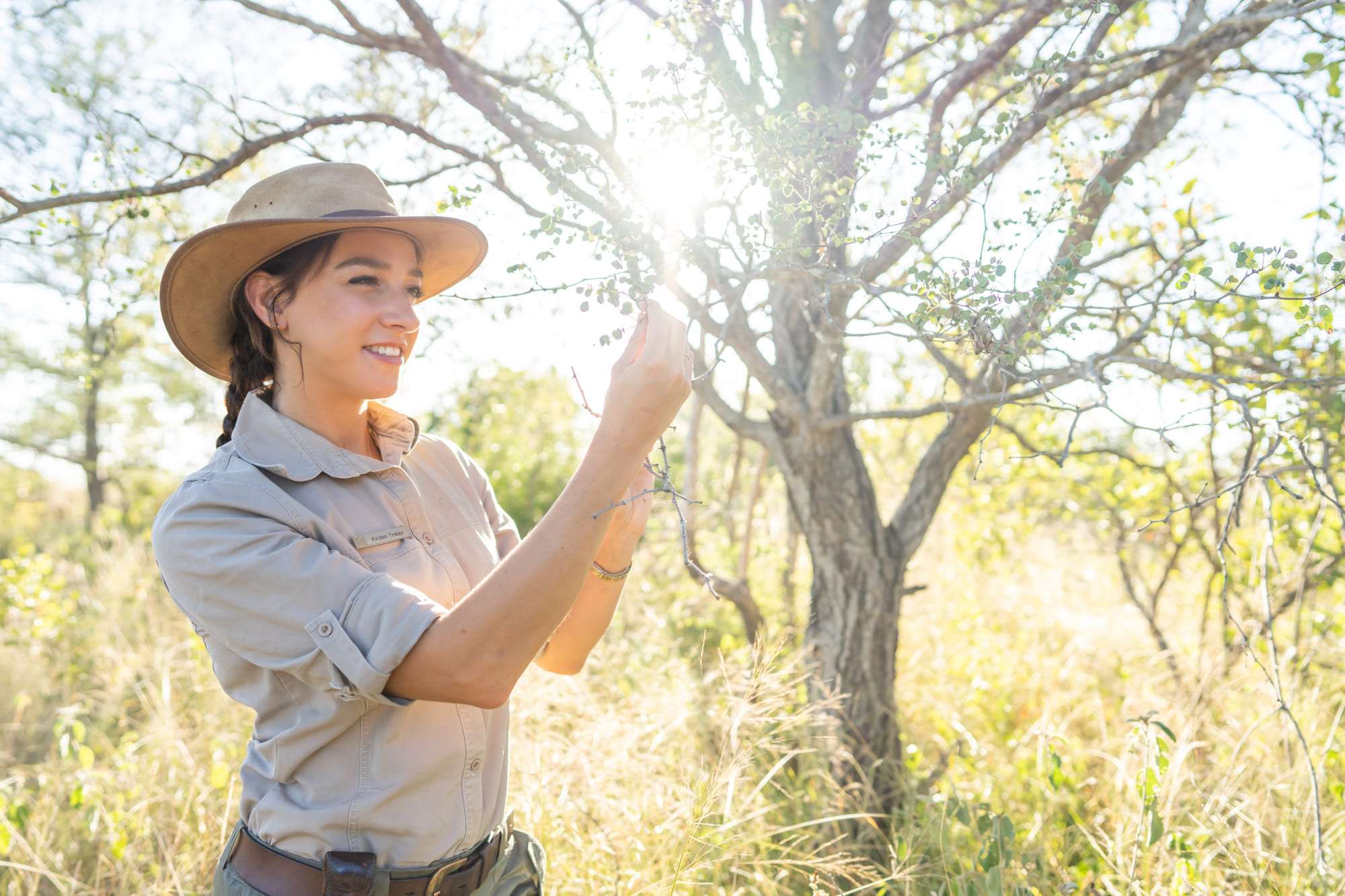 Tell us more about yourself… (Where were you born, where did you grow up etc)
I was born in Johannesburg and moved to the UK when I was four years old. We travelled frequently to my home country to spend time with family and for me, I knew one day I'd return to South Africa. I grew up in Weybridge, Surrey. Further studies took me to art college and then onto Nottingham Trent University where I completed my BA Hons in Fashion Design (I know, VASTLY different to the bush!). I specialised in sportswear and illustration and although this is a far stretch from tracking lions, my active artistic mind always inspires me to get creative in the bush. Necklaces, trinkets, bush tea and bushman painting are some of the activities I've incorporated into drives with my guests.
Describe yourself in three words
Compassionate
Creative
A free spirit with an energetic zest for life
How did your journey lead you to Singita? How long at Singita?
I've been with Singita for three and a half years (three years at Singita Sabi Sand and now at Singita Kruger National Park). My journey as a field guide began in 2017. From there I went to work at Honeyguide Ranger Camp (Entabeni) where I fell in love with wildlife. A passionate drive for challenges and to develop my skills took me to Khwai in Botswana, where I spent a month with nature guide training mentors, learning how to approach dangerous animals on foot. From this experience, my mentors recommended I approach Singita, and I haven't looked back since.
Why Singita?
Singita is a brand based on beautiful values, such as humility and generosity to name a few. Being surrounded by like-minded, passionate people from all over the world is inspiring. Ass a field guide, I'm given a lot of flexibility when it comes to the guest experience. From roasting marshmallows next to the N'wanetsi River, to art and yoga in the bush. At Singita, there's a drive to adapt, explore and try new things all the time
Three things they love and learnt as guides at Singita

Being a guide at Singita makes me strive to become a more conscientious and thoughtful person.
I've learnt how to be resourceful and adapt, especially in the rainy season!
I've learnt more about conservation and the importance of protecting wildlife and wilderness areas.
What are the day-to-day highlights of your job?
I'm very lucky that I get to take guests out to explore the bush. Setting out from the lodge turning circle, not knowing what'll come our way and going on an emotional rollercoaster together before we return to the sanctuary of the lodge is such a treat.