Right on the edge of Volcanoes National Park, northwest of Rwanda, sits two luxury Singita properties; Singita Kwitonda Lodge and Kataza House, which opened roughly a year ago and exist to play a key role in the conservation of the famed gorillas of Rwanda. Luxury meets conservation with these unparalleled properties as guests get a sense of awe when they gaze at the breathtaking volcano views which greet you every morning. For the fortunate residents of either property at a time of planned escapism, they may be so fortunate to be graced with the presence of some buffaloes or elephants as they graze in the park, undoubtedly a breathtaking experience.
The lodge and luxury villa are creatively designed in a modern yet rustic style, while incorporating many local elements, such as the volcanic rock that is found in the structures on the property, as well as the stone and ceramic elements made by local artists. The stone used represents that which surrounds the park, demarcating the park from the wildlife that may enter the retreat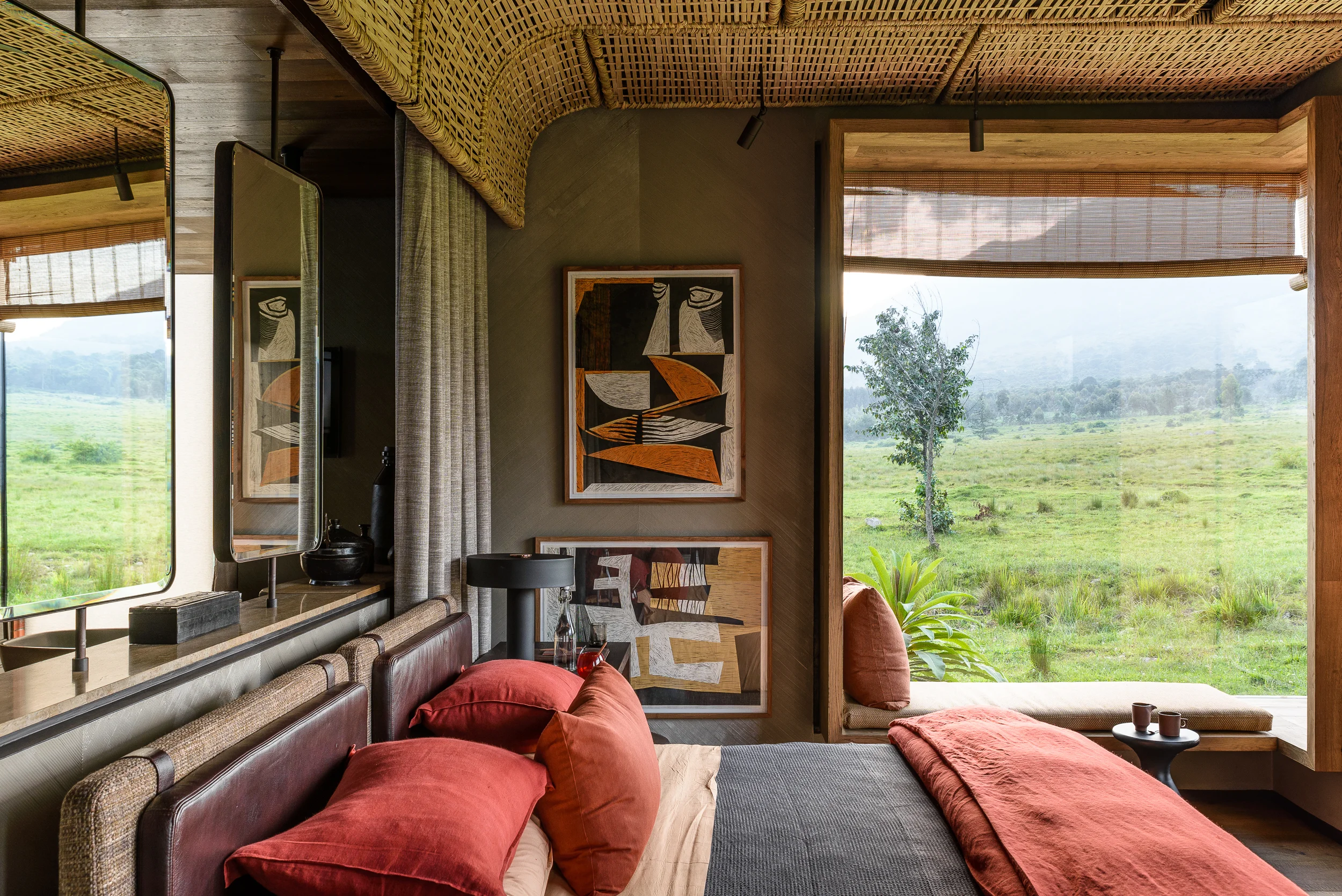 Solitude and sanctuary – the Singita way
Singita Volcanoes National Park is arguably one of Singita's most sustainable properties and with their unrivaled location a stone's throw away from the Park's dense cloud forests – inhabited by these gentle giant, the gorillas – the intimate lodge and four-bedroom villa provide the utmost privacy and an invigorating retreat for travelers who value the comfort of thoughtful simplicity, subtlety, and restraint. Here, guests can find solitude and sanctuary; a nurturing space in which to reflect on an encounter with the remarkable mountain gorillas, enveloping them in warmth and stillness, and encouraging moments of quiet contemplation. It's an experience that provides a sense of respite and the opportunity for much-needed rest and restoration.
Beyond the views and thrill of experiencing untamed Rwanda, is the exceptional service on offer to guests with the most refined in taste. Thanks to the staff, who are in every way readily available to anticipate your needs as their guest, you will relish the exquisite cuisine as Singita takes on a 'farm-to-table' approach to vegetable and herb growing, inspiring the healthy dishes on the lodge's fresh, seasonal menus.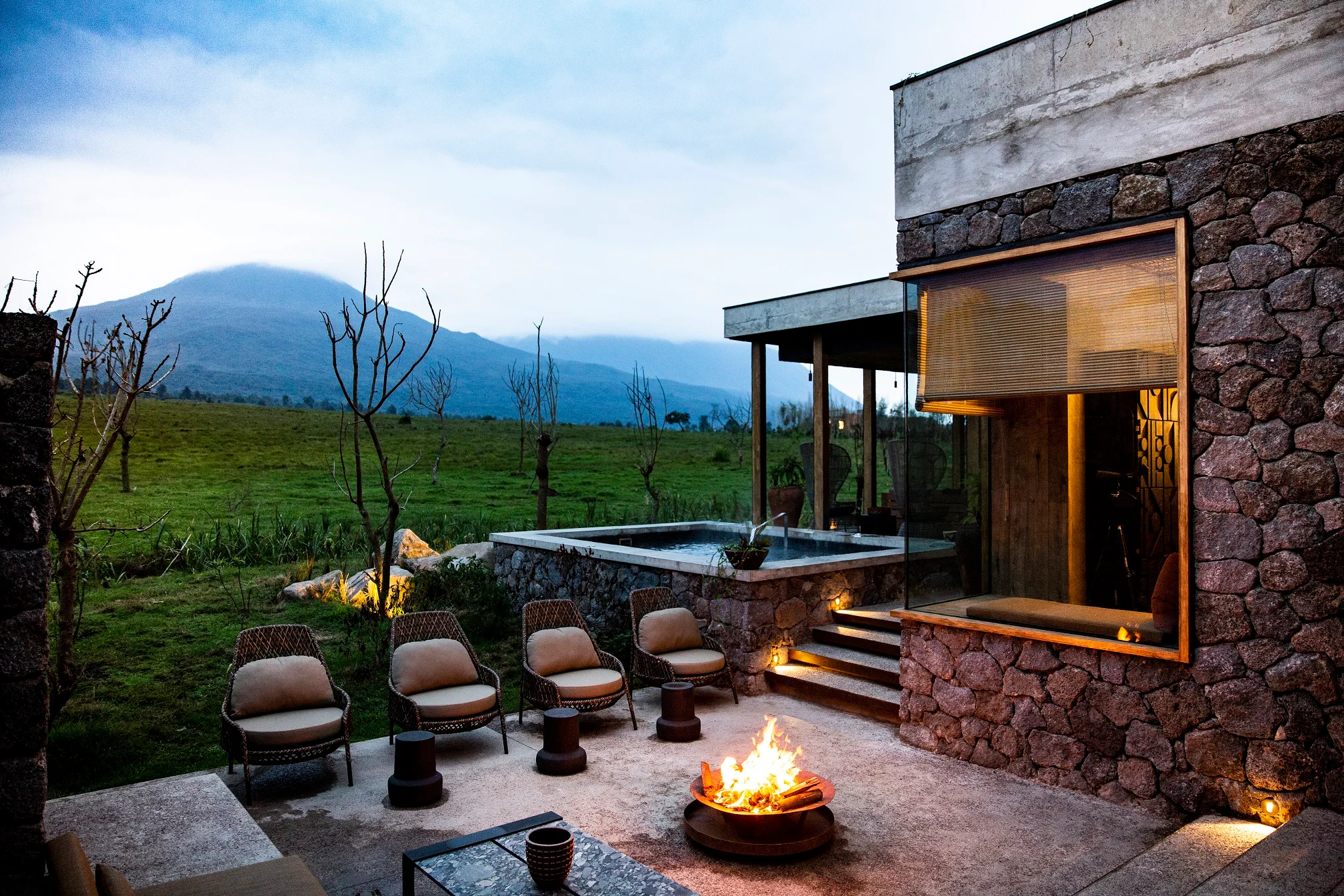 Singita Kwitonda Lodge and Kataza House's conservation story
While the Rwanda Development Board is responsible for protecting the gorillas and the National Park in which they find sanctuary, Singita's role is to rehabilitate the land on which the lodge is located, so that it can one day form an extension to the gorilla's current habitat. The reforestation of former agricultural land is an important part of the strategy to expand the area in which the gorillas – and other wildlife in the park, including forest elephants, golden monkeys and more than 300 bird species – can freely roam.
Their long-term preservation is at the core of Singita's purpose for operating in Rwanda. Singita Kwitonda Lodge and the exclusive-use villa Kataza House not only support the country's conservation efforts by drawing guests to the region, but their unrivalled location on the border of Volcanoes National Park – in 178 acres of what was once agricultural land – creates a critical buffer zone that will soon become home for the gorillas.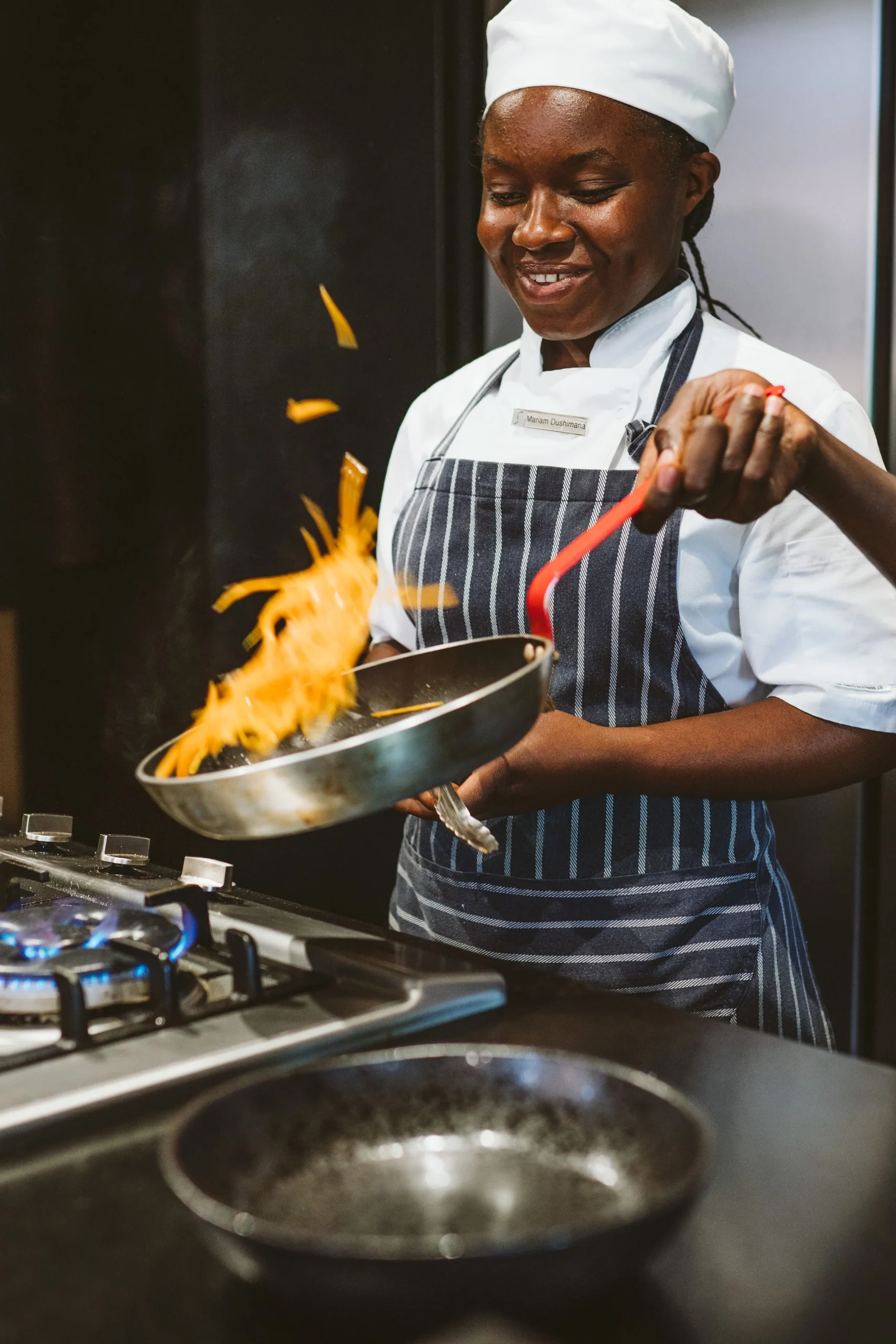 Singita Volcanoes National Park also serves to draw visitors to this extraordinary country, who in turn contribute to gorilla conservation through trekking permits and supporting industries that employ local communities. Apart from the once-in-a-lifetime opportunity to come face to face with mountain gorillas in the African jungle, guests can also learn more about the importance of safeguarding their future from Singita's Wildlife Conservationist, Robert Mugabe – a former National Park guide who studied at Uganda's Makerere University – as he passionately shares his love of the natural world and the story of Rwanda with people from other parts of the world.
Robert can often be found chatting to guests or briefing groups before a trek in the lodge's dedicated Conservation Room – an interactive space designed to provide educational resources that offer further context to Singita's purpose in Rwanda. It features an inspiring conservation wall with valuable information, iMacs, a big-screen television, maps, and books, as well as a private collection of Robert Ian Martin ("Bob") Campbell's travel and photographic equipment. This renowned wildlife photographer and filmmaker was best known for his footage and photographs of Dian Fossey and mountain gorillas published in National Geographic.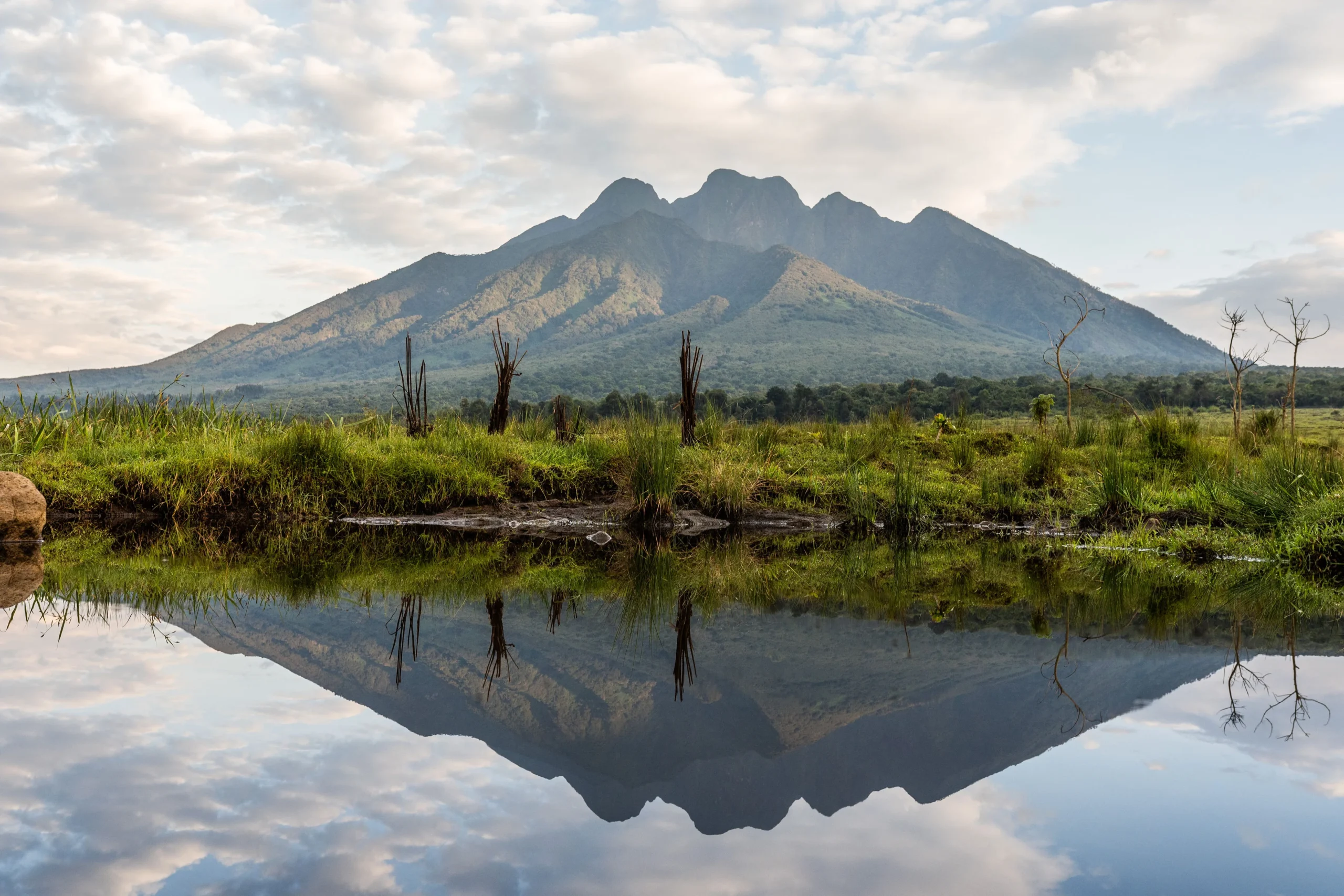 Project reforestation
Guests are brought into Singita's world of conservation by taking a walking tour of the Akarabo Nursery and the farm-to-table garden; both important elements of the fulfilment of the brand's conservation vision. Akarabo – meaning "little flower" in Kinyarwanda – is the heart of the reforestation project, where hundreds of thousands of saplings are grown before being replanted. The adjoining kitchen garden is a visual feast and inspires the healthy dishes on Singita's mouthwatering menus, which feature seasonal herbs and vegetables that make their way from the neatly planted rows to their guests' plates every day, echoing Singita's commitment to sustainability.
The reforestation of Singita Volcanoes National Park has already found great success, with camera traps near the unfenced border between the protected area and the land surrounding the lodge capturing all manner of curious wildlife crossing into the property. Elephants, buffalo, antelope, monkeys and more have been caught on film, enjoying the tender shoots, flourishing grasses and young trees now growing around them. The expanding habitat is great news for gorillas, while for guests, it means the experience just keeps getting better.
Rwanda is Ready to Welcome the World Once More
Travel and exploration are inherent expressions of our desire to feel fully alive; to wholeheartedly experience new destinations and cultures and be moved by moments of incalculable worth. The privilege to encounter mountain gorillas up close – and meet these imposing and powerful, yet gentle creatures in their natural habitat – is at the top of the list for travellers yearning for transformative experiences, especially for the sense of perspective this wildlife highlight can bring.
After temporarily being disrupted by global travel restrictions, Rwanda as a nation is delighted that the skies above the Land of a Thousand Hills are open once more, putting Rwanda's mountain gorillas back within reach for international guests at Singita Volcanoes National Park as they enjoy the warmest of welcomes and captivating, sensory experiences that are guaranteed to be etched in one's memory for a lifetime.  A mere 5-hour flight on RwandAir from Dubai International Airport to Kigali provides ease of access for all travellers, with a safe arrival for all guests of paramount importance to the national carrier's sky captains and cabin crew. So why not make your way to the heart of Africa, where the wonderment of nature, coupled with unique cultural and leisure experiences, is sure to warm your heart.