Wholesome food experiences at Tongabezi by Green Safaris
Nestled on the banks of the mighty Zambezi River in Zambezi, a short drive from Livingstone Town, lies the award-winning eco-lodge – Tongabezi by Green Safaris.  Rewarding guests from across the world with a distinctive combination of romance and luxury, add the exciting dining experiences and the spirited adventure opportunities available from a mere flick of a page, and you are sure to immerse yourself in an atmosphere that will enhance your love for nature in its rawest form, and the wild side of Africa.
Conde Nast has called Tongabezi one of the top 20 Hotels in the World, and it won't be too long before you see why upon check in. From the luxurious four River Cottages and seven Houses, each individually styled and uniquely set up to cater for anywhere between two to five guests, this charming riverside lodge avails an opulent retreat for all looking to rest and luxuriate in this leafy, rest-inducing exclusive lodge setting.
But what's a compelling stay without delightful food experiences? After all, an exceptional meal is sure to warm one's heart further, especially served within such a spectacular backdrop. At the helm of Tongabezi's culinary offering is Chef Zuwi Nawa, whose journey to heading the lodge's dining experience is nothing short of inspired, as much as it highlights just how important a passion for cooking forms the foundations of any high-end food journey. Travel Essence Magazine enjoyed the privilege of chatting with Chef Zuwi Nawa about his growth with Tongabezi, opportunities to learn and teach, and the farm-to-table ethos that is palatable with each sumptuous mouthful of food.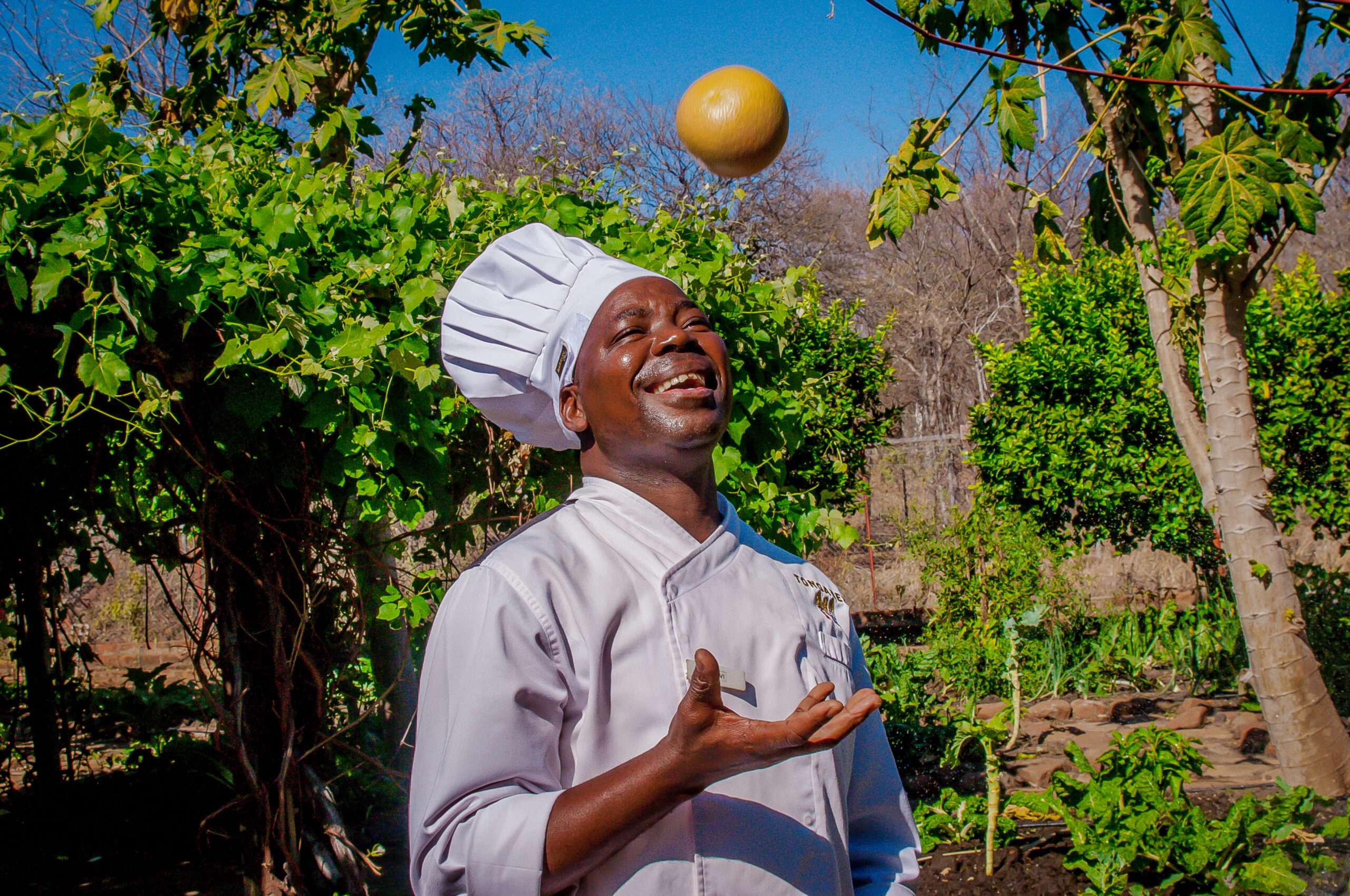 "I started working for this company way back in 1993, and looking back, I was just a young man coming up, and in need of a job. But I was not quite sure at the time, what direction I wanted to take in my life," says Chef Zuwi, when asked how his journey with Tongabezi began.
Chef Zuwi would soon reveal how his curiosity upon witnessing the hive of activity in the kitchen; the energy and zest for delivery from the people in the confines of its walls, became a key driver to his decision to want to join the team.
"I would say my journey with food was, and still is inspired by my childhood. I always wanted to know what I ate and how it would affect my body, believing strongly that if one eats good food, there's a possibility that they will live longer," he says.
"My interest is founded on the need to understand everything there is to know about my ingredients, such that as I'm cooking vegetables for example, how long should I cook them for and what method should I use in preparing them. I ask myself questions like – if I cook something for more than 10 minutes, am I gaining something or am I losing something from it?"
Chef Zuwi credits his experience in the details from the time he spends working with his team, and is quick to cite how our food choices determine our inner health and outer appearance. As he meets more and more guests that choose Tongabezi as their travel destination from the world over, he too has come to realize their consciousness of health, wellness, and heightened interest in the freshness of ingredients used to prepare their meals.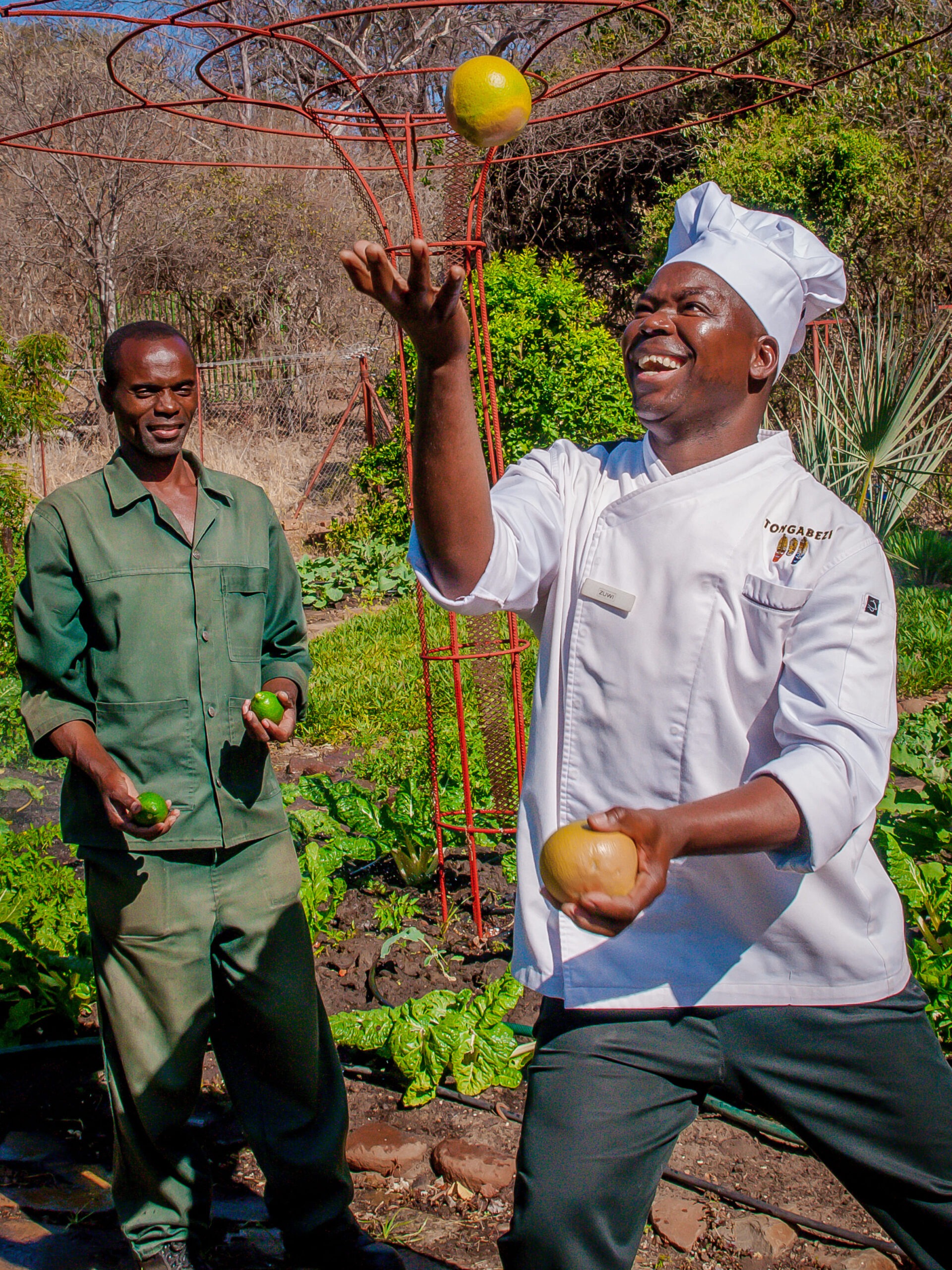 The inspiration behind Chef Zuwi's interest in the culinary world
Chef Zuwi grew up with both parents, with his father working as a Chef during what he describes as the end of the colonial era. Beyond having a penchant for food ingredients and their impact on one's health, he has fond memories of his father's effort in carving out time to cook for his family, and how whatever he prepared tasted quite different from what the women in his family were preparing.
"I figured out earlier on that if Dad could cook, so could I. And so when the opportunity came up for me to join the team at Tongabezi, I knew that I wanted to be in the kitchen because I had grown up enjoying what my father prepared for us from time to time. He used to prepare this potjie pot stew from oxtail, taking his time to prepare it as he explained the process of making it, and that a good meal requires that one takes the time to prepare it."
Chef Zuwi on pursuit of growth and wholesome food experiences
"People nowadays, are on an active pursuit for a healthy lifestyle. They eat more vegetables and are eating less meat, but again, being a good chef and conscious of your guests preferences, requires that you don't put pressure on those guests who want to indulge in a little more of this and that. Rather, you understand what they want and work to guide their food experience so it combines the use of wholesome ingredients while embellishing them with taste and textures they traveled so far to experience," Chef Zuwi adds.
On circling back to how he got started, Chef Zuwi shares that his learning largely came from working with other chefs and learning their techniques in food preparation. Keen to take each opportunity to prepare and plate a dish, Zuwi's goals were always to elevate the experience, not only for himself as the cook but for the person who would eat his food.
"I knew my experience was limited, notwithstanding the practical training I was receiving at the beginning, and so I asked the management team if there was a chance that they would sponsor me to do a little bit of theory work so that I could understand what I was doing further. The company was hugely supportive, sending me to Lusaka in 1994 to Ridgeway Hotel for some training.
"From there I came back and continued working with Tongabezi, and shortly thereafter I was given another opportunity to go on exchange, working around the corner here at Victoria Falls Safari Lodge in Zimbabwe, working there for almost 12 months," he shares.
Zuwi continued to excel on his development journey, looking for every opportunity to enhance is craft and passion for food with the blessing and support of Tongabezi. Upon his return from Zimbabwe, he was offered yet another opportunity to head over to Australia, a first for him to journey to the opposite side of the earth!
"I believe I was at the time, showing the team that I was coping well in the kitchen and really keen to learn. But working in Australia was really quite new, and it was something quite different working with and interacting with professional chefs in such a fast-paced environment," he says.
"I found the entire experience quite challenging – from the language barrier to the speed of cooking in the kitchen. I learned here that you cannot waste a minute in the kitchen and you really have to be on top of the game."
Chef Zuwi headed over to Australia with his colleague George, who at the time was working for African Queen. They stayed in Australia for a month, where they learned various techniques from qualified chefs, before heading back to Zambia and continuing his journey with Tongabezi.
"Every day, you have to be willing to learn. Cooking never ends and you simply cannot sit back, stop trying to research, and learn other techniques. At this stage where I am, I don't want to continue cooking the same dish. I want to try new things and seek new challenges, incorporating new ideas, and interestingly enough, the global pandemic created the opportunity for us to start thinking differently about the entire food journey, from the perspective of us in the kitchen preparing it, and understanding what our guests are looking forward to experiencing," he states.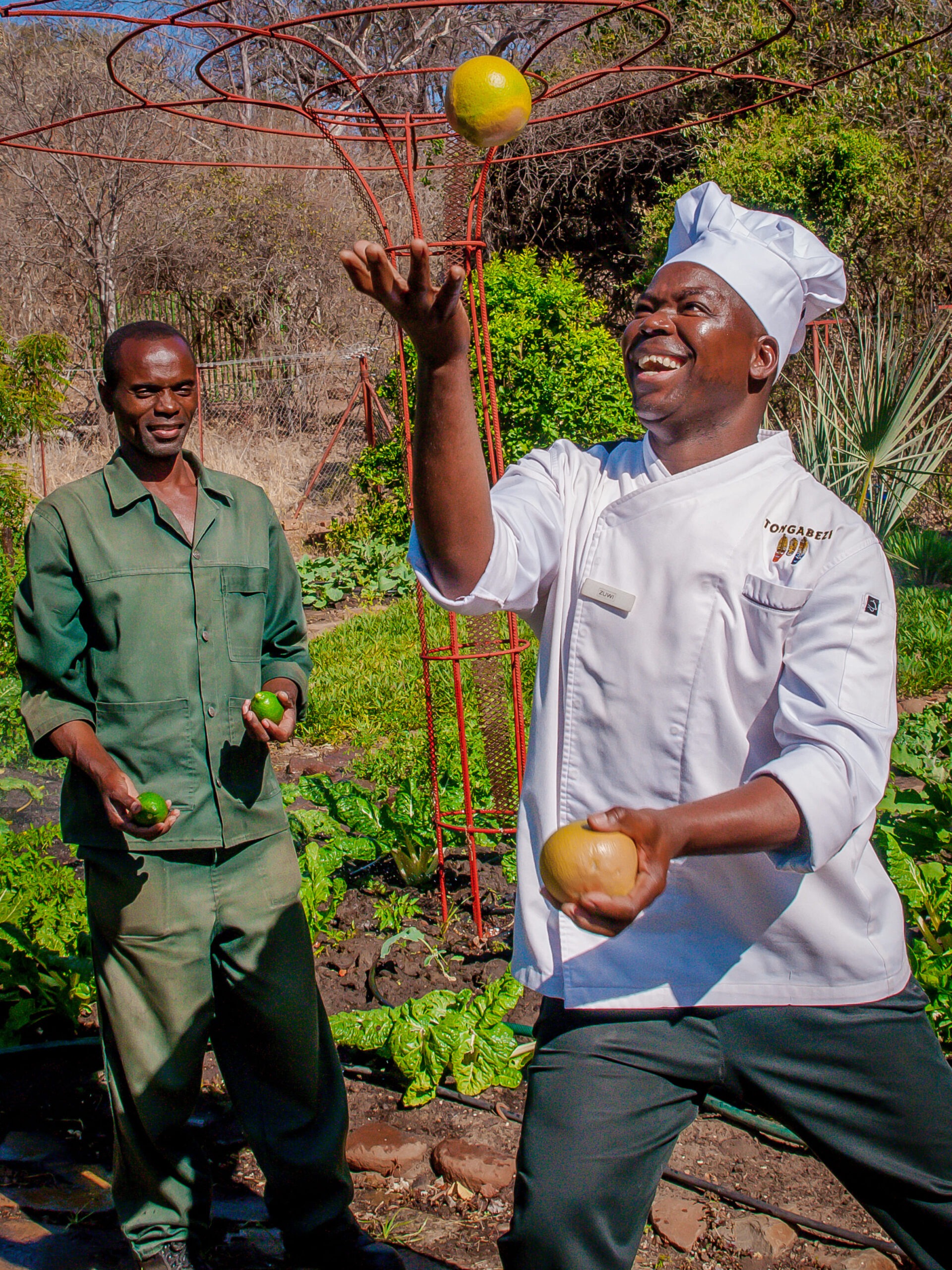 An organic food ethos at Tongabezi
"I believe COVID-19 was a game changer for all of us, as we all experienced this long season of chaos that challenged us to rethink every spectrum of our lives. I may be putting this in the wrong way, but I do think there were many who were perhaps a little careless with such things as budgeting for example," Chef Zuwi chimes in.
He goes on to say just how much COVID-19 influenced the shift in such things as food sourcing, frequency of meals, and size of portions, be it in the household or at hotels, adding that at Tongabezi, they have relied largely on the little garden of fresh vegetables and herbs they grow on the property, and incorporate that with items sourced from the market.
Chef Zuwi admits to having been blessed with "green fingers", reveling at the opportunity to wake up each morning and head into his own garden because his footprint is in the ground. Bearing such enthusiasm on how food is grown, and what impact it has on the human body and health, he adds:
"I believe organic vegetables are the best for consumption and for meal preparation, largely because there is an extensive effort that goes into ensuring the use of pesticides is avoided. At Tongabezi we create our own compost which aids in the nurturing of our vegetables until our guests find them on their plates. Our fruits and vegetables are entirely organic as we make natural insecticide and recycle leftover food into compost."
Tongabezi also infuses a cultural element in its dining, offering international guests especially, a taste of traditional Zambian cuisine should they be keen to experience tastes, textures, and food preparation techniques that are quite different from what they are used to.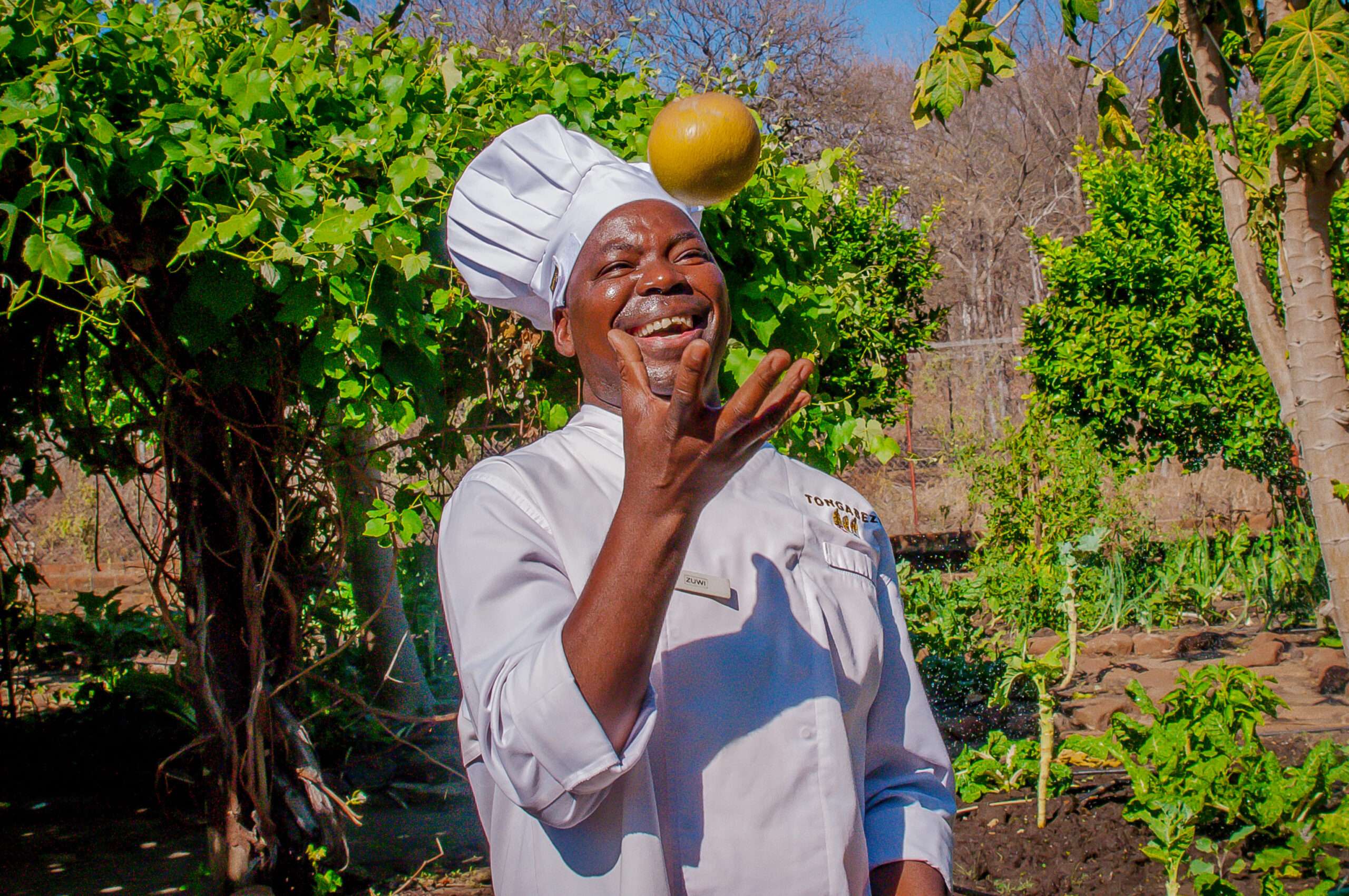 Chef Zuwi on building on the fundamentals
"I think it's the people that have been so honored to work with, that can speak on how I am as a chef however if I could have any words to share on what it takes to build a legacy, I would encourage people, especially the younger generation, to take their jobs seriously. Benefits do come when we work hard. If I'm not here, someone from my team should be able to take on the responsibility and handle themselves well.
Chef Zuwi emphasizes that to him, and in the world of culinary arts – there are rules in the kitchen, and that no matter how quickly cooking techniques evolve, fundamental rules are still to be upheld in the kitchen.
"It is important that we keep our eyes open when in the kitchen for example. Clean as you go. Disinfect areas. You may produce food that is delightful in taste or looks good once plated, but if these fundamental rules are skipped, you run the risk of creating a health hazard for your guests and yourself."
"Check your fridges, marinate your food on time, and watch your temperatures by checking the recipe. Culinary art is step-by-step, especially when you are dealing with a hot kitchen. When in the hot kitchen, we call it art. When working in the pastry kitchen, we call it science. Baking is science and is very precise."
When asked what this food maestro's favorite meal to cook was, he was quick to share that he loves preparing beef filets in its own red wine jus. He enjoys the process of sealing the steak and using the same pan to create the base of the jus. While he enjoys preparing red meat, Chef Zuwi asserts that his preference is to eat white meat as it is better for our health.
In his spare time, Chef Zuwi enjoys stepping out of the kitchen and playing sports. He enjoys cycling and often cycles to Livingstone town. He's also an avid farmer, his passion for growing food naturally contributes towards the meals he prepares.
"Farming will stay with me into retirement I believe. I have a heart for it because I know and enjoy its fruits, both for myself and family and for the guests coming from all over the world, that I am honored to have the opportunity to cook for."