An impassioned individual who has grown immensely fond of the outdoors, hiking, traveling, and landscape photography, Butho Ncube views his camera as his travel companion, ensuring that he never misses a moment to capture life and the beautiful world that surrounds him through the lens. Born in the City of Kings – Bulawayo in Zimbabwe, Butho is currently based in South Africa in the Drakensberg area, where he works in the power generation industry at the Eskom Drakensberg Power Station.
It was the pristine mountain-scapes and rocky outcrops in the region he calls home that got him hooked on hiking and photography. "The Drakensberg mountains are one of the most spectacular mountain ranges in the world and I have the privilege to be staying and working in the area," cites Butho.
"My everyday view is the Drakensberg Amphitheatre, which I see when I open my bathroom window. From here I can see the Tugela waterfall, the second-highest waterfall in the world, and as an adventurous person, one can only imagine what it's like to be blessed with such a view. You really don't need any more inspiration to get out and explore as the views are difficult to resist."
Butho asserts that the tall, grandiose, and intimidating appearance of the mountains gives one a sense of accomplishment after they climb to the top. It's a great feeling of achievement and after climbing up the elevated terrains, it's easy to appreciate how well worth the effort the climb was.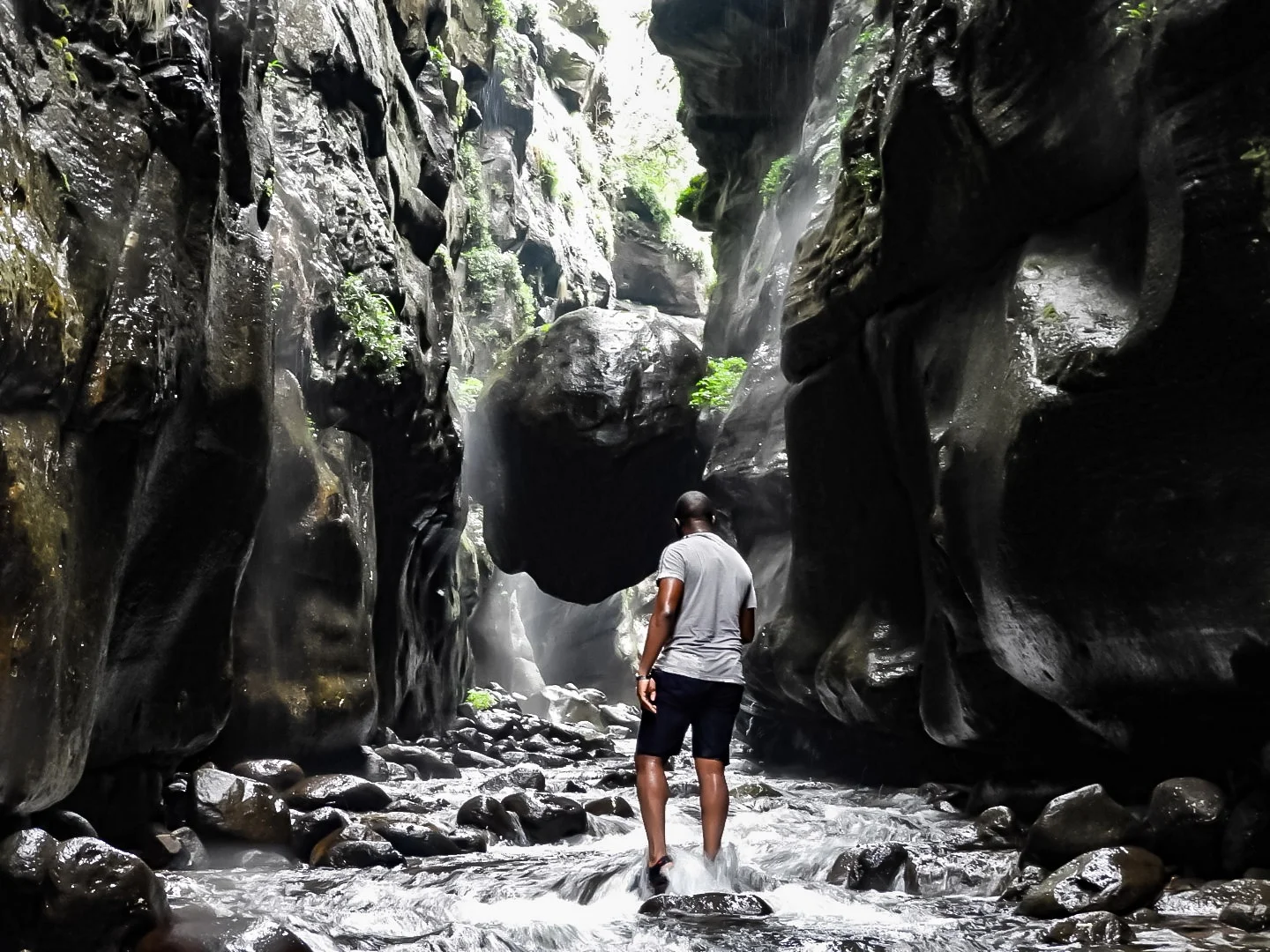 "For me, over and above that, I go up just to get that one photo. I literally go out for an 8-hour hike for that one photo, and that's my accomplishment and satisfaction," says Butho.  
"You have to understand too that hiking isn't exactly everyone's cup of tea. Most people who hike the Drakensberg are not natives to the area but come as far as overseas. The local people don't see anything extraordinary about the rock face; after all they have been seeing it since birth," Butho asserts.
Mystical beliefs by the local communities govern their willingness to explore the mountains, with some believing there is a big snake at the source of the Tugela River, and that if one sets foot anywhere near the River, they will disappear. It's because of this lack of interest that Butho has had to grow comfortable hiking alone.
"One hike that comes to mind is when I took on Rainbow Gorge, and I was shaking as I approached the trapped rock in the Gorge. This did not stop me from catching some breath-taking photos of myself using remote photography. I have however gone on hikes with my workmates, who requested that I guide them to the places where I have taken some of my photos. Only on one occasion has a travel agent asked me to be a tour guide up the Amphitheatre as well as the Rainbow Gorge" shares Butho.
Why does he choose Drakensberg? It is like his backyard garden he says, and besides the fact that there are still a lot of hikes that he'd still like to conquer in the area, Butho prefers to stay in the area as it requires little effort beyond the climb itself.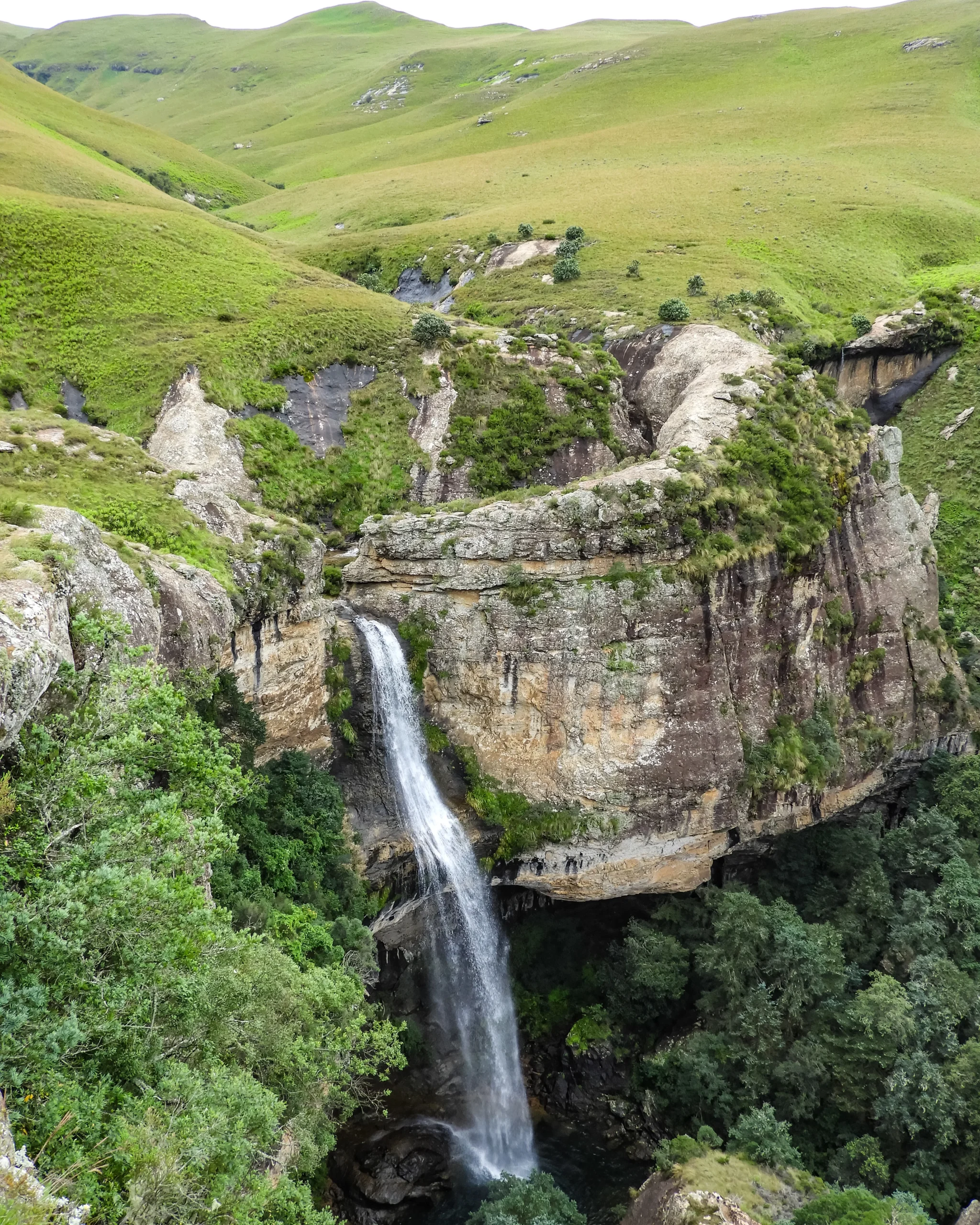 "I don't have to book anything or drive long distance, so if I feel like hiking, I just pick one hike and I go for it."
What to expect if you've never been to the Drakensberg
Drakensberg is beautiful, and if one needs a full package of relaxation, play, wine, dine and spa, swimming (both in constructed and natural pools), hiking, camping, helicopter rides, a little snow in Africa, spectacular views of waterfall or a family retreat, Drakensberg is the place to be.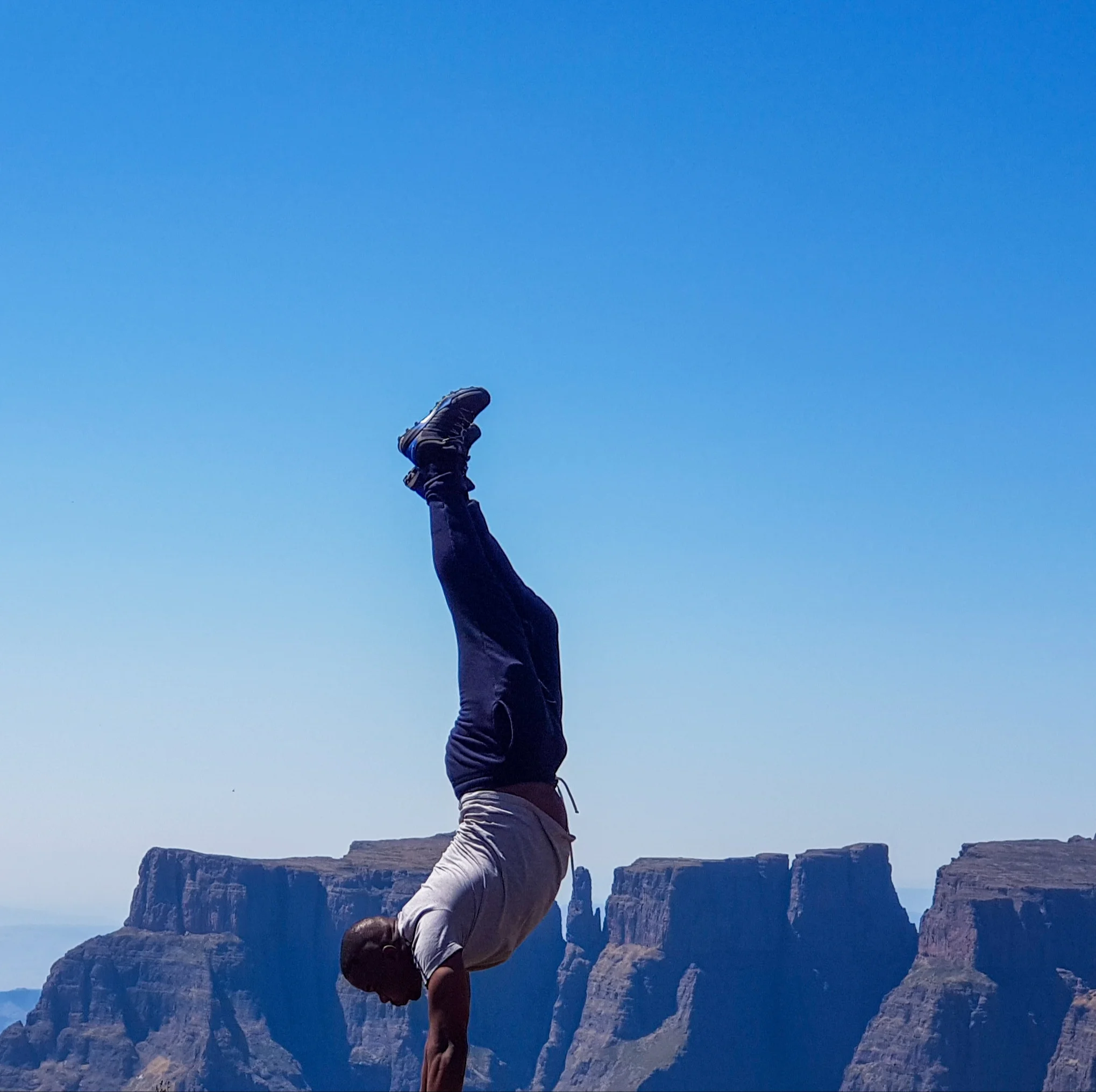 Every season brings its own beauty. The summer waterfalls are magnificent. One gets to see the Tugela waterfall at its full capacity. You can see it from deep within the valley as far as the hotels and golf courses. In winter, especially between June and September months, the mountains are capped with snow, giving the whole landscape a spectacular view.  There is always something for everyone, long and short hikes, easy walks, picnic spots, breweries, and coffee spots.
The Drakensberg borders Lesotho and the Afri Ski Mountain Resort, a wonderland for skiing and snowboarding is only a few hours' drive from Drakensberg, passing through the Golden Gate National Park, home to scenic sandstone cliffs, especially the imposing Brandwag rock.  
Butho on photography inspiration
"I wouldn't call myself a photographer. I think I am still far from being called that. If clicking that shutter button qualifies one to be a photographer, I would accept that but I believe there is more to photography than clicking that button. I am not a good orator or a storyteller. I wouldn't be able to describe what I see to someone in the Netherlands so what I cannot put in words, I use pictures. The surroundings played a big role in my interest in photography. To me, photography is a form of expression. I sometimes go out to get a picture that I will caption with what I feel. It makes me feel better when I am down," Butho says.
When asked which his favourite camera was to use on his excursion, Butho responds with: "Edward Steichen once said 'A portrait is not made in the camera but on either side of it'. He was right. It's not the camera but rather the eye behind the lens. One can have the most expensive / best camera in the world but if they don't have the eye, it's useless"
"But that doesn't stop one from having the best camera in the world if they feel they have the eye. My current cameras are Samsung Note 10 Plus as well as an old Nikon B700. I will consider the best cameras when I go pro or have the budget, and knowing myself, I will go for gold and that won't come cheap. Another option will be to get a drone."
Hikes to embark on while in the Drakensberg
Butho cites that he hasn't really thought much about hiking outside South Africa as he still has a backlog of hikes within the country's borders. He does share however that the sand dunes in Namibia as well as the Fish River Canyon are among the places he would like to one day visit.
"There are many interesting hikes and walks in the Drakensberg, from family-friendly to experts hiking trails. I'm particularly biased towards the Northern and Central Drakensberg as that is where I have done most of my hikes. The most popular hike is the Drakensberg Amphitheatre. The first part of the path is paved but as one goes further, it's rugged and uneven. This takes one to the top of the Amphitheatre, right where the Tugela waterfall plunges 948m into the valley. You can enjoy a swim at the top of the waterfall, which is typically a day-long hike to get to the top. Moderate fitness is required for this hike but involves scaling chain ladders," Butho recommends.
The Tugela Gorge is another interesting hike in the Royal Natal National Park. Classified as a fairly easy hike along the Tugela River to the base of the Amphitheatre, the path is clear and along the way, one gets to see eroded sandstone known as the Policeman's Hat. At the gorge itself, you can encounter tunnels where the river cut across a rock forming a high-walled cave. This is also a day hike for the whole family and is about 17-20km return, depending on where one starts
Other hikes in the Royal Natal, include but are not limited to:
The cascades – a short day hike, about 30min, with a natural pool.
Bottom of Gudu Falls – short day hike.
Central Drakensberg
Long and difficult hike – Cathedral Peak, though it's a day hike.
Rainbow Gorge – short easy hike, but one can easily get lost.
Mushroom Rock – Short moderate hike, there is an option of branching to 3 waterfalls on your way back.
Butho's top tips before you embark on your Drakensberg hike
Some basics yet important things to note in the words of Butho:
I have to say though, that as with everyone across the globe, I had a very different life pre-Covid-19.  But now my day is trying to juggle homeschooling, which I can freely admit I am absolutely terrible at. I just salute teachers out there, as to me, teaching toddlers is like herding cats. It really takes a special grace to be able to do what they do. My days are about being on emails, zoom calls, making calls, cooking, cleaning, and taking care of the kids. Basically, Diane is trying her best to be a superwoman!
Know which hikes you want to do. This will help you to choose the closest accommodation.
Do not hike alone. Though crime is not a common thing in the area, the terrain can be rough, and one can fall or get lost.
In the summer months, the weather can change very quickly.
It can be very chilly at the top. Carry the correct gear just in case.
Pack your lunch. Water is usually not a problem, but it will be advisable to carry a small bottle.
A small first Aid kit is always handy. Do keep one in your backpack
To capture the moments, have a fully charged camera and an extra battery. A drone is always a fantastic add-on to your gear.