If you live in or frequent the Middle East, you'll be well accustomed to the soaring temperatures that present a bit of a challenge in exploring the desertscapes during the summer months. As residents and tourists alike anticipate the upcoming cooler conditions, which typically become more noticeable in the earlier part of October, this slight change in weather also heralds plentiful opportunities to enjoy more beaches and green spaces, time spent onboard traditional dhows or yachts, or even venture outside the city for a little glamping and hiking in the region's mountainous terrains.
Amid the rugged beauty of the Hajar Mountains and on the border between Dubai Emirate and Oman, lies Hatta, which avails spirited adventurers unparalleled experiences that propel excitement, while awarding the enjoyment of exploring natural wonders and cultural immersion. And so, if you are up for a little time out from the city as the weather becomes more favourable to be on the outside, here's why you should consider Hatta, which is only an hour outside Dubai City, as your next destination: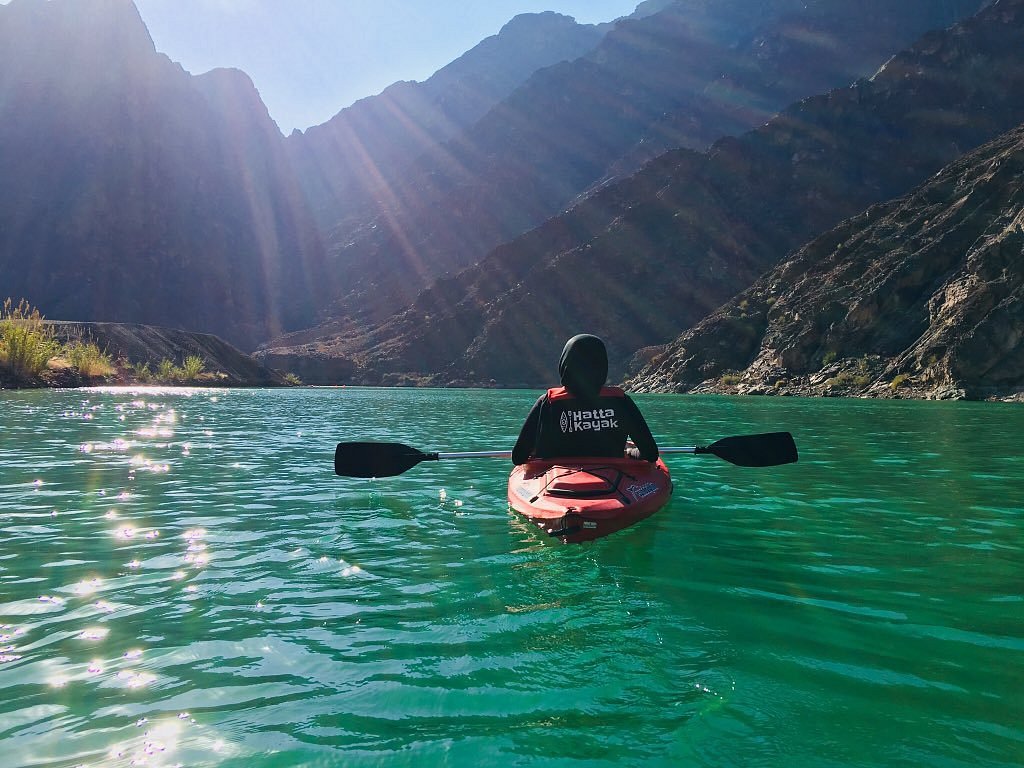 1. Stunning Natural Landscapes: Hatta is a haven for outdoor enthusiasts, boasting dramatic mountain scenery, pristine wadis (valleys), and picturesque dams. The drive up is incredibly serene, and sets the tone for the relaxation inducing environment, while equally unveiling a landscape that is well revered as a paradise for hikers, mountain bikers, and off-road enthusiasts.
2. Hiking Trails Galore: Put on your hiking boots, load up your backpack with snacks and get ready to explore a network of well-marked hiking trails that wind through the mountains. The Hatta Hiking Trails Centre also provides maps and information on routes suitable for all levels, from beginner to advanced, ensuring that all hiking enthusiasts are covered, as they get ready to embark on an exploratory trip on foot.
3. Mountain Biking: Maybe your preference is to go at it by bike. Hatta's rugged terrain offers an excellent playground for mountain bikers, as you can rent bikes locally and embark on thrilling rides with varying degrees of difficulty. The adventure park also has dedicated mountain biking tracks that one can tackle for an afternoon of pulsating adventure, and exercise!
4. Kayaking and Paddleboarding: Easily a favourite for most when in Hatta. Hatta Dam provides the perfect setting for water-based adventures for all ages. Rent a kayak or paddleboard to explore the serene blue waters surrounded by the striking camel-coloured mountains. It's a unique experience you won't find in the bustling city of Dubai, nor nearby mountain ranges for that matter.
5. Cultural Insights: Hatta isn't just about nature; it's also rich in culture. Visiting the Hatta Heritage Village is the perfect way to learn about the region's history, traditional architecture, and crafts. So, you bear a keenness to learn about Hatta's locale and connect with the heritage of the UAE, scheduling time in for a little cultural discovery is a great way to start.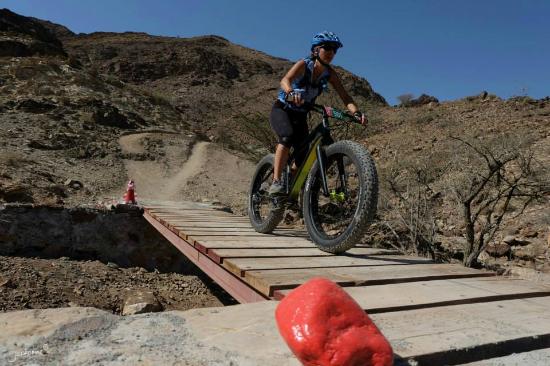 6. Hatta Wadi Hub: This adventure center is a one-stop destination for adrenaline junkies, offering a wide array of activities which include activities like ziplining, wall climbing, archery, and more. The Adventure HQ store also carries all the equipment you will need ahead of your activities.
7. Camping Under the Stars: For a truly immersive experience, both for families and couples alike, spend a night camping in the Hatta mountains. With a good number of glamping sites open seasonally, and quite popular with residents and visitors, it's no wonder that there is always a mad rush towards experiencing a night of solitude and clear skies that make for a remarkable stargazing opportunity.
8. Picturesque Resorts: Hatta offers a range of accommodations, including the Hatta Damani Lodges, JA Hatta the Resort and Hatta Terrace to name just a few. From glamping sites, fully equipped hotels and private villas available for rent, be rest assured that whichever you choose will be a delightful opportunity to wake up to stunning mountain views and fresh mountain air.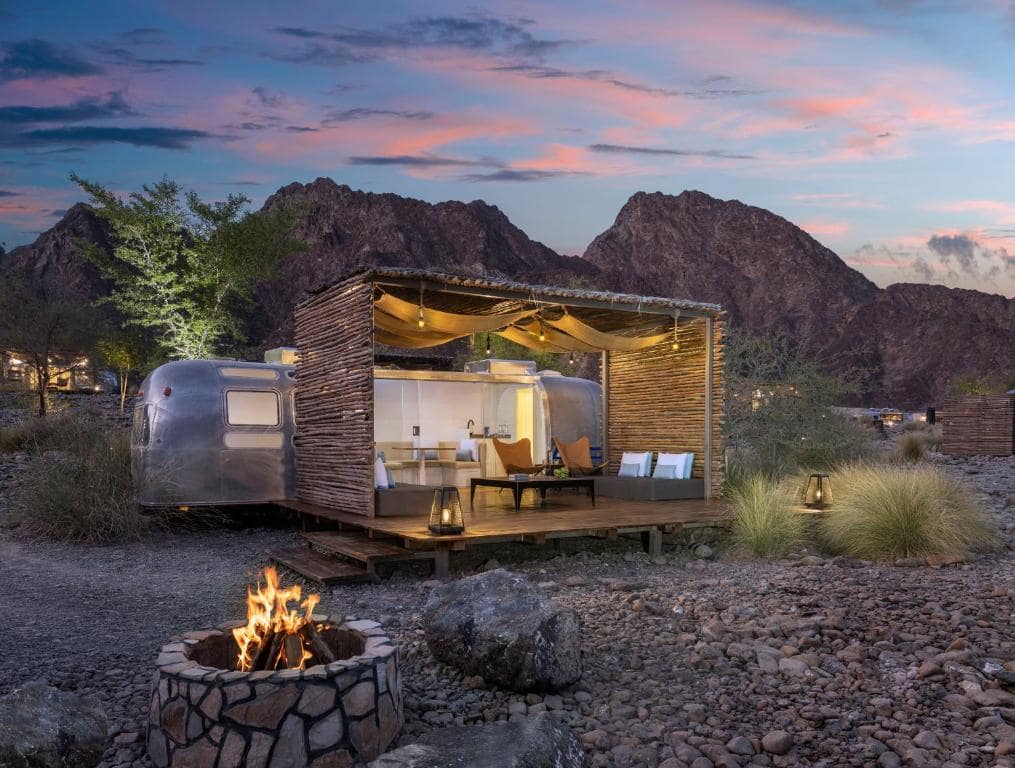 9. Escape from the Bustle: Hatta is a peaceful escape from the hustle and bustle of Dubai. It's just a short drive from the city, accessible in under 90 minutes, yet feels worlds away, making it perfect for a day trip or a weekend getaway.
10. Culinary Delights: Don't miss out on the chance to savour traditional Emirati cuisine at local restaurants which line the streets of the small town. You'll also find roadside caravans that also serve freshly made snacks and hearty dishes, all as authentic as the adventures the destination offers.
Now what say you? As the weather starts too cool off, it's time to get out again and make the most of the stunning landscapes Dubai emirate has to offer, and Hatta in Dubai is a haven for adventure travellers. A day or weekend trip to Hatta is a guaranteed to offer a diverse range of activities, breathtaking natural beauty, and a chance to connect with Emirati culture. Whether you're an outdoor enthusiast or simply seeking an escape from city life, Hatta has something unforgettable in store for you. So go ahead! Look it up now if you haven't already!
11. What legacy would you like to pass on to your children as they watch you continue to bloom season after season?
More than anything, I'd like them to understand the magic that lies in pursuing their dreams relentlessly. It is by no means easy, however, there is great reward in chasing your purpose and the things that build others up.