Words by Yvonne C Mtengwa
Matetsi Victoria Falls was our last pitstop on our weeklong trip to Victoria and Hwange before heading back to Dubai. Curated by Vayeni Safaris, established African Safari Experts that design extraordinary journeys in 11 key destinations across the African continent, I was looking forward to experiencing luxury on the banks of the Zambezi like never; a promise I had long been given by others who had enjoyed the privilege of staying there during their time in the border town of Victoria Falls.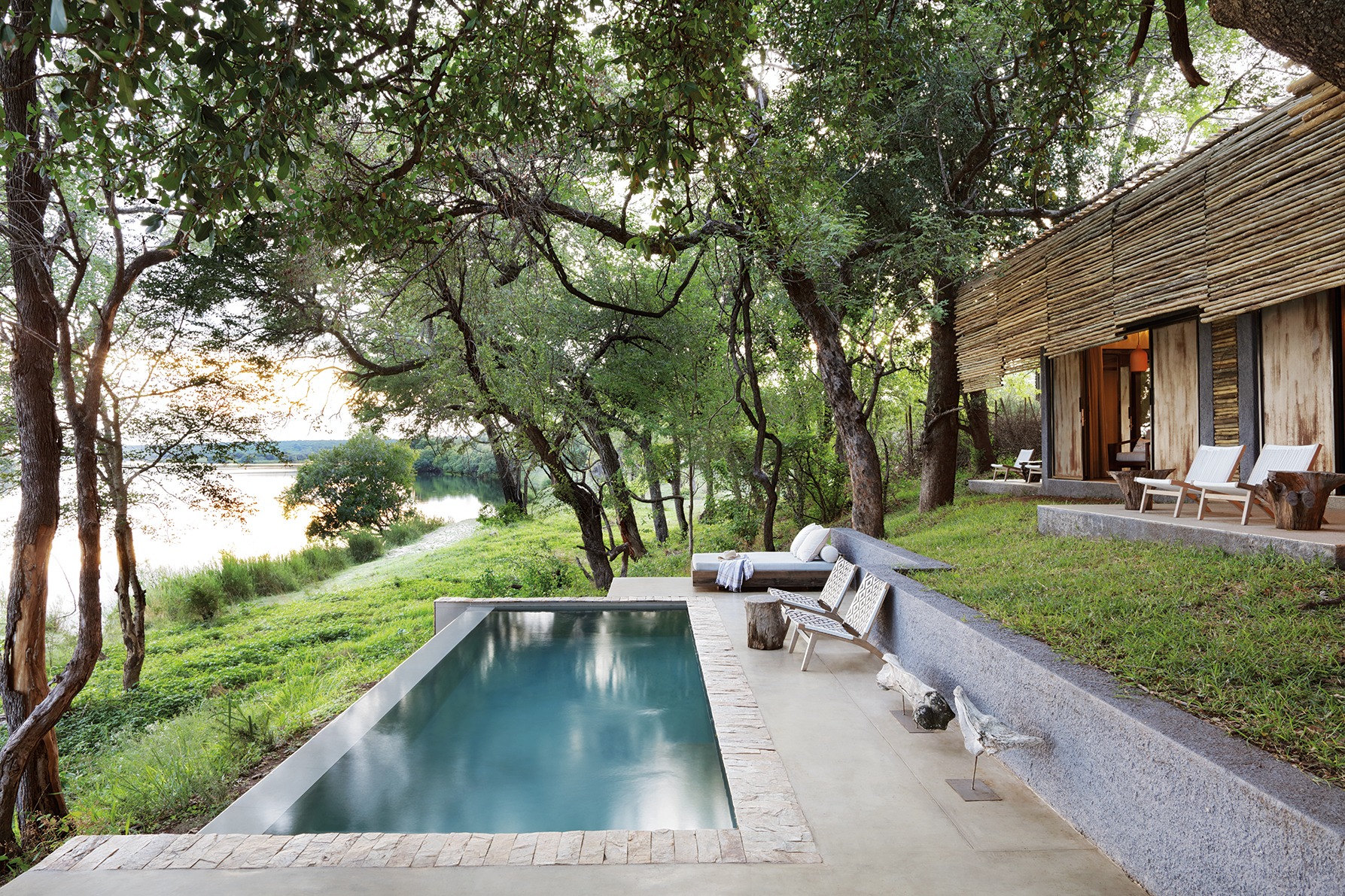 We arrived at sunset after a 30-40 drive from town center, where we were picked up after some adrenaline-filled fun at the base of the majestic Mosi-oa-tunya. Quiet a drive, easily because of how knackered we were from our jetboating experience, my mind drifted as I watched the sun set over the savannah grasslands that surrounded us. In no time, excitement welled up again as we made the right turn onto the dust road that leads you into Matetsi Private Game Reserve. With sightings of buffalo and small herds of elephant on our way in, it was the sounds and smells of Zimbabwe's western region that reminded me of the year I had spent in this part of my home country more than a decade ago
I used to make that drive between Victoria Falls and Kazungula Border post quite a bit as a young lodge manager at one of the boutique accommodations in the area, setting off at dawn to Kasane town in Botswana with the procurement team and returning at sunset from our fresh produce and imported goods buying trips, simply because there was a wider selection across the border. It was surreal to be back in Victoria Falls, this time not as an employee of a neighboring property but as a whole media personality, experiencing the product so we could promote it to travel enthusiasts out of the Middle East.
A Matetsi-style welcome… 
The welcoming clapping of hands from the team at Matetsi brought my mind back to where it had wondered off into the archives of my memories. With beaming smiles and engaging conversation right at the onset, it felt like being ushered home by your loved ones after having been away for a very long time. Canoe-like wooden carvings hung from the stone wall at the entryway, perfectly designed to ensure seamless blending with nature. With a welcome cocktail in hand, and calming call of the Zambezi River a few steps away, I couldn't help but take a deep breath in, before exhaling in sheer appreciation of that moment. We absolutely loved the time our hosts – the Matetsi team – took to come out one by one for a brief chat on any and all things we felt like talking or asking about. From sharing recommendations of what guests before us had experienced, to shedding more light on the history of the area, the teeming wildlife and cool facts about the team that we going to be looking after us, two nights of awe-inspiring luxury were going to be my lot before heading back to the desert, and I couldn't wait to experience all that was laid out for our itinerary. 
The main guest area boasts immaculately furnished open spaces, a stunning copper bar, an interactive kitchen, covered and al fresco dining areas, as well as a boma. We were graciously informed that dinner could be wherever we settled for, and so because ours had been a long day, we settled to partake of dinner under the starlit skies and to the sound of the night coming alive before heading to our private, individually constructed suites. Blazing fire bowls and lanterns created the perfect mood to enjoy a spectacular dinner and drinks, before turning in ahead of the adventures that awaited us the day after.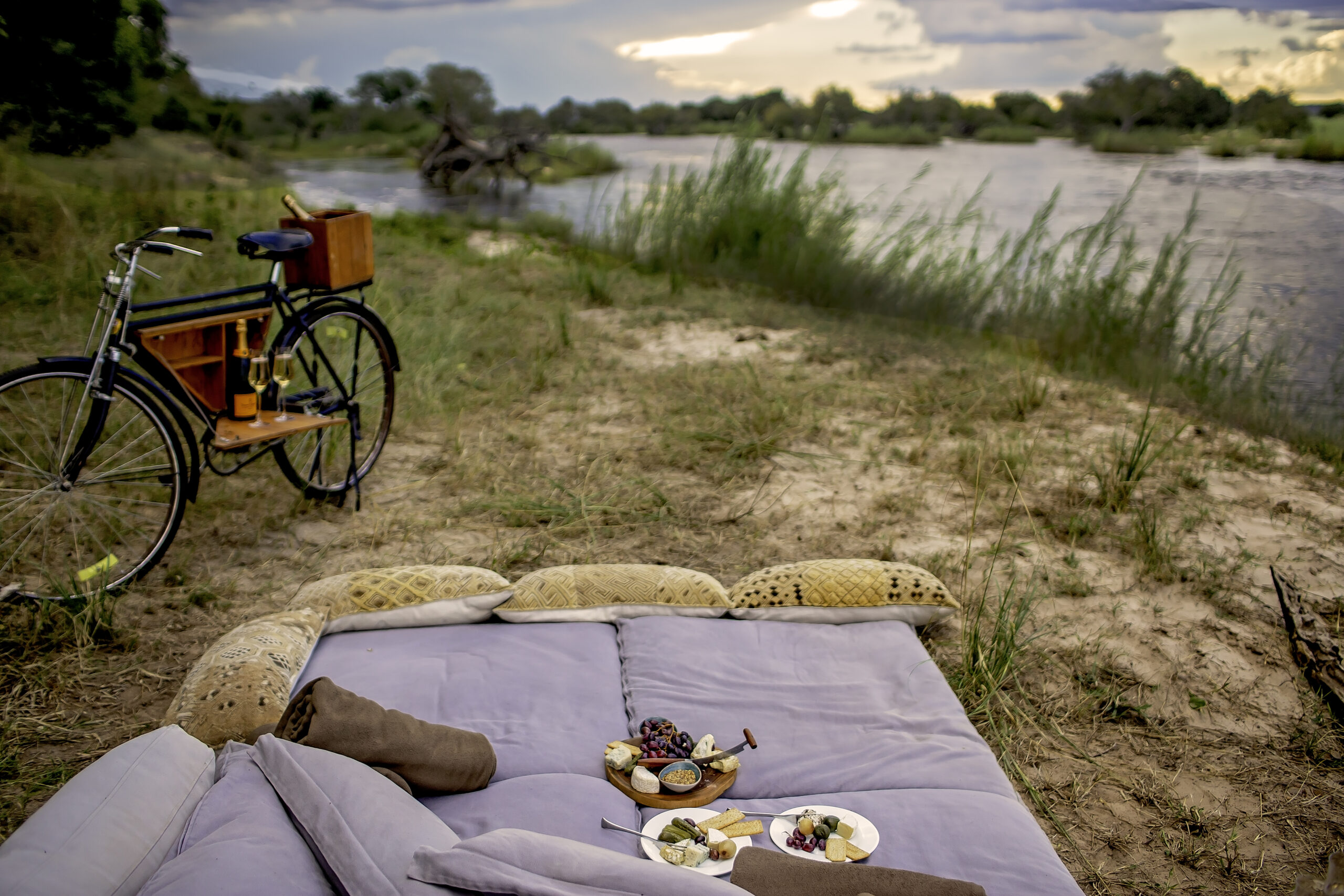 Refined luxury on the banks of the Zambezi River
Your experience will be the most exclusive within the destination, with service that's as unsurpassed as it is unforgettable. Beyond having a personal butler anticipating every need, from delivering a freshly brewed cup of coffee as part of your morning wakeup call should you not feel like making it for yourself from the in-room coffee station, knowing when to hand me a refreshing cocktail at any point during the day, to which activity to propose for our next adventure, there was much to marvel at from the point of arrival to being escorted to my own private lodge suite.
The imposing wooden double door unveiled a lavish suite, characterized by air-conditioning, a sumptuous draped king-size bed with a full view of the river outside the floor-to-ceiling glass doors, circular standout bathtub, indoor and outdoor rain showers, a private plunge pool and decks that flank inspiring views of the Zambezi. Suites are spacious, difficult to leave on account of unparalleled comfort, and very much a fitting reminder that while you are there, it is recommended that you still time so you can truly take in the remarkable nature of your accommodations and surrounding from which they rest.
Décor and design are an uninhibited ode to the wonders of nature, such that it is no wonder why Matetsi Victoria Falls has received significant acclaim for exquisite, distinctly African contemporary interiors. Polished earth finishes, lustrous hand-beaten local copper detailing, and seamless flows between interior and exterior living spaces will envelope you into your surroundings, with the theme of 'Life on the River', as conceptualized by the Zimbabwean architectural designer at the helm of this opulently designed lodge, shining through ever so subtly with the use of custom features, artworks and finishings by local artisans.
Culinary immersion at Matetsi Victoria Falls
Our dining experience, anchored by some of the finest chefs on the continent, took us on an exquisite exploration that merged organic ingredients and scintillating flavours. No vacation is complete without a memorable culinary experience as the subject of food and drink is in every sense a conversation opener as they are an illustration of the culture and hospitality of a place. Matetsi Victoria Falls understand that the food and drink moments are a quintessential element of the guest experience, and so the team does well to provide guests with the opportunity to experience a variety of dining experiences, created with the most discerning of palettes in mind.
Menus are freshly prepared and merge regionally sourced, exceptional produce, with the passion of the chefs that prepare them coming through in plating and all-around food service. We enjoyed one of our lunches at the Wine Cellar, an incredible space that invokes a spirit of quiet introspection over a glass of local and imported wines, beers, cognacs, and cigars for those who partake. With a fine spread of cured meats, cheeses, and olives, that afternoon was everything we needed to relax further, ahead of a private sunset cruise on one of the lodges boats.
Safari at Matetsi Victoria Falls
The vast 136,000-acre Matetsi Private Game Reserve is home to Matetsi Victoria Falls, offering a truly exclusive safari experience for every type of guest. Located at the heart of the KAZA trans-frontier, the world's largest transfrontier conservation area, this expansive wilderness has no fences and so wildlife is uninhibited, meaning that you get to enjoy game viewing at any time of day, either as a game drive at dawn or dusk or guided walks with a ranger and tracker. Opportunities for full-day game drives with lunch served on wild safari turf are also available, where you can learn more about the breeding herds of elephants and buffalo, with particularly impressive numbers emerging during the dry season.
The surrounding wilderness is rife with large prides of lions while the elusive leopard and active wild dog, impala, and baboon thrive within the confines of the Matetsi Private Game Reserve. Giraffes enjoy the albida trees, while zebra and kudu, Wildebeest, Sable, Roan, and Eland roam in the Reserve's south. Matetsi Victoria Falls is truly the home of diverse species of flora and fauna, such that we had the privilege on one night of having to enter the main lodge area through a back entrance as a small herd of elephants had formed a blockade within the trees that surrounded the entrance.
Wildlife from the river
Guests can also set aside time to go canoeing or a sunset cruise, taking in the wonders of nature from the Zambezi River. From sightings of hippos to small buck foraging the ground's surface near shore, to spectacular birdlife perched on branches of indigenous trees, you can truly enjoy tapping into the knowledge of your expert guide or bask in the stillness of the river's surface as you navigate the calming ecosystem along the tranquil section of the Zambezi.
Matetsi Victoria Falls offers the ideal combination of safari, river, Victoria Falls, and relaxation all wrapped up in warm genuine Zimbabwean hospitality. A stay on this riverfront luxury lodge is an open call to connect oneself with self and with nature, creating memories that speak to the calmer wanderlust and the adrenaline seeker alike. For those with a knack for design and culinary exploration on the backdrop of stunning spaces, Matetsi Victoria Falls is sure to leave you with many a tale to tell on all the trimmings of a luxurious, idyllic retreat in Zimbabwe's Victoria Falls region.
To learn more about Matetsi Victoria Falls – visit www.matetsivictoriafalls.com