Words by Yvonne C Mtengwa
Home coming for me is always such a treat even if it's for a short while, and so when time came for me to make a quick stop into Harare, the city from which I hail; I took to assigning an added layer of purpose for the trip, beyond spending time with my family while connecting with old friends. On a previous trip I had noted the rate at which new construction was taking place, highlighting the increasing investment in new commercial centres and residential units. Because there's almost always something new to discover with each trip to Zimbabwe, I thought to look up how the boutique hotel scene was evolving, given the inward bound travellers that frequent the capital for business or family visits.
A quick check in with friends in the hospitality industry brought with it several recommendations for a quaint little boutique guest house called Highlands House. To say our expectations were greatly exceeded would be an understatement. Situated amidst the lush greenery of Harare's prestigious Highlands neighbourhood lies Highlands House, built on sprawling lawns across several acres off Ridgeway North Road in the city's northern suburbs. In an area replete with a combination of charming mansions hidden behind high walls and contemporary new builds that showcase the best in new age architecture, Highlands House has done well to beckon travellers seeking an extraordinary stay a short enough drive from the hustle and bustle of the Central Business District.
I was to find out at check in, that Highlands House had been established in May 2013, and the property was in fact, once a family home before being converted into the chic space guests enjoy today. Perhaps it is for this reason that Highlands House very much feels like a home away from yours, run with the intimacy and personalised service excellence that one often experiences dfrom a family run business.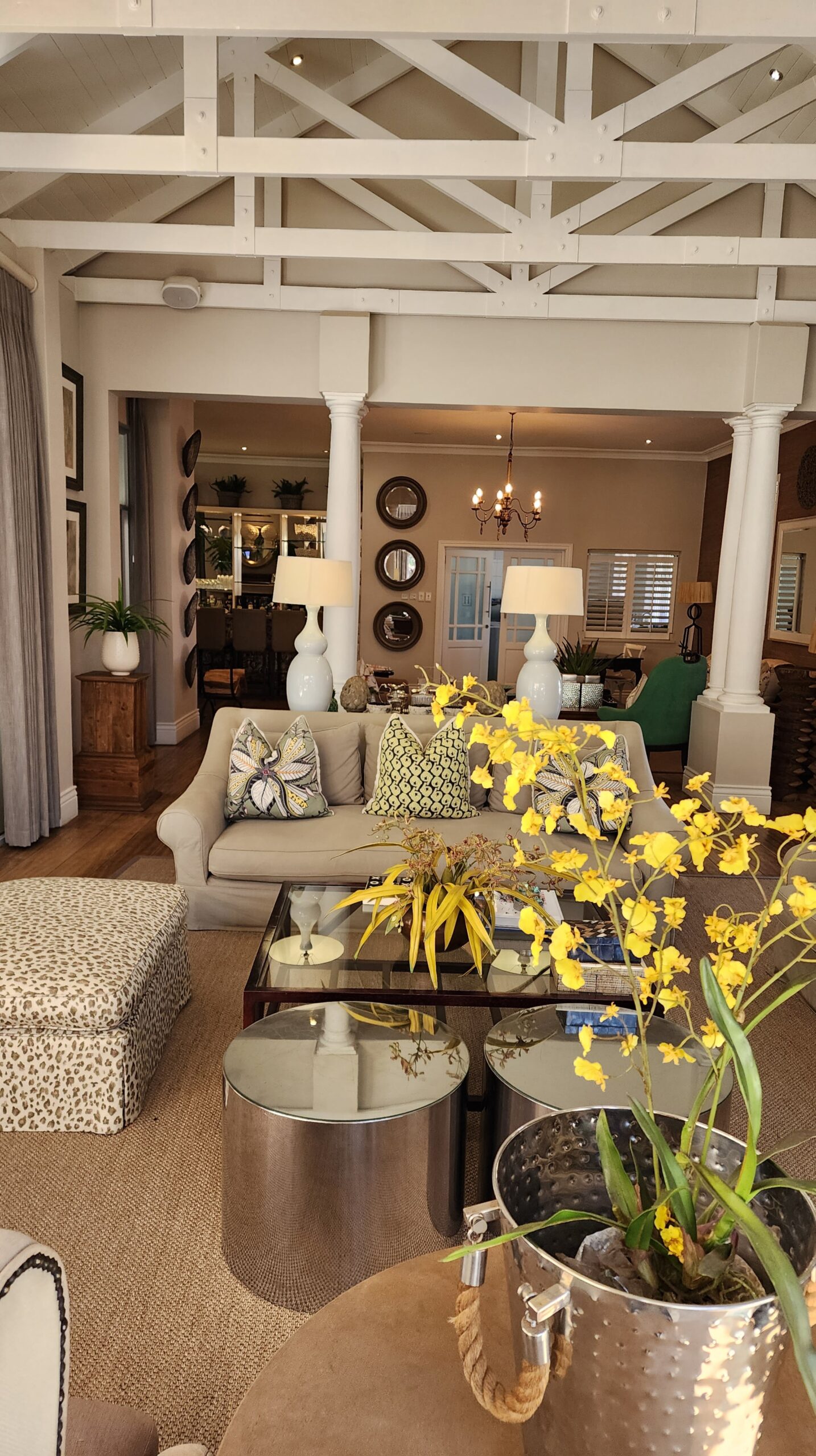 "Our priority is to make that we provide the best possible service to our guests in as luxurious a setting as we can muster, going the extra mile to ensure that each of our guests feels happy to stay with us and enjoys the warmth and comfort that comes with being welcomed home by friends or family as they return for a visit," says Highlands House owner Lindsay Capsopolous, who can often be seen casually chatting with guests and checking in on their experience while in house.  
Beyond the convenience of still being within close proximity to surrounding retail and dining spaces, Highlands House unveils a distinctive charm, characterised by impeccable service which gives one a sense of truly being at home and cradled by such a serene ambiance. Walking into the welcoming lobby area in the evening of our check in ushered us into this boutique gem, greeting us with a crackling fire from two fireplaces: perfect for a clear wintery night. A few guests were enjoying casual drinks at the standout bar area, with still a few exchanging pleasantries from the couches around the fireplace.  
Our weekend stay at Highlands House later confirmed why the boutique Guesthouse is well positioned as a best-in-class and the go-to destination for those in search of an unforgettably comfortable experience and perfect place to stay in when in Harare, and here's why…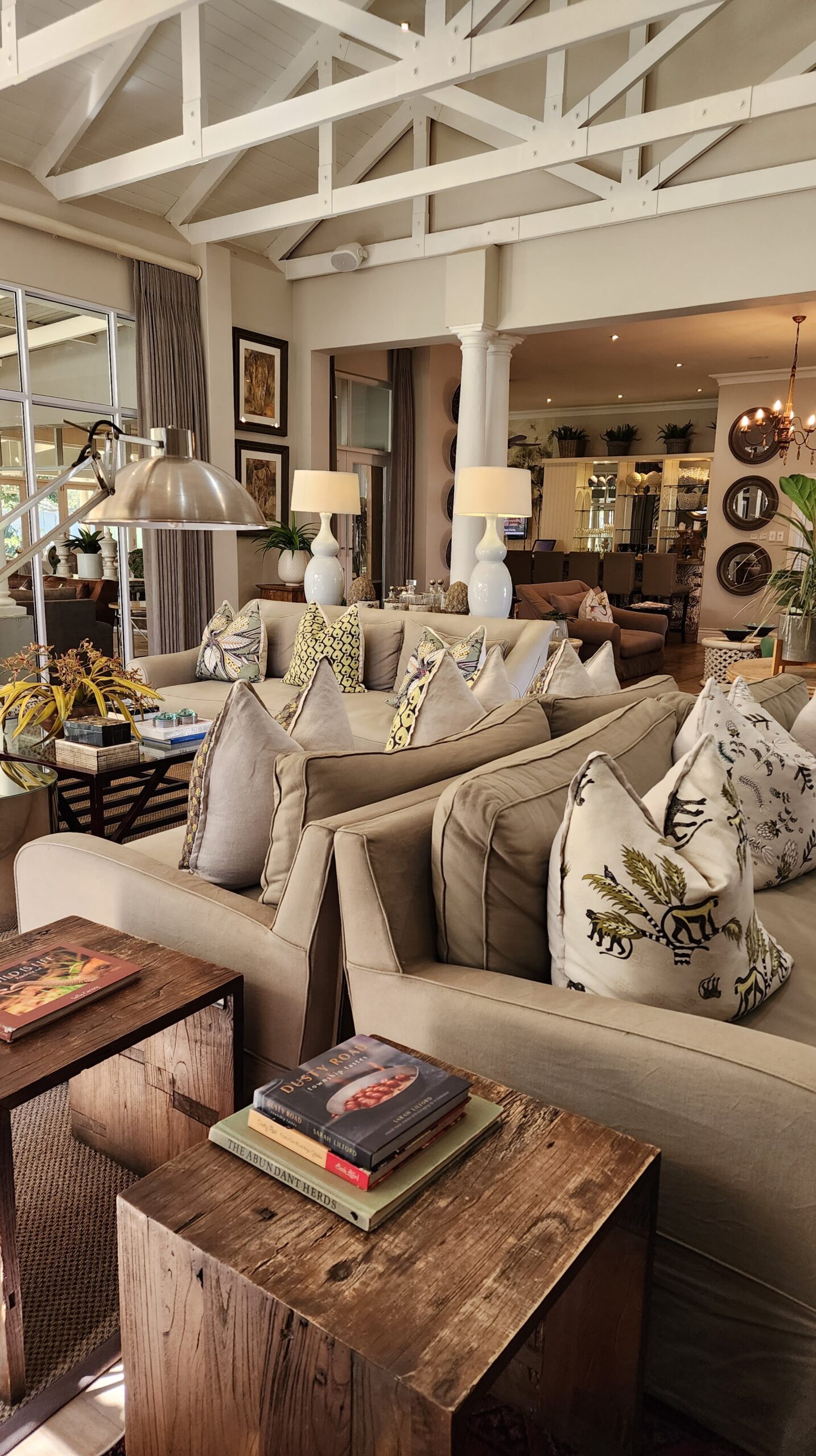 A Haven of Tranquility
Upon arrival, you'll notice the intentional effort that has gone into providing tight security for all guests, as the space is largely reserved for in-house guests, with some conferencing facilities availed for small groups. Sprawling lawns, shrubbery that lines the paved driveway leading up to the main buildings and rooms surrounding the pool area, give somewhat if a large courtyard feel on either side of the main lobby and common areas appointed for dining and casual relaxation.  
What truly stands out is just how much detail has gone into ensuring that Highlands House remains ensconced in beautifully landscaped gardens, as it boasts an array of vibrant flowers and towering indigenous trees. The sound of glistening water fountains about the property usher you into a haven of tranquility, with the bustling city of Harare beyond the property's walls seemingly melting away. Highlands House does exceedingly well in providing an oasis of rest and a warm respite from the city's hustle and bustle, making it ideal for both leisure and business travellers.  
A distinctive combination of elegance and comfort
Comprising 18 tastefully decorated en-suite bedrooms, categorised into 4 Executive Suites, 8 Suites, 4 Executive Rooms and 2 Standard Rooms, Highlands House redefines luxury with its tastefully appointed rooms. Each accommodation option is a harmonious blend of contemporary elegance and Zimbabwean authenticity, as guests are greeted with comfortable furnishings, warm colour palettes of whites, greys, golden yellows as part of the furnishings, as well as wooden and woven artistic touches that reflect the local culture.
What also sets Highlands House apart is its exceptional level of service and privacy availed for each guest in a chic setting. The attentive and friendly staff go above and beyond to ensure that guests feel at home, and this remains true whether you require assistance with travel arrangements, readying for a quick breakfast or dinner, additional nearby dining recommendations or information on places to explore in and around the city.  
For guests who must maintain a fitness regiment as they travel, a fully equipped gym avails state-of-the-art gym equipment. Access is complimentary, with the added opportunity to request spa services such as enjoying a massage from the comfort of your room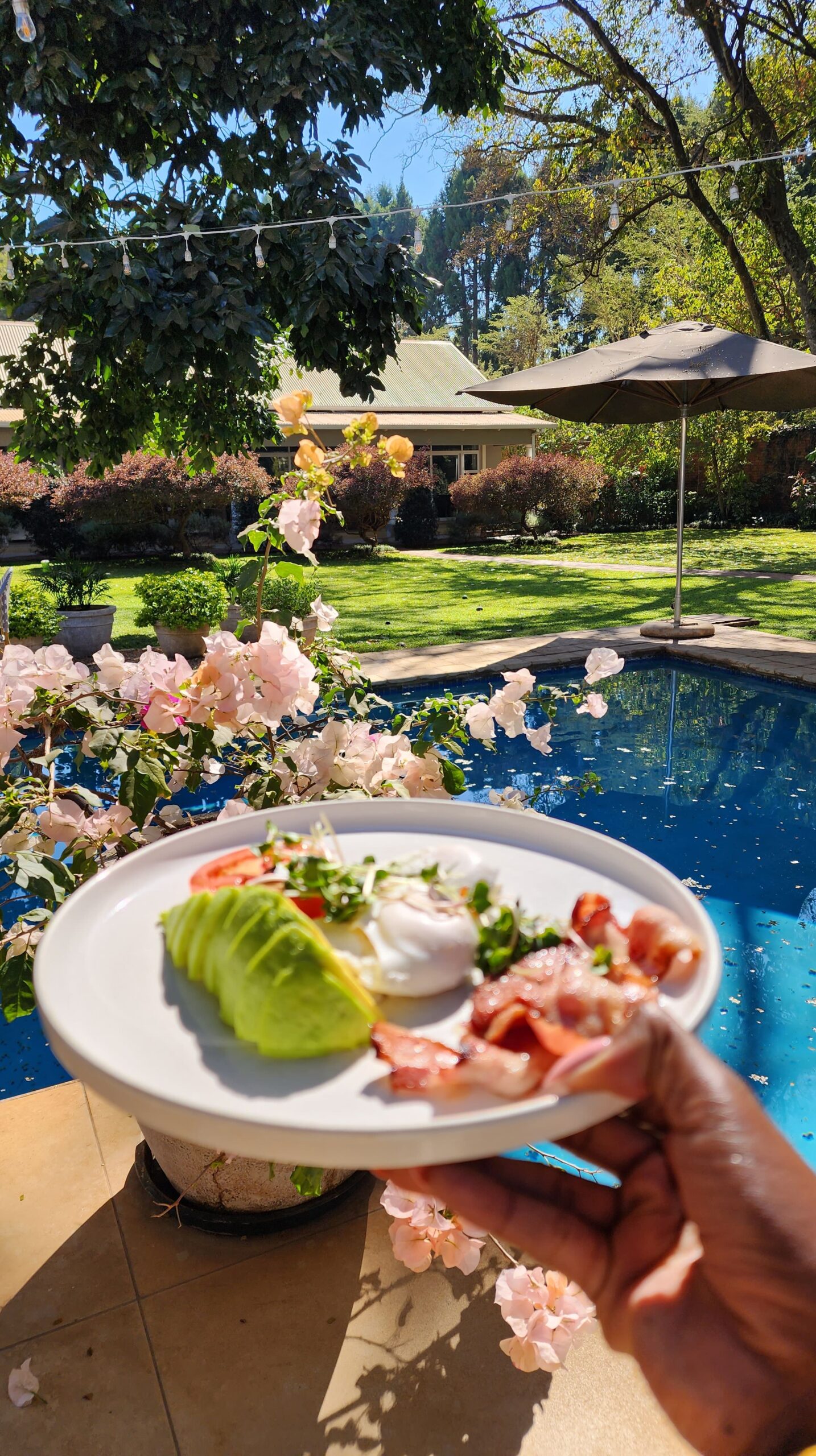 Made to order dining reserved for in-house guests.
Food enthusiasts will delight in the culinary offerings at Highlands House. The on-site restaurant serves up a delectable fusion of international and Zimbabwean flavors, using locally sourced ingredients. From hearty breakfasts to sumptuous dinners, the guesthouse's culinary team aims to tantalize your taste buds in the privacy of the guesthouse space. We took to enjoying breakfast and piping hot cups of coffee and hot chocolate each morning at the veranda adjacent to the pool, making for exceptional garden viewing and bird watching under the crisp yet sunny skies.
Just next door also lies the chic coffee house, aptly named The Fridge, which too operates under the Highlands House portfolio but is open to external guests. A few steps from your room will take you into an interactive space, where diners enjoy everything from big breakfasts to slices of cake and coffees, all with health and wellness at the core of their ingredient sourcing and plating.  So if you would like to host meetings or catch up with friends during your visit without venturing out too far from Highlands House, The Fridge is a fitting choice, with their Eggs Benedict contending as one of the best in town!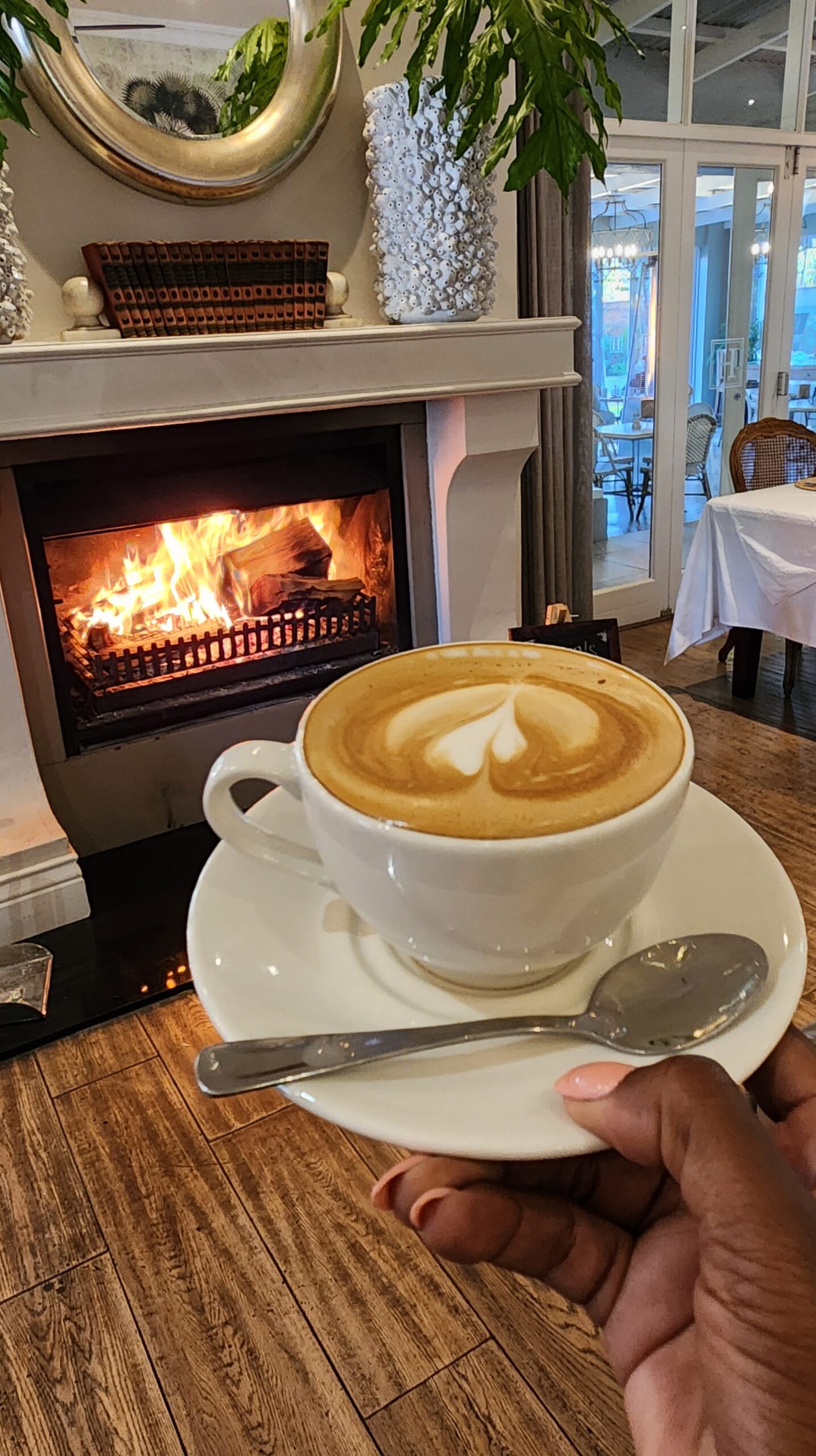 A memorable retreat and warm welcome home
Whether you're visiting Harare for business or leisure, Highlands House Boutique Guesthouse offers a sanctuary where every detail is carefully curated to provide a memorable retreat. From its tranquil surroundings to its elegant accommodations and attentive service, this boutique guesthouse embodies the essence of Zimbabwean hospitality. It's not just a place to stay; but an experience waiting to be discovered, especially for travellers who appreciate the essence of luxury, comfort and privacy during each pitstop. So, when your travels bring you to Harare, consider Highlands House Boutique Guesthouse, where luxury meets authenticity, and every moment becomes a cherished memory.
Yvonne C Mtengwa is the Founder/Editor-in-Chief of the award-winning Travel Essence Magazine, a Communications Strategist by profession, with an avid passion for discovering Africa and the Middle East's iconic landscapes through her travels. Connect with and follow her travel, tourism, and lifestyle experiences on: IG @Quintessentially_yvonne.